13 Best Maybelline Foundations Of 2023 For A Flawless Makeup Look!
Achieve a visibly flawless look with the right foundation for your skin type.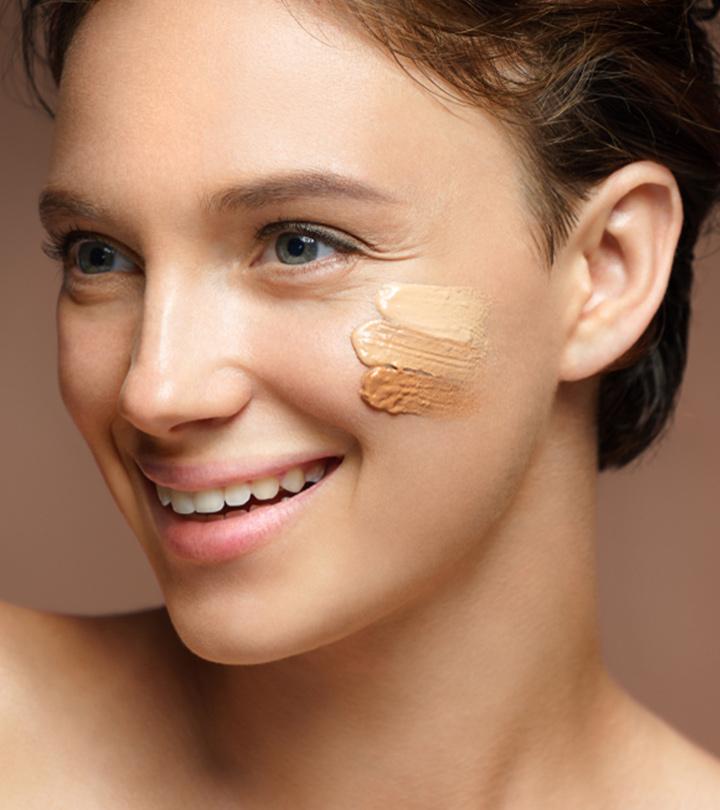 It is a meek misunderstanding that only pricey foundations can offer you the desired look. Even an affordable brand like Maybelline can offer makeup products that would make you look flawlessly attractive. The best Maybelline foundation helps you achieve even skin tone covering all visible fine lines, wrinkles, and pigmentation. They have dermatologist-tested formulas that match all skin tones and skin types. Maybelline offers liquid, powder, pressed powder, and stick foundations for the different skin types, finish, and coverage.
Perfect makeup and flawless look can only be achieved if you have the foundation base. The foundation, as it is rightly named, can make or break your look. If you want to ensure that your makeup canvas is flawless, Maybelline is your best bet. Whether you are a novice or expert makeup artist, a Maybelline foundation formulated with skin-loving ingredients will satisfy you with glowing skin. Check out our list of the 13 best Maybelline foundations below!
Top 13 Best Maybelline Foundations Of 2023 That Are Must-Try! (With Buying Guide)
From pores to no pores instantly! This Maybelline foundation for oily skin refines pores and leaves a satin-smooth matte finish with its medium coverage. Available in 40 shades to deliver a natural and flawless look with every use, this liquid formula is all you need to channel your "I woke up like this" look. And as for the greasiness, consider it taken care of with the infused clay. Go through this video review for a detailed understanding of the product.
Pros:
Oil-free
Shine-free
Long-wear
Non-comedogenic
Dermatologist-tested
Normal to oily skin
Cons:
Price at the time of publication: $6.2
Not your usual 9 to 5, this matte foundation stays fresh for up to 24 hours! Get ready to skip the touch-ups and show up for parties and dinner dates with Maybelline Super Stay Full Coverage Foundation. A great option for busy bees and travelers, the liquid contains saturated color pigments to deliver optimal coverage and a long-lasting glow. Want more? The foundation finish is high (lush) impact, so get ready to handle compliments with this one. Check out this video for a detailed review of the product.
Pros:
Oil-free
Lightweight
24-hour wear
Non-comedogenic
Goes on smoothly
Dermatologist-tested
Cons:
Price at the time of publication: $10.89
Using liquid foundations on the go can get messy at times, which is why you must try this Maybelline stick foundation instead. Travel-friendly and mess-free, the swirl-up format prevents wastage and makes sure the stick goes a long, long way. And the best part is, the stick glides on creamy but has lightweight powder pigments in the formula to dissolve the excess oil and reduce shine. So, if your skin type is anywhere between combination or oily, this foundation will be your savior on the go. Take a look at this video to learn more about the product.
Pros:
Oil-free
Blends easily
Natural coverage
Gel-creamy texture
Matte powder finish
Available in 12 shades
Cons:
Price at the time of publication: $8.92
Foundation, but with the benefits of a moisturizer! This ultra-creamy blend with hyaluronic acid and collagen will boost your skin's hydration levels and leave an airbrushed finish all day long. So, if you are dealing with early aging lines or have an open pore problem, this mousse Maybelline foundation will conceal and enhance your complexion exceptionally. Buildable and lightweight, it lets your skin breathe through the foundation layer for a fresh look too. Don't believe us? Give it a try.
Pros:
Blurs pores
Non-cakey
Breathable
Medium coverage
Long-wear up to 16 hours
Suitable for sensitive, normal, and dry skin
Cons:
Slightly greasy
Not for oily or acne-prone skin
Price at the time of publication: $7.99
With a "barely there" natural look, you'd be surprised that this lightweight formula can protect your skin from harmful UVA/UVB rays. Powered with broad-spectrum SPF 50, this dream Maybelline foundation acts as a shield against sun rays and hazardous environmental stressors. A must-try if you go outdoors frequently or have no time to follow multiple skincare steps, this sunscreen-foundation combo is the one-stop glow-getter you need.
Pros:
Long-wear
Full coverage
Antioxidant-rich
Dermatologist-tested
Available in 16 shades
Cons:
Contains alcohol
Thick consistency
Price at the time of publication: $16.49
Are you skipping makeup due to dryness or dehydrated skin? Try this hydrating formula ASAP. Don't give up on your love for makeup when all you have to do is pick the right foundation. With hyaluronic acid and collagen, this Maybelline Dream Radiant Foundation will boost hydrating levels, keep skin moisturized for 12 hours and leave a radiant finish. Like beauty tonic for your skin to indulge and glow, the foundation delivers medium coverage and will enhance uneven skin tone. Try it!
Pros:
Lightweight
Non-comedogenic
Natural-looking finish
Conceals imperfections
Dermatologist-tested
Available in 20 shades
Cons:
Price at the time of publication: $11.98
One stick, multiple uses! Here's a beauty stick that'll excite the makeup expert in you. Ideal for gifting, this Maybelline makeup foundation stick can contour, conceal, cover, and highlight on the go effortlessly. Mess-free and with a built-in precision pointed sponge for blending, it is ideal if you travel light or prefer quick makeup sessions. One stick for all your foundation needs; it conceals imperfections with full coverage and is a must-try for accentuating your natural contours too.
Pros:
Long-wear
Travel-friendly
Cream-to-matte finish
Skin-perfecting shades
Works for normal and oily skin
Cons:
Not buildable
Not suitable for wet sponge blending
Price at the time of publication: $5.99
Not a fan of heavy makeup? This super-light liquid foundation may suit your liking. The blend goes on smoothly and delivers a thin second-skin-like layer to prevent the bulky or cakey finishes. Leaving a stunning and selfie-worthy satin finish on the skin, this Maybelline flawless foundation also has SPF 20 to protect from harmful UVA/UVB rays. Plus, it conceals discoloration and uneven skin tone effortlessly to give you that desired no-makeup look to flaunt at work or while working out.
Pros:
Dries quickly
Dropper format
Light coverage
Suitable for normal skin
Cons:
Contains alcohol
May require touch ups
Price at the time of publication: $8.85
Besides being ultra-light and pigmented, this foaming foundation will fun up your makeup sessions. A top choice for beginners or if you prefer no-makeup looks, the blend has air-infused ultra-refined particles that disperse on application to leave a nude and skin-perfecting finish. And with broad-spectrum SPF 16, your skin stays protected from the harmful UV rays too. Wear it on to run errands or those brunches with the girlies!
Pros:
Lightweight
Sheer finish
Light coverage
100% nude perfection
Suitable for dry to normal skin
Cons:
Contains alcohol
Contains talc
Price at the time of publication: $5.99
Do you have sensitive skin? Puff on this 100% micro mineral foundation for the smoothest coverage. And the best part is, it provides a flawless finish and leaves your skin radiant even after makeup removal! Sounds too good to be true? There's more. The foundation will improve skin's luminosity, reduce redness, fight acne and enhance skin tone. Still, want to skip these powerful puffs?
Pros:
Oil-free formula
Talc-free
Fragrance-free
Preservative-free
Non-comedogenic
Blending brush included
Clinically and dermatologist tested
Cons:
Price at the time of publication: $22.49
Puffs that'll pamper your skin with every use, this powder foundation is all you need on days when heavy makeup seems like a bad idea. A must-try for quick touch-ups, its light coverage hides all the conspicuous blemishes and imperfections with a natural finish efficiently. And it doesn't stop there; this ultra-light powder foundation is broad-spectrum SPF 15 rated, making it a great choice to add to your summer beauty arsenal.
Pros:
Long-wear
Blends easily
Goes on smoothly
Blender included
Suitable for all skin types
Cons:
Price at the time of publication: $44.99
Is your foundation ending up more on the mask than your skin? If yes, then you must try this mask-proof and transfer-proof option right away. A healthy foundation with the benefits of sunscreen, the blend is formulated with micro-Flex technology, has actyl-C (vitamin) and titanium oxide to glam up, protect, and comfort your skin at the same time. Easy to blend and lightweight, this skin-transforming foundation also enhances your natural complexion in 3 weeks, and tackles redness, bumps, and dullness like a pro. Give it a try!
Pros:
Oil-free
Non-cakey
Fade-proof
Medium to full coverage
Broad-spectrum SPF 15
Dermatologist-tested
Cons:
Contains paraffin
Not suitable for acne-prone skin
Price at the time of publication: $8.99
This one glides like butter! Elevating your makeup session with its silky-smooth and mousse consistency, this Maybelline matte foundation will boost your mood while applying the blend and after with its stunning effect. And its finish is anything but greasy! With a glowing velvety-matte look, the foundation leaves an all-natural and shine-free finish that stays fresh and radiant for up to 16 hours.
Pros:
Long-wear
Weightless
Allergy-tested
Soft coverage
Non-comedogenic
Suitable for all skin types
Cons:
Price at the time of publication: $6.5
Glam up, the Maybelline way this 2023! There you go, those were the 13 best Maybelline foundations for you to explore. Do you still need assistance while choosing the best Maybelline foundation for your skin? Check the buying guide below for shopping tips and tricks.
How To Choose The Best Maybelline Foundation?
With umpteen options, picking the right one can be tricky. Look out for the following features before buying:
No matter how effective the foundation is, if not suitable for your skin, it is a lost cause. Here's how you can determine which foundation is ideal for your skin— if you have oily or combination skin, choose powder or liquid options, whereas mousse and liquid foundations are great for all skin types. However, if your skin type is anywhere between dry or very dry, choose a cream-based foundation for the best experience.
If you are a first-timer, then choosing the right skin tone can be tricky online. So, the best way to do this is to pick a suitable shade for your skin's undertones instead. Our skin has warm, cool, and neutral undertones. Yellowish-olive skin tones with green-red-purple veins on the forearms classify as warm undertones. Pale or rosy skin with bluish-purple veins has cool undertones, and all those in between are neutral undertones. So, pick the right skin tone accordingly.
Check the type of consistency before choosing a foundation. Light or weightless textures will build and blend easily on the skin compared to thick ones. Also, you must opt for light coverage in summer to prevent the heaviness and let the skin breathe through the foundation layer. But, if you are looking for full coverage to hide the blemishes and imperfections, a thick foundation will be your savior in disguise.
Did you know most of the breakout and acne cases are either due to substandard or chemical-infused foundations? Although most of Maybelline's foundations are dermatologist-tested, there are certain ingredients such as paraben, talc, alcohol, paraffin that you must look out for in the product. For example, a foundation with paraffin is a no-no for acne-prone skin as they are comedogenic traits. So, scrutinize the ingredient list before buying.
Why Trust StyleCraze?
The author, Chaitra Krishnan, is an avid makeup enthusiast. Her picks for the best Maybelline foundations are a result of hours of research through thousands of product reviews. Maybelline is a trusted drugstore brand that has stood the test of time. They launch good-quality makeup products that are affordable and trendy. Their foundations offer light to medium coverage and are long-lasting.
Frequently Asked Questions
Is Maybelline foundation hypoallergenic?
Not all, but some Maybelline foundations are allergy-tested and suitable for sensitive skin. For example, Best For All Skin Types:Maybelline Dream Matte Mousse Foundation has an allergy-tested formula and is non-comedogenic too.
Is a Maybelline foundation harmful to your skin?
No, most of the Maybelline products are dermatologist-tested, hypoallergenic, and free from harsh chemicals. However, the results may not fall in your favor if you pick a foundation that is not suitable for your skin type. So, it's imperative to check the skin suitability or consult a dermatologist before using a Maybelline product.
Does Maybelline foundation have SPF?
Yes, some of the Maybelline products are sunscreen-based and have broad-spectrum SPF for sun protection. Maybelline Dream Urban Cover Full Coverage Foundation (SPF 50) and Maybelline New York Dream Wonder Fluid-Touch Foundation (SPF 20) are some great choices if you are looking for a sunscreen-based foundation.
Does Maybelline foundation cause acne?
No, a Maybelline foundation will not cause acne if you choose a product suitable for your skin type. However, if you are dealing with acne, Maybelline New York Mineral Power Powder Foundation would be ideal because it contains zinc oxide to reduce oil production and prevents bacterial buildups on the skin.
Is Maybelline foundation water-based?
No. Most Maybelline foundations are silicone-based. But, if it is a liquid product, water is present in the formulation.
Here is the list of some water-based foundations.
How long does the Maybelline foundation last?
On average, the Maybelline foundation lasts for seven hours without touch-ups. A few matte shades can last up to 16 hours.
Does the Maybelline foundation clog pores?
No. Most Maybelline foundations are non-comedogenic and do not clog pores.
Recommended Articles