Top 9 Korean Lipsticks For EveryDay Use
Create the perfect pout with a lightly tinted buildable formula that looks gorgeous!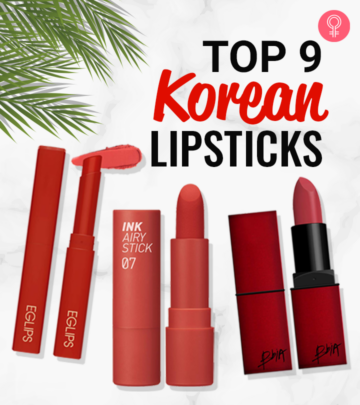 Korean lipsticks are popular for their long-wearing color and good coverage. You can flaunt the best Korean lipstick every day for your work, school/college, or hangouts. They are ideal for dinner dates or evening parties. They go well with any outfit and are ideal for all seasons. The smudge-resistant and transfer-resistant lipsticks are well crafted with glossy looks and a matte finish.
This article has listed the 9 best Korean lipsticks available on the market. Check them out below!
9 Best Korean Lipsticks
The Peripera Ink Airy Velvet Lipstick is infused with marshmallow root extract that gives your lips a velvety matte finish. It comes in sleek packaging and contains sharp cinnamon chai tea. The lipstick's soft, lightweight texture gives you a smooth, weightless powdery matte finish free of clumps and fine lines. Its surface is long-lasting and smudge-resistant. The color does not fade even after a heavy meal and promises to last as long as the dinner date with your loved one. Its boldest color appears natural when applied on the lips for a no-makeup look. Its dual function can work for both the lips and cheeks.
Pros
Long-lasting
Waterproof
A fruity floral scent
Suits all skin tones
Silky smooth
Even stain on your lips
Cons
The Firstfly Crystal Jelly Lipstick has an enriched formula that keeps your lips moist and glossy without feeling sticky. Get that professional look and feel anytime, anywhere with this set of 3 lipsticks. They contain natural ingredients like vitamin E, bee wax, olive oil, and aloe vera that keep the lips hydrated. Their sleek packaging allows them to be reapplied on the go. The lipsticks can easily fit in even the smallest of purses! They do not leave any lip creases. They are made from natural ingredients, including plant extracts that are healthy and safe.
Pros
Set of three lipsticks
Waterproof
Long-lasting
Prevent chapped lips
Moisturize lips
Natural ingredients
Cons
The innovative BBIA Last Lipstick Red Series stays on all day without smudging. This red series lipstick glides on smoothly, offering a velvety texture to your lips. It gives you beautiful, natural Korean lips with good pigmentation. The color is transfer-resistant. You can apply a moderate amount of the lipstick to the center of your lips and gently spread outwards. You will feel the creamy texture gliding smoothly on the lips. The lipstick is non-drying and keeps the lips moisturized.
Pros
Affordable
Long-Lasting
Soft finish
Does not dry lips
Moisturizing
Transfer-resistant
Cons
Dries up quickly
Color varies according to skin tone.
The PrettyDiva Jelly Flower Lipstick can change its color according to the temperature and humidity of your lips. The lipstick tube has a unique design, featuring a small flower inside. Its hydrating formula melts right into your lips and leaves behind a moist pinky-red tint that's perfect for everyday use. This Korean flower lipstick comes in a compact case that allows you to take your products anywhere. It is ideal for the changing seasons and looks gorgeous when it is snowy and cold outside. The lipstick contains vitamin E, candelilla wax, and jojoba seed oil.
Pros
Color changes with temperature
Long-lasting
Waterproof
Kissproof
Prevents chapped lips
Soft coverage
Cons
The velvet-finish lipstick glides on as a liquid and dries down to a luxurious color stroke. This vibrant Korean lipstick brand boosts moisture levels while rejuvenating lips, and keeping them comfortable and conditioned. This roasted red velvety matte finish lasts for hours. It only needs minimal touch-ups. It makes your lips feel velvety, like a rose. This velvet finish lipstick has a strong color-dispersion, while its creamy texture offers semi-matte results without drying the lips out. It also makes the lips appear fuller by changing their natural color into a more vivid shade to compliment the skin tone. You can outline the natural edge of your lips using the tip. Fill out the inner part fully for an intense look or apply gently from the inner rim to the outer lip line to achieve gradation.
Pros
Moisturizing
Sleek packaging
Strong color dispersion
Easy return policy
Cons
Color may fade while eating
Expensive
The Peach C 4Season MLBB Korean Lipstick is a lightweight lipstick that delivers a semi-matte finish. The moisturizing formula nourishes the lips and delivers a silky smooth finish without wrinkling or creasing the lips. The lipstick is available in 4 shades, inspired by the 4 seasons. The highly pigmented colors deliver true colors that last long, giving you plump, fuller-looking lips.
Pros
4 seasonal shades
Moisturizing formula
Lightweight
Silky smooth finish
Cons
None
The Yulip Pink Natural Lipstick gives a fantastic color payoff and moisture. It has 71% organic ingredients and looks like natural makeup. You can wear it all day without any problem as it is easy to apply. The product is allergy- and dermatologist-tested. It is fragrance-free. Its ultra-hydrating, weightless formula helps nourish and protect the lips. The product comes in stunning packaging. With a quick swipe, this Korean lipstick makes the gradient trend easy to do. Are you looking for a last-minute touch-up? This Korean lipstick will solve all your worries.
Pros
No artificial or chemical ingredients
Ultra-hydrating
Weightless
Soft and moisturizing
Long-lasting
Cons
Not suitable for all skin tones.
No return policy
HERA Sensual Spicy Nude Matte Lipstick uses Water-Drop core technology that moisturizes and hydrates the lips, fades lip lines to deliver soft and plump lips. The matte lipstick delivers sheer color while volumizing your lips. It lasts up to 6 hours long without drying out the lips or staining. Moreover, it has menthol that offers a cooling tingle to your lips on application. It is available in 8 different shades that also includes a nude shade.
Pros
Moisturizing
Stain-resistant
Volumizes the lips
Features water-drop core technology
Cons
None
I'M MEME Matte To Go Lipstick has a silky matte formula available in 5 MLBB shades that complement both warm and cool skin tones. The highly pigmented shades deliver true color payoff. The lipstick doesn't dry or chap your lips, leaving your lips smooth and soft. The mini size of the lipstick also makes it easy to use and travel with, giving you the perfect pout lips anywhere on the go.
Pros
Portable
Velvety texture
Suitable for warm and cool skin tones
Easy to use
Cons
Why Trust Stylecraze
Baishali Bhattacharya, the author, is certified in makeup artistry and loves to keep up with the latest lipstick trends. Here, she lists some of the best Korean lipsticks for regular use. These have been selected after thorough research of products and reviews on different online forums. These lipsticks are long-lasting, offer goof color payoff, and are smudge-proof and skin-friendly.
Frequently Asked Questions
What lipstick do Korean actresses use?
The Rouge Dior Ultra Care Flower Oil Liquid Lipstick is popular among Korean actresses. It is infused with flower oils, super moisturizing, and offers long-lasting wear for up to 12 hours.
What kind of lipstick do kpop idols use?
The Bobbi Brown's Extra Lip Tint in bare pink is a well-known favorite lip balm product used by K-pop idols.
Why do Korean actors wear lipstick?
Korean actors wear lipstick to enhance their looks. However, it's not just Korean drama actors who wear lipsticks; male dancers, performers, and artists also wear lipsticks and makeup.
Recommended Articles