Top 9 Korean Lipsticks For EveryDay Use
Create the perfect pout with a lightly tinted buildable formula that looks gorgeous!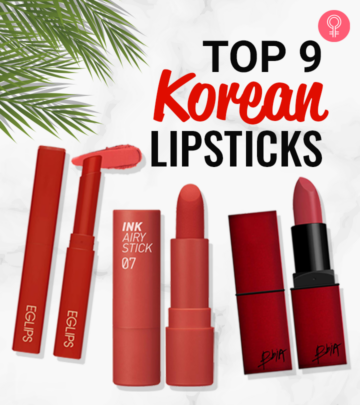 Korean lipsticks are popular for their long-wearing color and good coverage. You can flaunt the best Korean lipstick every day for your work, school/college, or hangouts. They are ideal for dinner dates or evening parties. They go well with any outfit and are ideal for all seasons. The smudge-resistant and transfer-resistant lipsticks are well crafted with glossy looks and a matte finish.
This article has listed the 9 best Korean lipsticks available on the market. Check them out below!
9 Best Korean Lipsticks
The ETUDE Fixing Tint is a highly pigmented matte lipstick that gives your lips a soft, smooth, and creamy texture. The matte lipstick gives instant hydration for a perfect dazzling smile. The formula is long-lasting and gives full coverage. It is smudge-free for up to 6 hours and gives a high color payoff. It gives a transfer-free experience after 60 seconds of application, letting you wear a mask easily without coloring it off. Its midnight mauve color gives a pigmented ultra-thin formula.
Pros
Lightweight
Transferproof
Soft matte finish
Mask-proof
No smudge
Full coverage
Hydrating
Cons
Price at the time of publication: $8.8
The Uriage Eau Thermale Moisturizing Lipstick gives instant hydration to your dry and chapped lips. Its transparent texture is rich in hyaluronic acid & shea butter, which moisturizes your lips deeply while protecting them from environmental aggressions. This creamy lipstick glides easily in just one swipe and makes your lips feel hydrated and softer all day. The vitamin C in it exfoliates the dead cells giving you soft & nourished lips all day long. Its copper color is ideal for teens and adults.
Pros
Rich hydration
Nice smell
Natural ingredients
Phthalate-free
Paraben-free
Hypoallergenic
Dermatologically tested
Ideal for children
Cons
Price at the time of publication: $9
The rom&nd Zero Matte Lipstick has a velvety matte finish. It is lightweight and has a rich textured formula. The lipstick is highly pigmented, and its non-flaky formula delivers a long-lasting smooth, creamy finish. The lipstick glides smoothly and gives a natural-looking coverage that suits every skin tone. It gives full coverage in one stroke without feathering. It smoothes chapped lips while keeping your lips soft and hydrated. Its transparent cover looks elegant and adds style. The lipstick even makes your lips softer.
Pros
Lightweight
Non-flaky
Velvety finish
Soft texture
Long-lasting
Highly pigmented
Cons
None
Price at the time of publication: $14.48
The Yulip lipstick is a refillable lipstick formulated with 80 percent organic ingredients. It is rich in natural oils, vitamins A, C, E, and omega 3, 6, and 9 fatty acids that nourish and moisturize your lips and make them soft. The color is highly pigmented and easily buildable. Its innovative chemical-free formula offers a high-defined creamy, semi-matte finish. The lipstick case is sustainable and is made from corn starch which is environmentally friendly and biodegradable. While the AM11 shade is a burnt orange shade perfect for neutral undertones, its dual function works for both the lips and cheeks.
Pros
Creamy finish
Natural formula
Minimal touch-ups
Environment-friendly packaging
Non-GMO
Cruelty-free
Gluten-free
Soy-free
Fragrance-Free
Cons
Price at the time of publication: $28
The HERA Rouge Holic Lipstick is a luxury K-beauty brand that dazzles your lips. The lipstick leaves your lips with an instant shine and satin finish, giving them a plump look. The lip color glides smoothly and blends well on your lips while giving a buildable coverage. It is rich in hydrating ingredients which moisturize the lips, making them smooth and hydrated for up to 8 hours. The 310 Roseate Fuchsia shade is a creamy pink shade that gives you a brilliant creamy-textured in just one swipe. Its rich formula penetrates deeply into the fine lines of lips and gives smoother, richly colored lips which feel comfortable and moisturized all day long.
Pros
Long-lasting
Rich pigmentation
Instant hydration
Smooth application
Luxurious feel
Glides smoothly
Cons
Price at the time of publication: $44.99
The Amuse Dew Velvet is a nude color lipstick that is enriched with 40 percent water stain, which gives a velvety tint. The hydrating formula has a velvety texture that glides smoothly over the lips and restores lip moisture. It features a unique pro-tip applicator that outlines and fills your lips effortlessly. Further, it quickly dries out without making your lips feel dry or sticky. It comes in a compact case that allows you to carry it easily in your purse. The sheer peach color gives a glistening adhesion that lets your lips remain soft, plump, and hydrated for a longer duration.
Pros
Lightweight
Velvety texture
Smudge-proof
Non-drying
Vegan
Hydrating
Water-resistant
Glides smoothly
Cons
None
Price at the time of publication: $21.82
The Yulip Pink Natural Lipstick gives a fantastic color payoff and moisture. It has 71% organic ingredients and looks like natural makeup. You can wear it all day without any problem as it is easy to apply. The product is allergy- and dermatologist-tested. It is fragrance-free. Its ultra-hydrating, weightless formula helps nourish and protect the lips. The product comes in stunning packaging. With a quick swipe, this Korean lipstick makes the gradient trend easy to do. Are you looking for a last-minute touch-up? This Korean lipstick will solve all your worries.
Pros
No artificial or chemical ingredients
Ultra-hydrating
Weightless
Soft and moisturizing
Long-lasting
Cons
Not suitable for all skin tones.
No return policy
HERA Sensual Spicy Nude Matte Lipstick uses Water-Drop core technology that moisturizes and hydrates the lips, fades lip lines to deliver soft and plump lips. The matte lipstick delivers sheer color while volumizing your lips. It lasts up to 6 hours long without drying out the lips or staining. Moreover, it has menthol that offers a cooling tingle to your lips on application. It is available in 8 different shades that also includes a nude shade.
Pros
Moisturizing
Stain-resistant
Volumizes the lips
Features water-drop core technology
Cons
None

Price at the time of publication: $39.99
The I'M MEME Velvet is a matte lipstick that is highly pigmented. It has a rich, non-sticky texture that is not heavy on the lips. It is infused with raspberry seed oil which gives instant hydration and makes your lips pop. Its velvety matte texture glides smoothly, while its lightweight formula delivers a smooth and even matte coverage that doesn't transfer or bleed. The lipstick glides on smoothly, giving you a precise application of vibrant carrot red shade. Get a softer look by applying a gradient layer, while applying a thick layer gives you a bolder look.
Pros
Long-lasting
Transfer-proof
Fade-proof
Highly pigmented
Hydrating formula
Glides smoothly
Soft texture
Cons
Price at the time of publication: $17
Korean lipsticks are becoming increasingly popular in the beauty world, and for good reason! They offer a wide range of shades and finishes, plus they're super affordable. If you're looking to try out this trend, there are a few things you should keep in mind when shopping for Korean lipsticks.
Things To Look For In A Korean Lipstick For Everyday Use
Consider Your Skin Tone: The first step is to consider your skin tone and find a lipstick that will complement it. If you have fair skin, look for a light pink or nude shade. For medium skin tones, go for peachy nudes or mauves. And if you have dark skin, try deep burgundy or plum shades.
Decide On The Finish: Choose whether you want a matte finish or a glossy finish. Matte lipsticks are great for an everyday look because they are long-lasting. Glossy lipsticks are also great for everyday wear, but they may not last as long as matte lipsticks. However, glossy lipsticks are less drying than matte lipsticks.
Choose A Formula: There are many different formulas of Korean lipsticks, so it is important to choose one that will work well with your lips. If you have dry lips, look for a hydrating formula that contains nourishing lip care ingredients like shea butter or jojoba oil. If you have sensitive lips, opt for a lipstick that is free of fragrances and dyes. If you want a long-lasting lipstick, choose one with a staining formula.
Consider The Price: When considering the price of a Korean lipstick, it is important to keep in mind the quality of the product. Many Korean lipsticks are made with high-quality ingredients and offer long-wearing formulas. This means that you will get more bang for your buck when you purchase a premium-quality Korean lipstick.
Packaging: Another factor to consider when determining the price of a Korean lipstick is the packaging. Many Korean brands put a lot of effort into creating beautiful packaging for their products. This can make the overall cost of the product higher than other brands that do not offer such luxurious packaging.
Why Trust Stylecraze?
Baishali Bhattacharya, the author, is certified in makeup artistry and loves to keep up with the latest lipstick trends. Here, she lists some of the best Korean lipsticks for regular use. These have been selected after thorough research of products and reviews on different online forums. These lipsticks are long-lasting, offer goof color payoff, and are smudge-proof and skin-friendly.
Frequently Asked Questions
What lipstick do Korean actresses use?
The Rouge Dior Ultra Care Flower Oil Liquid Lipstick is popular among Korean actresses. It is infused with flower oils, super moisturizing, and offers long-lasting wear for up to 12 hours.
What kind of lipstick do kpop idols use?
The Bobbi Brown's Extra Lip Tint in bare pink is a well-known favorite lip balm product used by K-pop idols.
Why do Korean actors wear lipstick?
Korean actors wear lipstick to enhance their looks. However, it's not just Korean drama actors who wear lipsticks; male dancers, performers, and artists also wear lipsticks and makeup.
Recommended Articles