9 Best Nars Lipsticks With Buying Guide for 2023
These glide like a breeze and keep your lips intensely colored and hydrated.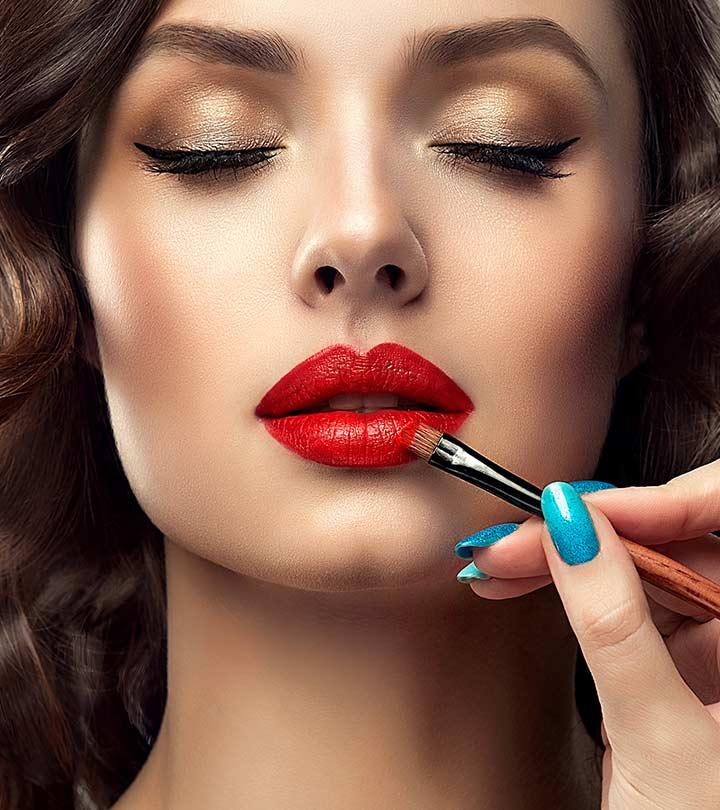 We can say for sure that lipstick is a product that makes every wearer look her best. If you want to look and feel your best, the best NARS lipstick can help with that. Founded by world-famous photographer and makeup artist Francois Nars in 1994, Nars lipsticks give women the power to play with makeup and have fun! They are made from moringa seed and passionfruit oils and give your lips a smooth and creamy look. Available in multiple shades, Nars lipsticks are smudge-proof and light, giving your lips a moisturized and sheer finish.
Take a look at some of the top Nars lipsticks you can use to show off you Alysha Tucker beautiful kissable lips. Keep scrolling!
9 Top Rated Nars Lipsticks of 2023
The Nars Iconic Lipstick is a beautiful metallic color. It has a rich and creamy texture and feels lightweight upon application. It is infused with conditioners and antioxidants like moringa and passion fruit seed oils that nourishes the lips while also making the color look more vibrant. This lipstick contains a rich pigment that provides buildable coverage for you to customize the shade per your preference. This nude shade is the best choice for a natural makeup look.
Pros
Moisturizing formula
Long lasting
Buildable
Super pigmented colors
Paraben-free
Cons
None
Pro Tip
Dust some loose setting powder after applying your lipstick. This will ensure flawless longevity of your look.
Redefine shine with a burst of this neutral yet ultra-shiny wear. The creamy formula with a comfortable color enriched with skin-sensitive ingredients is smooth and glides evenly upon the lips. Formulated with ingredients like lanolin oil, beeswax, Copernicia Cerifera wax, keep the skin nourished and protected from harmful chemicals. A glide of the wand application and one of the best Nars lipstick colors lets you pop in the crowd without making you look extra bright.
Pros
Smooth-textured
Highly-pigmented
Comes with an extra shine
Wand application for convenience
Cons
Price at the time of publication: $57.88
If you are all for comfort over style then go for the convenient packaging of lip colors in the form of lip pencils. Easy to use and easy to travel with, these crayons come in a range of some intense Nars lipstick colors that make bold statement lips. A highly pigmented and good-quality product like this looks good on the skin and improves it with every use. These bold colors are applied smoothly without the need for a brush and leave a long-lasting velvety matte effect without cracking or drying out. Need more information? Watch this video to make an informed decision about the product.
Pros
Durable
Skin-friendly
Classic lip color
Non-drying formula
Smudge-proof
Leaves a velvety matte finish
Cons
Does not come with a sharpener
Price at the time of publication: $26.0
The NARS Nars Powermatte Lip Pigment Liquid Lipstick glides smoothly on your lips. It offers a matte finish with long-lasting and full coverage. The design of the applicator ensures that the application is precise and effortless. Line your lips with the applicator and fill in with the remaining color for added definition. This lightweight lipstick is truly weightless and smudge-resistant.
Pros
Smudge-resistant
Easy to use
Weightless
Fast drying
Suits all skin shades
Cons
NARS first began their cosmetics line in 1994 with just twelve lipsticks sold at Barneys New York.
Price at the time of publication: $19
Everything about this lipstick is wonderful. It's highly-pigmented, smudge-free, made of skin-friendly ingredients, and much more. As the name suggests, Nars Audacious Lipsticks are unabashedly bold in their texture and color and are cult-favorite lipsticks because of the smooth finish. Just one stroke of this Nars lipstick shade and the entire lip area gets covered with the soft-matte sensation. What's more exciting is the classy and elegant packaging with the Nars logo embossed on the lipstick bullet and sturdy lid that would not come off easily when inside your handbag.
Pros
Weighs 14 ounce
Durable
Smooth application
Smudge-free
Skin-sensitive
Cons
The color looks a shade lighter on applying.
Pro Tip
You can use lipsticks with a creamy formula as a blush or cheek tint. Dab a bit of this lipstick on your cheek bones using a blender or your fingers. Blend well for a glowy look.
Price at the time of publication: $12.99
A powerful and pure matte lipstick from the collection, Nars A Levres Pur Mat is an ultimate combination of flexibility and precision. Nars is a classic professional makeup artist choice as it is a concentrated liquid that is creamy in texture but feels lightweight on application. One of the most popular Nars lipsticks, the liquid feels like ink on lips and dries down instantly making it smudge-resistant and safe wear. Shake it well before use to enjoy the best of what the lip liquid has to offer. If you need further convincing, check out this YouTuber's review.
Pros
Smudge-free
Matte pigments
Comfortable wear
Lightweight
Durable
Dries off quickly
Cons
Price at the time of publication: $27.5
Looking for a lip pencil that allows an easy and precise application? Nars' Velvet Gloss lip pencil is a jumbo pencil format that gives out a velvety vibrant color with a smooth finish. Soft-to-saturated tones, intense colors, and ultra-creamy and comfortable textures give your lips a richer and fuller experience. Whether mix and match it with other Nars lipstick shades, or use it individually, wear it and watch the shades create magic! Alysha Tucker, a certified permanent makeup artist recommends, "These specific pencils are jumbo sized so make sure you purchase a large sharpener to keep it usable."
Pros
Enriched with vitamin E
Vibrant shades
Ingredients include a blend of hyaluronic spheres
Lightweight formula
Precise application
Jumbo-sized
Leaves a tinge of shine
Cons
Doesn't come with a sharpener
Price at the time of publication: $29.99
With Nars' Satin lipsticks the only rule is to let your lips shine away. Moringa and passion fruit seed oil used in the formulation leads to a nourishing product that even promises to improve skin quality. A midway between matte and gloss, this opaque color looks like a nude pink and blends evenly on the lips. So, if you are searching for a natural look and a smooth lip finish, get a few beiges and nudes from Nars' collection of the best satin finish lipsticks.
Pros
Long-lasting formula
Suits all skin tones
Moringa and passion fruit seed oil formulated
Cons
Price at the time of publication: $21.1
Endless artistry and infinite expressions, this is what the lipstick represents. The shade Instant Crush is a stylish pink that has a silky sheer finish and looks bold on any lip. Expose yourself to the range of the best Nars lipsticks with a sheer finish and leave everyone around awestruck. For best results, apply a single stroke first to check the intensity and eventually keep adding more according to your look.
Pros
Weighs 3.5 g
Durable
Long-lasting sheer
Has high moisture content
Cons
The bullet is smaller in size.
Price at the time of publication: $26.0
Lipsticks are one of the most important items of makeup and this is why it becomes utterly important to look for high-end brands like Nars that keeps your skin protected from synthetic chemicals.
Why Are Nars Lipsticks The Most Talked-About In The Industry?
Bold looks and epic shades, that's what Nars lipsticks are all about. Their audacious textures, unexpected colors, and unabashed collection makes them the most popular amongst makeup lovers. A recently introduced new lineup of lipsticks inspired by the vision of the revolutionary Francois Nars has groundbreaking shades from sensual nudes to bright and bold ones. Formulated with various fruit seed oils, Nars lipsticks are lightweight wear and an unconventional feel for all skin types. Nars lip colors featuring almost hundreds of shades, each named after a special woman from the makeup artist's life, are available in sheer, satin, and matte finish making it a hot favorite.
The Bottom Line
Nars lipsticks are very helpful for everyday makeup. The brand produces lipsticks that are lightweight, easy to wear and smudge-proof. They provide the lips with a smooth and creamy look that lasts all day long. If you want a nude metallic shade, the Nars Iconic Lipstick- Sexual Healing is the perfect choice, while the Nars Crayon À Levres Velours Mat Lip Pencil – Cruella is most convenient for applying on the go. You can also opt for the NARS Nars Powermatte Lip Pigment Liquid Lipstick for a long-lasting matte finish. These lipsticks also keep your lips hydrated and well protected from outside dirt and impurities. There are many Nars lipsticks available in the market that provide a glossy finish. However, you should ignore those lipsticks from the brand that doesn't fade while eating.
Why Trust StyleCraze?
Chaitra Krishnan, who has authored this article, is a makeup aficionado who finds immense joy in experimenting with different makeup products to help her readers pick suitable ones. Nars being a highly desired lipstick brand, Chaitra has tried out different Nars lipsticks to curate a list of must-buy ones for the readers. The options listed below are perfect for letting you steal the show as they allow you to play with different colors and shades.
Frequently Asked Questions
Is Nars a luxury brand?
Nars is a French personal care company that sells cosmetics and skincare products that have satisfied thousands of customers over so many years. A collection of high-end products like lipsticks, lip gloss, blushes, etc., comes with the right amount of pigmentation making it a top-notch brand.
Is Nars a good brand?
Many believe that Nars' range of colors and shades work beautifully for all skin tones. They come up with high-quality lipsticks and other cosmetic and skincare products that suit all skin types. Nars' collection includes Nars lipsticks, lip glosses, lip balms, lip liners, lip pencils, eyeshadows, blushes, bronzers, and concealers, to name a few. A brand offering a wide range of top-quality products is bound to be one of the favorite brands of its customers.
Are Nars products worth the money?
Most of the Nars products are worth the money for sure. Their formulas are much better and the basic ingredients used are skin-friendly. Nars has luxurious lip products with a wide range of shade, tone, and color. Every product is extraordinary, their fragrance distinct, and their packaging different from the rest.
How is Nars lipstick better than any other brand?
Nars is known for its quality. Not just lipsticks but all its other products like bronzers, blushes, and concealers are worthy of appreciation. However, Nars lipsticks are better than the rest because of their audacious lipstick shades and durability.
Does Nars lipstick stay on?
Yes. Nars lipsticks have high-intensity colors that glide seamlessly on your lips. They are long-lasting, skin-friendly, and transfer-resistant.
What does NARS stand for?
NARS is the name of a famous French cosmetics and skin care brand. It is not an acronym.
Why is NARS popular?
NARS is a popular brand as it manufactures makeup products with long-lasting results and unique formulas. In addition, NARS is cruelty-free, making it an ethically responsible brand.
Is NARS owned by Loreal?
No. Loreal does not own NARS. The brand is a subsidiary of Shiseido.
Recommended Articles
The following two tabs change content below.