10 Best Vitamin K Creams For Skin Healing
Bid farewell to various skin issues and welcome soft, hydrated, and healthy skin.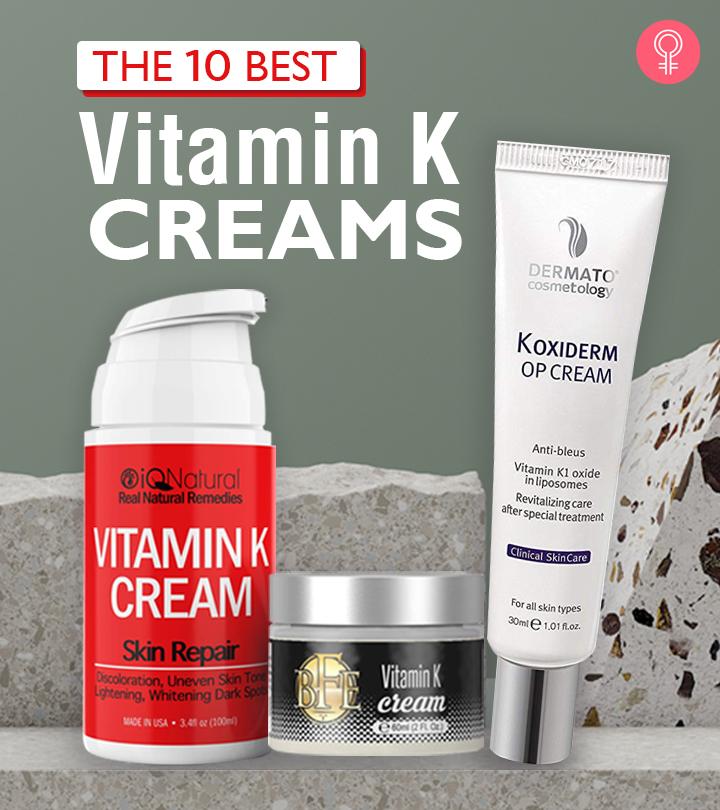 Skin care hero, vitamin K, is often overlooked. But did you know that you can heal bruises and scars with the best vitamin K cream and lotion? Applying vitamin K creams help reduce dark circles, redness, blemishes, and fine lines. There is a lack of research on vitamin K, but those who have used it topically testify to its healing power. Browse our list of the 10 best vitamin K creams for more information. Scroll down to take a look!
10 Best Vitamin K Creams You Can Try
This vitamin K cream is developed to repair bruised skin. It claims to improve the appearance of broken capillaries and reduce the redness of the skin. It also claims to enhance the appearance of rosacea and redness caused by any other skin irritation. This cream also helps fade black or blue marks that you might develop post-surgery, skin thinning, or trauma. A patch test is recommended before use.
Pros
No animal testing
Does not contain any animal ingredients
Softens the skin
Cons
May leave a white residue on the skin.
Price at the time of publication: $15.68
This professional-strength 5% vitamin-K cream ensures maximum results. It helps reduce the appearance of bruises and spider veins. After application, it causes a heating sensation that helps open up the pores for better absorption. It contains shea butter and white thyme, basil, and cedarwood oils that keep your skin healthy and smooth.
Pros
Lightweight
Non-greasy
Pleasant fragrance
Cons
Contains parabens
Contains urea
Price at the time of publication: $29.98
This vitamin K cream can be used as an under-eye and face cream. It contains wild Mexican yam extract, Manuka honey, and royal jelly extract, which help reduce redness, dark circles, and bruise marks. It is incredibly moisturizing and helps improve the overall appearance of your skin. Avoid using it on broken or irritated skin. A patch test is a must before using this product.
Pros
Paraben-free
Mineral oil-free
SLS-free
Gluten-free
Non-fat formula
No artificial color
No artificial fragrance
No animal testing
Non-GMO
Vegetarian formula
Can be applied under makeup and sunscreen
Cons
May not work on broken capillaries.
Price at the time of publication: $9.99
This cream contains maximum strength vitamin K and claims to improve the appearance of discolored skin due to bruises, broken capillaries, and spider veins. It helps reduce under-eye puffiness, dark circles, fine lines, and wrinkles. It also helps soothe dry, itchy skin and keep your skin healthy.
Pros
Clinically-proven formula
GMP-certified
FDA approved
No animal testing
Fast absorption
Non-greasy
Cons
May not work on spider veins.
Price at the time of publication: $22.98
This cream contains 2% vitamin K1 oxide and is meant for revitalization care. It helps improve the appearance of skin discolorations, spider veins, bruising, and redness. It promotes wound healing and decreases wound tension, thereby reducing the chances of keloid formation. It also helps promote tissue regeneration, ensuring proper and quick wound healing.
Pros
Hypoallergenic
Can be used for post-cosmetic surgery healing
Works on dark circles
Improves broken capillaries
Cons
Takes time to show results.
Price at the time of publication: $56.87
This vitamin-rich cream claims to promote even skin tone by reducing spots and pigmentation. It contains organic coconut water, aloe vera gel, chamomile tea, and Omega-X complex. This Omega-X complex is a blend of omega 3, 6, 7, and 9 fatty acids that improve skin health and texture. It minimizes fine lines and enhances the elasticity and resilience of your skin.
Pros
Contains botanical extracts
Non-GMO
Gluten-free
Cruelty-free
Eco-responsible packaging
Paraben-free
Preservative-free
Cons
Price at the time of publication: $16.38
This vitamin K cream is a bruise correcting cream infused with arnica. The hydrating formula retains skin's natural moisture that reduces puffiness and under-eye circles and smoothes the appearance of fine lines and wrinkles. It also improves the appearance of spider veins and broken capillaries for an improved skin appearance. In addition, it smoothes the skin and relieves itchiness, dryness, redness, and irritation. It is suitable for all skin types for both men and women.
Pros
Suitable for all skin types
FDA-approved
Cruelty-free
Safe for sensitive skin
Suitable for men and women
Cons
Might take time to show results
Price at the time of publication: $22.98
This is a maximum strength vitamin K cream that contains arnica, an excellent bruise healer. This cream improves microcirculation in the capillaries, thus improving their appearance. It hydrates the skin, soothes redness, and reduces the appearance of spider veins. It relieves swelling, itchiness, and dryness. It contains peptides and hyaluronic acid that reduce puffiness under the eyes.
Pros
Clinically-proven formula
FDA approved
GMP-certified
Cruelty-free
30 days money-back guarantee
Safe for all skin types
Cons
May not be effective on spider veins.
Price at the time of publication: $23.98
This repairing cream contains K-complex and is targeted towards skin recovery after aesthetic treatments. It contains SPF 50 that protects vulnerable skin from harmful UV rays. You can use this cream after cosmetic surgeries as it helps to soothe your skin and deliver essential healing nutrients to it. The vitamin C promotes collagen synthesis and cell renewal, which is crucial for skin healing. It contains soy flavonoids that reduce pigmentation and marks. The moisturizing complex in this product contains shea butter and glycerin for maintaining optimal hydration.
Pros
Dermatologically tested
4% vitamin K complex
Fragrance-free
Paraben-free
SPF 50
Contains hyaluronic acid
Cons
None
Price at the time of publication: $69.99
This product has a proprietary formula that contains powerful moisturizing antioxidants to foster the skin's natural healing process. It stimulates elastin and collagen production to restore the skin's vibrancy while making it firm and even-toned. It also helps minimize discoloration, puffiness, wrinkles, and fine lines. It is a non-greasy cream and suitable for all skin types.
Pros
Contains arnica
Dermatologist-recommended
Cruelty-free
Non-greasy
Non-irritating
Suitable for all skin types
Can be used on the face and body
Cons
None
Price at the time of publication: $27.98
Vitamin K creams can help you deal with a lot of skin issues. Although there is no research backing any claims, using vitamin K cream is beneficial for the following reasons.
Benefits Of Vitamin K Creams
They are thought to help improve the physical appearance of varicose veins and spider veins. However, vitamin K cannot treat varicose veins; only a doctor can help with the treatment.
Vitamin K creams help reduce the appearance of dark circles. They are also said to be useful in improving the appearance of stretch marks.
If your skin is healing from surgery, vitamin K creams can speed up the healing process.
It is also used to calm down the symptoms of rosacea during flare-ups.
Dr. Anna Chacon, a board-certified dermatologist, says, "When compared to the Eucerin-treated group, application of Vitamin K enhanced wound healing at all times commencing on the fourth day and reaching statistical significance on the seventh day."
Why Trust StyleCraze?
Shiboli Chakraborti is a dedicated product writer and certified skincare coach who provides her readers with the finest suggestions on beauty products based on her expertise and extensive research. For this post, she has put together a list of the best vitamin K creams for skin healing after going through many review forums. Each product described here has a brief description as well as advantages and disadvantages. She also included information on vitamin K's skin benefits and a buying guide so you can make an informed decision.
Frequently Asked Questions
Can you put vitamin K directly on skin?
Yes, you can apply products with vitamin K directly to your skin.
Is there a vitamin K ointment?
Yes, vitamin K ointments are available in the market. You can purchase them from pharmacies and medical stores.
Is vitamin K cream good for under eyes?
Yes, vitamin k can be a good addition to your skin care for fading dark under-eye circles.
Does vitamin K cream get rid of spider veins?
Yes, vitamin K can get rid of blood clots and rebuild vascular walls, thus helping reduce spider veins.
Does vitamin K cream work for broken capillaries?
Yes, vitamin K cream can help with broken capillaries and reduce inflammation.
Recommended Articles