Top 13 Gel-Based Cleansers For Oily Skin You Must Try In 2023
These cleansers for oily skin fight excess sebum production to reveal healthy skin.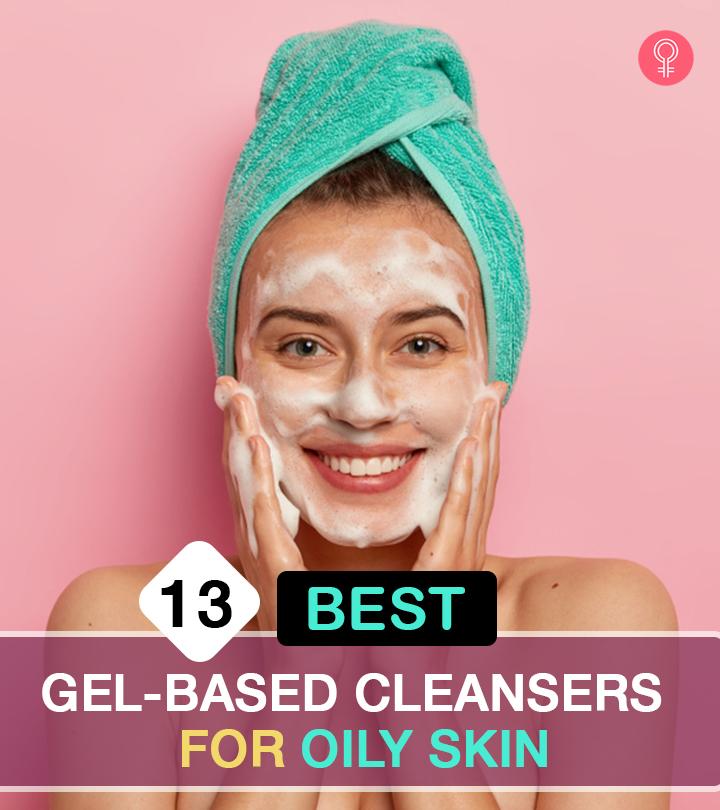 If you have oily skin, you must be aware that this particular skin type requires constant attention to keep your skin clean, fresh, and hydrated. Hence, you need to use the best gel cleansers for oily skin. Oily skin is sensitive and prone to breakouts and pimples. Therefore using an excellent cleanser should be the first thing you do in the morning.
Keep reading to check out the best gel-based cleansers for oily skin. Studies show that a gentle gel-based cleanser will control excess sebum production and keep your oily skin in control while also offering deep pore cleansing (1).
Here, we have listed the 13 best gel facial cleansers specifically meant for oily skin. Check them out!
13 Best Gel-Based Cleansers For Oily Skin
The InstaNatural Cleanser is enriched with potent antioxidants like vitamin C and natural organic extracts like aloe vera that rejuvenate the skin. Vitamin C penetrates skin and helps unclog the pores. It cleanses skin deeply and prevents blemishes and breakouts. The combination of soothing oils balances excess sebum formation and boosts hydration, leaving one feeling refreshed. The extracts along with green tea restore skin radiance and reduce the appearance of wrinkles, dark spots, and fine lines. If you are still unsure about the InstaNatural Vitamin C Cleanser , this review video might help you to make a decision.
Key Ingredients: Vitamin C, aloe vera, green tea extract
Pros
Paraben-free
Cruelty-free
No synthetic dyes
No added preservatives
DEA/MEA/TEA-free
Natural organic ingredients
Maintains electrolyte balance
Anti-aging
Can be used both day and night
Non-comedogenic
Provides gentle exfoliation
Cons
May cause a burning sensation
Not suitable for sensitive skin
Price at the time of publication: $35.0
The La Roche-Posay Effaclar Gel Cleanser is formulated with zinc pidolate (Zinc PCA), one of the active ingredients that purify the skin and remove excess oil. Zinc PCA, when applied topically, acts as an astringent and reduces acne breakouts and blemishes. It also controls excess sebum formation. It exhibits antiseptic and anti-inflammatory properties that halt the production of acne-producing bacteria, and reduce redness and inflammation. This refreshing foaming gel is safe and gentle to use both day and night. Check out this video about the La Roche-Posay Effaclar Gel Cleanser to know more about the benefits of the product.
Key Ingredients: Zinc PCA
Pros
Paraben-free
Dermatologically-tested
Tested on acne-prone oily skin
No alcohol
Gentle cleanser
Safe for using both day and night
Reduces acne-causing bacteria
Non-drying
Soap-free
Cons
Contains fragrances
May not suit sensitive skin
Price at the time of publication: $20.99
The Neutrogena Acne Proofing Gel Cleanser is one of the best acne-fighting formulae that clear breakouts and blur blemishes. This cleanser is infused with maximum strength salicylic acid, which is an effective beta-hydroxy acid that unglues the bonds holding dull, dead skin on the surface. Once these bonds are separated, the cleanser gently exfoliates and buffs away dead skin for smoother, younger-looking skin. Watch this video to find out the unfiltered review of the Neutrogena Acne Proofing Gel Cleanser.
Key Ingredients: 2% Salicylic acid
Pros
Dermatologist-tested
Buffs away dead skin
Clinically-proven formula
Fights breakouts
Safe for regular use
Cons
Unpleasant chemical smell
Not suitable for hormonal acne
Price at the time of publication: $9.11
COSRX Good Morning Gel Cleanser is a low pH formula (5.0-6.0) that protects the skin from external influences from a virus, bacterium, or pollutant. It helps retain skin moisture content. It is also infused with tea-tree oil and natural BHA that reduces the size of the pores and offers a deep cleansing effect that refines skin texture. It provides gentle exfoliation and sloughs off dead skin cells for a more defined and refreshing look. The skin-purifying ingredients with mild acidic cleansing properties leave the skin feeling soft, smooth, and supple.
Key Ingredients: Tea tree oil, natural BHA
Pros
Low pH formula
Suitable for day and night use
Gentle on skin
Soothes irritated skin
Non-comedogenic
Free from SLS
Cons
May not suit sensitive skin
Price at the time of publication: $7.0
The Simplified Skin Vitamin C Cleanser is an organic natural gel cleanser infused with a unique blend of natural ingredients like vitamin C, aloe vera, cucumber extract, and avocado oil that deeply nourish and protect the skin. The potent antioxidant vitamin C helps boost collagen, and prevents breakouts, blemishes, and redness. It offers a refreshed and rejuvenating look. It also protects the skin from free radical damage. The cucumber extract and aloe vera soothe the skin. The cleanser also contains vitamin B complex that helps blur the signs of aging, and improves uneven skin tone and texture in both men and women.
Key Ingredients: Vitamin C, aloe vera, cucumber extract, vitamin B complex
Pros
Paraben-free
Gluten-free
Fragrance-free
Cruelty-free
Sulfate-free
Suitable for gentle cleansing
Blurs signs of aging
Boosts collagen formation
Protects skin from free radical damage
Non-toxic organic ingredients
Cons
Price at the time of publication: $9.99
The Lauer Vitamin C Facial Cleanseris suitable for all skin types. It is infused with 15% antioxidant-rich vitamin C that heals breakouts and blemishes, and fades away the signs of aging. Vitamin C also protects the skin from free radical damage. Rosehip oil is rich in fatty acids that moisturize the skin, promote skin regeneration, improve skin texture and permeability, and reduce the appearance of acne scars. An invigorating blend of aloe vera with vitamin C softens and smoothens the skin, leaving it silky soft and plump. The organic and natural ingredients unclog the pores and remove impurities.
Key Ingredients: Citamin C, rosehip oil, aloe vera
Pros
Cruelty-free
Great for both men and women
Hydrates and refines skin
Fights visible signs of aging
Evens out skin complexion
Reduces pore sizes
Lifts away dirt, excess oil, makeup
Cons
Not suitable for hormonal acne
Unpleasant smell
May make skin dry
Price at the time of publication: $12.99
The Body Shop Tea Tree Skin Clearing Cleanser is a daily foaming gel formulated to be gentle on blemished skin. It is infused with potent teatree oil that soothes dry skin by reducing itching and irritation. The anti-inflammatory properties of the cleanser heal skin redness and leave your skin feeling fresh. Regular cleansing with this foaming gel helps provide protection against bacterial infection and acne breakouts.
Key Ingredients: Tea tree oil
Pros
Reduces acne, blemishes, dark spots
Anti-inflammatory
Removes dirt, impurities
100% vegan
Gluten-free
Silicone-free
Paraben-free
Hand-harvested pure essential oil
Cons
Not suitable for sensitive skin
Price at the time of publication: $15.0
The SeboCalm Facial Cleansing Soap is a lightweight, gentle, oil-free formula that soothes inflamed skin, reduces redness, and helps relieve symptoms of eczema, psoriasis, and seborrheic dermatitis. It is made with skin-friendly cornmeal and coconut oil for effective and gentle cleansing. Seaweed minerals condition the skin and maintain its elasticity, whereas chamomile extract soothes skin. The oil-free gel cleanser removes dirt, absorbs excess oil, and blurs blemishes. It leaves the skin feeling hydrated and refreshed.
Key Ingredients: Cornmeal, coconut oil
Pros
Paraben-free
Sensitivity-tested
Hypoallergenic
Cruelty-free
Sulfate-free
Dermatologically-tested
Soothes skin irritation
Lightweight
Improves moisture absorption
Suitable for both men and women
Cons
None
Price at the time of publication: $15.98
The Odacité Black Mint Face Cleanser is a gentle formula that detoxifies the skin, unclogs pores, and absorbs excess oil. The ultra-fresh minty gel provides invigorated complexion with a refreshing feeling. It also contains activated charcoal and Rhassoul clay – a powerful duo that helps trap excess oil and grime for cleaner-looking skin. Rhassoul clay is rich in magnesium, silica, potassium, and calcium that help support natural skin beauty. The combined astringent properties of peppermint oil and tea tree oil minimize the appearance of pores. They also add a rejuvenating boost to your face.
Key Ingredients: Black mint, activated charcoal, Rhassoul clay
Pros
Natural ingredients
Cruelty-free
Gentle on face
Fresh, pure, organic
Reduces pore size
Ultra-fresh
Dermatologically-tested
Cons
None
Price at the time of publication: $39.0
Transform your dull and uneven complexion into an even-toned and radiant one with the Obagi Nu-Derm Foaming Gel. This gel-based foaming cleanser removes excess oil, impurities, and makeup without over drying your skin. It is suitable for normal to oily skin and thoroughly cleans the clogged pores for a fresh and clean appearance. The oat amino acids perform as water binding agents while aloe vera soothes skin irritation and inflammation. Moreover, the foaming gel helps to minimize the appearance of signs of aging.
Key Ingredients: Aloe barbadensis leaf juice and Oat amino acids
Pros
Smooth texture
Everyday use
Improves skin texture
Anti-aging benefits
Value for money
Cons
Price at the time of publication: $43
The Florencia Botanical Peptide Oxygen Cleanser is infused with high-performance ingredients like peptides, glycoproteins, panthenol, and other botanical extracts that gently cleanse the skin, tighten the pores, remove impurities, and heal acne breakouts. The infused peptides with short-chain amino acids boost collagen and elastin and tighten the skin.
The cleanser is also formulated with natural botanical extracts like aloe vera juice, algae extract, rosehip extract, ginseng root extract, and green tea leaf extract that deeply cleanse the skin, and reduce inflammation and redness. The ginseng root extract is effective in balancing oil secretion. This oil-free oxygenating cleanser with aloe vera juice provides a booster shot of vitamins and minerals to the skin.
Key Ingredients: Peptides
Pros
Natural ingredients
Infused with humectants
Restores hydration
Tightens pores
Improves elasticity
Improves skin cellular respiration
Protects from free radical damage
Reduces inflammation
Buffs away dead cells
Removes impurities
Cons
None
Price at the time of publication: $39.0
The Lauda Botanicals Oily Skin Control Gel Cleanseris infused with organic botanical extracts like aloe vera, witch hazel, nettle leaf extract, oats protein, lavender, cinnamon extract, cucumber, and vitamin C that offer all-round skin protection. Vitamin C and oatamino acid boost collagen synthesis to give you firmer, plumper skin. They also smoothen fine lines and wrinkles, and blur the signs of aging. These natural ingredients also enhance skin cell metabolism.
Aloe vera, cucumber, and witch hazel extract remove dead skin cells. The combination of natural botanical extracts reduces pore size, reduces excess sebum formation, and lightens dark spots and blemishes. The pH-balanced formula is suitable for both men and women.
Key Ingredients: Aloe vera, oat amino acid, vitamin C, cucumber extract
Pros
Paraben-free
Non-GMO
Cruelty-free
No toxic chemicals
Eco-friendly
Fresh, natural fragrances
Minimizes pores
Anti-aging properties
Safe and gentle for daily use
Soothes skin irritation and redness
pH-balanced formula
Cons
None
Price at the time of publication: $10.0
The Evanesce New York Purifying Gel Cleanser deeply detoxifies and cleanses your facial skin. This natural gel cleanser is made with tea tree oil that heals acne breakouts, and reduces inflammation, redness, and soreness. It has antibacterial and antifungal properties that halt the growth of acne-causing bacteria. Salicylic acid, a potent BHA, provides gentle exfoliation to the skin. Marine collagen boosts skin firmness and elasticity.
Key Ingredients: Purifying tea-tree oil
Pros
Soothes acne
Purifies clogged pores
Sulfate-free
100% natural ingredients
Moisturizes sensitive skin
Seals skin hydration
Cons
None
Price at the time of publication: $45.9
[ Also Try – Neutrogena Fresh Foaming Cleanser ]
These are the 13 best gel-based cleansers for oily skin. But how are they different from a foaming face wash? We have discussed that below.
Gel Cleanser Vs. Foaming Face Wash
Gel cleanser, as the name suggests, has a gel-like texture whereas a foaming face wash has a soapy and airy consistency. The foaming face wash is effective in removing excess oil, dirt, and impurities. But it may contain sodium lauryl sulfate that may cause skin irritation and disturb the skin pH balance.
A gel cleanser is effective in reducing acne and removing dirt and grime. It is gentle on the skin. It is mostly infused with natural organic ingredients that restore skin pH balance. It is usually safe for both oily and sensitive skin.
The following buying guide can help you pick the ideal gel cleanser for your skin.
Gel-Based Cleansers – A Buying Guide
Ensure the cleanser has soothing and gentle ingredients. Check for natural, organic, vegan ingredients like tea tree oil, chamomile extract, oat protein powder, and vitamin C. These not only reduce oil and breakouts but also can blur the signs of aging.
Check for exfoliating ingredients. The cleanser should contain BHA to provide mild yet effective exfoliation and leave the skin with clean texture.
It should be free from all chemicals and toxic ingredients. The presence of sodium lauryl sulfate may irritate the skin.
Dr. M. Khawar Nazir, Dermatologist, says, "My patients are very happy with gel based cleansers which help to remove their oil, control acne & keep skin nourished."
Why Trust StyleCraze?
Oyendrila Kanjilal, the author of this article, is a certified skin care coach. She has reviewed and curated a list of the best cleansers for oily skin after deep research and scanning through user feedback. These cleansers are specifically formulated to prevent build up and dissolve dirt, grime, and excess oil. They help unclog the pores, leaving your skin glowing and healthy.
Frequently Asked Questions
Is a gel cleanser good for oily skin?
Applying a gel cleanser as part of a regular CTM routine is definitely good for oily skin.
Is a charcoal cleanser good for oily skin?
Yes, a charcoal cleanser is good for oily skin. It is a natural detoxifier that removes dirt and impurities by unclogging the pores. It also heals acne breakouts.
How often should you cleanse your face if you have oily skin?
You can cleanse your face twice a day to remove pollutants, oil, and dirt from oily skin without stripping the natural oil.
What skin care routine is best for oily skin?
• Cleanse your skin twice a day.
• Exfoliate your skin twice a week.
• Use night creams to hold moisture.
• Moisturize your skin daily.
• Apply sunscreens while stepping out.
Is it okay to use a gel-based cleanser after using a clay mask for oily skin?
No. You need to cleanse the face before using a mask to clear the clogged pores. The mask also acts as a cleanser that removes excess oils and dirt from the skin. So, rinse the clay mask thoroughly with lukewarm water and follow up with a moisturizer or serum.
What should you not use on oily skin?
People with oily skin must avoid the following products:
Petroleum jelly
Coconut oil
Alcohol-based skin care products
Harsh scrubs
Silicone products
Artificial dyes
Recommended Articles