The 10 Best Plum Lipsticks With Reviews
Deep, delicious plum shades are always in fashion, especially when it comes to your lips!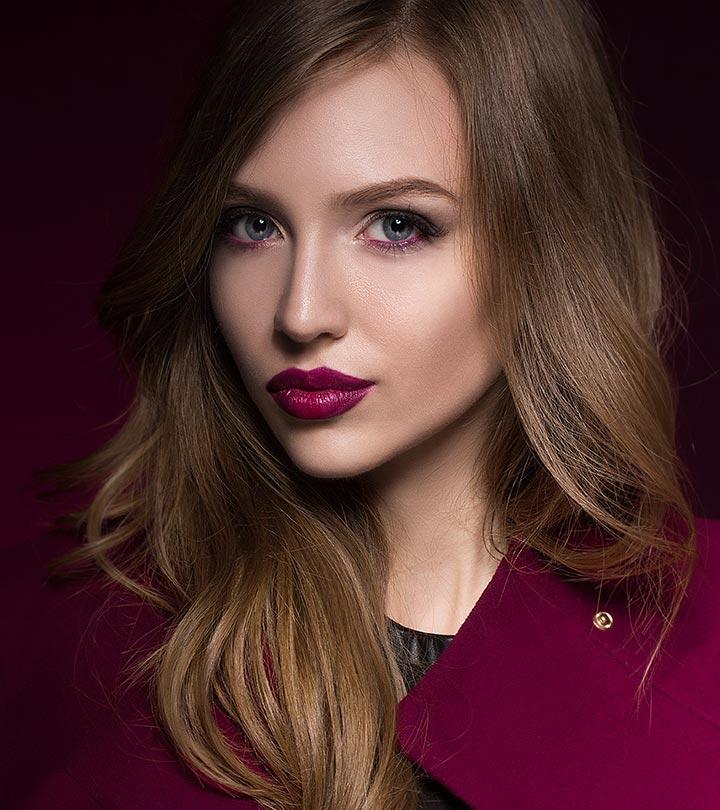 The plum lipstick shades suit all occasions, skin tones, and seasons, making them universally in demand. To find the best plum lipstick can be a tough task because these days, there are numerous options that you can choose from and you don't know which one would be the absolute best. Count on us as we've curated a list of the finest plum lipsticks that will look great on you. Get ahead and color your pout glamorously.
10 Best Plum Lipsticks Of 2023
This cult classic lipstick by Revlon is super lustrous, vibrant, and creamy. It is the perfect combination of high-impact color and a super-moisturizing formula. This buttery lipstick is infused with vitamin E and avocado oil. It uses microfine pigments to ensure the shades are vibrant. The formula does not cake and is lightweight and comfortable to wear.
Pros
Super moisturizing formula
Affordable
Buttery texture
Does not cake
Lightweight
Vibrant color
Non-drying formula
Cons
Not smudge-proof
Minimal coverage
Price at the time of publication: $3.99
Copenhagen by NYX is a plush plum lip color with a creamy matte finish. The texture is soft and glides smoothly on your lips to provide maximum coverage. The intensely creamy formula is lightweight and does not feel dry on your lips. This cruelty-free lip cream offers a stunning matte finish and is sweetly scented.
Pros
Soft and creamy formula
Maximum coverage
Matte finish
Cruelty-free
Lightweight
Highly pigmented
Transfer-proof
Waterproof
Smudge-proof
Durable
Sweetly scented
Cons
Price at the time of publication: $6.5
This velvety plum shade from Maybelline is formulated with honey nectar for a creamy finish. It is lightweight and contains pure color pigments with a creamy clay base that delivers one-stroke intensity. This lipstick is highly pigmented and delivers bold, intense color that lasts long. The smooth gliding formula leaves your lips hydrated, nourished, and conditioned.
Pros
Hydrating formula
Highly pigment
Glides smoothly
Dermatologist-tested
Allergy tested
Suitable for all-day wear
Non-drying
Affordable
Smells good
Cons
Not smudge-proof
Not waterproof
Contains phthalates
Price at the time of publication: $7.0
The Milani Color Statement Lipstick in the shade Plumrose is the best way to make an entrance. This bold plum shade makes sure to make your look pop, even with minimal makeup. It is infused with nourishing vitamins like vitamin A and vitamin C, lasts the whole day, and is extremely lightweight. Its mousse-like texture gives a satin finish and leaves your lips hydrated and supple.
Pros
Long-lasting
Cruelty-free
Super hydrating
Satin finish
Affordable
Contains shimmer particles
Cons
Price at the time of publication: $8.99
Splendid Plum by L'Oreal Paris is formulated with pro-vitamin B5 and nourishing serum. The creamy lipstick is formulated with 45% caring ingredients to deliver 9-hour hydration and does not feather into lines. With regular usage, your lips will look smoother and feel supple. This luminous and hydrating lipstick does not bleed, run, or peel. The smooth texture glides easily on the lips and gives a clean pigmented finish.
Pros
Does not bleed
Long-lasting
Creamy texture
Highly pigmented
Moisture lock formula
9-hour hydration
Does not feather into lines
Cons
Price at the time of publication: $7.89
This lipstick by Neutrogena moisturizes the lips while conditioning them in just three days. It comes in a twist-up packaging and contains mango fruit extracts and shea butter. The balm-like formula glides easily on the lips to provide sheer moisturizing color and makes your lips feel soft and smooth even after taking it off. The shade 70 Plum Perfect offers a sheer and shimmery finish.
Pros
Perfect for sensitive lips
Dermatologist-tested
Twist-up application
Moisturizes the lips
Smells good
Cons
The tip may break off easily.
Price at the time of publication: $7.44
Cherry Plum by Fifth & Frost is a medium pink color with slight reddish tones. The all-natural and organic formula is infused with botanical extracts and essential oils that moisturize your lips. This lipstick contains organic shea butter, jojoba oil, castor seed oil, coconut oil, sunflower oil, cocoa butter, and vitamins A, E, B2, B2, B6, and calcium. It is also infused with real vanilla extract and essential oils like oregano, thyme, cinnamon, lavender, and lemon. The moisturizing lipstick glides smoothly on your lips to deliver natural, vibrant, long-lasting color while conditioning them.
Pros
Made with organic ingredients
Certified cruelty-free
Vegetarian
Phthalate-free
Lead-free
Gluten-free
Paraben-free
Cons
Price at the time of publication: $19.99
Deadly Nightshade by Manic Panic is a deep, dark plum color that comes with a glamorous diamond-etched lipstick case. The creamy lipstick gives a semi-matte finish and contains antioxidants and natural moisturizing agents that make your lips super soft and kissable. The long-lasting color is perfect for late-night outings. If you want to create the maximum impact, apply two coats of the lipstick.
Pros
Vegan
Paraben-free
Gluten-free
Lead-free
Talc-free
Cruelty-free
Long-lasting
Moisturizes the lips
Cons
Price at the time of publication: $15.5
The Dark Plum Scene from RK by Kiss is an ultra-matte, full-coverage lipstick enriched with exceptional color pigmentation. The creamy formula glides on your lips smoothly to deliver bold and vivid color. The moisture-locking ingredients in the lipstick provide hydration and do not let your lips dry out. This is the best go-to plum shade for people with dark skin tones.
Pros
Matte finish
Smooth application
Good pigmentation
Suitable for dark skin tones
Cons
Contains mineral oil and petroleum
Not smudge-proof
Not long-lasting
Price at the time of publication: $4.99
This gorgeous, bold, plum-colored lipstick gives a hydra-matte finish. The long-wearing formula is comfortable on the lips and does not dry them out. It contains a unique blend of grape seed oil, jojoba oil, shea butter, avocado oil, and aloe vera to keep your lips moisturized all day long. The best part is that the color wears off naturally without flaking, cracking, or creating a white film around the lips.
Pros
Cruelty-free
Long-wearing
Creamy consistency
Does not crack or flake
Matte finish
Cons
Price at the time of publication: $18.95
A perfect balance between the sensual reds and the orthodox pinks and browns, plum lipsticks are the new rage. But designers have gone wild with the plum color palette and given us an array of shades and finishes of this color. Here are some points to base your choices on.
Things To Consider While Buying The Best Plum Lipsticks
The plum shade is primarily a deep purple but may have tints of light or dark shades of the basic purple color. This means that there is a variety of plum shades will suit every skin tone, whether it is fair, medium, dusky, or tanned. Look for a plum lipstick that suits your skin tone perfectly and highlights your features. If you have fair skin tone, choose blue-toned plums and for a darker skin tone, choose warm plums.
Choose a nourishing formula to keep the lips moisturized for long hours. Ingredients like shea butter, glycerine, and essential oils like coconut, olive, and jojoba help maintain the natural pH balance and lock in moisture in the lips. Pick a creamy texture that will keep the lips soft and luscious and is easy to glide on. Ingredients like avocado oil and vitamin E nourish the lips and minimize dryness and fine lines.
Avoid harmful chemicals and ingredients like parabens, Tocopheryl Acetate, lead, aluminum, chromium, cadmium, and other heavy metals. These are harmful for your overall health.
Plum lipsticks come in glossy or matte finish. A matte finish is suitable for all day office-wear or even lunch with friends. Glossy lipsticks are good for parties and night outings.
Pick a highly-pigment hue for maximum color and longevity. Lipsticks are worn for long hours and therefore should be water-proof, fade-resistant, smudge-proof, and a non-drying.
Plum lipsticks come in a roll-up stick form or liquid in-a-bottle. The liquid colors come with brush applicators and offer better coverage. They glide on easily because of their creamy texture.
Apply a line of the lip shade on the underside of your arm. Do this in natural light for best results. This part of the skin usually has yellow or pink undertones and works best to find the perfect shade for your skin tone.
If you are wondering which of these shades of plum you should pick, here's a tip – pick one that makes your face pop. So, what are you waiting for? Change your makeup game by including any of these luscious plum lipsticks in your kit. Happy shopping!
Why Trust StyleCraze?
Baishali Bhattacharya, who authored this article, is certified in makeup techniques. She went on a hunt for the best plum lipsticks and prepared a comprehensive list of them. She conducted extensive research and visits to online forums to check customer reviews and pick the best-rated products for the list. The listed items will give you beautiful lips and let you look like the showstopper.
Frequently Asked Questions
Is plum lipstick warm or cool?
Plum lipsticks have an undertone pink color, thus making them cool lipstick.
Can I wear dark lipstick like plum if I have thin lips?
Yes, you can wear any lipstick you want, although wearing plum lipstick on thin lips will not help add any volume to your lips.
Who can wear plum lipstick?
Everyone can wear plum lipstick, especially people with thick lips.
Is plum lipstick good for mature lips?
Yes, a plum lipstick with a matte finish will look good on mature lips. The NYX Professional Makeup Soft Matte Lip Cream is the best plum lipstick for mature lips.
How long does plum lipstick stay on?
Plum lipstick usually lasts for 10-12 hours after application.
How to wear plum lipsticks?
•  Choose a lipstick shade that goes well with your skin tone.
•  Apply light eye makeup.
•  Apply a neutral foundation to your face.
•  Apply mild blush for a bolder look.
•  Avoid overdrawing and keep it simple.
Recommended Articles