10 Best Night Creams For People With Acne-Prone Skin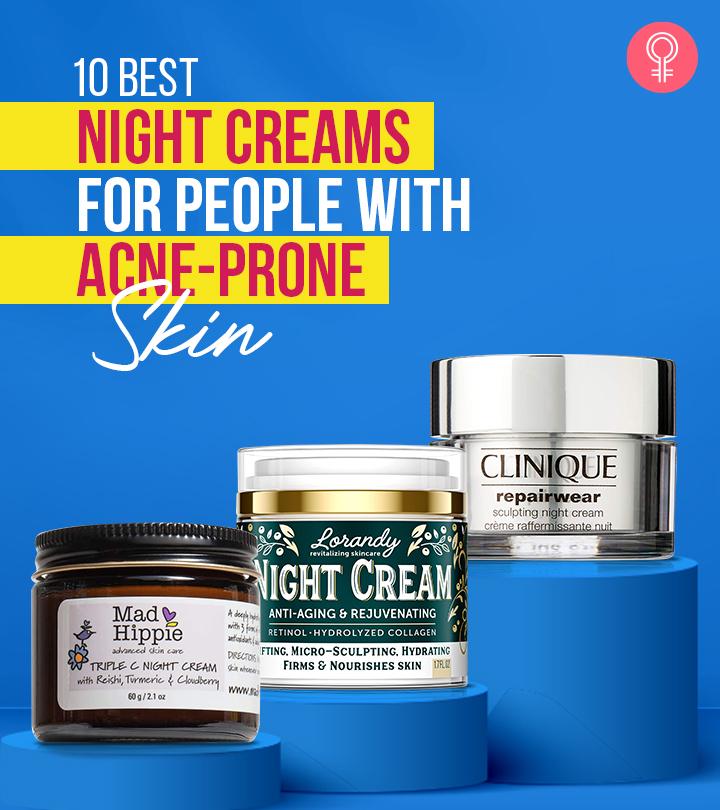 Signs of premature aging are common, and getting rid of them can be an ordeal. But, night cream can help reduce this issue. Skin rejuvenation occurs from 10 pm to 2 am, according to experts, and that's precisely why night creams are an effective solution for various skin-related problems. These creams balance the skin's oil secretion to prevent breakouts and keep it nourished.
But, you cannot use any random product just because your skin needs special care. In case your skin is vulnerable to acne-causing bacteria, you need to be extra careful about the products you apply to it. Therefore, to help you find the ideal formula, we have rounded up a list of the 11 best night creams for acne-prone skin. Scroll down to know more!
10 Best Night Creams For Acne-Prone Skin Only
This Anti-Aging And RejuvenatingNight Cream from Lorandy is a revitalizing moisturizer with anti-aging properties. It is formulated with collagen, retinol, and hyaluronic acid that improve skin tone, diminish wrinkles, and tighten the skin. This premium night cream is enriched with jojoba, avocado, aloe vera, chamomile, and coconut oils that deeply hydrate and nourish your skin. This night cream is scientifically proven to promote cell regeneration and restore the skin's moisture balance. Its powerful micro-sculpting formula gives your skin a younger-looking appearance. Moreover, the antioxidant properties in this night cream protect your skin from daytime pollutants.
Pros
Non-GMO
100% natural ingredients
Paraben-free
Fragrance-free
Gluten-free
Cons
Naturium Intense Overnight Sleeping Cream is crafted with a biocompatible formula and plant-based ingredients that offer intense hydration. It is formulated with epidermal lipids and infused with anti-aging properties that plump up your skin and control premature aging. Its high-tech formula includes phytonutrients, advanced emulsifiers, and potent hydrators that enhance skin radiance. Moreover, this chemical-free night cream is great for acne-prone skin.
Pros
Dermatologist-recommended
Non-greasy
pH-balanced formula
Paraben-free
Fragrance-free
Cruelty-free
Paraben-free
Gluten-free
Cons
May cause breakouts on sensitive skin
This night cream from CeraVe is a great moisturizer that renews your skin overnight and gives it a softer look. It is formulated with three essential ceramides that seal in moisture and keep impurities out. This cream is also infused with a peptide complex, hyaluronic acid, and niacinamide that reduce fine lines and wrinkles, improve skin elasticity and hydrate and calm your skin. Its creamy and velvety texture gets absorbed quickly without leaving behind a greasy feeling. Moreover, its irritation-free formula makes it especially suitable for acne-prone skin.
Pros
Non-comedogenic
Dermatologist-recommended
Non-greasy
Fragrance-free
Cons
Thick consistency
May sting the eyes
The Triple C Night Cream is a natural skin care product from Mad Hippie that offers you beautiful and healthy skin. This advanced formula is infused with three forms of bioavailable vitamin C that rejuvenate the skin and diminish the appearance of fine lines. The composition of this night cream includes three other ultra-hydrating ingredients –reishi, turmeric extract, and chaga. It also has antioxidant properties that fade hyperpigmentation and protect the skin from pollutants and daily stressors. Moreover, it is enriched with cloudberry, shea butter, and ceramide that brighten the complexion and nourish and moisturize the skin.
Pros
Naturally scented
Non-sticky
Artificial fragrance-free
Cruelty-free
Cons
Not suitable for very sensitive skin
This luxurious Sculpting Night Cream by Clinique repairs your skin while you are asleep. It is crafted with a moisturizing formula that improves the skin texture and luminosity. Its potent formula works secretly at night to define your facial contours and slim down your jawline. Besides sculpting and toning, it also lifts and tightens your skin, giving you a youthful appearance. Moreover, this cream fades the appearance of fine lines and wrinkles and works wellon acne-prone skin.
Pros
Non-allergic
Does not cause breakouts
Fragrance-free
Cons
None
The BreakthroughNight Cream from Body Merry is a face moisturizer that hydrates and rejuvenates your skin while you are asleep. This cream has anti-aging properties that combat the signs of aging and soften dry and rough skin. It is infused with rich natural ingredients like organic jojoba and spirulina maxima that boost the skin's moisture level and add a dewy glow to it by eliminating dullness.
This cream contains vitamins B3, B5, and E that nourish your skin, reduce uneven skin tone, and leave it with enhanced elasticity. The formula of the cream ensures that it does not cause irritation, thus making it suitable for all skin types. The rich emollients infused in this cream make it perfect for treating wrinkles and fine lines. Moreover, its thick whipped butter texture gets absorbed easily and delivers intense moisture in all weather conditions.
Pros
Vegan
All-natural ingredients
Non-greasy
Gets absorbed quickly
Offers long-lasting hydration
Fragrance-free
Cruelty-free
Cons
May dry out the skin
Not suitable for sensitive skin
Palmer's Cocoa Butter Formula Rich Night Cream is enriched with cocoa butter that includes retinol and peptides to boost skin regeneration. Besides natural cocoa butter, this cream also contains vitamin E that softens and smoothens your skin overnight, leaving you with a radiant look. Moreover, the nightly use of this facial cream also makes your skin healthy. The high-quality plant-based ingredients in this non-comedogenic formula make it suitable for sensitive and acne-prone skin.
Pros
Non-comedogenic
Plant-based ingredients
Anti-aging formula
Cons
May cause breakouts
Not suitable for dry skin
This premium night cream from Pure Biology is an excellent moisturizer formulated with allantoin, syn-coll, retinol, collagen, and hyaluronic acid. The collagen formula of this night cream reduces pores, restores skin elasticity, and adds a dewy glow to your skin. It is also packed with shea butter, vitamin C, aloe, and natural oil extract. The presence of baobab oil and ceramide 2 reduces eye bags, puffiness, and dark circles. The retinol infused in this formula helps renew your skin, reduces fine lines and wrinkles, and gives you a youthful appearance. It also helps to restore your complexion, tightens your skin, and promote cellular vitality.
Pros
Non-GMO
Non-greasy
Just a small amount required per use
Fragrance-free
Paraben-free
Cruelty-free
Cons
May dry out the skin
May leave a white cast
This night face moisturizer from O Naturals is enriched with hemp seed oil that helps regenerate new skin cells. This vegan night cream is formulated with shea butter that hydrates your skin and reduces the appearance of wrinkles. It has the anti-aging and anti-inflammatory properties of hemp oil that control the signs of premature aging and soothe your skin. Moreover, this cream is infused with omega 3 and 6 fatty acids and hyaluronic acid that relieve itchy skin and seal in moisture. This night cream is incredibly soothing and helps treat acne and psoriasis. It nourishes your skin without clogging your pores and controls excess oil production.
Pros
Vegan
Non-greasy
Silicon-free
Paraben-free
Petrolatum-free
SLS-free
SLES-free
Propylene glycol-free
Cruelty-free
Sulfate-free
Cons
Feels heavy on the skin
Unpleasant fragrance
TheClear Oil-FreeMoisturizer by Paula's Choice is a potent night cream specially designed for acne-prone skin. It is a light weight formula that hydrates your skin and controls oil production. This cream is enriched with ceramides, niacinamide, hyaluronic acid, and licorice extract that seal in moisture, minimize pores, and soothe irritation.
This moisturizer also has antioxidant properties due to the presence of blueberry and pumpkin extracts that reduce redness and flaky patches without clogging pores. It has SPF 30 that provides sun protection to your skin for daytime use. Its unique science-backed formula targets all types of skin imperfections, from wrinkles to breakouts, and leaves you with smooth and supple skin.
Pros
Lightweight
Non-greasy
Cruelty-free
Fragrance-free
Paraben-free
Retinol-free
Dye-free
Silicon-free
Cons
May feel sticky
May cause a burning sensation
Night creams combat the signs of aging and leave your skin healthy and nourished. Now that you know the best night creams available in the market, here a few points that you need to consider before buying one.
Things To Consider Before Buying A Night Cream For Acne-Prone Skin
Oil-free Or Non-Comedogenic
A moisturizer with these labels makes your skin feel light and non-greasy. Non-comedogenic moisturizers ensure tightened pores and reduce the chances of acne breakouts.
Retinol, salicylic acid, and hyaluronic acid are exfoliating ingredients that boost the moisture content of your skin and reduce acne. Some ingredients do not pair well with sensitive or acne-prone skin and may cause skin irritation. Therefore, consult your dermatologist before applying anything to your skin.
Hypoallergenic And Fragrance-Free
Look for night creams that are hypoallergenic and free from artificial scents or harsh chemicals as they can irritate your sensitive or acne-inflamed skin.
Follow the steps listed in the next section to get the most out of your night cream.
How To Apply Night Cream On Acne-Prone Skin
Remove all the facial impurities with a cleanser suitable for acne-prone or oily skin.
Then, apply a dime-size quantity of the cream to your face.
Massage it in an upward circular motion to activate the formula.
Do not apply it to your eyelids.
If you have oily skin and issues like acne and pimples, you need to keep your skin hydrated all the time, even at night. Check out the above list of the 10 best night creams for acne-prone skin and get one for yourself right away!
Frequently Asked Questions
Should I use a night cream if I have acne?
Yes! If you are facing skin problems like acne, it means your skin is very sensitive. In this case, a good night cream will help to manage oil production, hydrate your skin without clogging your pores, and rejuvenate your skin.
Recommended Articles
The following two tabs change content below.