7 Best Benzoyl Peroxide-Resistant Towels Of 2022
Because you do not want this chemical compound to spoil the look of your fuzzy towels.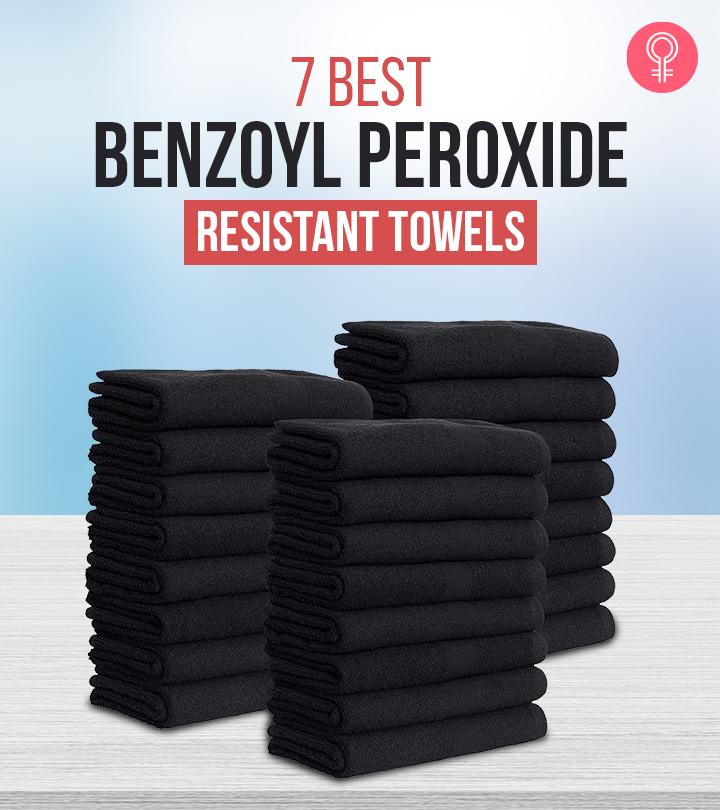 Before you use benzoyl peroxide (read bleach) to clear away the bothersome acne, get a few of the best bleach-resistant towels for yourself. Trust us, they are much more cost-effective than ending up with discolored and completely wrecked fabrics and bath towels. Vat-dyeing (a textile dyeing process) makes these towels bleach-resistant and helps prevent discoloration. Here, we have compiled a list of the top 7 bleach-resistant towels for you to check out. Scroll down and take a look.
7 Best Bleach-Resistant Towels
The Utopia towels are resistant to bleach, chemicals, and staining. These are made of pure cotton, making them soft, absorbent, fluffy, and breathable. The shorter fibers are removed with zero twist construction and combing process to reduce fiber shedding. These bleach-resistant towels can be used after a bath, facial treatment, pedicure, or after a workout in the gym. The entire pack contains 24 towels, and each towel measures around 16 X 27 inches.
Pros
Machine washable
Lightweight
High absorbency
Durable
Soft
Cons
Lint comes off with time.
Price at the time of publication: $58.99
The GREEN LIFESTYLE Bleach Proof Towels are one of the best bleach-resistant towels that ensure quality. The set of 24 towels is made of dense 100% premium quality ring spun cotton that can resist chemicals and stain for an extended time. These towels have high water absorptivity and are soft enough to pamper your skin. You can use them for cosmetic purposes, hair styling, pedicure, shampoo, and tanning in salons, spas, or at home.
Pros
Lightweight
High absorbency
Affordable
Quick-drying
Cons
May feel rough on the skin.
Price at the time of publication: $59.99
The Groko Textiles Bleach Proof Towels are highly durable bleach-resistant towels perfect for professional and personal use. They are made of 100% cotton, which is soft and ultra-absorbent. These long-lasting towels give a professional touch to the salon or spa and can also be used in gyms. The ring-spun terry cloth offers a soft, strong weave that can withstand multiple washes. This pack of 24 towels is resistant to staining and discoloration with use.
Pros
Durable
Lightweight
High absorbency
Easy to handle
Cons
Price at the time of publication: $102.97
This set of 12 cotton bleach-proof towels from GOLD TEXTILES offers all the services and performance expected of a quality towel, such as softness and absorbency. It is made of a 100% cotton terry cloth material that stays fresh and can retain moisture for long without causing damage. It is made to hold up against bleach and chemicals to eliminate staining. These hand towels are easy to clean and can be machine washed. They are perfect for bathing, hair care, salons, and gyms.
Pros
Machine washable
High absorbency
Durable
Easy to clean
Soft
Cons
Price at the time of publication: $34.99
The Creative Stitches Cotton bleach guard towels are a set of soft and luxurious 12 bleach-resistant towels that prevent staining and remain vibrant, clean, and fresh for longer. They are made of 100% pure terry cotton that is easy to clean and absorb and retain more moisture. They measure16 X 26 inches and can be useful in the gym or during a hairdressing bleach bath.
Pros
Durable
Lightweight
Machine washable
Soft
Cons
This ultra-soft salon towel from Doctor Joe can be of great use during a hairdresser bleach bath. It is designed to be 8 times more durable than regular products. The deep terry nap soaks up water on contact, reducing the blow drying time and split ends. This towel has a guaranteed 500 plus washes shelf life, should be dried in low heat, and can be washed in machines.
Pros
Soft
Lightweight
Easy to clean
Durable
Cons
Price at the time of publication: $29.85
The DAN RIVER Salon towels are one of the best bleach-resistant towels that assure outstanding durability. They are made from high-quality cotton and are machine washable and soft to the touch. These eco-friendly towels are super absorbent, designed to soak up excess moisture and stand up to harsh chemicals and tough stains. They can be of great use to you during manicures, coloring hair, shaving, and after foot baths. They can even counter stains from nail polish, hair color, gels, and creams.
Pros
Machine washable
High absorbency
No shedding of fibers
Durable
Cons
None
Price at the time of publication: $65.99
Are you still not convinced about switching to bleach-resistant towels? Read ahead to understand their benefits over regular towels.
Why Should We Use Bleach-Resistant Towels?
Multiple Washes: Bleach-resistant towels can withstand multiple cycles of washing even after bleach is used.
Color Quality: They are made of high-quality fabric that can hold up against tough stains without destroying the color and quality.
Fabric Durability: Bleach-resistant towels assure 100% durability and eliminate staining and discoloration.
Why Trust StyleCraze?
The author of this article, Shiboli Chakraborti, is a certified skin care coach. Her extensive knowledge of skin care and ingredients helps her recommend the best products for your skin. Her recommendations are based on scientific research and customer reviews on trusted online forums. These benzoyl peroxide-resistant towels are cost-effective and help prevent staining and discoloration. They are also lightweight, durable, and soft.
Frequently Asked Questions
What does benzoyl peroxide do to towels?
Benzoyl peroxide discolors towels and leaves patchy stains on the fabric.
How do you prevent benzoyl peroxide stains?
Do not let benzoyl peroxide come in contact with soft fabric, like towels. If you use benzoyl peroxide products on the skin, completely dry them before wearing clothes or using a towel. Wash the stained laundry with a powerful detergent to remove stubborn stains.
What does benzoyl peroxide do to sheets?
Benzoyl peroxide discolors sheets or turns them yellow.
How do you fix a bleach stain on towels?
Wash the area with cold water, and apply a thick paste of baking soda and water on the bleach stain. Then, leave the towel to dry and brush off the paste gently from the towel with an old toothbrush.
Why do my towels always get bleach stains?
Your towel may get bleach stains due to benzoyl peroxide products or spilling of toothpaste, whitening treatments, or mouthwash.
Recommended Articles