10 Best Eye Massagers To Buy In 2021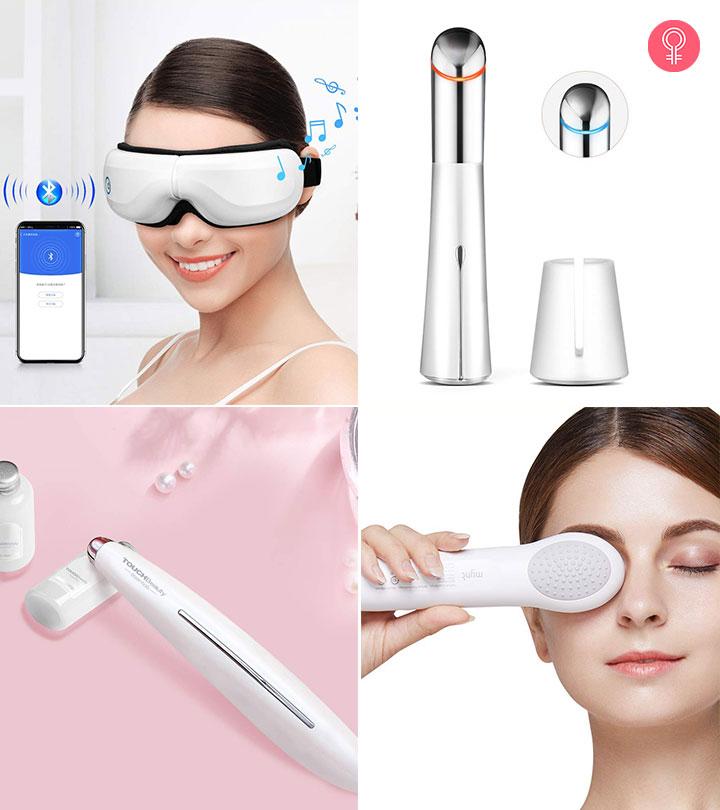 Are you tired of using multiple eye creams to relieve puffiness? Have you invested in masks and other eye care products but had no positive results? This is where eye massagers come in. These high-tech devices are great for relieving headaches, temple pressure, dark circles, and fine lines around the eyes. They are equipped with a range of massage nodes, temperature settings, and heating or cooling options. Give yourself a soothing eye massage right at home with any of these top-rated eye massagers. Take a look!
Top 10 Eye Massagers Of 2021
Maintain the youthfulness of your facial skin with the help of Esarora Ice Roller. It offers multiple benefits like the elimination of wrinkles, fine lines, and puffiness. It shrinks pores and calms your skin. You can use this roller before putting on makeup. Massage your eye sockets and temples to rejuvenate your skin after a stressful day. With regular use, this product helps contract blood vessels to tighten your pores, improves the production of collagen fibers, makes your skin firm, and smoothens wrinkles.
Pros
Reduces dryness
Alleviates skin redness
Relieves fatigue
Eliminates facial dropsy
Relieves sunburn
Affordable
Available in different colors
High-quality material
Easy-to-use
Detachable roller head
Cons
None
Breo Isee4 Wireless Digital Eye Massager is the go-to product if you want a portable eye massager. It is created using air pressure, vibration, and heat compression massaging technology. It also has a built-in music player with pre-recorded nature sounds to help you relax instantly. The best thing about this product is that it is 180º foldable! It also comes with a storage and carrying case.
Pros
Two heat settings
Rechargeable lithium battery
Made of high-quality materials
Super cushiony
Lightweight
Cons
None
Osito Rechargeable Eye Massager is a comfortable, portable, and cordless product. It improves blood circulation around the eye muscles and helps you sleep better. It gently vibrates and massages your eyes without being too harsh. This device has three massage modes to choose from. With the help of air and heat compression, vibration massage, and soothing music, this device will help you relax in just 15 minutes.
Pros
180° foldable
Lightweight
Easy to carry
Very comfortable
Cons
This eye massager offers five massage modes: integrated mode, clear mode, sleep mode, dynamic mode, and comfort mode. It uses air pressure, gentle acupuncture point vibration, and heat compression to target sibai points, temples, and sinuses. This device will help you relax and sleep better with its 65 dB soothing nature music. It also prevents dry eyes, puffiness, and dark circles. Its material is soft and breathable and sits comfortably on your eyes. You can also adjust the tightness of the headband.
Pros
Portable and wireless device
15-minute automatic shut-off function
Infrared heating microcomputer chip control technology
Includes USB charging
Can be connected to a mobile phone via Bluetooth
Airbag massage feature
Cons
Music may be a bit too loud for some people.
Innoka Anti-Wrinkle Eye Massager is a sonic massage device. It helps improve blood circulation around the eyes with the help of relaxing and soothing heat treatment. With regular use, this product claims to reduce the appearance of eye bags and dark circles. It firms your skin and eliminates the signs of aging. For maximum benefits, use this product along with your regular skincare products to massage the area around your eyes. This will give a more refreshed and youthful look to your face and hence it is the best eye massager for dark circles.
Pros
Reduces eye fatigue
Portable
104° heat treatment
Comfortable to use
Includes smart sensor feature
Cons
The Renpho Eye Massager features built-in heating pads with a moderate temperature between 104-107°F. It soothes eye strain, under-eye puffiness, and dry eyes. The four therapy modes include compression, vibration, heating, and music. Each mode stays for 15 minutes and gets turned off automatically.
This eye massager compresses air and produces vibration and music, which is less than 55dB. It massages CuanZhu, SiZhuKong, Temple, ChengQi, and JingMing acupoints. This massager improves blood circulation and sleep quality, reduces headache, soothes eye pain, and relieves eye soreness. Its ergonomic design helps comfort people with eye fatigue and myopia.
The adjustable elastic headband fits comfortably on your nose and is suitable for any head size and shape.This device uses compression and features two motors that offer acupressure-like results.
Pros
Automatic shut-off
Built-in speakers
Portable
Lightweight
Ergonomic design
Elastic headband
4therapy modes
Easy to use
Comfortable to wear
Cons
Mynt Eye Energizer helps reduce eye swelling and puffiness. It also helps your skin absorb moisturizers and other skincare products more efficiently and triggers collagen production.
It boosts skin elasticity, improves blood circulation, removes under-eye bags, exfoliates your skin, and brightens the appearance of your eyes. This device has three modes: normal mode, cooling mode, and heating mode. It produces a gentle sonic-vibration massage, oscillating up to 4500 times per minute.
Pros
Hot and cold therapy option
Uses thermo massage technology
Comes with a storage case
FDA-approved
Cons
This eye massage machine runs on a unique water massage technology. It features both cool and warm compresses – the cool compress helps remove dark circles, puffiness, and fine lines, and the warm compress reduces dryness, improves sleep quality, and relaxes strained eyes. It molds to different face shapes and delivers a soothing massage effectively. It maintains the right temperature for the safety of your eyes.
Pros
Lightweight
Relaxes muscle tension around the eyes
Easy to maintain
Made of medical-grade silicone
Cons
TouchBeauty Sonic Vibrating Eye Massager is designed to reduce dark circles and puffiness. It increases blood circulation and relaxes your eyes. It revitalizes and brightens your skin with regular massage. This device also offers a 40°C warm treatment that helps open your pores for better absorption of creams.
Pros
Comes with a protective cap
Sleek and portable
Very lightweight
Reasonably priced
Cons
Not as effective as other eye massagers
This eye massager uses heat and steam to moisturize your eyes and help them relax gradually. The steam produced by it is fine and misty, and you can adjust its volume. The warmth envelopes your eyes and helps you sleep better.
Pros
Very comfortable
Relieves dry eyes
Improves sleep quality
Durable
Cons
Expensive
The battery life is average.
These are the best eye massagers available on the market right now. Though there is a wide variety of eye massagers out there, you need to buy one that suits your specific requirements to get the best results. To help you figure out how to pick the best eye massager, we have put together a buying guide that lists out all the features you need to look out for. Take a look.
Features To Consider Before Buying An Eye Massager
1. Comfort
It is very important to consider the comfort factor while buying an eye massager. Since this device targets a sensory organ, you need to ensure that it does not irritate your eyes. Many eye massagers are made of silicone as it is safer for your skin. Along with that, look for a device that has soft padding as it acts as a soft pillow.
2. Settings
You may also consider how many adjustable settings are available in your eye massager. This enables you to customize your massage. Look for a device that offers detachable heads and adjustable length.
3. Music
An eye massager with soothing music is a bonus. The serene nature sounds help you relax better. You can choose an eye massager that plays the type of music that you like.
An eye massager equipped with Bluetooth is even better because it lets you connect your phone to it and play the music of your choice.
4. How It Runs
Some eye massagers run on batteries while others need to be recharged. If you don't want to change the battery regularly, you can invest in a rechargeable eye massager. However, you need to charge them every day before using them.
The eye massagers mentioned above deliver amazing results with their unique relaxation technology. Pick your favorite product, try it out, and let us know how it worked for you in the comments section below.
Recommended Articles