The 15 Best Eye Massagers – Reviews And Buying Guide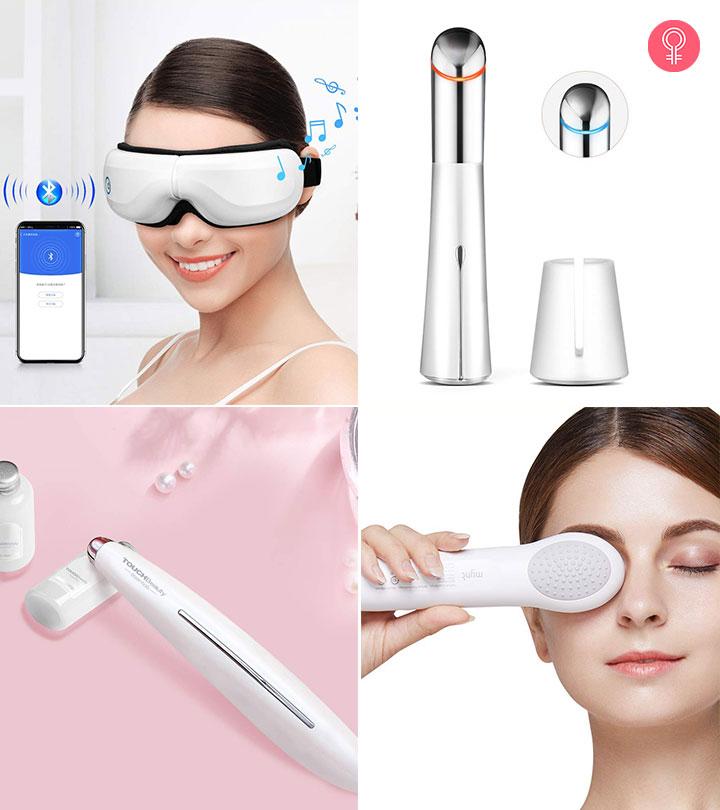 If you are tired after a long day at work and want to de-stress your eye area, the best eye massager on the market can be your best friend. They can also help if you have already invested in multiple eye-care products, and nothing seems to work. Eye massagers eliminate dark circles and fine lines and relieve headaches and temple pressure.
Brian Boxer Wachler, an ophthalmologist and medical reviewer, says, "Eyelid massages are helpful for people who suffer from blepharitis (inflamed eyelids), which is the number one cause of dry eye. There are specialized devices that can massage the eyelids to express clogged and inflamed oils from the meibomian glands in eyelids." You can also use them if you have any other eye conditions. This article has listed the 15 best eye massagers available online. Check them out!
What Is An Eye Massager? How Does It Work?
Eye massagers are high-tech devices that help relieve temple pressure, eye strain, headaches, and soothe facial pain. These unique pain relief aids are battery operated and have a range of massage modes, heat settings, and music options. There are multiple benefits of using eye massagers. Let's find out.
Why Use An Eye Massager? What Are The Benefits?
An eye massager
Helps alleviate eye strain and fatigue caused by extended screen time
Aids in cosmetic maintenance and may reduce the appearance of  wrinkles and fine lines around the eye area
Helps calm and rebuild connective tissues to relax your eyes
May relieve dry eyes and help with blood vessel dilation
Dr. Anna Chacon, a board-certified dermatologist, opines, "An eye massage can help to alleviate computerized strain on the eyes that come with using technology for prolonged periods. It also helps for the individuals that experience the negative effects of dark circles and articulated wrinkles in addition, massagers tend to help mitigate the symptoms and effects."
If you want to try out one, scroll down and check the top 15 eye massagers available online.
The 15 Best Eye Massagers
The Renpho Eye Massager features built-in heating pads with adjustable temperatures between 104-107°F. It soothes eye strain, under-eye puffiness, and dry eyes. The four therapy modes include compression, vibration, heating, and music – each runs for 15 minutes before turning off automatically.
This eye massager compresses air and produces vibration and music below 55 dB. It massages the CuanZhu, SiZhuKong, Temple, ChengQi, and JingMing acupoints to improve blood circulation and sleep quality, reduce headaches, and soothe eye pain and soreness. In addition, its ergonomic design helps comfort people with eye fatigue and myopia. The adjustable elastic headband of the device fits comfortably on your nose and is suitable for any head size and shape. For a visual demonstration of the Renpho Eye Massager, click here.
Pros
Automatic shut-off
Built-in speakers
Lightweight
Ergonomic design
Elastic headband
Four therapy modes
Easy to use
Comfortable to wear
Cons
The Stress Therapy Electric Eye Massager has an ergonomic and portable folding design with an adjustable band that fits most face sizes. It has a rechargeable battery and comes with a USB charging cable so that you can charge the device with ease using a phone's charging adapter or a laptop's USB port. It is 8.19 inches in length, 2.95 inches in height, and 1.54 inches in width.
This wireless device has a built-in speaker that plays soothing music while it is in use. You can select from the five preset massage modes. The soft airbags in the device mimic gentle kneading and rolling acupressure techniques to increase blood and oxygen flow around the eyes and relieve headaches. The vibration mode also feels comfortable and soothes eye muscle pain.
Pros
Five massage modes
Ergonomic design
Adjustable band
USB-powered
Cons
None
The Breo Isee4 Wireless Digital Eye Massager is an easy-to-use device with one-button control and three adjustable modes. It is designed with soft fabric and an adjustable head strap to fit any head size comfortably. This lightweight and cordless massager can last for 90 minutes on a single charge.
It applies gentle heat between 98°-107°F to the ocular area to relieve eye fatigue and tone and soften the delicate skin. The massage imitates gentle Shiatsu kneading on the acupoints around the eyes to relieve the compressed nerves and reduce stress and tension. Depending on the massage intensities, you can switch between the 'sleep' and 'med' modes. If you are still unsure about the Breo Isee4 Wireless Digital Eye Massager, go ahead and click on this video.
Pros
Three massage modes
Rechargeable battery
Adjustable straps
Cordless
Lightweight
Cons
None
The Shell Eye Massager is a single-button control device with five massage modes. It has a built-in battery that lasts 90 minutes after a 3-hour charge. You can charge it with the help of a USB, and it displays red and blue lights to indicate a full charge. The device has an exclusive curved nose bridge design that fits all face shapes and is not easy to slip off.
It is made with soft PU leather, is easy to clean, and the built-in heating pads provide a comfortable temperature between 104°F and 107°F (40℃-42℃) to relieve eye strain. The device features a high-definition LED display and produces low noise.
Pros
Five massage modes
Ergonomic design
LED display
Non-slip design
Skin-friendly material
Breathable
USB rechargeable
Cons
None
The Life Smart Electric Eye Massager offers instant relief to strained and tired eyes with the help of heated therapy. The air compression technology provides vibration and acupressure to target the deep muscles and acupuncture points around the eyes, eyebrows, and temples. The device helps to loosen tight muscles, relieves eye strain, improves your sleep, and helps minimize stress.
There are four massage programs and two massage modes with compression, heat, vibrations, and music. The LED indicator in the massager displays the options that you select. You can conveniently carry this lightweight massager along and use it while sitting, lying down, or before sleeping.
Pros
Portable
Lightweight
LED indicator
Four massage programs
Adjustable elastic strap
Cons
None
This eye massager by Latumab adopts compression and vibration to soothe and relieve your eyes. It has built-in heating pads with temperatures ranging up to 107°F (42℃) to reduce dark circles, eye strain, eye puffiness, and dry eyes. This easy-to-use device has five modes- automatic mode (air compression + vibration + heat + music), clear mode (air compression + heat + music), vitality mode (air compression + vibration + music), beauty mode (heat + music), and sleep mode (air compression + music).
It has built-in music that supports Bluetooth connectivity. The device is 180° foldable and travel-friendly. It takes 3 hours to be fully charged and can be used for about one week.
Pros
Skin-friendly material
Built-in heating pads
Five modes
Foldable
Adjustable
Long-lasting
Rechargeable
Cons
None
If under-eye wrinkles, fine lines, puffiness, under-eye bags, and dark circles are a concern, you can try the TIANG Eye Massager. It promotes blood circulation and helps improve the overall appearance of your eyes. It features adjustable warm settings at three intensity levels – red, blue, and yellow – to relax the eyes, stimulate blood circulation, and eliminate under-eye bags and puffy eyes. You can use the modes separately or in combination.
This wand-like massager is versatile and can be used on the cheeks, forehead, nose, and around the lips. It is lightweight and has an LED display and USB interface for easy charging.
Pros
Three intensity levels
LED display
Fast charging
Cons
None
The SereneLife Stress Therapy Electric Eye Massager has an ergonomic and stylish design with an elastic band to fit most face shapes and sizes. This wireless eye massager features built-in speakers and a USB cable to help you transfer songs easily. The automatic power off function ensures undisturbed sleep.
This device features soft airbags for gentle kneading and rolling acupressure techniques. This increases oxygen around the eyes to relieve headaches. In addition, heat therapy improves blood circulation to minimize eye fatigue. The eye massager has five massage modes, and the vibration feels comfortable. Its foldable design makes it travel-friendly, and the rechargeable battery lasts for hours.
Pros
Ergonomic design
Adjustable elastic band
Automatic power-off
Five massage modes
Foldable
Rechargeable
Long-lasting
Easy to use
Cons
None
The Zarimi Eye Massager has the maximum massage modes that use hot compress, air pressure, vibration, acupoint massage, and eye rubbing techniques to minimize fatigue and strain and improve sleep. Depending on the intensity, you can switch between automatic, vitality, clear, lenses, sleep, and child modes.
The built-in battery lasts for up to 160 minutes after 3 hours of charging. This ergonomic massager is designed with soft material, and the 180° foldable design allows you to carry it anywhere. Moreover, its one-button operation makes it simple and easy to use for kids and the elderly.
Pros
Six massage modes
Easy to use
180° foldable design
Ergonomic
Adjustable elastic headband
Cons
None
The FOREO Iris Illuminating EyeMassager is an ophthalmologist-approved, effective, and safe eye care device. It combines ancient Asian lymphatic-drainage acupressure techniques with the revolutionary T-Sonic massage to refresh and depuff tired eyes and relieve headaches caused by eye strain.
It has two modes. The pure mode mimics the manual massaging movements with light tapping motions to prevent signs of aging. The spa mode combines light tapping and pulsations to stimulate the muscles and minimize fatigue. The massager can help reduce dark circles and firm and brighten the eye area. Learn more about the FOREO Iris Illuminating Eye Massager in this video.
Pros
Ophthalmologist-tested
Two massage modes
Ultra-hygienic
Available in four colors
Cons
None
The iVOLCONN Eye Massager has a seamless design that fits your face. It is made with comfortable and skin-friendly fabric and has an adjustable band. The device has five massage modes: protection, bright, heating, beauty, and eye love modes that changes every 60 seconds and defaults to the protection mode.
The massaging modes target all the acupoints around the eye area to relieve puffy eyes, strain, fatigue, migraine headaches, and promote better sleep. You can connect it with Bluetooth to listen to your favorite music while using the massager. Its heat therapy maintains a comfortable temperature of 107°F (42°C) to boost circulation. This 180° foldable and lightweight device is easy to carry and has 15 minutes auto-timer feature for a user-friendly experience.
Pros
Five massage modes
Made with skin-friendly fabric
Lightweight
180° foldable design
Auto-timer feature
Adjustable belt strap
Comes with a storage bag
Cons
None
The CINCOM Eye Massager relieves eye fatigue and discomfort by kneading the acupoints, stimulating cones, and optic nerves. This device has larger heating pads to evenly distribute heat around the eye area to improve circulation, reduce dark circles and eye soreness, and relieve headaches. You can choose from the six vibration intensities and two air pressure modes.
The ergonomic nose groove design and the adjustable band of the device make it fit for different face sizes. The soft velboa fabric is easy to clean, and the 180° foldable design makes it travel-friendly. The massager has a USB interface that can be connected to the computer, phone adapter, or power bank, and a single charge lasts for up to 2-4 hours.
Pros
Six vibration intensities
Made with skin-friendly fabric
Lightweight
Ergonomic
180° foldable design
Adjustable band
USB rechargeable battery
Cons
None
This eye massager by Landwind features advanced microcurrent technology that effectively fades away all the signs of aging while firming and tightening the delicate skin around the eyes. Its 10,000/minute sonic vibrations rebuild skin collagen, relax the eye muscles, and reduce puffiness, fine lines, and crow's feet. The 40°C thermal treatment stimulates blood circulation around the eye area.
This versatile eye massager can also be used on your cheeks, forehead, lips, and nose muscles. It is designed with smart control with a conductive sheet on the wand to ensure that the device touches the skin to form a micro-electric current.
Pros
Easy to use
Lightweight
Includes battery
Cons
Not rechargeable
Battery dies quickly
The TouchBeauty Sonic Vibrating Eye Massager is designed to reduce dark circles and puffiness. It provides a sonic vibrating massage to increase blood circulation and relax your eyes. The 40°C warm treatment relaxes the muscles and promotes better absorption of under-eye products.
Pros
Comes with a protective cap
Sleek design
Lightweight
Reasonably priced
Cons
The Nekteck Eye Massager is ergonomically designed with an anti-skid triangle support pad that fits different nose shapes and sits comfortably on the nose bridge. It offers constant heat compression therapy with a temperature between 104°F-113°F (40-45°C).
The nine strategically positioned airbags inflate and deflate to massage the Temple, Qingming, Cuanzu, Upper Ming acupoints. The massager has an elastic head strap and adjustable buckle and a 180° foldable design for easy storage. The PU lining and cushion provide extra comfort, support the eyes, and are easy to clean.
Pros
Ergonomic
180° foldable design
Adjustable buckle
Easy to clean
USB rechargeable battery
Cons
None
Eye massagers can be of different types and each has unique functions. Below, we have discussed the different eye massagers to give you a clear picture.
Types Of Eye Massagers
Heat Eye Massagers: Eye massagers may come with heating pads that provide low-frequency warmth at adjustable temperatures to lower inflammation, minimize pain, and promote circulation. These massagers are beneficial if you struggle with excessive eye strain, headaches, and dark circles, which might be caused by poor circulation and muscle strain.
Infrared Eye Massagers: Infrared eye massagers also emit heat to improve circulation through infrared waves. They are beneficial for improving the appearance of your eyes, minimizing fatigue, and making your eyes appear rejuvenated.
Eye Mask Massagers: Nowadays, most eye massagers are like wearable masks and support hands-free usage. They look more like a sleeping mask, have cushions around the edges, and typically include a handheld remote that allows you to change the settings.
Helmet Eye Massagers: Helmet eye massagers cover the entire head instead of just the eyes. Many infrared eye massagers have a helmet-like design and are remote-operated.
While you should consider the design when purchasing an eye massager, you also have to check the features. Let's explore in the next section.
Features To Consider Before Buying An Eye Massager
The device should fit comfortably and not feel heavy on the nose bridge. Make sure the material is skin-friendly and does not irritate your eyes. Check for soft padding for additional support.
Check the massage modes and target areas. Consider buying a device that has at least five massage modes, heating pads, and adjustable temperature. Some may also allow you to play music while using the device. Look for a device that offers detachable heads and adjustable length.
Battery And Charging Options
Some eye massagers run on batteries while others are rechargeable. Battery-operated devices may run out of charge quickly and need frequent replacements. Therefore, a USB rechargeable device is convenient, and you can charge it anywhere, using the laptop, power bank, or any power outlet.
Why Trust Stylecraze
Aditi Naskar, the author of this post, holds a diploma in health and wellness and has a knack for researching the best products in this niche. Aditi has scoured hundreds of websites and has curated this comprehensive list of the best eyelid massagers available online. Each product's elaborate description, along with the pros and cons, can help you pick the best massager.
Frequently Asked Questions
Can anyone use an eye massager?
Yes, anyone can use an eye massager to relieve eye strain, fatigue, and rejuvenation.
What are the side effects of an eye massager?
There are no potential side effects of an eye massager. However, if you have issues like cataracts, eye infection, injuries, and retina-related conditions or are recovering from eye surgery, consult a doctor before using such devices.
Do eye massagers work for puffy eyes?
Yes, eye massagers can reduce puffiness and under-eye bags.
Do eye massagers help with dry eyes?
Yes, the gentle massaging action of an eye massager may also stimulate the meibomian glands and relieve dry eye symptoms.
How long should I use an eye massager?
You can use an eye massager for 15 minutes every day.
Do eye massagers improve vision?
No. They can only help reduce the digital eye strain symptoms like temporary blurry and double vision. If your vision loss is due to an eye condition, eye massagers may not help.
Can I sleep with an eye massager?
No, you cannot sleep with an eye massager.
Can I use an eye massager every day?
Yes, you can use an eye massager every day.
Recommended Articles