6 Best Eye Massagers That Help You With Migraines
Get quick relief from migraine eye pain and relax your eye muscles with gentle massages.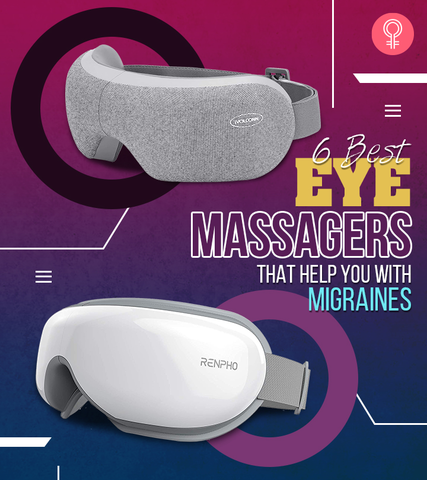 Eye massagers are specially designed devices that help ease headaches like migraine, enhance blood circulation, and relax you from pain. The best eye massagers for migraines can also deal with dry eyes, improve vision, and reduce dark circles. Spending hours constantly in front of the laptop or staring at the phone screen is one of the triggers for migraines.
Migraine causes a pulsating and throbbing sensation in a part of the skull, resulting in a headache. The pain can be intense enough to hinder your day-to-day activities and cause nausea, eye irritability, and insomnia. Sometimes, these migraines headaches may also cause extreme sensitivity to sound and light. To get relief from such one-sided migraines, doctors may recommend some medication. Apart from following the medication, you can also use the eye massager.
Numerous eye massagers are available on the market, claiming to soothe migraine headaches. However, finding an authentic one can be tricky. To help you make the right choice, we rounded up the best eye massagers for migraines in this article. Scroll down to check them out!
Top Picks
Benefits Of Using An Eye Massager
Here are some of the benefits of using an eye massager:
Provides relief from migraines: Eye massagers work on the acupoints around your eyes, enhance blood circulation and relieve you from headaches.
Cures dry eyes: Jobs these days require staring at the screen for long durations that give rise to dry and itchy eyes. Eye massagers help in reducing this irritability.
Reduces wrinkles: Wrinkles around eyes or crow's feet can be quite embarrassing. The eye massager will help you iron out these age problems.
Reduce dark circles: Dark circles are a result of sleep shortage. An eye massager with its soothing effect will help you catch up on your sleep, thereby eliminating dark circles.
Relaxes sore muscles: The eye massager, with its heat and vibration settings, relaxes muscles around the eyes and relieves you from pain.
Fights anxiety: The whole experience releases pent-up stress and helps fight anxiety.
Let's check the best eye massagers for migraines. These are the best ones available online.
6 Best Eye Massager For Migraines
The upgraded RENPHO Eye Massager with remote control offers trigger point massage, percussion massage, and oscillating compression to relieve migraine pain. Its in-built heating pads help reduce dry eye, eye strain, and puffiness. It focuses on your acupoints and helps you destress and relax while re-energizing you after a long day's work.
The in-built speakers and the prerecorded sound system help relieve anxiety and stress. But you always connect the speaker to your phone via Bluetooth to listen to your favorite music. Due to its compact, foldable design, you can always carry your massager during travel, while its adjustable strap makes it suitable for all head sizes. Its ergonomic design offers comfort, and it makes a great gift for friends suffering from eye fatigue or myopia, people who work on the computer for long hours, and older people who have dry eyes or insomnia. Check this video for an honest review of the RENPHO Eye Massager with remote control.
P.S. This massager is not suitable for people who have undergone eye operation, have a retina condition, cataract, or glaucoma.
Pros
Enhances blood circulation around the eyes
Improves eyesight
Helps sleep
Remote control operation
Comes with heating pads
Provides deep relaxation
Bluetooth enabled
Built-in speaker
Adjustable strap
Comfortable to wear
Cons
Price at the time of publication: $53.19
Pros
Foldable design
Adjustable settings
Durable battery
Music via Bluetooth
Provides deep relaxation
Improves sleep
Comes with 5 massage modes
Adjustable straps
Easy to carry around
Cons
Price at the time of publication: $59.99
Pros
Easy to use
HD display
Comes with a gift box
Acupoint massage
Skin-friendly
Long battery life
Cons
Hissing sound on compression
Price at the time of publication: $59.99
Pros
Portable design
Adjustable headband
Easy to operate
Ergonomic nose pad
USB rechargeable
Comfortable temperature
Provides deep relaxation
Hard and durable
Easy to clean
Skin-friendly
Provides music therapy
Adequate battery life
Cons
Price at the time of publication: $52.48
Pros
Provides deep relaxation
High-capacity lithium-ion battery
4-hour battery backup
Lightweight
Adjustable strap
LED control panel
10-20 minutes massage time
Lifetime warranty and support
Cons
The volume control can be difficult for people with noise-triggered migraine.
Price at the time of publication: $59.99
Ihelol eye massager uses heat compression and air pressure contraction to cover the 8 acupuncture points around the eyes to relieve anxiety, eye fatigue, dark circles, eye bags, and eye edema. With this massager, you get 15 minutes session, after which the device stops automatically, allowing you to fall asleep. It comes with 5 different massaging modes with heat settings for an immersive massage. The built-in Bluetooth music technology helps you connect to your favorite music when relaxing. Just by charging for 2-3 hours, you can enjoy a 90-minute massage session.  Its ergonomic design ensures coverage of the contours of the eyes. The butterfly-shaped headband is adjustable and fits the face correctly.
Pros
Bluetooth connectivity
Lightweight
Skin-friendly material
foldable design
Portable
One button operation
Adjustable strap
Padded and comfortable
Switches off automatically
Cons
Price at the time of publication: $30.98
An eye massager helps manage migraine, puffiness, and fatigue. But picking up one from the list can be a bit overwhelming. So to help you find the perfect massager, we have created a buying guide.
Buying Guide For Best Eye Massager For Migraines 
Here are a few factors you must consider before buying an eye massager to make sure you buy the best one.
Comfort: Make sure the eye massager is not too bulky on your eyes and fits well, blocking out all the light. Also, make sure that the material used is soft and skin friendly.
Adjustable straps: These ensure a customized fit well and can be molded based on the shape and size of your head.
Battery life: Wireless gadgets are a must be these days, and you must check the battery life to ensure smooth usage without interruptions.
Noise level: Noise can increase the temporal pulse amplitude in the brain, triggering the headache. Ideally, patients should pick up massagers with low-noise compressors to relax and manage the pain.
Compact size: Too bulky massagers are too difficult to carry and wear during massage sessions. Go for lightweight, compact designs that are easy to carry.
Features: Additional features like Bluetooth connectivity, in-built speakers, etc., enhance your experience during the massage.
Why Trust StyleCraze?
Aditi Naskar, the author of this article, has a diploma in Health & Wellness and she stays updated on fitness products. Aiming to help her readers choose the best eye massagers for migraines, she compiled a list of them with the help of thorough research. These items in the list can enhance your vision, reduce dark circles, and prevent your eye from drying.
Frequently Asked Questions
Do eye massagers really help with migraine?
Yes, of course! Anxiety, eye strain, and fatigue can trigger migraines in some cases. An eye massager works on the acupoints around the eyes and provides relief from strain.
How do eye massagers help to get rid of migraines?
The eye massager offers heat compression around the eye area to offer a soothing relief from migraines. The new-age technology also incorporates music to this experience via Bluetooth and makes it even more effective.
Can I use an eye massager twice in a day for migraines?
Yes, you can use an eye massager twice a day for migraines.
Can you sleep with an eye massager?
Yes, you can sleep with an eye massager. Eye massagers with Bluetooth music can act as a sedative if you wear them for 15 minutes before sleep.
How long do I use the eye massager for?
It is best to use an eye massager for 15 minutes every use.