The Best Blonde Hair Dyes That Are Nourishing & Hydrating – 2023
Throw caution to the wind and fear no damage with colors that are safe for your tresses.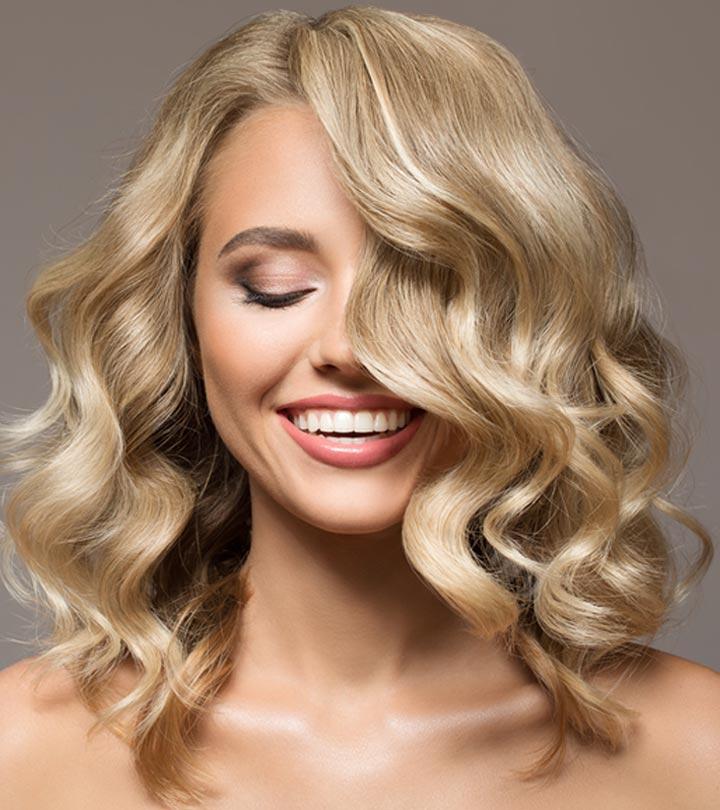 Blonde and beautiful, if that is how you feel or you would like to feel, you should try some of the best blonde hair dyes we have in store for you. Whether you are looking for the classic blonde look or are planning to go in for a deeper and richer shade, you ought to know what is going into your blond hair dye. Finding the best blonde hair dye is not easy; most players ad dangerous chemicals that bleach your hair instead of coloring. At times these dyes may also end up drying your hair and stripping it off essential oils, and causing some severe damage. Because we know of such issues and we care for your hair as much as you do, we've listed some fabulous brands that give you great blonde color without damage! Check out our list now
Top Picks
10 Best Hair Dyes For Every Shade Of Blonde
Pros
Lasts long
Ammonia-free
100% gray coverage
High-definition color and shine
Cons
May not be suitable for sensitive scalp
Price at the time of publication: $3.49
Pros
Easy to use
Ammonia-free
100% gray coverage
No-drip cream formula
Cons
May not work on already colored hair
Price at the time of publication: $12.15
Pros
Lasts long
Incredible shine
Multi-dimensional hue
8 weeks of fade-defying color
Cons
Price at the time of publication: $10.97
If you are looking for a hair dye that will color your hair a warmer blonde tone without drying it out, then try Naturtint Permanent Hair Color in 7N Hazelnut Blonde. This formula is a blend of meadowfoam seed oil and oleic acid that moisturizes hair. This permanent blonde hair dye comes with a 50 ml tube of Multi-Care Mask rich in quinoa that has all essential amino acids, resulting in an intense shade with a glamorous glow.
Pros
Vegan
Cruelty-free
Long-lasting
Radiant color
Non-drip gel formula
Cons
Price at the time of publication: $75.99
Pros
Lasts for 8 weeks
Reduces breakage
100% gray coverage
Rich conditioning color
Cons
Price at the time of publication: $4.97
Pros
High gloss
Rich color
Easy application
100% gray coverage
Cons
Price at the time of publication: $26.98
Pros
Lasts long
Delivers fuller hair
Less hair breakage
100% gray coverage
Cons
May have to use two packs if you have longer hair
Price at the time of publication: $17.99
Pros
Vegan
Cruelty-free
Moisturizing formula
Highly pigmented color
Lasts 7-15 shampoo washes
Cons
May not work on dark blonde hair without bleaching
Price at the time of publication: $11.99
Pros
Cruelty-free
Paraben-free
Natural formula
Ammonia and resorcinol-free
Cons
May not offer full coverage
Price at the time of publication: $16.95
Pros
Color-safe
Easy to use
Clinically proven
Nourishing formula
Colorist developed
Cons
Price at the time of publication: $28
If you have been experimenting with hair dyes at home, you are not alone. The pandemic has us doing a lot of things on our own, so why not hair color? However, here are a few things you must keep in mind before picking a shade.
How Do I Choose A Blonde Color
Here are a few parameters you must look at before taking that call.
Skin tone: If you have a pale complexion, go for cooler shades such as ash or wheat, and warmer complexions could pick between honey, golden, and butterscotch blonde.
Maintenance: Depending on how much time you can spend on a hair routine, you can pick a shade.
Minimum damage: Hair coloring can cause severe damage to your hair if you don't pay attention to the ingredient list in the formula. Make sure you pick a dye color that is gentle on your hair and is free of harsh chemicals.
Let's take a look at different tones of blonde.
Different Shades Of Blonde
There are over 50 shades of blonde. We have identified a few major ones for you here.
Platinum blonde: This looks great on those with paler skin tone as it is the lightest shade of blonde. If you have blue or brown eyes, this could work for you too.
Light ash blonde: This has a whitish and grayish tint blended in with the traditional blonde. This extra light natural blonde color suits people with lighter eye colors and skin tones.
Natural blonde: This is the real deal. It resembles the hair color of those born with blonde hair. You can still find variation in the natural blonde hair dye, such as light and dark.
Golden blonde: Buttery, honey, or gold mixed tint in a blonde shade leads to this color. This is a flattering shade for people with lighter skin tones.
Vanilla blonde: This is more of a bright golden hue with subtle pale highlights that work well on people with lighter skin tones and those with green, blue, and gray eye colors.
Why Trust StyleCraze?
Kirtana Divakar, the author, enjoys all things related to hair, keeping a close eye on the newest hair trends. If wearing classic blonde is your goal or if you wish to go for a dark, rich, and luxurious blonde look, the right dye can make it possible. She compiled this list of the top products after extensive research and analysis of many online reviews. With these blonde hair dyes, you will achieve vibrant locks that everyone will check out.
Frequently Asked Questions
Can you use blonde hair dye on brown hair?
Since blonde is a lighter color, you need to bleach your brown hair before applying a blonde shade. Also, please remember to moisturize your hair well after the process.
Is box dye really that bad for your hair?
Coloring hair at home with a box hair dye may be messy, but it is also one of the most affordable ways to do it. Of course, going to a salon and experiencing a spa-like experiment while coloring your hair is luxurious, but as long as you're aware of the procedure and the risk involved, not all box dyes will damage your hair.
Can you go from brown to blonde in one sitting?
This totally depends on the type of hair you have, its texture, and color. But yes, it is doable. It takes close to three hours, but hey, with conviction and some three-hour Netflix, it is nothing.
Can I just dye my hair blonde without bleach?
Yes, dye your hair blonde without bleaching if you have light hair color. However, if you have deeper hair color, bleach it before dyeing.
How long does it take to go from brown to blonde?
Bleaching, highlighting, and toning your brown hair into blonde takes approximately three hours.
How can I go from brown to blonde without bleach?
Bleaching turns your hair dull and lifeless. So, follow these home remedies to turn your hair blonde without bleaching.
• Mix lemon juice with conditioner. Pour the mixture into a spray bottle. Add a few spritzes to your hair. Later, step out in the sun for 30 to 45 minutes and dry the hair naturally.
• Mix two cups of distilled vinegar, one cup of raw honey, one tablespoon of olive oil, and one tablespoon of ground cinnamon. Apply the • mixture to your damp hair and cover it with plastic wrap. Leave it overnight and rinse your hair in the morning.
• Brew chamomile tea and rinse your hair with it. Leave it for 15 minutes. Then, step out in the sun and let the hair dry.
How do I go from brown to blonde without green?
• Wash your hair with a clarifying shampoo. Clarifying shampoo removes chlorine buildup and reduces the unwanted green tint.
• Mix a cup of apple cider vinegar with a cup of water. Rinse your hair with this mixture. The acidity of the vinegar neutralizes the green tones of the hair.
• Use a red toning shampoo to eliminate the green tones from your blonde hair.
Can I put the blonde dye on dark brown?
Yes. First, bleach your dark brown hair to achieve a lighter shade. Then, apply the blonde dye to gain a gorgeous blonde hair look.
How do I know if blonde hair will suit me?
People with fair skin tones that burn quickly look good in blonde hair. In addition, blonde hair suits people with light-colored eyes, such as blue or green eyes.