The 7 Best Ash Blonde Hair Dyes That Are Long-Lasting in 2023
Hair colors that'll complement warm skin tones and allow you to pull off your breezy look with ease.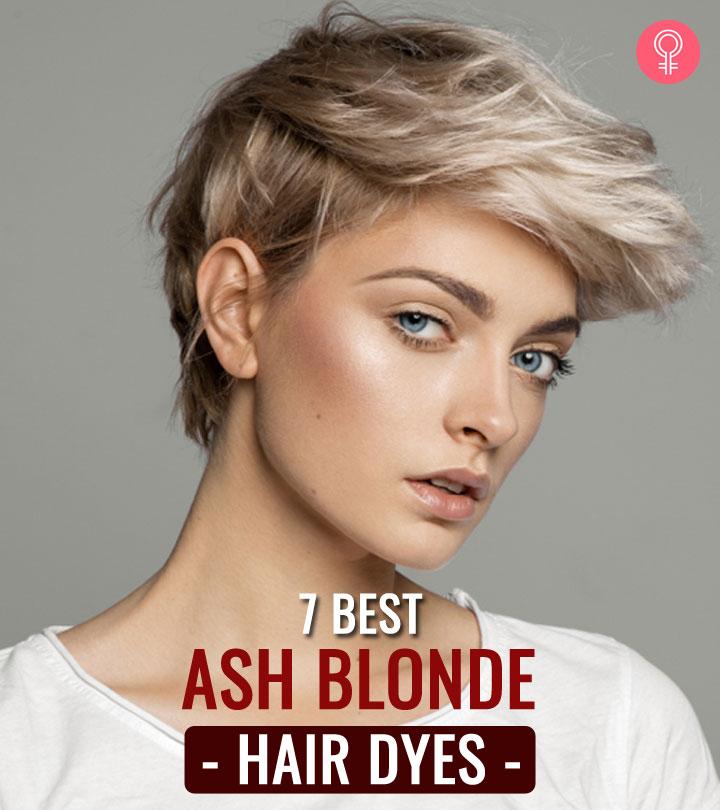 For hair that appears elegant, refined, and adds grace to your look, opt for the ash blonde color. It is so good and so easy to get with the best ash blonde hair dye that you won't want to look back to your original hair color. Ash-blonde hair typically has dark roots with subtle hints of gray undertone and a sleek and shiny appearance. You do need to pick the right shades of ash-blonde if you want to pull off the look perfectly. For those with cool skin tones, smoky ash-blonde does the trick. For those with warm skin tones, muted pastel, or light ash blonde fits like perfection.
Check out the best 7 ash blonde hair dyes available on the market we have listed below.
7 Best Ash Blonde Hair Dyes
Pros
Ammonia-free
Vegan
Cruelty-free
100% gray coverage
Long-lasting results
Intense color
Cons
May cause mild irritation
Price at the time of publication: $14.99
Pros
Made with certified organic ingredients
Gluten-free
Non-GMO
Dermatologically tested
Vegan
Cruelty-free
Alcohol-free
Paraben-free
Ammonia-free
Cons
Thick, sticky consistency formula
Price at the time of publication: $14.99
Pros
Imparts shine to the hair
Long-lasting (8 weeks)
Blends away grays
Protects the hair
Cons
Price at the time of publication: $10.99
Pros
Vegan
100% gray coverage
Long-lasting results
Paraben-free
Phthalate-free
Ammonia-free
Cons
May cause mild irritation
Price at the time of publication: $7.02
Pros
Minimizes hair damage
Easy to apply
Certified organic ingredients
Ammonia-free
Vegan
Cruelty-free
Safe for people with asthma
Eco-friendly
Cons
Does not offer complete coverage
Price at the time of publication: $24.95
Pros
Reduces hair breakage
Covers stubborn grays
Radiant, long-lasting color
Enriched with antioxidants
Cons
The resulting shade may not be consistent
Price at the time of publication: $17.95
Pros
Adds intense shine to the hair
Vegan
Nourishes the hair
Cruelty-free
Fade-resistant
Low ammonia
Cons
Price at the time of publication: $5.98
Add grace to your overall appeal with a nice ash blonde hair dye. Though this trend of lustrous hair color looks fantastic, it's essential to opt for the best ash blonde hair dye for a lasting effect without any hair damage. Wondering how to find the best ash blonde hair dye? Here are a few things you must consider before making your decision.
How To Select The Best Ash Blonde Hair Dyes
Hair dyes are often loaded with chemicals that often fail to secure the health of your tresses. Besides ensuring a glamorous sheen, it is necessary to provide the required nourishment to your hair by opting for a non-toxic product that does not damage your hair. The use of hair dye often strips off your hair moisture and results in hair fall and breakage. Hence, hair dye with hydrating and good conditioning effect is the best pick to retain the natural glow of hair besides maintaining the health of your strands.
For hair color, your primary requirement is the long-lasting effect besides damage resistance. Look out for a product that uses advanced ionic technology that penetrates deep inside the cuticle and ensures flawless hair coverage.
Check the ingredient list before making your investment to ensure that the dye does not involve harsh and harmful chemicals. Opt for a hair dye that is enriched with extracts of certified organic ingredients to ensure hair health along with perfect results. Look for ingredients such as aloe vera, meadow foam, nourishing oils(coconut , argan, and olive), and vitamin E, for nourishment and strengthening.
Hair color often results in allergic reactions in women with sensitive skin. Hence, it is safe to choose products that are free from harmful chemicals like ammonia, paraben, resorcinol, phthalates. Low ammonia products maintain your pH level, thereby preventing hair damage.
Consider whether you want a permanent or semi-permanent solution. Permanent ash blonde hair dyes offer the longest-lasting results, but they can be more expensive than semi-permanent options. Also consider the level of pigment you want in your hair. If you are looking for a subtle change, choose a semi-permanent or demi-permanent dye. For a more drastic change, go with a permanent dye. Semi-permanent dyes will generally last for six weeks before needing reapplication, and hence, are a more budget-friendly choice.
Why Trust StyleCraze?
The author, Shiboli Chakraborti, is a hair care enthusiast who enjoys all things related to hair and keeps a close eye on the newest hair trends. She advises that the right dye can give you a dark, rich, and luxurious ash blonde that looks salon-style. She compiled this list of the top products after extensive research and analysis of many online reviews. With these ash blonde hair dyes, you can achieve your dreamy locks that will be a head-turner.
Frequently Asked Questions
Does ash blonde cancel out orange?
Yes. Ash blonde color has a cool undertone that cancels out orange hues from the hair.
Does ash blonde hair dye turn your hair green?
No, the ash blonde dye will not turn your hair green. However, if you have porous hair that absorbs color faster, the dye might leave a greenish tint on your hair.
Will light ash blonde cover yellow hair?
Yes, a light ash blonde dye covers yellow hair, provided you have bleached your hair correctly. First, bleach your hair to eliminate the yellow, and then dye your hair with a light ash blonde color.
Can I dye my hair from brown to ash blonde?
Yes, bleach your hair first to get all the brown out, then dye the tresses with ash blonde.
Will ash blonde dye cover the warm blonde I got from bleaching?
No, the ash blonde dye will not cover all kinds of warm blondes you got from bleaching. For example, a violet blonde dye, not an ash blonde, can better cancel out a yellow blonde.