11 Best PPD-Free Hair Dyes Of 2023 For Bold And Bright Hair
These ppd-free hair dyes give you a new look and protect your skin from adverse effects.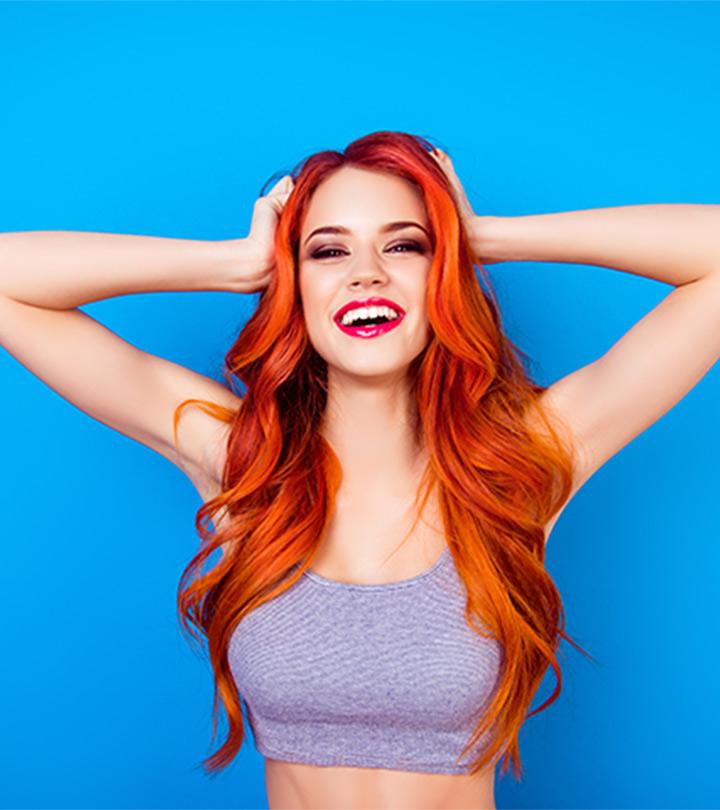 If your hair color looks totally natural, the credit probably goes to PPD or Paraphenylenediamine. Until recently, it was the go-to ingredient for many manufacturers. But then came a wave of PPD-free hair dye. Why so?
PPD is great at mimicking the natural hair texture, look, and shine. It is the ingredients that make darker colors like violet, brown, burgundy stay for a long time. But it may not be the best for your skin. It may cause skin sensitivity, itchiness, redness, trigger allergies, etc. In excessive quantities, it may even cause blisters. And today's woke generation is rightfully looking for alternatives. You ask, StyleCraze delivers! Our team of hair color experts has put together a list of the 11 best PPD-free hair colors that are safe on your skin and long-lasting! Take a look!
What Is A PPD-Free Hair Dye?
PPD or paraphenylenediamine is an oxidative material used in dyes that make hair color pigments long-lasting. It is used in very minute quantities but may still cause allergies. In contrast to this, the PPD-free hair dyes come with natural hair coloring pigments extracted from coffee, beetroot, walnut, henna, and indica. They safely color the hair and protect the skin.
11 Best PPD-Free Hair Dyes Of 2023 For That Bright Pop Of Color
Color your hair in the shade of sweet and fluffy cotton candy to make heads turn wherever you go! This dazzling shade by Punky Colour is a great choice for blondes or those with bleached hair. The coloring creme is infused with vegan keratin complexes that nourish each strand of your hair and enhance its shine.  It takes only 15-30 minutes for your hair to get the cottony pink shade. Color your hair with this PPD-free hair color and it lasts up to 35 shampoo washes. If you are still unsure about purchasing, you can check out a review of this product on YouTube.
Pros
Shine-enhancing complex
Dazzling pink color
15-30 minutes application time
Vegan hair dye
Free of parabens, sulfates, PPD, and ammonia
Cons
This color is not recommended for medium brown-dark hair.
Price at the time of publication: $8.8
Get gleaming luscious truffle brown hair from root to tip with the Schwarzkopf Simply Color Permanent Hair Color. Infused with hair-nourishing extracts of oatmeal, soy protein, and argan oil, this no PPD hair dye offers visibly healthy and bouncy hair. The color goes well on medium blond to dark color hair and offers 100% grey coverage. The hair color box has 1 tube of color cream, 1 applicator bottle with developer lotion, and 1 tube of nourishing conditioner. For a thorough review of the product, have a look at this YouTuber's reaction video.
Pros
Nourishing formula
Free of parabens, PPD, ammonia, and alcohol
Vegan
100% cruelty-free
Cons
Price at the time of publication: $10.97
Get high-voltage peppy and bright cotton candy pink hair using the Manic Panic High Voltage Semi-Permanent Hair Dye. This no PPD hair color is so vibrant that it's visible even in a dark room and is formulated for bleached and light blonde hair. You can have this pink color on your hair for a good 4-6 weeks as the dye settles on the hair shaft and not on the cortex to maintain hair health. Apply it evenly on your hair and have super-conditioned soft and shiny hair in no time. If you are willing to find out more about this product and its usage, make sure to check this review out on YouTube.
Pros
Glows in the dark
Free of PPD and parabens
Conditioning formula
Lasts for 4-6 weeks
Cons
The color is not visible on medium blonde-dark hair.
Price at the time of publication: $19.24
Get ultra-shiny lavender hair using the RAW Demi-Permanent Hair Color to let your hair do the talking. This non-PPD hair dye is a veggie-based color that needs no developer or peroxide. You need to apply this color on your hair strands 1/4 inches away from the scalp. Let it stay for 15 minutes and wash it off for hair that glows in the dark. It is recommended that you bleach your dark hair before painting it purple to get the high-definition color.
Pros
Easy to use
Color in 15 minutes
Glows in dark
Vegetable-based color formula
Cons
The 100% grey coverage lasts only for a week.
Price at the time of publication: $15.19
Want brown hair that shines naturally and grows better naturally? With the Tint Of Nature Simply Healthier Hair Color you can color your hair and make it stronger and healthier. This hair color without PPD is composed of 95% natural ingredients, including sunflower seed and chamomile extract to enhance the shine, green tea, black oat seed, and marigold extract to hydrate and strengthen the hair from root to tip. The coloring kit comes with a cleansing shampoo, color gel with applicator bottle holding the developer, and hydrating shampoo. It takes only 30 minutes to get the desired color and 40 minutes to cover your greys.
Pros
Natural coloration
95% natural composition
Easy to apply
Quick coloration
Cons
The color goes well only on dark-colored hair
Price at the time of publication: $15.99
The Smart Beauty Color Plex is beautiful plum hair color perfect for light brown hair. The color is permanent, so it stays on indefinitely. Its non-drip formula coats each hair strand and does not make a mess on your space. The potent formula strengthens and maintains the micro-bond fiber structure of your hair, adding shine and a polishing effect. The dye itself is non-greasy and leaves your hair looking sleek and tangle-free.
Pros
Easy to use
Reduces hair breakage
100% grey coverage
Vegan
Cruelty-free
Creamy texture
Cons
Price at the time of publication: $13.95
Take on the navy blue shade of the ultra-conditioning Splat Naturals Conditioning Semi-Permanent Hair Color and get all eyes on you. This PPD-free semi-permanent hair color has essential natural ingredients to nurture your hair and boost its growth. Quinoa extracts in the hair color are rich in vitamin E and minerals to prevent hair breakage, while the baobab seed oil offers UV protection when you flaunt it in the sun. The intense nourished look and shine are brought forth by provitamin B5 in this natural formula.
Pros
95% naturally formulated
Ultra conditioning ingredients
UV protection
Intense shine
Cons
The color can stain clothes and sink.
Price at the time of publication: $10.99
Enrich the health and texture of your hair with the Surya Brasil Henna Cream that is filled with natural ingredients formulated specifically for hair. This PPD-free henna hair dye comes with the infusion of achillea, carrot, and aloe vera extracts that hydrate and moisturize the hair without drying up the scalp. Brazil nut extracts revitalize the scalp and acai comes with vitamins A, B, C, and E, and omega 3, 6, and 9 fatty acids make the hair grow healthy and strong. Henna — the main ingredient in this black hair dye without PPD is responsible for the natural color. It also prevents hair breakage and nourishes each strand of your hair from root to tip.
Pros
Anti-oxidant properties
Hydrates scalp and hair
Reduces hair breakage
100% grey coverage
Cons
Some may dislike the smell
Price at the time of publication: $9
The Phytocolor Blonde Clair 8 is a permanent dye perfect for those who love to try new hair colors. It is formulated with a combination of botanical ingredients like alder buckthorn, madder root, plains coreopsis, and dryer's broom that helps in easy coloration, and two essential oils, jojoba and monoi, which nourish the hair fiber effectively. The formula work wonders to cover your gray hair as well.
Pros
Ammonia-free
Natural coloration
Plant-based hair dyes
Easy to use
Shiny finish
Cons
None
Price at the time of publication: $18
Have a chemical-free hair coloring experience with the all-natural Davis Finest Henna Powder. The best henna leaves are handpicked, dried, and churned into henna powder. You get orange-red hair if you apply the paste to your hair. For darker shades, you can mix the indigo powder with it. Henna offers anti-dandruff properties that keep the scalp free of dandruff. Along with colored hair, you will see noticeable growth and an increase in the thickness of your hair.
Pros
100% pure and natural
Better hair growth
Reduces hair thinning
Vegan and cruelty-free
Cons
The greys look golden orange as the color fades.
Price at the time of publication: $10.99
Are you experimenting with dark and vibrant color shades? For once, try the light shade now! Naturtint Root Retouch Creme has a colorant formulated with meadowfoam seed oil to give a long-lasting color, vitamin E-rich argan oil to strengthen the hair, and abyssinian kale to enhance the shine. Along with the colorant comes the color protection cream infused with sunflower extracts for damage control, hydrolyzed wheat protein for better volume, and flaxseeds with lemon fruit water extract to refresh the scalp and tame the splits.
Pros
Vibrant shine
Creamy texture
Complete nourishment
PPD-free permanent hair dye
Cons
The color works on bleached hair and not dark hair.
Price at the time of publication: $9.99
These are the 11 best PPD-free hair colors of 2022. "Have in mind that when a dye comes with more natural and fewer chemicals, the results on your hair will be significantly better," reminds Alexandro Vasquez, a hair dresser who has served across the globe. You can choose the best one that suits you by following the buying guide below.
How To Choose A PPD-Free Hair Color?

Keep your skin tone and undertone as the primary priority while choosing any shade of hair color. Bright and peppy colors like pink, purple and bright red go well on white skin tone. For the darker tones, you can try deep maroon, burgundy, or simply natural black.
If you have a cool undertone, choose shades of blue or purple. For warm undertones, choose shades of brown, red, and even yellow.
Since the hair dye is PPD-free, the color pigments usually are derived naturally. For brown, there is indigo, henna for red, and walnut for blonde. The other nourishing components includes that add color and improve hair health.
Some of the PPD-free colors are developed to last on your hair for 4-6 weeks. The others fade away soon as they only color the shaft and not the cortex region. If you love experimenting with hair colors, go for a temporary or a semi-permanent
Benefits Of PPD-Free Hair Dyes
Natural hair dye: There is beetroot for maroon and coffee for brown. The red is from henna (organic hair dyes) and black from indica. The coloring pigment used in most of the PPD-free hair dyes is natural and very safe on the hair shaft and skin.
Skin damage prevention: The PPD hair colors bring forth blisters, welts, burns, and itching sensations on the skin. With PPD-free hair colors, these allergic reactions are minimized. Not all hair colors have hypoallergenic compositions. Always do a patch test on your skin before you start coloring your hair.
Hair nourishment: To protect the color of the hair shaft, a lot of natural oils extracted from sunflower, meadowfoam seeds, and more are used. These extracts play a pivotal role in keeping the hair naturally nourished and shiny.
Why Trust StyleCraze?
Skin and hair care enthusiast Vaishnavi Kothuri enjoys reviewing and writing about beauty products. She has spent hours scouring numerous user reviews and hair expert recommendations to create this list of the PPD-free hair dyes for you. Sneha has picked products that are easy to apply and safe for the skin. These products are made with natural ingredients that give your hair color that lasts multiple washes. She has also provided a buying guide to help you make the right choice.
Frequently Asked Questions
Is a PPD-free hair dye safe?
Yes, the PPD-free hair dyes have natural color pigmentation that keeps the skin and hair safe.
How do you remove PPD from hair?
You can remove PPD from hair and skin using potassium permanganate.
What kind of hair dye does not contain PPD?
Plant-based hair colors having natural color pigmentation are free of PPD.
What does PPD-free mean?
PPD is the acronym for paraphenylenediamine. It is an oxidative material that makes the hair pigments last longer. A dye that is free from PPD is extracted from natural ingredients that are completely safe for your skin and hair.
How common is PPD allergy?
PPD allergy is pretty common. Around 6.2% of people in North America, 4% in Europe, and 4.3% in Asia have had adverse reactions from PPD in their hair dyes.
Does PPD allergy go away?
Yes. If you have an immediate, mild reaction to the dye, rinse it off with warm water and gentle shampoo. Apply potassium permanganate to the affected area of the scalp to fully oxidize the PPD. You can also apply hydrogen peroxide, an antiseptic, to calm irritation.
Recommended Articles