11 Best Burgundy Hair Dyes Of 2022 To Flaunt Your Chic Side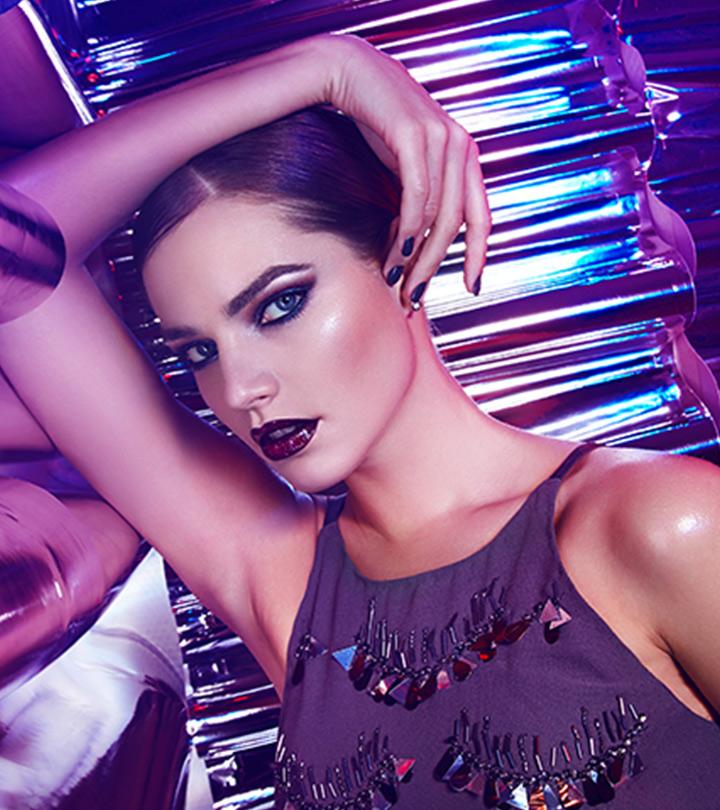 Burgundy is that shade that balances the best of bold and bolshie. In terms of color, burgundy falls between red and purple. And in this listicle, we bring you the best burgundy hair dyes (US) that suit all skin types as naturally as a natural color does.
The hair colors in this listicle are easy-to-use, long-lasting, and safe for your hair and scalp. Whether you want to change your entire hair color or want to get some streaks and highlights, you can use these colors from the list to get amazing results. Coupled with the right shampoo and conditioner, you can sport this hair color for around 3 months! So, what are you waiting for? Scroll down and check out the list of 11 best burgundy hair dyes below and give yourself (and your life) a new hair makeover!
11 Best Burgundy Hair Dyes For Sassy And Shiny Hair
Worried that a hair color may damage your hair? Don't be! Now nourish each strand as you color it with the Garnier burgundy hair dye. Cover your grays and flaunt your dark burgundy natural hair with this dye. The pack comes with a complete hair color kit that includes a creme developer and a non-drip creme that evenly and smoothly spreads to cover your hair — right from the tip to the root. You also get a pour and mix grapefruit oil ampule to give your hair complete nourishment. Along with this, the moisture-lock conditioner formulated with avocado, olive, and shea oils traps moisture and retains the softness and smoothness of your hair. You can check out this YouTuber's review of the product if you require more convincing.
Pros
100% gray coverage
Moisture-lock formulation
Non-drip hair color
Easy to blend and use
Cons
May take a long time to wash off
about dying natural hair burgundy with natural ingredients? The Henna Guys Henna Hair Dye is made of powdered Indian gooseberries, neem, false daisy, and indigo that enrich hair texture and strength. Its dark base color covers all grays and sets as an exceptional burgundy shade on blonde and light hair shades. This powder can be your choice if you are looking for a natural burgundy hair color free of parabens, gluten, and chemicals. The henna powder is packed in an airtight packet for longer shelf life.
Pros
Naturally formulated
Good gray coverage
Paraben and gluten-free
Long shelf life
Cons
Dark hair color needs to be bleached or lightened before applying this color
Get magical dark red burgundy hair with the Lime Crime Unicorn Hair Color. The highly-pigmented formula offers a seamless application process and all that you need to do is scoop and apply the hair dye for full coverage. The burgundy red hair color settles as an intense shade on bleached or blonde hair. Apart from the color, your hair gets conditioned, nourished, and looks shiny and beautiful. Flaunt this deep burgundy red hair color and do not worry about any damage as the product has no harsh chemicals in it. If you want to find out more about this product and its usage, make sure to check out this review on YouTube.
 Pros
High-intensity color
Deep conditioning
Full coverage
Vegan
Cruelty-free
Cons
The cure time is 45 minutes
Is your hair color fading away sooner than you would have liked it to? Clairol Naturals brings to you what is perhaps the best dark burgundy hair dye for those searching for a semi-permanent burgundy hair dye. Color your hair with this and it stays as good as new for up to 28 rinsing cycles. The rich color creme is formulated with 80% natural ingredients like coconut oil and aloe vera and there are no parabens nor ammonia added. This dye keeps your hair well-nourished as you color it. All your grays get covered and you will have dark burgundy red hair in only 20 minutes of application.
Pros
Fast action
Gentle on hair and scalp
100% gray coverage
No ammonia and parabens added
Cons
The hair color may turn orange as it fades.
The L'oreal Paris Superior Preference Fade Defying Color + Shine System is a deep and nourishing permanent burgundy hair dye that adds a beautiful shine to your hair. This burgundy hair dye box contains a color-optimizing creme, a color gel, and a color shine conditioner. The creme and color gel together give a multi-dimensional color effect to your hair and make it luminous. A silky and nourished touch is provided by the conditioner formulated with camelina oil, vitamin E (antioxidant), and a UV filter for better protection.
Pros
Multi-dimensional color effect
UV protection
8 weeks of color
Conditioner for better nourishment
Cons
The color almost looks black in the initial days.
Are you searching for a burgundy brown hair dye? The Wella Color Charm Permanent Liquid Hair Color offers a rich yet light burgundy brown shade. Formulated with Liquifuse Technology, this hair color binds hair strands to provide full-coverage and a beautiful shine in 30 minutes and works best on bleached and blonde hair. The floral fragrance and no ammonia odor make it one of the best burgundy hair colors in 2022. If you need further convincing, check this YouTuber's review out.
Pros
Floral fragrance
Superior gray coverage
Enhances color and shine
Best suited for blonde and bleached hair
Cons
Some may find the scent strong
Burgundy shades generally do not show on dark hair but here is an exception. The REVLON ColorSilk Luminista Hair Color is considered the best burgundy hair colors for dark hair owing to its Hi-Intense System. The system works on both blonde and dark hair to enhance its shine as it is infused with mango butter. The medium brown shade offers full gray coverage, fights brassiness, and the dye is free of ammonia and lasts for extended periods.
Pros
Formulated for dark hair
Contains mango butter
100% gray coverage
Free of ammonia
Cons
Flaunt red-hot burgundy hair that is ultra-shiny to capture all the limelight with the Creme Of Nature Moisture-Rich Hair Color. Infused with nature, this product is the perfect burgundy hair dye for dark hair. The formula contains mango butter, which thoroughly conditions the hair and protects it from damage. On the other hand, shea butter locks moisture in each hair strand to make it softer and shinier. With this hair dye, you can expect a multi-dimensional color effect and complete gray coverage right from the first use.
Pros
Deeply conditions
Multi-dimensional color effect
100% gray coverage
Suits olive skin
Hassle-free application
Cons
Might cause an allergic reaction for those with extremely sensitive skin
Allow the goodness of nature to color your hair. Henna is known for preventing dandruff, boosting hair growth, preventing graying, and repairing hair damage. This product is one of the best brown burgundy hair colors that adds a vibrant shade to blonde hair and nourishes dark hair. Use the hair dye made of dried and churned henna leaves on light-colored hair to get dark burgundy brown hair instantly. You can expect full gray coverage and soft and smooth hair for up to 2 months.
Pros
Nourishes and softens hair
Full gray coverage
Repairs hair damage
Fast color in 30 minutes
Cons
The dye may leave a stubborn stain on your clothes
Color and nourishment come together in the form of the Schwarzkopf Keratin Hair Color. This dark burgundy red hair dye casts an intense and uniform color from root to tip and makes your hair strong and healthy. This box burgundy hair color includes a pre-color serum, a color creme, an applicator bottle with a developer, and a conditioner. The pre-color serum conditions your hair and prepares it for coloring while the color cream is infused with keratin complex to strengthen hair from inside. For a mess-free application process, use the applicator bottle with the developer. The conditioner gives final touches to your hair to maintain the color and stay healthy.
Pros
Reduces 80% hair breakage
Deeply conditions
Looks good with blonde highlights
Intense and even shade
Low odor
Cons
Color your hair with this burgundy wine hair color that needs no hydrogen peroxide to enhance the color. The Bigen Permanent Powder Hair Color is a semi-permanent deep burgundy hair dye that keeps your hair colored for more than a month. It enhances natural hair and provides 100% gray coverage from the root to the tip. Cut open the packet, mix it with water, and apply it all over your head. It takes only 30 minutes for your hair to get coated with the color. The dye comes in a value pack of 6 color sachets.
Pros
No hydrogen peroxide
No ammonia
Complete gray coverage
Value pack of 6
Cons
The hair dye application can get a little messy.
These are some of the burgundy hair dye brands you can choose from. Read the buying guide below to find out how you can buy the best burgundy hair dye.
How To Choose A Burgundy Hair Dye

Burgundy is a shade that suits cool and warm skin tones and ranges from dark maroon to violet. If you are planning on coloring your hair a shade of burgundy, keep your undertone in mind. For cool skin undertones, choose burgundy colors with a speck of blue or purple. For warm skin undertones, choose burgundy hair shades with hints of brown, red, and even yellow.
Burgundy colors can be composed of natural ingredients like henna and also from chemical compounds. Apart from the color, you need to get a hair dye that nourishes your hair thoroughly. Actively look for hair dyes with natural and conditioning ingredients like coconut, aloe, mango, and even avocado extracts to enhance and nourish your hair.
Some burgundy hair colors last for a few days while others last for months. If you are a person who loves experimenting and loves to change their hair color often, get a temporary burgundy hair color. If you plan to keep the same hair color for a month or more, opt for a semi-permanent hair dye or a permanent one.
How To Use A Burgundy Hair Dye

Step 1: Start by preparing your hair. Wash it properly and let it air dry. Never color unwashed hair.
Step 2: Wear a pair of gloves and an old T-shirt that wouldn't mind seeing some stains.
Step 3: Choose the best hair dye for burgundy color that suits you and mix it following the instructions given.
Step 4: Divide your hair into small portions and separate them using clips.
Step 5: Start applying from the roots and stroke up to the tips.
Step 6: Use a shower cap or a hair cover and wait for the time mentioned on the hair dye instruction page.
Step 7: Wash thoroughly and use a mild shampoo without chemicals.
Step 8: Dry your hair and flaunt in style.
Why Trust StyleCraze?
Vaishnavi Kothuri is a haircare enthusiast who writes well-researched articles. She has compiled this list of the best burgundy hair dyes that are safe, long-lasting, and easy to use after going through numerous customer reviews and ratings. Sneha has also prepared a buying guide and mentioned the pros and cons of each product to help you make an informed choice.
Frequently Asked Questions
Is it safe to use hair dyes?
Hair dyes are safe to use if you follow all the instructions. Always do a patch test behind your ear before you start using the hair dye. Make sure you do avoid the product coming in contact with your eyes when applying.
Is burgundy a natural hair color?
Burgundy is a natural hair color derived from henna although some are chemically made too.
Does a burgundy hair dye fade quickly?
Burgundy hair colors that are intense can fade faster than light burgundy hair shades. The brand and composition of the hair colors also matter when it comes to the longevity of the dye.
How long does a burgundy hair dye last?
Temporary ones last for less than a week while semi-permanent and burgundy permanent hair dyes stay for up to 3 months.
Do you have to bleach your hair to dye it a shade of burgundy?
For those with black and dark brown hair, bleaching or going blonde before applying a burgundy hair shade is the best way to go.
Recommended Articles