13 Best Face Masks For Acne Scars In 2022 That You Must Try! (With Reviews)
Get rid of stubborn pimple marks and blemish scars and enjoy flawless, radiant skin daily.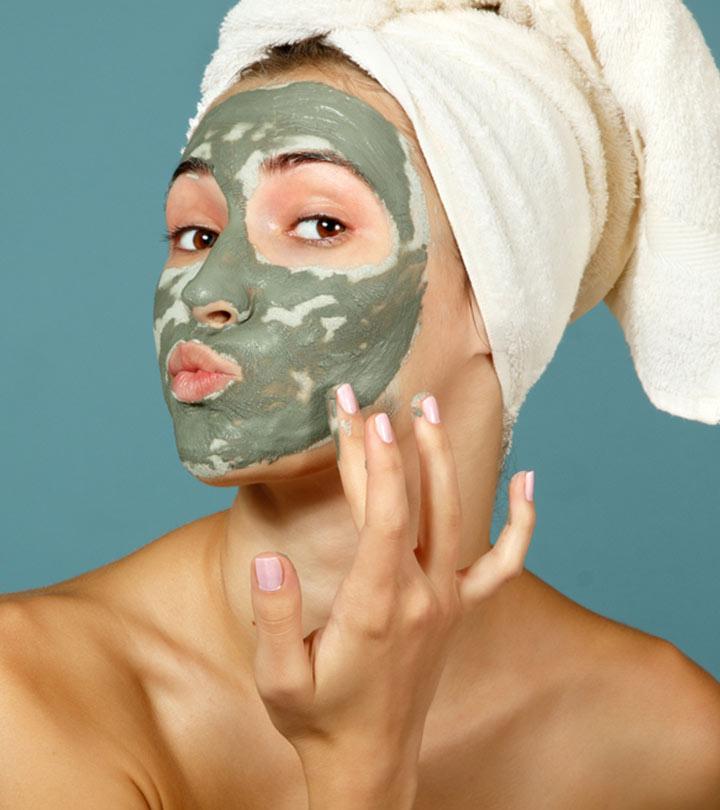 Acne scars are stubborn, and they make it difficult for you to look flawless. But you can make your skin clear with no scars with the best face mask for acne scars.
Acnes are painful when they break out; they create a mess and leave behind ugly scars. Concealing those with correctors and concealers every time can get tiresome. So, experts have formulated special face masks that will fade away these acne scars. These face masks are infused with special ingredients that remove the dead cells, clean up the impurities, and lighten the acne scars providing clear skin. Moreover, some face masks can also remove toxins from the skin. They also rejuvenate your skin and make them glow.
Eliminate your acne scars and get flawless skin by choosing one of the 13 best face masks for acne scars mentioned in this listicle. Keep scrolling!
Bring Back Your Stunning Glow With The 13 Best Face Masks For Acne Scars!
This mud mask by New York Biology may not have a likable color but has some rich benefits for your skin. It contains calendula oil, sunflower seed, vitamin E, aloe vera, jojoba oil, and advanced Dead Sea mineral mud to purify your skin and pores gently. Deep-exfoliating your skin, eliminating dead skin cells, and aiding skin renewal, the mask also tackles acne scars by encouraging blood microcirculation to leave a radiant glow. Try it! If you want to know more about this face mask, make sure to check out this review on YouTube.
Pros
Deep-cleansing mask
Promotes younger-looking skin
Tightens skin and pores
Fights acne and prevents breakouts
Enhances texture and eliminates greasiness
Cruelty-free, paraben-free, sulfate-free, and alcohol-free
Suitable for daily use and all skin types
Cons
Price at the time of publication: $16.95
Hit right where the marks are! CeraVe Resurfacing Retinol Serum is formulated specially to treat post-acne scars with its retinol-infused formula. Plus, it contains ceramides, 1, 3, and 6-II that lock in the natural moisture. Also, this acne scar removal mask works on refining skin's texture by reducing pores and leaving the area looking newer, brighter, and smoother than before. Just what your skin needs— a face mask to help with acne scars; give this a try today! Check out this YouTuber's honest review if you require more details about this retinol serum!
Pros
Gentle formula
Dermatologist-tested
Non-comedogenic and allergy-tested
Paraben-free and fragrance-free
Suitable face mask for acne scars and oily skin
The infused retinol stimulates new skin growth.
Cons
Price at the time of publication: $16.38
Bask in the power of Mother Nature with this organic mud mask packed with ultra-enriching herbs. It contains avocado, green tea, aloe vera, spinach, calendula, avocado, and natural clay to heal and rejuvenate your skin with every use. From tightening pores, nourishing, fighting aging signs, detoxifying, to even pulling out toxins, it's a great option to deal with acne scars as well. So, if you are into vegan or organic skin products, then Superfood Marine Clay Mask is a must-try. For an honest customer review of this clay mask, make sure to check this YouTube video out.
Pros
Dermatologist-tested
Ultra-hydrating and creamy face mask
Reduces pores and ensures deep cleaning
Soothes inflamed skin and sunburns
Tackles acne and prevents breakouts
Phthalate-free, sulfate-free, paraben-free, and mineral oil-free
Cons
Price at the time of publication: $21.5
This blend of organic ingredients is tough on acne scars and gentle on skin. The Dermaxgen Turmeric Face Mask is made with turmeric, coconut oil, Vitamin C+E, sweet almond oil, and aloe vera that rejuvenates your tired skin and adds a natural glow. This face mask prevents pimples and further breakouts, soothes and repairs your acne-prone skin while improving skin's elasticity for a healthy skin appearance.
Pros
Natural ingredients
Fights pimples, acne scars, breakouts
Improves skin elasticity
Promotes skin cell renewal
Cruelty-free
Paraben-free
Cons
None
Price at the time of publication: $12.85
How about this mask and scrub combo for some intense exfoliation? Given how exfoliation is essential to keep your skin healthy and glowing, this face mask will not only deep-clean with glycolic acid and quartz crystals but also smoothen uneven skin tones and eliminate dullness. Besides this, the formula contains aloe vera, turmeric, vitamin C, ginger, and pumpkin and calms the skin and tightens, nourishes, and stimulates collagen production too. All in all, it soothes, exfoliates, and brightens your skin at the same time! Do not skip it.
Pros
Suitable for all skin types
Tackles acne marks and refines pores
Renews skin and enhances complexion
Hydrates and nourishes intensely
Tones and replenishes skin with natural ingredients
Paraben-free, synthetic dye-free, and cruelty-free
Cons
Price at the time of publication: $13.97
Ladies, this is not a face mask; it's a comforting detox! Packed with green tea, lemongrass, bentonite, and kaolin clay, this intensely hydrating and rejuvenating blend will make you fall in love with your skin again. Leaving it glowing, soft, and healthier than before, it refines pores, fights blackheads, and smoothes fine lines and wrinkles too. And unlike other face masks that might dry out and crack, this one will continue to moisturize and revitalize your skin until you rinse. Yep, detox with Teami!
Pros
Anti-breakout organic formula
Suitable for all skin types
Leaves skin refreshed and renewed
Nourishes with natural oils and anti-oxidants
Vegan and cruelty-free product
Cons
Price at the time of publication: $13.2
The Pure Biology Clay Face Mask offers gentle exfoliation and removes impurities. It has detoxifying properties that help soothe inflamed skin and minimize pores. The potent formula contains kaolin clay, bentonite clay, retinol, AHAs, vitamins B, C, and E. This face mask reduces acne scars and dark spots, and redness. It improves skin elasticity and offers an even skin tone. This clay mask protects your skin from UV damage and fights free radicals.
Pros
Suitable for all skin types
Controls excess shine
Non-GMO
Cruelty-free
Paraben-free
FDA approved
Cons
Might cause a tingling sensation
Price at the time of publication: $27.99
Acne problem or dealing with dark spots? Trust this turmeric face mask for some intense TLC! Apply it generously on your skin to watch it brighten, tighten, and shrink pores while giving you a therapeutic experience with every use. Also, it contains honey, bentonite clay powder, cinnamon, colloidal oatmeal, milk, and aloe leaf to nourish, soothe and diminish acne scars, if any. Pulling out the toxins and stimulating the skin to replenish and rejuvenate, this turmeric face mask for acne scars is a must-try for those who are looking for a complexion-enhancing mask too.
Pros
All-natural formula
Guarantees younger-looking skin
Protects from harmful rays and boosts moisture
Fights aging signs and prevent breakouts
Evens out skin tone and hydrates intensely
Exfoliates dead skin cells and forms a protective barrier
Phthalate-free, SLS-free, gluten-free, petroleum-free, and more
Cons
It might stain your skin slightly.
Price at the time of publication: $8.95
Anti-fungal, anti-bacterial, and antiviral— no ingredient is raging war on acne and pimples like apple cider vinegar! Go on, let your skin enjoy clear, oil-free, and dirt-free moments with this blend that guarantees to fight acne-causing bacteria, exfoliate and minimize pores with its powerful formula. And while keeping the acne at bay, it also enhances complexion, evens out skin tone, and moisturizes intensely. Still, want to skip apple cider vinegar?
Pros
Cruelty-free
Suitable for all skin types
Soothes sunburns and nourishes intensely
Guarantees glowing and younger-looking skin
Cons
It may be slightly drying for dry skin.
Price at the time of publication: $12.99
Vegan nation, get rid of acne scars with this Matcha Made in Heaven! Packed with green tea, the ultimate detox ingredient for all skin types, it purifies, exfoliates, and beautifies all in one go. The blend also contains avocado, parsley, coconut, and licorice roots to fight acne, pimples and diminish blemishes and dark circles too. Rich in umpteen vitamins, fatty acids, and antioxidants, this face mask guarantees to exfoliate dead skin cells, hydrate intensely, protect from sun damages, and fight aging signs as well. Yep, all this while you enjoy a creamy and soothing therapeutic session with every use— do not miss it!
Pros
Refreshes skin within minutes
Fights all types of blackheads
Ensures intense cleansing and nourishing
Reduces under-eye puffiness and swelling
Boosts collagen production and prevents breakouts
Tackles skin discoloration and protects from free radical damages
GMO-free, cruelty-free, BPA-free, and organic-certified
Cons
Not suitable if you are sensitive to smell
Price at the time of publication: $19.95
Old scars or new, none stand a chance against this one! Guaranteeing spotless and smiling skin, this cream is formulated to diminish acne scars as well as redness, deep and dark spots with every use. How? All thanks to its powerful and unique blend that contains aloe vera, rosehip oil, onion bulb extract, jojoba oil, lemongrass essential oil, tomato bio ferment, and more to beautify and purify your skin. From stimulating skin renewal, fading dark spots to evening skin tone, it's a godsend mask to get rid of acne scars. Try it!
Pros
Brightens skin
Unclogs pores and fights acne
Leaves skin healthier and clearer
Enhances texture and moisturizes intensely
Suitable for dry, mature, and acne-prone skin
Cons
Price at the time of publication: $19.99
Infused with lemon— this vegan face mask has only sweet things for you! Beauties, get ready to enjoy an instant boost of brightness and hydration with this one as it leaves a healthy glow on your skin. But how does it work? The mask penetrates deep into the skin to exfoliate dirt, oil, and acne-causing bacteria from the core. And that's not all; it hydrates and shrinks pores too. The blend also contains umpteen organic fruit extracts, hyaluronic acid, vitamin B, vitamin E, herbal extracts, and more. Yep, indulge!
Pros
Gel-like face mask
Locks in natural moisture
Ensures a glowing radiance
Enhances complexion and evens skin tone
Cleanses clogged pores and stimulates collagen production
Suitable for dry, oily, normal, and combination skin
Cons
Slightly greasy for oily skin
Price at the time of publication: $12.99
Lastly, this powerful exfoliator that guarantees to unclog all the gunk that causes breakouts and blackheads! Penetrating deep into the pores to remove excess debris, dirt, sebum buildups, and dead skin cells, will exfoliate intensely, followed by soothing the skin and inflamed areas. A great option for correcting skin discoloration, hyperpigmentation, and fading acne scars too, this herbal and antibiotic formula is must-try if you desire spotless, healthy, and glowing skin.
Pros
Gel-like consistency
Reduces dark spots and acne marks
Hypoallergenic and cruelty-free
Infused with a rare mineral clay for an intense detox
Free from harsh chemicals, fragrance-free, and organic
Suitable for acne-prone and sensitive skin
Cons
Price at the time of publication: $19.97
That's all folks— Getting rid of acne scars can't get simpler and therapeutic than this! There you go, those were the 13 best face masks for acne scars that you must try this 2022. Do you need more assistance with choosing the right face mask for your skin? Or wondering about its benefits? Then don't miss our buying guide below.
Buying Guide
How To Choose The Best Face Mask For Acne Scars?
Look out for the following features while choosing a face mask:
Skin Type: Yep, there's a face mask for all skin types out there! So, ideally, you must figure out your skin type first before choosing a face mask to witness satisfying results. For example, an oily skin face mask may not work on dry skin and will end up drying your skin even more. Hence, choose as per your skin type!
Active Ingredient: Look out for the active ingredient that'll be fighting both acne and acne scars on your skin. Some of the well-known ones are turmeric, apple cider vinegar, lemon, green tea, etc.
Intense exfoliation: Exfoliation plays a crucial role in ensuring your skin is healthy inside out. A face mask designed to exfoliate will not only cleanse and prevent future breakouts but also heal skin and fade acne scars.
Boost Skin Renewal: Inspect if the face mask will stimulate skin renewal to help your complexion appear clear and brighter. After the process of intense exfoliation, your skin requires a boost of new cell growth to heal and fade out the acne marks.
Corrects skin discoloration: Acne scars, when not treated for a long time, can lead to skin discoloration or uneven texture. Hence, the face mask must smoothen the skin texture, even skin tones, and correct skin discoloration while diminishing acne scars.
Benefits Of Face Mask For Acne Scars:
There are many, and we've collated them all for you. A face mask for acne scar:
Fights aging signs such as fine lines and wrinkles
Exfoliates dirt, oil, dead skin cells, and debris intensely
Combats acne, pimples, and prevents future breakouts
Boosts collagen production and encourages new cell growth
Brightens complexion and corrects uneven skin tones
Leaves skin soft, smooth, clearer, and younger-looking
It moisturizes, hydrates, and nourishes the skin.
So yes, if you are dealing with acne scars, a face mask is the solution!
Why Trust StyleCraze?
The author, Vaishnavi Kothuri, is a skin care enthusiast who loves trying out different skin care products. She has reviewed hundreds of products online to help her readers pick the best. These top face masks for acne scars not only remove the stubborn spots but also cleanse your pores.
Frequently Asked Questions
Do face masks help with acne scars?
Absolutely! A face mask will not only fade acne scars but also boost new skin cells for your complexion to look clearer, brighter, and healthier than before.
Are clay masks good for acne scars?
Yes, they are. Clay masks with enriching ingredients diminish visible acne scars and also tighten pores, exfoliate, nourish, and correct skin discoloration.
Is turmeric good for acne scars?
Yes, turmeric helps lighten scars and brighten complexion at the same time! Also, it pulls out the toxins and exfoliates gently too. So, if you are looking for an instant boost of brightening and hydration, you must try Natrulo Turmeric Face Mask.
Is apple cider vinegar good for acne scars?
Apple cider vinegar has anti-fungal, anti-bacterial, and anti-viral properties that help fight stubborn acne and eliminate the acne-causing bacteria from the pores. Hence, you must try Majestic Pure Apple Cider Vinegar Facial Mud Mask if you are dealing with severe acne or acne scars.
How do you make a face mask for acne scars?
A good DIY mask for acne scars is aloe vera and lemon juice. This is because aloe vera lends astringent and antibacterial properties to help reduce acne. The lemon juice helps lighten the acne scars and also brightens the complexion.
How do you fade acne scars naturally?
Acne scars can be faded naturally by using homemade DIY packs made of the following ingredients:
• Chickpea flour
• Tea tree oil
• Turmeric
• Aloe vera
• Apple cider vinegar
• Potato juice
• Orange peel powder
Recommended Articles
Best Sheet Masks For Acne
Best Clay Masks For Acne: Breakouts Be Gone!
Best Natural Face Masks
Best Korean Face Masks For Acne