The 10 Best Korean Oil Cleansers Of 2023 – Reviews & Buying Guide
Invest your money in the best Korean oil cleanser for shiny, soft, and smooth skin.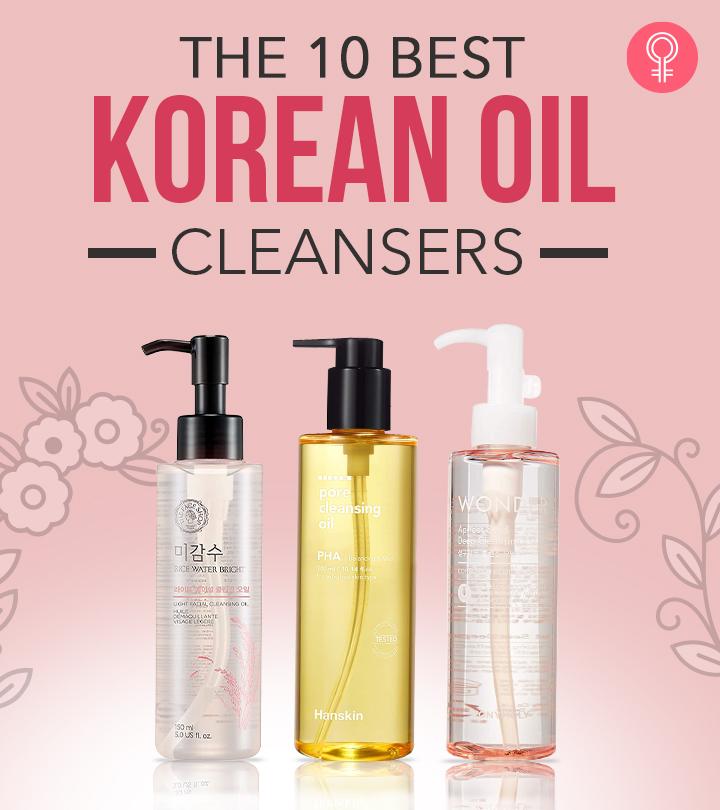 Oil cleansing was made popular by the Korean skin care industry. Since then, most of us have learned the importance of using an oil cleanser in our daily skin care routine. But with so many varieties on the market, picking the best Korean oil cleanser for your skin can be a challenge. Oil cleansers remove makeup, dirt, pollution, product residue, and oil from your skin. They cleanse the skin and prep it for other products like moisturizers, serums, and lotions. But they do not strip your skin of its natural oils. It is easy to blend oil cleansers with makeup. Hence, they can even help remove tough waterproof makeup. If oil cleansers have caught your attention, scroll down and check out our top 10 best Korean picks.
What Is A Korean Cleansing Oil? What Does It Do For Your Skin?
Cleansing oils are oil-based makeup removers that are the first part of a double cleanse in a 10-step Korean skincare routine. They dissolve and remove the oil-based gunk from your skin and deep pores efficiently. Cleansing oils come in both liquid and balm textures and are suitable for oily and acne-prone skin types.
The main purpose of a Korean cleansing oil is to remove sebum, dirt, and makeup residue. However, many cleansing oils nourish the skin and also address concerns like dry patches, breakouts, and sensitivity.
Note: It is a myth that cleansing oils are not beneficial for oily and acne-prone skin and may worsen its condition. Do not skip this step in the skin care routine even if you have oily skin.
Let's now look the top 10 Korean oil cleansers that you can buy.
The Top 10 Korean Oil Cleansers Of 2023
The Face Shop Rice Water Bright Light Facial Cleansing Oilis enriched with rice water, which contains vitamins A, B, and E, ceramide, and minerals for brightening and nourishing dry skin. It removes dirt and makeup residue without irritation and helps you achieve glass-like skin.
This oil contains moringa oil, which is antioxidant-rich and melts away impurities from the skin,and jojoba oil that hydrates the epidermis. It also contains soapwort, anorganic ingredient for sensitive skin issues. This lightweight product also reduces the appearance of skin pigmentation. Dr. Patricia Gaile Espinosa, MD, Philippine Dermatological Society, says, "Moringa oil contains antioxidants like Vitamin A and E. It also has an antibacterial property and can control inflammation. It can make the skin soft and smooth."
Watch this YouTuber's honest review video to get a better idea about the product.
Key Ingredients: Rice water, Soap wort, and Moringa oil
Pros
Brightens the skin
Gentle formula
Suitable for daily use
Lightweight
Sulfate-free
SLES-free
SLS-free
Mineral oil-free
Cons
Price at the time of publication: $28.74
The SKINFOOD Black Sugar Perfect Cleansing Oilis formulated with organic black sugar that has exfoliating and moisturizing properties. It also contains vitamins and minerals that hydrate and nourish the skin. This cleansing oil is also enriched with plant oils and refined rice wine that make your skin smooth by removing dead skin cells, impurities, and makeup residue from the pores. If you are still unsure, you can check out a review of this cleansing oil on YouTube.
Key Ingredients: Mineral black sugar, Refined rice wine, and Plant oils
Pros
Smoothens the skin
Suitable for sensitive skin
Pleasant fragrance
Moisturizes the skin
Cons
Price at the time of publication: $13.99
With its easily washable texture, the Dear, Klairs Gentle Black Deep Cleansing Oil moisturizes the skin while removing makeup and impurities effectively without irritation. It is hypoallergenic and suitable for sensitive skin, dry patches, and blackheads. This gentle formula consists of vegetable oils and natural black grains.
The antioxidant-rich black sesame oil deals with skin aging and prevents dehydration. The black currant seed oil contains essential vitamins and minerals that strengthen the skin's protective layer, lock in moisture, and promote skin cell regeneration. Black bean oil enhances skin elasticity, controls sebum production, and soothes the skin. Dr. Patricia Gaile Espinosa, MD, Philippine Dermatological Society, says, "Black seed oil has antimicrobial activity against common skin bacteria like Staphylococcus aureus and epidermidis, and works as an anti-inflammatory as well". This product can truly work wonders for oily and combination skin. You can check out this YouTuber's review of the cleansing oil if you need more convincing.
Key Ingredients: Black bean oil, Black sesame oil, and Black currant seed oil
Pros
Silicone-free
Paraben-free
Vegan
Cruelty-free
Steroid-free
Ethanol-free
No artificial fragrance and colors
Non-greasy
Softens the skin
Suitable for sensitive skin
Cons
None
Price at the time of publication: $19.99
The ETUDE HOUSE Real Art Moisture Cleansing Oil removes tough waterproof makeup and dead, old skin cells efficiently. It contains a blend of coconut, grape seed,and apricot kernel oils that protect and hydrate your skin,keeping it fresh. This Korean oil cleanser reacts with water instantly and unclogs the pores without leaving any product residue.
Key Ingredients: Coconut oil, Grape seed oil, and Apricot kernel oil
Pros
Affordable
Moisturizes the skin
Paraben-free
Alcohol-free
Cons
Price at the time of publication: $16.95
The Nature Republic Forest Garden Argan Cleansing Oil is formulated with different oil extracts and teas. It contains antioxidant-rich Moroccan argan oil with vitamins A and E that deeply nourish your skin. Argan oil is also rich in omega-6 fatty acids and linoleic acid that reduce inflammation, moisturize your skin, and strengthen its natural barrier. This cleansing oil also contains Jeju Sparkling Water and jojoba oil that help remove makeup and impurities, revealing glowing skin.
Key Ingredients: Argan oil, Jeju Sparking Water, and Jojoba oil
Pros
Adds glow
Nourishes the skin
Long-lasting
Mild fragrance
Suitable for all skin types
Cons
Might cause a burning sensation
Price at the time of publication: $16.9
The Tonymoly Wonder Apricot Seed Deep Cleansing Oil is a water-friendly formula that emulsifies quickly with water to remove residue and dirt effectively. It breaks down base, lip, and eye makeup and refreshes the skin.The key ingredient is apricot seed oil that penetrates your skin and unclogs the pores for a thorough cleanse. The combination of jojoba, pomegranate, meadowfoam, and macadamia seed oil hydrates and nourishes the skin.
Key Ingredients:Apricot seed oil, Jojoba oil, Meadowfoam oil, Pomegranate oil, and Macadamia seed oil
Pros
Hydrates and nourishes the skin
Suitable for sensitive skin
Moisturizes the skin
Pleasant scent
Cons
May not work well with waterproof makeup
Price at the time of publication: $19.75
This Hanskin Pore Cleansing Oil is powered by polyhydroxy acids (PHA)and is specially formulated for sensitive skin. The PHA molecules help melt away tough impurities and act as a gentle exfoliant. This cleansing oil removes toxins and makeup that are stuck deep in your pores.
It contains activating elements like safflower plant and orange oil extracts that strengthen the defense of your skin. This gentle formula with ablend of tea tree,jojoba, olive, grape seed oils, and aloe vera helps fight and control breakouts while hydrating and soothing the skin. The naturally derived plant oils melt off dirt, blackheads, and sebum from pores. If you want to find out how well this cleansing oil works, check out this review from a makeup enthusiast on YouTube.
Key Ingredients: Polyhydroxy acids, Safflower extracts, Orange oil extracts, and Plant oils
Pros
Eliminates blackheads
Moisturizes the skin
Fights breakouts
Soothes the skin
Suitable for sensitive skin
Cons
None
Price at the time of publication: $27.0
KoseSoftymo Speedy Cleansing Oil is formulated with organic oils that help remove dirt, dead skin cells, and stubborn makeup without leaving any oily residue. The gentle formula helps to brighten the skin and offers a thorough cleaning speedily. The oils infused in this cleaner helps to wash away sebum that blocks the pores, making the second cleansing step unnecessary.
Key Ingredients: Jojoba seed oil, Sesame oil, and Olive oil
Pros
Removes waterproof mascara
Travel-friendly bottle
Moisturizing
Cons
None
Price at the time of publication: $10.99
The Aromatica Natural Coconut Cleansing Oil melts away dirt and impurities gently caused by pollution and the external environment. It hydrates tired and stressed skin deeply, making it fresh. This multi-task cleanser gets rid of rough skin, makeup, and blackheads.
The blend of natural almond oil and organic coconut oil contains tocopherol that keeps the skin healthy while maintaining its elasticity. Coconut oil nourishes and moisturizes tough skin, and sunflower oil softens and smoothens it. Lavender oil has a calming effect and makes the skin supple without irritating it. The natural plant oil forms a protective layer on the skin. This cleanser is vegan, hypoallergenic,and suitable for sensitive, dry, and oily skin types.
Key Ingredients:Coconut oil, Almond oil, and Lavender oil
Pros
Silicone-free
Mineral-free
Vegan
Hypoallergenic
Removes blackheads
Hydrates the skin
Cons
Price at the time of publication: $8.6
innisfree Green Tea Hydrating Cleansing Oil is formulated to remove excess oil, sunscreen, and makeup without drying the skin. This cleansing oil is rich in antioxidants and amino acids. This oil effectively hydrates the skin. Jeju green tea root is a natural surfactant that cleanses gently.
Key ingredients: Jeju Green Tea Extract
Pros:
Lightweight
Suitable for all skin types
Cons:
Price at the time of publication: $22
Before buying a cleansing oil,consider these factors to make the ideal choice.
How To Choose The Best Korean Oil Cleanser
Consider your budget before making any purchase. Whether you want to splurge or have a limited budget, you can find Korean oil cleansers at all price points.
Cleansing oils come in two forms – liquid cleansing oils and cleansing balms. Liquid cleansing oils are the most common form and easier to apply. However, both are equally effective and can be used as the first cleansing process in the 10-step Korean skincare routine.
If you have oily or acne-prone skin, look for oil cleansers that contain more of linoleic acid as they are lighter. Oils that are rich in linoleic acid include argan oil, grape seed oil, safflower oil, sesame oil, jojoba oil, rice bran oil, rose hip oil, and hemp seed oil. If you have dry skin, go for oil cleansers that contain more of oleic acid as they are thicker. Oils rich in oleic acid include avocado oil, apricot kernel oil, macadamia nut oil, almond oil, coconut oil, sea buck thorn oil, and olive oil.
Korean cleansing oils are measured in oz. while balms are measured in grams. Check the quantity of the product to ensure the best value for money.
The following section lists the different types of cleansing oils and their skin benefits.
Different Types Of Cleansing Oils And Their Skin Benefits
Olive Oil: Olive oil is versatile and can be used in skincare routines,apart from cooking. It is lightweight and contains antioxidants. It does not clog the pores and acts as a great exfoliator,making the skin clear, fresh, and glowing.
Jojoba Oil: Jojoba oil is a natural conditioner that nourishes and moisturizes the skin.It is odorless and an ideal choice for dry skin.
Rice Bran Oil: Rice bran is a favorite Korean ingredient for moisturizing the skin, especially during winters. It contains antioxidants and fatty acids that help protect the skin. This oil brightens the skin, reduces dark spots, and maintains a youthful appeal in your skin. This light weight oil is suitable for oily skin.
Coconut Oil: Coconut oil contains anti-aging properties and moisturizes your skin. It can also be used as a gentle exfoliator during makeup removal.
Grapeseed Oil: Grapeseed oil moisturizes and tones your skin, reduces acne and pimple scars, and lightens dark circles without clogging your pores.
Apricot Oil: Apricot oil is odorless and heals damaged skin.It also moisturizes the skin and minimizes the appearance of wrinkles.
Moringa Oil: Moringa oil was used in the ancient times of Greeks, Romans, and Egyptians for protecting and moisturizing the skin during summers. It is absorbed easily into the skin, has anti-inflammatory property, and visibly reduces dark spots.
Camellia Oil: Camellia oil is a good makeup remover and is absorbed into the skin easily. Its antioxidant properties moisturize and nourish the skin.
Here are some tips on using a Korean cleansing oil.
How To Use A Korean Cleansing Oil
Apply a small amount of the oil to your face (refer to the instructions on the package to know whether it must be wet or dry).
Gently massage the oil across your face and eyes in a circular motion for a few minutes and then rinse.If your cleansing oil is gentle on the skin, it can be used to remove eye and lip makeup as well.
Double cleanse – follow up with a mild foam cleanser(water-based) and warm water to rinse out the oil completely. Warm water opens up the pores and eliminates the sebum mixed with dead skin cells.
Note: If you have a combination or oily skin, avoid oil blends or single oil that do not contain emulsifiers or surfactants.
Why Trust Stylecraze?
The author, Shiboli Chakraborti, is a certified skin care coach. She checked an extensive range of Korean oil cleansers to make this list of products suitable for all skin types. Her selection is based on in-depth research into the beneficial ingredients of the products that can effectively remove dirt and residue. The products included in the list are the top-rated ones and are safe for the skin.
Frequently Asked Questions
Are oil cleansers safe?
Yes, oil cleansers are made with oils that suit most skin types and are safe on your skin. These are plant-based oils with no harmful ingredients and chemicals that may damage your skin by disturbing its pH level.
How do cleansing oils work?
Cleansing oil is used with water to dissolve excess oil, makeup residue, and dirt quickly. It works by emulsifying with water, rinsing away the impurities, and unclogging your pores.
Which cleansing oil is best for acne?
The Innisfree Green Tea Balancing Cleansing Oil is one of the top choices for acne-prone skin.
How do I use cleansing oil?
Apply the cleansing oil to the face, neck, lips, and eyelids. Massage gently for a minute. Massage with water again and create a foamy emulsion. Rinse off with warm water.
What is a good Korean oil cleanser for oily and mature skin?
The Innisfree Green Tea Hydrating Cleansing Oil. The oil contains rich amino acids and antioxidants like tea tree extracts that effectively hydrate your skin and prevent signs of aging.
What is the difference between Korean oil cleansers and milk cleansers?
Korean oil cleansers and milk cleansers work great on oily skin. Korean oil cleansers are oil-based cleansers that help remove dirt and oil and maintain the skin's healthy balance. Milk cleansers are water-based cleansers that also cleanse your skin thoroughly while also moisturizing the skin without leaving a residue on it.
Recommended Articles