10 Best Cleansing Sticks to Try in 2020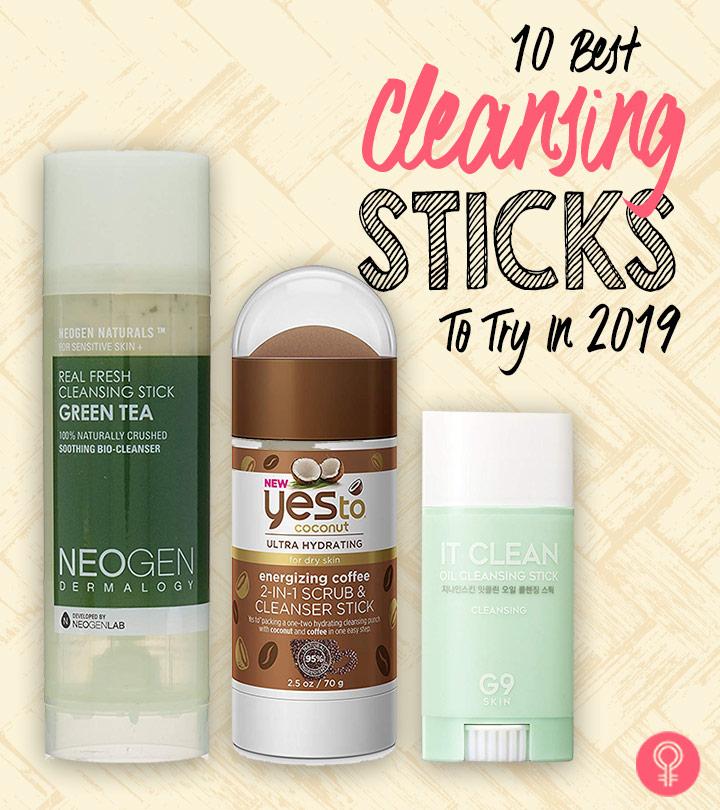 K-beauty has revolutionized the skincare game. Here's another product from the K-beauty arsenal that will surely change your skincare routine for life – a cleansing stick. A cleansing stick is exactly what it sounds like. Swipe it a few times on your face, and voila! It cleanses, exfoliates, and brightens your skin and does every other thing that you expect from your regular cleanser. The best part is it is travel-friendly. Check out this list of best cleansing sticks you can lay your hands on.
10 Best Cleansing Sticks For Better Skin
Product Claims
This product contains coconut and coffee, which energize and moisturize your skin. The coffee extracts help to exfoliate your skin gently and wash away all traces of dirt at one go. Coffee extracts also help in reducing inflammation and brightening your skin. This product contains 95% natural ingredients.
Pros
Non-drying
Hydrating
No parabens
Leaping Bunny certified
No SLS and silicones
Suitable for dry skin
Nice fragrance
Cons
None
Product Claims
This formula contains tomato and charcoal extracts that remove excess oil and impurities from your face. It is incredibly convenient to use and gives you a creamy lather. Charcoal is a natural detoxifying agent that leaves your skin naturally clear.
Pros
95% of natural ingredients
No parabens
Non-drying
Hydrating
No SLS, silicones, and other harmful chemicals
Suitable for all skin types
Cons
None
No products found.
Product Claims
This product not only cleans your skin but also refines and exfoliates the pores and helps to even out your skin tone. It is easy to apply and easy to wash off. It sloughs away dead skin cells and boosts radiance. It is a three-in-one cleansing stick that focuses on controlling oil, reducing dullness, and improving skin texture.
Pros
Hypoallergenic
Cruelty-free
Mild exfoliating granules
Mild fragrance
Non-drying
Cons
None
Product Claims
This product is formulated with white and purple rice, which gives it an exfoliating quality. It smoothes the skin texture by gently exfoliating the dead skin cells. It is easy to use and is best for cleaning your face on-the-go.
Pros
No parabens
No talc
Sulfate- and phthalate-free
No silicones
Suitable for all skin types
Cons
None
Product Claims
The K-beauty product claims to give you a squeaky clean face just in 3 minutes. This daily-use cleansing stick has a balm-like texture that glides smoothly on your skin. The best part is, it comes with a cleaning brush that can help exfoliate your skin. It cleans the skin pores thoroughly from inside out and also removes makeup.
Pros
No artificial color
Contains natural extracts
Non-drying
Moisturizing effect
Can be used a face massager
Cons
None
Product Claims
If you have dry skin, your skin is going to love this cleansing stick. It has an intensely hydrating formula that cleans your face without drying it. It is formulated to clean dirt and oil build-up thoroughly. It contains coconut oil that also clears acne-causing bacteria.
Pros
Dermatologist tested
TSA- friendly
No parabens
No mineral oils
No phthalates and other chemicals
Clinically tested
Cons
The smell might be overpowering for some.
No products found.
Product Claims
The first thing that you will notice right after opening the cap is its fresh and invigorating smell. It scrubs your skin and cleans all the dirt and dead skin cells trapped in your pores. It contains naturally derived ingredients and fresh green tea leaves. It claims to remove makeup and keep your skin moisturized.
Pros
Contains natural oils and real botanical extracts
Refreshing fragrance
Non-drying
Non-irritating
Skin-friendly
Cons
Not so effective in removing heavy makeup at one go.
Product Claims
This cactus water and hibiscus cleanser contain coconut oil and other natural extracts that keep your skin hydrated and make it feel soft and healthy. It claims to clean your face and remove every trace of makeup thoroughly.
Pros
100% pure coconut oil
Suitable for daily use
Dermatologist tested
Paraben-free
Non-comedogenic
Cons
A bit difficult to wash off.
Product Claims
This daily facial cleanser is extremely easy to use. It contains microbead-free exfoliants that gently polish your skin, leaving it super clean and smooth. It contains detoxifying matcha green tea extracts that protect your skin. It has a refreshing fragrance and is easy to carry.
Pros
Contains green tea and
organic cactus extracts
Non-drying formula
Moisturizing effect
Cons
Contains added colors and PEG
Product Claims
This cleansing stick claims to remove not only impurities but also stubborn blackheads from your skin. This stick cleanser is easy to carry and extremely easy to use. It has an oil-based formula that dissolves and clears sebum and moisturizes your skin.
Pros
Contains 71% soybean oil
Moisturizing formula
Non-irritating
Contains natural extracts
Cons
Cannot remove makeup effectively in one wash.
Cleansing sticks are the easiest and the most convenient way to clean your face on-the-go. These are no-mess and fuss-free type cleansers that will not leak or spill. If you are someone who always looks for a seamless way to blend your skincare routine with your daily schedules, try these cleansing sticks. And, of course, don't forget to share your feedback in the comments section.