8 Best Grapeseed Oils For Your Skin – 2023
Be a friend to the environment by using vegan grapeseed oil to refresh your skin.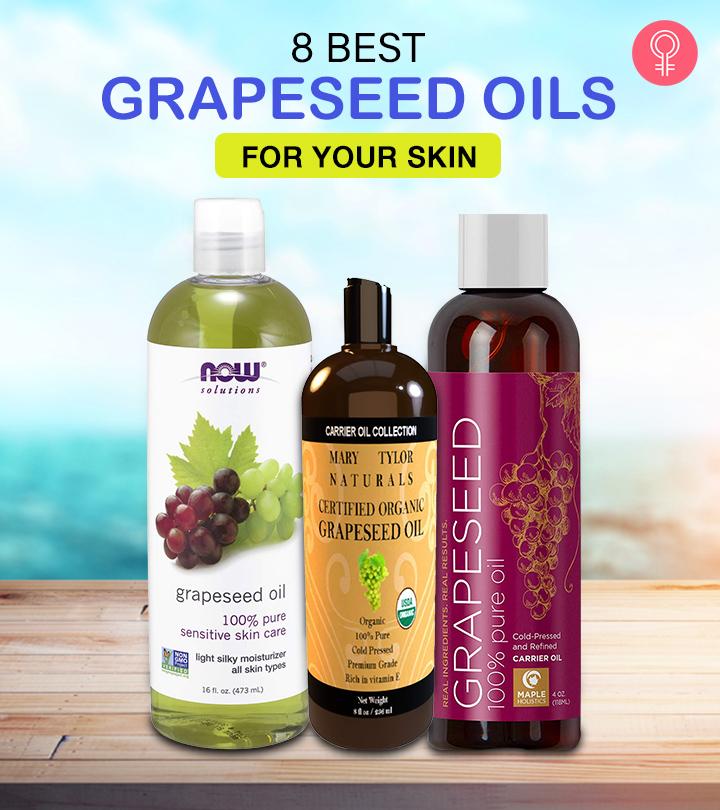 Grapeseed oil has been a part of many skin care regimes. It contains beneficial nutrients that help nourish the skin and protect the skin barrier. Choosing the best grapeseed oil for skin is enough to enhance the effectiveness of your skin care regimen. Vanessa Huerta, Licensed Esthetician and pigmentation correction specialist explains, "In skin care products, grapeseed oil is formulated to work with other ingredients that target multiple skin concerns like dry or sensitive skin. In some cases, it helps in acne treatment and hyperpigmentation. Using pure grapeseed oil that is not gently formulated for the face can lead to congestion, especially for acne-prone or oily skin types." Grapeseed oil contains vitamin E, omega 3 and 6 fatty acids, linolenic acid, and antioxidant properties that enhance skin health. It has anti-inflammatory properties that manage itching, and reduce redness, and skin irritation. This oil reduces the appearance of wrinkles and has skin-lightening properties. It can be used in multiple ways – hair conditioner for dry hair, makeup remover, and massage and facial oil. This product can be used as a carrier oil and blended easily with other essential oils. Also, you can use it in many beauty products to completely relish the benefits of grapeseed oil.
In this article, we have listed the 8 best grapeseed oil products you can try out to keep your skin soft and reduce the appearance of uneven skin tone.
8 Best Grapeseed Oil For Skin
NOW Solutions Grapeseed Oil is a skin and hair care product made with 100% pure grape (Vitis vinifera) seeds. It contains many essential fatty acids like palmitic acid, oleic acid, stearic acid, linoleic acid, lauric acid, and myristic acid that moisturize and nourish the skin. This versatile oil can be used as a makeup remover, double cleanser, mild astringent, nourishing body oil, and hair conditioner. It is a natural emollient that moisturizes and soothes dry skin. It is suitable for sensitive skin and also works as an eczema treatment. It has a light and silky texture that gets absorbed quickly into the skin and does not clog pores or cause breakouts. It helps clear acne and reduces the appearance of scars. It is odorless and can be used as a base for homemade lotions and hair products. This natural moisturizer does not contain parabens, petrochemicals (like petroleum, mineral oil, and paraffin), phthalates, formaldehyde derivatives, or synthetic fragrances. It helps protect the skin from free radical damage and premature aging. It comes in a clear bottle that is made with a UV light protectant. According to various reviewers of the product, its regular use may provide visible results. You can also go through this YouTube video review for more information on this grapeseed oil.
Pros
Moisturizes the skin
100% pure
GMP quality-assured
Cruelty-free
Lightweight
Non-comedogenic
Odorless
Sustainable
Vegan
Halal
Gluten-free
Suitable for sensitive skin
Cons
None
Mary Tylor Naturals Certified Organic Grapeseed is USDA-certified and made from hand-picked grapeseeds. This 100% pure and natural cold-pressed oil is loaded with vitamins, powerful antioxidants, and essential fatty acids. This odorless, non-greasy grape seed oil contains high levels of vitamin E and helps in moisturizing your skin and conditioning your dull hair. It can be used as a carrier oil to blend with other organic essential oils. It improves your skin tone and natural oil production. Incorporate grapeseed oil into your beauty regimen for beautiful and healthy skin. It is gentle on all skin types and does not cause irritation. This oil is free from pesticides and can be used on sensitive skin. You can take a look at this brief review from a skincare enthusiast to know more about this grapeseed oil's merits and demerits.
Pros
100% pure and organic
Cold-pressed oil
Non-greasy
Non-comedogenic
Pesticide-free
Suitable for all skin types
Cons
Maple Holistics 100% Pure Grapeseed Oil is cold-pressed and refined grapeseed oil that helps you achieve a clean skin. Cold-pressing and refining maintain the integrity of the compounds present in the oil. This grapeseed oil is rich in vitamin E, linoleic acid, and fatty acids that nourish and moisturize the skin with its anti-aging properties. Linoleic acid also works wonders to treat atopic dermatitis. The strong antioxidants and UV-light protectants in this oil help in fighting the signs of aging and sun damage. It gets absorbed quickly into the skin. It can be used as a pure carrier oil or a massage oil for the skin. This non-greasy oil does not clog your pores or cause breakouts. It is vegan, cruelty-free, and paraben-free. This hypoallergenic oil is suitable for all skin types. 
Pros
Therapeutic-grade oil
Cold-pressed
Can be used as a carrier oil
Sun protection formula
Nourishes dry, oily, and sensitive skin and hair
Anti-aging formula
Paraben-free
Cruelty-free
Suitable for acne-prone skin
Cons
Unsatisfactory packaging
Sticky formula
Sky Organics 100% Pure And Natural Grapeseed Oil is naturally rich in vitamins and essential fatty acids that help in keeping your skin healthy and beautiful. It helps in rejuvenating dry, sun-damaged skin by moisturizing it. It also helps in delaying the signs of aging like fine lines and wrinkles. This cold-pressed formula can also be used as a body massage oil as it helps in reducing the appearance of stretch marks. It can also be used in aromatherapy for relaxation and as a hair conditioner to make your hair stronger. The essential nutrients in this oil are good for hair growth and health. They tame frizzy hair and leave it feeling soft and manageable. It can also be used as a cooking oil as it has a high smoke point.
Pros
Cold-pressed
Can be used for massage, cooking, and aromatherapy
Rich in vitamins A, E, and K
Reduces wrinkles
Cruelty-free
Non-GMO
No additives
Hexane-free
Fair-trade
Cons
The Brooklyn Botany's Grapeseed Oil is an all-natural, professional-grade oil that is perfect for enhancing your skin firmness and nourishing your hair. It is good for nail care as well and is not tested on animals. Moreover, grapeseed oil is great for dry, damaged hair as it helps restore nutrients while promoting healthy growth. When used as a moisturizer on the face or body it penetrates deep within the pores to provide maximum hydration with a gentle cleanse, making wrinkles, dark spots, and circles less visible over time.
Pros
Paraben-free
Sulfate-free
Long shelf life
Gets absorbed quickly
Silky and lightweight
Vegan
Cons
None
Majestic Pure Chilean Grapeseed oil is 100% pure and natural grapeseed oil extracted by the expeller-pressed method. This therapeutic-grade hexane-free oil is free from chemicals, parabens, and artificial colors and does not contain any fillers. It is also not tested on animals. The pure grapeseed oil moisturizes the skin and has anti-inflammatory properties that protect and soothe dry and irritated skin. This grapeseed oil from Chile can be used as a base product for various balms and protective creams, lotions, oil blends, and hair conditioners. The natural product has received numerous positive reviews from its users, according to which, its regular use may help deliver visible results. It is good for nourishing your skin, scalp, and hair. It comes with a pump that prevents wastage and makes it easy to use.
Pros
Moisturizes the skin
Anti-inflammatory properties
Therapeutic-grade
Hexane-free
100 % pure
Cruelty-free
Vegan
No artificial colors
Paraben-free
No harmful chemicals
Easy-to-use pump dispenser
Cons
The Bella Terra Grape Seed Oil is the perfect addition to your daily beauty routine. This oil is 100% pure, cold-pressed, unrefined with organic ingredients, and no harsh chemicals or preservatives. It is great for sensitive skin as it won't clog pores. It helps reduce fine lines and wrinkles. It deeply moisturizes skin while leaving it smooth and soft with improved elasticity. You can use this product on your face or body for a luxurious massage experience that will leave you feeling relaxed all day long.
Pros
Anti-aging formula
Reduces wrinkles
Cruelty-free
Fast-absorbing
Paraben-free
Additive-free
Organic
Unrefined
Vegan
Cons
None
The Naissance Grapeseed Oil is a 100% natural oil that is perfect for those looking to add a little extra hydration and nourishment to their skincare routine. It's hypoallergenic and suitable for even the most sensitive of skin types, making it an ideal choice for anyone who wants something gentle yet effective. The oil is also vegan and not tested on animals. The light texture of this oil gets easily absorbed into the skin, leaving you feeling soft and smooth with every use. Not only that but its versatility means you can also use it as a perfect carrier oil for aromatherapy or as a natural make-up remover too!
Pros
Moisturizes the skin
Lightweight and anti-inflammatory composition
Therapeutic-grade
Odorless
Soothes the skin
Conditions the hair
Long shelf life
Cons
None
*The prices provided in this article are based on the latest available information. However, they may vary due to changes in pricing by the seller and/or promotional offers.
The suitable grapeseed oil formulation can enrich your skin in various ways. And with grapeseed oil's numerous skin advantages, you'll likely be enticed to keep it on your skincare shelf. However, always perform a patch test before incorporating the oil into your skin care routine. Now, let us look at some key features to keep in mind while purchasing the best grapeseed oil for skin.
Things To Consider Before Buying The Best Grapeseed Oils For Your Skin
Look for an organic grapeseed oil that is USDA-certified and free from pesticides. When the grapeseed oil is naturally derived through a cold press technique, it retains its nutrients and is gentle on the skin.
Grapeseed oil is rich in phenolic antioxidants, vitamins, and minerals. However, its high quality can be determined by its taste, color, and smell. It is exceptionally light green, with a berry taste with a hint of grape. So, check the quality parameter to get the best grapeseed oil.
Since the grapeseed cannot be kept long, it is always advisable to buy in small quantities. Store it in the fridge, away from heat and light.
Avoid an oil that is chemically formulated. It may not suit your skin and irritate it. Avoid combinations with parabens, alcohol, SLS, artificial fragrance, phthalate, gluten, etc.
Look for grapeseed oil that absorbs quickly into the skin without giving a sticky feeling. In addition, it should be lightweight to avoid clogging your pores and trapping dirt and sebum in the skin.
You may also check out the reviews of the oil you intend to buy to learn about the different users' and testers' experiences with it. These shall help you figure out how the product works for people with a skin type similar to yours.
Why Trust StyleCraze?
Shiboli Chakraborti is a certified skin care coach who advocates the importance of using grapeseed oil for her skin. She prefers using this oil because it is rich in vitamin E, omega 3 and 6 fatty acids, linolenic acid, and antioxidants that enhance skin health. She has carefully created the list after going through hundreds of user reviews posted on trusted online platforms. She recommends using this oil because it also helps in minimizing the appearance of wrinkles and has skin lightening properties.
Frequently Asked Questions
Can we use grapeseed oil from the grocery store for the skin?
Yes. You can use cold-pressed grapeseed oil from the grocery store to clear and soothe your acne-prone skin. However, always perform a patch test before doing so to avoid adverse reactions and allergies.
Can grapeseed oil dry out your skin?
No. Grapeseed oil moisturizes dull and dehydrated skin. The linoleic acid and vitamin E in the oil boost moisture and restore the natural skin elasticity of your skin.
Does grapeseed oil tighten skin?
Yes. Grapeseed oil is infused with astringents that minimize the pores and tighten your skin.
Is grapeseed oil good for under the eyes?
Yes. Grapeseed oil is a potent antioxidant that reduces puffiness, tightens wrinkles, and eliminates the dark circles under your eyes.
How do I use grapeseed oil on my skin?
Mix a few drops of grapeseed oil with your moisturizer and apply it to your skin daily.
How long will grapeseed oil last after opening?
Grapeseed oil usually lasts for a year in a fridge after opening. However, it will last only six months if you keep it outside the refrigerator.
Can I apply grapeseed oil directly on my face?
No. Grapeseed oil is a potent ingredient that can trigger sensitive skin. So, mix it with your serum or a moisturizer and apply it to your face.
Is grapeseed oil good for crepey skin?
Yes. Grapeseed oil improves the elasticity of your skin and moisturizes it. It tightens pores and crepey skin.
Is grapeseed oil good for cellulite?
Yes. Grapeseed oil regulates blood circulation and makes your cellulite appear tighter.
Recommended Articles