14 Best Drugstore Curl Creams – 2022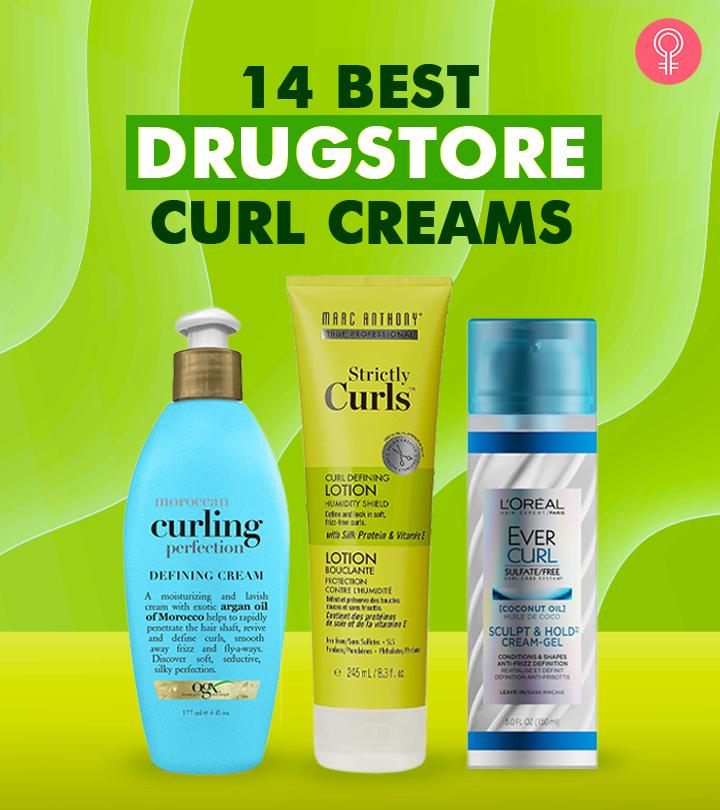 Using the best drugstore curl creams will make sure your bouncy curls stay intact and pretty throughout the day. Those who have curls can relate to the fact that they are way more challenging to maintain than it looks. For starters, curls are naturally dry and need to be moisturized constantly to maintain the curls. The bends in curls make way for the moisture to escape out of your hair. One way to make sure your hair does not frizz away is to use styling creams specially made for curly hair. As all hair textures are different, you can easily flaunt your curls in their best form once you find the product crafted especially for your hair. Here are the 14 highest-rated curl creams to choose from.
Best Drugstore Curl Creams
The award-winning Cantu Coconut Curling Cream is the one-stop solution for all curly-haired individuals. It offers weightless moisturizing while strengthening your hair right from the roots. It is enriched with shea butter which hydrates each hair follicle and gives smoother hair with defined curls. It manages your curls, making them soft and elongated. Its chemicals-free formula adds volume and shine to your curls. To understand the nuances of the product in detail, you can check out this review.
Key ingredients: Shea butter and Coconut
Pros
Mild fragrance
Adds shine
Mineral oil-free
Sulfate-free
Paraben-free
Silicone-free
Phthalate-free
Gluten-free
Paraffin-free
Propylene-free
PABA or DEA-free
Cons
None
Maui Moisture Curl Quench + Coconut Oil Curl Curl Smoothie helps detangle, defrizz, and define curls. It is formulated with coconut oil and papaya butter, which hydrates your hair, while plumeria extract contains glycosides, giving a flake-free and moisturized scalp. This leave-in treatment for your curls enhances softness and gives shiny, bouncy curls. In addition, it helps hydrate the scalp, smoothens the curls, and gives it a shiny look. This cream is suitable for thick hair and tight curls. Check out this YouTuber's review of this product.
Key ingredients: Coconut oil, Papaya butter, and Plumeria extract
Pros
Hydrating
Adds shine
Lightweight
Vegan
Sulfate-free
Paraben-free
Silicones-free
Mineral oil-free
Synthetic dyes-free
Cons
OGX Moroccan Curling Perfection has an excellent formula that helps redefine, enhance, and smooth your curly hair. It is enriched with argan oil which eliminates frizz while maintaining a natural shine in your hair. In addition, this hair cream moisturizes your scalp, strengthens your hair, and increases the elasticity of the curls. Furthermore, it nourishes your hair and makes it healthier. You can also check this video out for a brief review of the product.
Key ingredient: Argan Oil
Pros
Adds shine
Anti-frizz
Long-lasting effect
Non-greasy
Sulfate-free
Paraben-free
Cons
SheaMoisture Curl Enhancing Smoothie has a brilliant formula that helps restore moisture, control frizz, and condition your hair without weighing it down.  It is enriched with silk protein which repairs damaged hair while enhancing keratin production, which adds strength and moistens the curls. It also features neem's anti-bacterial benefits and coconut oil's hydrating power to give soft, silky, and bouncy curls. In addition, it has hibiscus extracts that prevent premature graying and make your hair look healthy and lustrous. Finally, its creamy formula adds volume and bounce to your hair, making it manageable while reducing dryness.
Key ingredients: Silk protein, Neem oil, Coconut oil, and Hibiscus
Pros
Hydrating
Anti-frizz
Lightweight
Silicone-free
Paraben-free
Phthalate-free
Mineral oil-free
Petroleum-free
Cruelty -free
Cons
L'Oréal Paris Ever Sculpt & Hold Cream-Gel gives soft, manageable, and hydrated curls without any frizz. It is formulated with coconut oil that hydrates each hair strand deeply, eliminates dryness, and offers soft, manageable curls for a long-lasting effect of almost 48 hours. This non-abrasive cream is gentle on color-treated and curly hair. It conditions and shapes your curls, making them look naturally beautiful. It's refreshing fragrance will invigorate your senses.
Key ingredient: Coconut oil
Pros
Long-lasting curls
Color-safe
Hydrating
Lightweight
Mild fragrance
Vegan
Anti-frizz
Sulfate-free
Paraben-free
Vegan
Harsh salts-free
Gluten-free
Cons
None
Marc Anthony Strictly Curl Defining Lotion allows you to restore lost moisture and nourish the hair cortex with its vitamin E enriched formula. This product is specially formulated to provide nourishment and moisture to curls while preventing detangling and frizz. In addition, it is non-alcoholic, lightweight, and non-sticky to offer bouncy and soft curls.
Key ingredients: Silk protein, Vitamin B, and E
Pros
Frizz-free
Lightweight
Alcohol-free
Non-sticky
Sulfate-free
Humidity-resistant
Long-lasting
Great fragrance
Cons
Find the curl shape and definition you have been looking for with this product designed to offer flawless, bouncy curls. John Frieda Frizz Ease Dream Curls Cream Oil coats your hair with light coverage while enhancing its moisture content. It is a lightweight hair product featuring rosehip oil rich in vitamin A and D and fatty acids to eliminate dryness. In addition, it promotes nourished, healthy-looking hair and makes you love your curls again.
Key ingredient: Rosehip oil
Pros
Anti-frizz
Lightweight
Sulfate-free
SLS-free
Cons
The award-winning Cake Beauty Curl Friend Defining Curl Cream offers the ultimate glossy, frizz-free, bouncy curls. This cream's shea butter and natural oil content transform unruly curls into tamed, nourished, and well-defined curls like never before. At the same time, it has calendula and chamomile extracts rich in antifungal, anti-inflammatory, and antibacterial properties that stimulate hair follicles and promote hair growth. In addition, this lightweight cream does not weigh down your hair and offers polished curls without any harsh chemicals.
Key ingredients: Shea butter, Calendula, and Chamomile
Pros
Frizz-free
Lightweight
Mild fragrance
Cruelty-free
Vegan
Sulfate-free
Mineral oil-free
Paraben-free
Cons
Kenra Curl Defining Cream 5 separates curls and waves while softening frizz and flyaways. Its humidity-resistant formula adds styling control and refines your curls for a velvety soft feeling. This cream does a great job of creating soft curls and has an amazing scent. It is enriched with sunflower seed oil and jojoba oil for a touchable finish.
Key ingredients: Sunflower seed oil and Jojoba oil
Pros
Nice fragrance
Humidity-resistant
Anti-frizz
Cons
None
Argan Magic Defining Curl Cream conditions your curls and adds shine. Its unique formula combined with biotin and argan oil nourishes and moisturizes your hair, removes frizz, and simplifies your styling routine. It enhances the natural pattern of your hair and makes them manageable and shiny. This hydrating curl cream is lightweight and provides nutrition and high definition to your curls. Its natural formula hydrates, protects, and nourishes your hair, improving its strength and elasticity.
Key ingredients: Argan oil, Biotin, and Vitamins
Pros
Lightweight
Adds shine
Anti-frizz
Hydrating
Paraben-free
Cruelty-free
Cons
None
The TIGI Bed Head Foxy Curls Contour Cream is formulated to suit all types of hair. The main purpose of its formula is to soften your curls and reduce frizziness. This cream helps to manage stiff hair by softening it. It contains shea butter which moisturizes each hair strand. It also has sunflower seed extract rich in minerals like zinc and iron, which promotes hair growth and repairs damaged hair strands.
Key ingredients: Shea Butter and Sunflower seed extract
Pros
Anti-frizz
Lightweight
Water-based
Cons
TIGI Bed Head Curl Recall Cream helps retain curls, provides resistance from humidity, and moisturizes your curls. Its rich formula helps to add shine and defines your gorgeous curls. It is formulated with curl recall technology that instantly reforms curls and nourishes them to hold your curls for a long time. It is enriched with baobab and pomegranate extract rich in vitamins and minerals for promoting hair growth and nourishing hair.
Key ingredients: Baobab and Pomegranate extract
Pros
Humidity-resistant
Adds shine
Great scent
Cons
None
MATRIX A Curl Can Dream Moisturizing Leave-in Cream is a leave-in treatment that provides moisture and definition without drying your curls. It is enriched with manuka honey which seals moisture into your hair and nourishes, moisturizes, and smoothens dull and dry hair. You can apply the desired amount of product on damp hair from the roots to the tip. Lastly, it does not cause any flaking or crunch.
Key ingredient: Manuka honey extract
Pros
Lightweight
Hydrating
Sulfate-free
Paraben-free
Silicone-free
Cons
The Eva NYC Gotta Bounce Curl Defining Cream formulates hydration and nourishment, adding bounce and liveliness to your curls. It is enriched with natural elements to reduce frizz to moisturize and define your curls. It is safe for color-treated hair and contains no harsh chemicals. It is enriched with aloe vera and cactus flower powder which is rich in antioxidants, nourishes and
Key ingredients: Aloe vera and Cactus flower powder
Pros
Anti-frizz
Hydrating
Cruelty-free
Vegan
GMO-free
Sulfate-free
Paraben-free
Phthalate-free
Artificial colors-free
Mineral oil-free
Gluten-free
Cons
Why Trust StyleCraze?
Shiboli Chakraborti is a hair care enthusiast who has an in-depth knowledge of hair care brands, products, and formulations. She understands the science behind these formulations and how it affects various hair types. That's why when it comes to selecting the best drugstore curl creams, she has done her share of research and read several customer reviews before curating this list especially for you. Choosing any of these moisturizing and nourishing hair creams would not only give you smooth, shiny, frizz-free hair but also help strengthen and protect your curls from environmental stressors as well.
Recommended Articles