10 Best Korean Hand Creams To Keep Your Hands Soft And Moisturized In 2023
Use these potent formulas from Korean and get smooth, plumpy, and young-looking hands.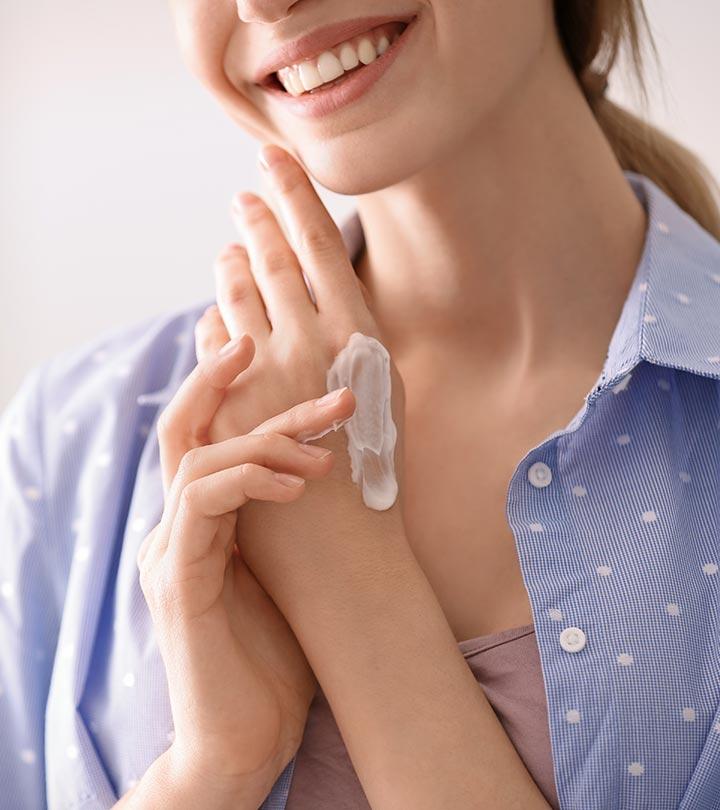 There is no going back once you start using the best Korean hand creams. Hands are the most exposed parts of your body, and it brushes through all the germs and bacteria you can think of throughout the day. To maintain your hygiene, you must make sure you cleanse them thoroughly with soap and sanitizers. Doing so will make sure you don't fall sick, but it also strips the natural oils off your hands and makes them drier than usual. If you are worried about the fine lines and rough skin, here are the 10 highest rated K-beauty hand creams that are selected after carefully analyzing numerous reviews and tester's experience. These creams not only restores softness but keeps your hands hydrated and soothed at all times.
10 Best Korean Hand Creams For Soft And Smooth Hands
Use The Face Shop Cherry Blossom Hand Cream to get soft and supple yet non-sticky hands. It sits on your skin like a second skin. The formula is a savior for dry and cracked skin. Use this hand moisturizer daily for healing and repairing any damage or dullness of the skin. It also possesses exfoliating properties to get rid of dead skin cells. This hand cream melts into your skin and offers a smooth texture with a pleasing fragrance and great hydration. Apply a small amount on the backs of both hands, then gently rub them together, and see visible results from the first day of use!
Pros
Pleasing fragrance
Non-oily
Non-sticky
Works as healing lotion
Cruelty-free
Cons
None

To get the soft and smooth hands, use the Gudetama Handy Dandy Cream by The Crème Shop. The product comes in cute pocket portable packaging that you can carry anywhere. This scented cream is enriched with shea butter and vitamin E to offer proper nourishment even to the driest skin. The gentle moisturizing hand cream sits light on the skin and does not feel sticky. It maintains the skin's moisture and encourages skin regeneration. It also boosts skin elasticity, improving its texture and appearance. The product is not tested on animals.
Pros
Lightweight
Non-sticky finish
Peach flavor
Cruelty-free
Portable
Suitable for all skin types
Cons
None

Price at the time of publication: $15.94
This non-irritating hand cream contains a blend of natural ingredients, including olive oil and shea butter. This sensitive skin-friendly cream is incredibly lightweight, and it sinks into your skin quickly to make it softer and smoother. This compact and travel-friendly product comes in adorable packaging and four variants. A portion from the money collected from the sale of these hand creams goes to the "Missing U" campaign run by Etude House and UNEP to protect endangered animals.
Pros
Organic ingredients
Hypoallergenic
Paraben-free
Sulfate-free
Ethanol-free
No pigments
Cons
None

Price at the time of publication: $6.95
The Fascy Moisture Bomb Hand Cream comes in a set of two travel-friendly tubes. It is infused with aloe vera leaf extract that refreshes and calms the skin while shea butter and panthenol deliver excellent moisturization to keep your hands feathery soft. It also reduces the appearance of wrinkles and alleviates tired skin with the grapefruit extracts. Additionally, the pleasant fruit fragrance will make you feel fresh all day!
Pros
 Lightweight
 Quick absorption
 Non-greasy
 Travel-friendly
 Pleasant fragrance
Cons
None
Price at the time of publication: $12
The Daily Comfort Hand Cream by DearKlairs is a quick-dry, non-greasy cream that works best for dry hands. It offers a soft and silky texture to hands and can be used by both men and women. To minimize disruption with daily activities, the product is made using the Sensory Melting Formula that helps it to get absorbed easily at skin temperature, leaving no residue. It contains 8 types of hyaluronic acid, panthenol, shea butter, sunflower seeds, and amino acid that locks hydration and helps maintain soft and nourished hands, all day long.
Pros
Long-lasting
Lightweight
Artificial fragrance-free
Artificial coloring-free
Suitable for all skin types
Vegan
Cruelty-free
Can be used by men and women
Cons
None
Price at the time of publication: $11
This Ariul Tell Me Your Wish Hand Cream Set is made with organic shea butter, an absolute hydration source. This cream set works amazing for cracked hands and offers proper moisture to your skin. The hydrolyzed keratin in this formula encourages stronger, healthier skin and nails, while bayberry extract imparts deep hydration to extremely dry hands and leaves them feeling silky, smooth, and rejuvenated. Chrysanthemum forms a barrier that protects the skin. Each cream in the set comes with a different fragrance that you can use according to your mood. The fragrant hand creams will transform you from cheerful to romantic, glam to lovely in an instant.
Pros
Non-toxic
Paraben-free
Sulfate-free
Mineral oil-free
No artificial color and scent
Cruelty-free
Different textures with different fragrances
Lightweight
Offers ultra-nourishment
Suitable for all skin types
Cons
Price at the time of publication: $13.99
The DUFT&DOFT Angels Cotton Nourishing Hand Cream is a non-greasy cream that offers a fresh dose of hydration. The quickly absorbing formula is enhanced with hydrating components such as shea butter for skin brightening and whitening, vitamin E for moisture retention and skin rejuvenation, hyaluronic acid for improving the skin barrier, and collagen for nourishing. It provides all-day protection to your busy hands. It also has a lasting and feel-good fragrance . This product has won multiple recognition for its quality, and the company is known as a top seller in the Korean Health And Beauty Industry.
Pros
Pleasing fragrance
Offers refreshing hydration
Non-greasy
Fast absorbing
Paraben-free
Benzophenone-free
No synthetic dyes
Sulfate-free
Talc-free
Triethanolamine-free
Cruelty-free
Lightweight
Cons
The Re:proust Essential blending hand cream by Frudia is a 100% vegan formula that provides deep moisturizing benefits. It is yellow with a soft and creamy texture made with an inborn plant that is blended with natural essential oil scents such as mandarin & rosemary oil. This cream is enriched with shea butter and aroma essential oil that not only makes your hands soft, smooth, and supple but also offers you a refreshing feel without any stickiness.
Pros
Long-lasting fragrance
Cruelty-free
Rich hydration
Vegan-friendly
Free from harsh chemicals
Cons
The scent is not for everybody.
Price at the time of publication: $8.99
This is one of the best-selling hand creams by TonyMoly. This cream contains peach and apricot extracts along with shea butter. It deeply moisturizes the skin on your hands and keeps them soft, providing intensive care to dry and damaged skin. It comes in a cute screw-off peach-shaped container and has a heavenly fragrance.
Pros
Fruit extracts
No mineral oils
Pleasant fragrance
Cons
Price at the time of publication: $9.0
The BENTON Shea Butter and Olive Hand Cream is a lightweight formula that offers proper nourishment and hydration to your hands without any stickiness. The hand cream contains shea butter, which is great for locking in moisture and protecting the skin's texture. It has a moist, soft, and creamy feel. This dermatologically-tested cream can be used in any season and is suitable for all skin types. It is enriched with hyaluronic acid, panthenol, and other botanical ingredients that provide great nourishment to your skin. It offers a mild fresh scent from essential oils. The cream comes in a tube container for convenient application.
Pros
Dermatologist-tested
Cruelty-free
Vegan
Natural scent
Suitable for all seasons
Mildly acidic pH
Cons
None
Price at the time of publication: $11
Your hands go through a lot throughout the day, be it your day-to-day activities or work. This can leave your hands feeling dry, chapped and in worst cases even peeling. This is why it is ideal to invest in quality hand creams that are scientifically-formulated and results-driven to keep your hands moisturized and soft. Korean skin care offers some of the best hand creams in the market, which are formulated with powerful ingredients and potent formulas. To make sure you get your hands on the best Korean hand cream, here are a few features to consider when choosing one.
How To Choose The Best Korean Hand Creams
1. Ingredients
When it comes to hand creams, choose the product that is enriched with hydrating and moisturizing ingredients like coconut oil, shea butter, aloe vera, hyaluronic acid, and ceramides. For a soothing aroma, choose a cream that is infused with essential oils like peppermint, lavender, and rose oils. For sensitive skin types, choose a formula that is clinically-tested and has soothing and anti-inflammatory ingredients like aloe vera, camomile, and oat extracts. For mature skin types, check the packaging for anti-aging benefits that reduce wrinkles and fine lines on the hand.
2. Purpose
Needless to say, consider a multi-purpose product that suits your specific needs and wants. Here is how to choose the right hand cream for your skin concern:
Working Hands: If you are someone who works in an occupation dependent on handwork, like manufacturing units, or handyman jobs, your hands can feel extremely dry and sometimes even chapped. In this case, choose healing hand creams, with proven efficacy and moisturizing ingredients like coconut oil and shea butter, that absorbs quickly and heals your skin.
Cold Weather: It is ideal to choose a nourishing hand cream formula that provides skin protection and moisturization even during the coldest weather.
Warm Weathers: During summers, your hands can feel sweaty and get sunburnt out in the sun. In this case choose a cooling or gel hand cream, which moisturizes your skin, provides UV protection, and leaves a refreshing effect. Also, ensure that the product has SPF protection.
3. Texture
The tacky greasy feeling after applying a hand cream is not too nice. So, pick a formula that is fast-absorbing, lightweight, and non-greasy, to prevent the stickiness.
4. Price
Choose compact, easy-to-carry packaging and budget-friendly creams, with a variety of different fragrances and formulas to suit your mood and needs.
Why Trust StyleCraze?
Shiboli Chakraborti is our in-house skin care expert who shares a deep interest in reviewing skin care products. After reviewing multiple products and user reviews from credible sources, she has compiled this list of the best Korean hand creams. These products restore the softness and keep your hands hydrated.
Frequently Asked Questions
Which Korean hand cream is best for aging hands?
You can use the DUFT & DOFT Sugar Delight Nourishing Hand Cream, which contains shea butter, vitamin E, and hyaluronic acid for aging hands. The ingredients are ideal for maintaining the soft and moist texture of your hands. It comes in a cute set of three fresh flower fragrances – pink breeze, sophy soapy, and Stockholm rose.
What ingredients should be avoided in hand cream?
When you look for hand creams, try to avoid products with alcohol, paraben, artificial fragrance, and mineral oils.
Recommended Articles