10 Best Korean Hand Creams To Keep Your Hands Soft And Moisturized In 2021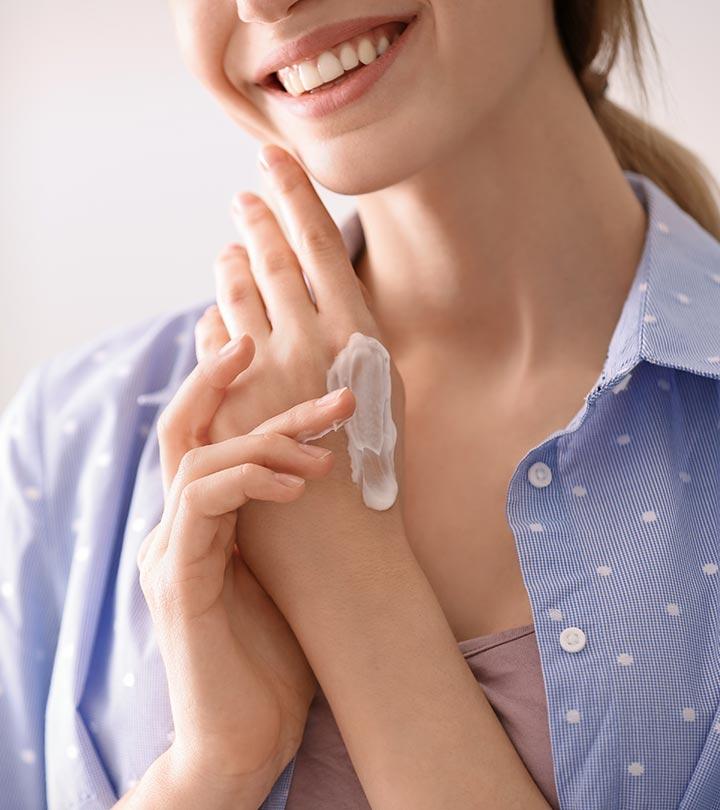 What do you do right after washing your face? You moisturize it. Since your skin becomes dry after washing it, you feel the need to moisturize it. Do you do the same for your hands?
The skin on your hands is one of the first places to show the signs of aging. Exposure to detergents, soaps, UV rays, and environmental factors can take a toll on your hands. That is why it is important to use hand cream to keep them moisturized and restore skin vitality. What better to treat your hands with than a Korean hand cream? Scroll down and check out the top rated hand creams available right now!
10 Best Korean Hand Creams For Soft And Smooth Hands
This thick hand cream by Innisfree has a soft formula that melts on your skin. It contains the extracts of golden olives, lemon geranium, and citrus orange. It provides deep nourishment to your skin and claims to hydrate it for 24 hours. These are the best hand cream brands.
Pros
Natural ingredients
Paraben-free
No synthetic colors
No animal ingredients
No mineral oils
Cons
None
Similar Products:
Nature Republic is all about bringing you the best-kept secrets of nature. This moisturizing hand cream contains floral and fruit extracts along with shea butter. It is intensely moisturizing and does not cause any irritation.
Note: The packaging may vary.
Pros
Suitable for all skin types
Pleasant floral fragrance
No harmful chemicals
Non-greasy
Cons
None
Similar Products:
This hand cream contains a blend of natural oils and herbs, including olive oil and shea butter. It is incredibly lightweight, and it sinks into your skin quickly to make it softer and smoother. The packaging is adorable and comes in four variants. A portion from the money collected from the sale of these hand creams goes to the "Missing U" campaign run by Etude House and UNEP to protect endangered animals.
Pros
Organic ingredients
Hypoallergenic
Paraben-free
Sulfate-free
Ethanol-free
No pigments
Cons
None
Similar Products:
This tonymoly hand creams butter is enriched with mango seed oil, sunflower oil, and shea butter. All the ingredients are incredibly moisturizing and hydrating for the skin. It helps prevent dryness and keeps your hands looking plump and soft. It also has a refreshing fragrance and comes in a cute mango-shaped container.
Pros
Contains fruit extracts
Paraben-free
SLS- and SLES-free
Cons
None
Similar Products:
If you have sensitive skin, this is the perfect hand cream for you. It is a medicinal hand cream that spreads quickly on your skin. It contains ceramides that keep your skin moisturized and prevent dryness and signs of aging. It is the best anti-aging hand cream.
Pros
Pleasant fragrance
No harmful chemicals
Paraben-free
Cons
None
Similar Products:
If you do not like sticky hand creams and are looking for a lightweight and non-sticky alternative, try the Love Secret Hand Creams by Missha. They come in 10 different flavors and fragrances. These hand creams have a quick-absorbing formula and a smooth and silky texture. It is the best selling hand cream ad they come in small tubes and are travel-friendly.
Pros
Non-greasy
Paraben-free
No mineral oils
No harmful chemicals
Cons
None
Then I'm Hand Creams by TonyMoly are gently moisturizing. They don't feel heavy or greasy on your skin. They are lightweight, but since they are lightly moisturizing, you will need to reapply the cream throughout the day. If you are not looking for intense hydration but just enough moisturization to keep your hands feeling comfortable, you will love these hand creams.
Pros
Travel-friendly
Paraben-free
Mild fragrance
Cons
These hand creams come in 12 exciting fragrances and are named after the 12 months. They reflect the scenery and scents of each season associated with the months in the Jeju Islands. These hand creams are manufactured using the Semi-Wax technology that retains the fragrance for long. It keeps your hands moisturized without causing any stickiness.
Pros
Paraben-free
No mineral oils
Natural extracts
No harmful chemicals
Cons
None
This is one of the best-selling hand creams by TonyMoly. This cream contains peach and apricot extracts along with shea butter. It deeply moisturizes the skin on your hands and keeps them soft. It comes in a cute screw-off peach-shaped container and has a heavenly fragrance.
Pros
Fruit extracts
No mineral oils
Pleasant fragrance
Cons
These hand creams by The Face Shop come in cute packaging and four different fragrances. It is a rich moisturizing hand cream that does not feel sticky. It gets absorbed quickly and has a fantastic fragrance that is a blend of peach, cherry, and plum. The cream contains glycerin that helps soothe your skin. It is the cheap hand cream available in the market.
Pros
Suitable for all skin types
Pleasant fragrance
Lightweight
Cons
Pick a hand cream that suits your taste and the type of moisturization your hands need. When using hand cream, it is best to first apply it on the back of your hands as the skin there is much thinner than on the palm. Thus, it gets dry more quickly and needs proper moisturization. Pick a hand cream from this list, try it out, and let us know about your experience in the comments section below.
Recommended Articles