10 Best Pheromone Perfumes For Women In 2023 To Keep The Spark On!
Enjoy the divine fragrance of Pheromone Perfumes that uplifts your mood instantly.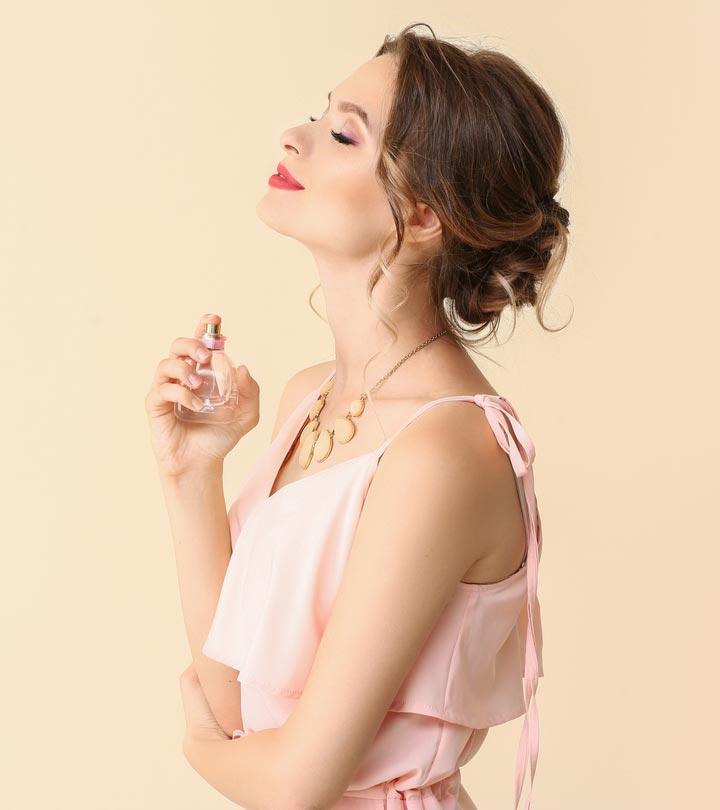 You can now aid your natural pheromone secretion with the help of the best pheromone perfumes. Pheromones are chemical hormones secreted outside the body, by animals or people, when they come close to someone they desire. When you are attracted to someone and have them around you, your body might be giving off these olfactory signals to attract that person!
The best pheromone perfumes are designed according to how your natural pheromones function. Well, now you can strengthen those signals with just a few sprays in the right places. And in case you were unaware that such perfumes even existed in the cosmetic world, here is your chance to check them out now! In this article, we have cataloged the 10 best pheromone perfumes to help you on your next date or gathering. Go on and take a look.
10 Best Pheromone Perfumes For Women In 2023 For Romantic Date Nights!
Pros
 Vegan
 Alcohol-free
 Paraben-free
 Natural formula
 Long-lasting
Cons
 Might be too sweet for some
Price at the time of publication: $29.9
Enriched with pheromone oils, Zahra has an aphrodisiac scent like chocolate. With base notes of sandal, vanilla, and vetiver, middle notes of marigold, mimosa, and berries, and a top fruity green note, this perfume oil has a subtle sultry fragrance that tends to linger on. It is formulated with 100% pure fragrance oil and being alcohol-free, it is also skin-safe. That makes it good for daily wear, especially in warm weather. You can easily dab it on with the dipstick that comes along with it. Being vegan and hypoallergenic, this pheromone oil perfume suits all skin types and lasts for a long time.
Pros
 Vegan
 Hypoallergenic
 Unisex
 All skin types
Cons
 Not alcohol-free
 Overpowering smell at first
Price at the time of publication: $22.68
Pros
Light and pure floral smell
Alcohol-free
Silicone-free
BPA-free
High-end luxury packaging
Cons
None
Price at the time of publication: $29.9
Princess by Virochemistry is a natural pheromone perfume for women that smells citrusy, sweet, and cheerful. Made with all-natural, organic ingredients, it also boosts your confidence with its powerful yet comfortable smell. It feels very pleasant and silky on the skin without any initial strong smell or burning sensation. It is a quite elegant and romantic fragrance without being too flowery or overpowering. With its patented blend of human pheromones including Estratetraenol and Copulins, it enhances your sensuality just enough to draw the right attention wherever you go.
Pros
 Organic ingredients
 Cruelty-free
 Alcohol-free
 Effective
Cons
 Faulty spraying mechanism
 Not for sensitive skin
Price at the time of publication: $29.8
Pros
 Luxurious feel
 Amazing smell
Cons
 Not long-lasting
 Not for sensitive skin
Price at the time of publication: $45.99
True to its name, this Pamper Yourself Warm Vanilla And Sugar Pheromone Perfume has a very traditional vanilla sugar smell, which adapts to your body's unique chemistry with time. Its strong feminine scent doesn't announce your entrance into a room but is sure to draw attention wherever you go. Since the fragrance isn't long-lasting, you may need to re-apply the product more than once a day. Even so, the bottle goes a long way as the quantity is pretty good. It's value for money and comes in a travel-friendly size. If you're in search of a vanilla pheromone perfume that is unique, then this pheromone fragrance is the one to go for!
Pros
 Effective
 Value for money
 Long-lasting
 Moisturizing
Cons
Price at the time of publication: $16.95
Pros
 High-quality ingredients
 Paraben-free
 Sulfate-free
 Long-lasting
Cons
 May not be that effective for some
Price at the time of publication: $36
Pros
 Vegan
 Cruelty-free
 Long-lasting
Cons
Price at the time of publication: $24
Pros
 Long-lasting
 Fresh fragrance
 Not overwhelming
Cons
Price at the time of publication: $34.95
This paraben-free pheromone-infused perfume for women has a delicate floral fragrance with a hint of vanilla and sensual notes of jasmine and sandalwood. It is a seductive perfume that embodies the passion of desire. Formulated to enhance your confidence and charm, the Simply Sexy Love perfume enhances your self-esteem and makes you feel enticing with the first spritz.
Pros
 Paraben-free
 Cruelty-free
 Floral fragrance
Cons
Price at the time of publication: $14.99
With the above list of the best pheromone perfumes, you already have an idea of which to choose from. With the below buying guide, we help you determine how. So go ahead and have a look.
Buying Guide:
How To Choose Pheromone Perfume
With a pheromone perfume, you should choose one which you feel most comfortable with. Once you put it on, it should evoke a sense of confidence and sensuality in you. When you are confident of your beautiful fragrance, your attitude and persona would automatically become a magnet of attraction for the people around you. You can also choose one as per your preferred scent like a gentle powdery, soft vanilla, or aphrodisiac chocolate. Also, the sillage would help you determine how much time you want it to linger on after you. If you are environmentally conscious, you can also look for something vegan and animal-cruelty-free.
How To Use Pheromone Perfume
To get the best out of your pheromone perfume, it's always advisable to apply it to the key pulse points and sensual places like the nape of the neck, hair, wrists, and near your thighs. Some pheromone fragrances come in a spray form while some come packed in a roll-on bottle which is easier to just rub on at the desired places.
Why Trust Stylecraze?
Srijani Roy Chowdhury, the author, has a keen nose for fragrances and blended notes. She loves unearthing new perfumes, like the recent pheromone perfumes. She went online, searched many perfumes, and read through their reviews before choosing the ones mentioned on the above list. Each of these products was selected based on the absence of harsh elements, how long they last, and more.
Frequently Asked Questions
How long does it last?
Just like any other perfume, a pheromone-infused perfume would last as per its strength and concentration. Applying it to the key pulse points enhances its effect. Some perfumes with pheromones have a better sillage than others and hence tend to linger on longer. If you have dry skin you may have to reapply it frequently while those with oily skin may find it lasts longer.
How does pheromone perfume work?
Pheromones work to attract your partner of desire. The perfumes that are formulated with pheromones have the same principle behind them. These perfumes blend in with your body's natural scent to give you a unique signature fragrance. This in turn helps you draw the right attention towards you.
How long do pheromone perfumes last?
On average, pheromone perfumes last for about six to seven hours. However, it might last longer or less, depending on your lifestyle.
Do pheromone perfumes really work?
Yes, pheromone perfumes work, but it is a little dramatic to think that they will make someone fall in love with you instantly! But while that is a complete myth, these perfumes come with great fragrances that are unique and long-lasting.
How do you use a pheromone perfume?
If you want to enjoy using a pheromone perfume, apply the same to your pulse points. This includes places like the side of the neck, wrists, inner part of the elbow, and behind your ears.
Do pheromone perfumes smell different on everyone?
Any perfume, pheromone or not, can smell differently on everyone. This is because of skin and body odor. As for pheromone perfumes, they use a good amount of musk notes, so most of them smell similar and skin-like.