The 11 Best Puzzle Exercise Mats To Step Up Your Fitness Game
Work out in safety without the fear of slipping with the right assistance tools.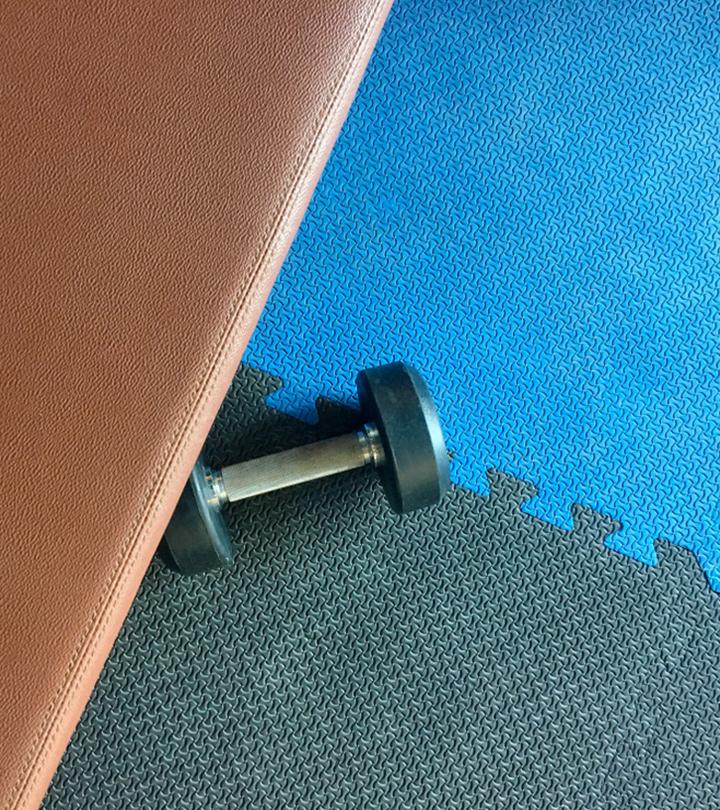 If going to a gym is not your cup of tea, and working out at home seems more like a chore, then getting your hands on the best puzzle exercise mat might do the trick for you. A good exercise mat is important when it comes to training your body at home, given the various kinds of flooring. It not only provides you with that much-needed cushioning and support during your movements but also helps avoid slips, falls, and injuries while working out. While there are tons of exercise mats available in the market, a puzzle exercise mat helps make your workout even more interesting.
Made up of multiple parts that you can piece together like a jig-saw puzzle, this exercise mat provides you with the convenience of portability and storage. Moreover, you can also arrange it as per the room and space available for your workout. What's more? It can help cushion the floor and keep your toddler safe from bumps and falls as well. Now, if that piques your interest enough, let us help you choose one for yourself from the 11 best puzzle exercise mats listed below.
The 11 Best Puzzle Exercise Mats For Your Next Sweat Sesh
This gym puzzle mat will be a great addition to the rest of your exercise equipment as it's super lightweight yet thick enough for optimal comfort levels. Owing to the high-density EVA foam, this 0.5-inch thick exercise puzzle mat provides adequate cushioning for your knees, elbows, spine, and joints, especially on hardwood floors. Oh, and it'll last you quite long too! Made with moisture-resistant technology, cleaning this puzzle floor mat is super easy as you only need some soap and water and you don't have to worry about damaging the material. With 6 precisely cut tiles, interlocking them together is a hassle-free task and you can rest assured that it won't come apart during the middle of a workout session. To ensure that you don't slip or fall during your high-intensity moves, the BalanceFrom puzzle exercise mat with EVA foam interlocking tiles has a textured anti-slip surface.
Pros
Available in 3 colors (black, grey, blue)
Easy assembly
Durable
Anti-slip patterned surface
Water-resistant material
Thick, high-density cushioning
Cons
Some may find it slightly heavy
Price at the time of publication: $24.99
A great option to protect your floor while exercising, ProsourceFit Puzzle Exercise Mats are 0.50 inches thick. The high-quality EVA foam used in the making of this flooring puzzle exercise mat provides unparalleled support to your joints and bones during a high-intensity workout. Its versatility is top-notch because not only is the mat water-resistant, it's also soundproof. Now, you won't have to worry about alerting your downstairs neighbors every time you bust a move! The interlocking foam tiles are weightless and easy to assemble, making this exercise foam mat suitable for use in gyms, garages, or children's play areas. When you don't want it on your floors, just disassemble and store it away. A good alternative to rubber mats, this puzzle workout mat is made without any toxic phthalates.
Pros
Waterproof
Easy storage
Made with non-toxic material
Soft cushioning
Easy to clean
Soundproof material
Anti-skid traction
Cons
Price at the time of publication: $25.99
For your everyday workouts, look no further than the BEAUTYOVO Puzzle Exercise Mat made with flexible, soft, and impact-resistant EVA foam. The cushioning this workout puzzle mat provides is excellent not only for your body's safety, but also protects your floors from getting scratches and dents. With 0.40-inch thick padding, this is great puzzle tile flooring that's also not a hassle to clean with its water-resistant technology. The tiles interlock tightly and don't come apart during use, so you can perform either cardio or strength training with ease.
Pros
Protects floors
Soft cushioning for joints
Noise-reducing
Shock-absorbing
Safe for children
Doesn't slip
Cons
These interlocking foam puzzle exercise mats by innhom can elevate the quality of your workout by providing maximum support to your knees, joints, spine, and hips. The thickness is great even for your hardwood floors and can withstand heavy equipment like your barbells or treadmills. The tiles are lightweight, easy to assemble and customize, as you can always add more for a larger workout space and subtract for a smaller one according to your preference. Innhom's EVA foam puzzle mats are more reliable than your workout buddy who may bail on you any time. Rest assured these high-quality mats will carry you through your exercise session with comfort.
Pros
Easy to clean
Support joints, hips, spine, and knees
Lightweight tiles
Tiles provide adjustable coverage
EVA foam used is non-toxic
Anti-slip surface
Noise-canceling
Water-resistant
Can be used in children's play areas
Cons
Price at the time of publication: $215.95
If you've been scouring the Internet for the best puzzle exercise mat, we think you should give this one a chance. As the name of the brand suggests, they're a pro in making mats of all kinds and their multipurpose exercise floor mat will not only serve you while you exercise, but is a protective barrier for your floors too. This thick flooring puzzle exercise mat comes with a firm yet soft cushion for optimum support for sensitive joints and bones. Within minutes, you can assemble this interlocking puzzle mat for a quick workout, or just let it lay for your kids to play around without getting injured. The best part? Clean-up only requires a quick wipe-down with some soap and water with the mat left to air-dry.
Pros
Soft cushion padding
Water-resistant
Easy to clean
High-density foam material
Protects hardwood floors from damage
Available in bright colors
Cons
Footprints and shoe prints may cause the mat to flatten over time
Price at the time of publication: $19.75
If you're afraid that your children will injure themselves while playing on the floor, investing in an extra-thick puzzle exercise mat might help. MQIAOHAM's Soft Interlocking Exercise Mat will provide comfort to your baby during play time and protect your floors from damage. If a quick workout is on your agenda after putting your baby to bed, you can count on this interlocking puzzle mat for soft support during any kind of exercise. This 0.40-inch thickness EVA foam puzzle mat is made with environmental-friendly materials to ensure your safety. Keeping your baby's health in mind, this thick puzzle exercise mat is made without lead, BPA, or phthalates.
Pros
Available in 31 colors
Made with environmental-friendly material
Flexible
Soft padding safe for babies or heavy exercise
Easy to assemble
Anti-slip traction
Cons
Price at the time of publication: $32.99
When your baby begins to crawl and learns to play while jumping around the house, it's probably their first-ever experience with exercise. As they've got the fun part nailed down, it's up to you to make sure they're safe during playtime. Made with 100% non-toxic EVA foam, this comfy puzzle exercise mat is perfect for your little one. The soft cushioning provides their weak knees and ankles with optimum support to make movement easy and effortless. These interlocking puzzle mats are available in 13 colors and unique prints on each tile to stimulate your child's imagination. Some even allow them to piece together the puzzle, so it's great for learning! Get, set, go, and decorate your baby's playroom with these colorful mats for fun and comfortable play. This video review will help you understand more about the product.
Pros
Safe and fun for babies
Easy to clean
Made of non-toxic foam
Adjustable interlocking tiles
Cons
May not be the best fit for adults who engage in strenuous exercises.
Price at the time of publication: $36.99
FOREST FLOOR's workout tiles are made of wood grain foam to add a unique style to the rest of your exercise equipment. With a 0.37-inch thickness, this anti-fatigue puzzle tile exercise mat offers great cushioning for your knee joints, elbows, and spine. There's also minimized stress on your feet if you're working standing up in your garage, or kitchen, as these puzzle piece workout mats offer adequate support. The FOREST FLOOR puzzle mat for exercise can also be used in areas apart from your home gym such as offices and children's playrooms owing to its versatility. Easy assembly is a key feature here as the interlocking tiles also come with detachable border pieces.
Pros
Supportive for joints
Can be used to protect floors
Interlocking tiles stay connected tightly
Durable
Easy to clean
Safe for children
Cons
The color may fade if exposed to harsh sunlight
Price at the time of publication: $25.68
Whether you like working out at home or at the gym, a good puzzle exercise mat helps you stay in shape while protecting your joints. Made with a blend of high-density EVA foam and rubber for maximum softness and flexibility, these mats are your best bet to having a safe and comfortable exercise session. That's not all, you can even layer these anywhere as they're great for kitchen or garage floors too and they have a blue-speckled surface. This puzzle flooring foam has an anti-skid surface with a matte finish, so you can do all those jump squats without any fear of falling on your face. No, but seriously, they're able to withstand the weight of heavy equipment and the interlocking tiles fit well together, allowing for easy assembly.
Pros
Soft and flexible cushioning
Resistant to mildew and mold
Anti-skid surface
Can withstand heavy weight
Durable design
Pre-cut tiles allow for solid interlocking
Cons
The top rubber layer may peel off with continued use.
Price at the time of publication: $68.99
If you're not one for gym memberships and exercising in public, why not bring the gym home? An ideal at-home workout space must feature a mat and we think the EFM Foam Tile Mats by Ottomanson are gonna be the ones for you! This puzzle exercise mats with EVA foam and interlocking tiles are soft and easy to assemble or disassemble quickly. If you want to lounge around after exercise, simply leave them be and just go about your day. Since they're anti-fatigue, they'll support your joints and bones through any level of activity. With no toxic materials present in it, they are also safe for your kids to play on. It is lightweight, resistant to water, and crafted with noise-reducing technology, and makes a stellar choice.
Pros
Easy to assemble
Anti-fatigue technology
Noise-reducing
Waterproof
Lightweight
Easy to clean
Soft cushioning for maximum comfort
Cons
Some may find the mats slightly thin
Price at the time of publication: $39.99
Get your blood pumping on this fancy dual-color CAP Barbell Puzzle Exercise Mat.16 tiles of blue and grey can be used to interlock and form a sturdy fitness puzzle exercise mat to give you a solid foundation for cardio or weight training. Made with high-density EVA foam, these mats have a 0.50-inch thickness that is perfect for yoga, pilates, Zumba, or cardio. The soft cushioning absorbs the shock to your joints and the durable material is also easy to clean. Customize your own mat with alternating color tiles for a fun workout space.
Pros
Shock-absorbing
Thick cushioning
Dual-color tiles
Easy to clean
Cons
Some people may find that the mats flatten over time
Price at the time of publication: $45.83
Now that we've gone over the best puzzle exercise mats on the market, let's dive into what you should keep an eye out for when selecting the right one for your needs.
How To Select The Best Puzzle Exercise Mat
If you're looking for a puzzle mat for intense exercise or even as a play mat for your children, ensure that it has an anti-slip or an anti-skid surface. This ensures that the mat stays put on the floor and you won't end up falling during movement.
Martin Sharp, a CPT with 4 years of experience, says, "The anti-slip technology helps maintain control, allowing you to perform your exercise safely and effectively. It also allows you to concentrate on form and effort."
A thickness of 0.50-inch and above will be ideal for movement, as the cushioning will be soft enough to save your joints and bones from falling or injuries.
Since fitness mats lay on the floor all the time, look for waterproof ones so that they're easy to wash with water and some soap. This ensures that the dust and sweat can be removed easily.
Puzzle mats come with puzzle 'pieces' or 'tiles' which can be interlocked together to make a mat. Make sure the pre-cut tiles have smooth, finished edges so that they can be locked together tightly. If loose, the tiles may come apart during exercise and lead to injuries.
Why Trust Stylecraze?
We at StyleCraze are devoted to sharing fitness products that can improve your daily workouts. We conducted extensive research, investigating many products and their reviews across many platforms, before settling on these puzzle mats. These mats offer the comfort and support you need to perform all your exercises. They were selected based on anti-slip surface, material, durability, color variety, cushioning, and more.
Frequently Asked Questions
What are foam puzzle mats made of?
Foam puzzle mats are made with EVA foam which is safe, comfortable, and durable.
Can I use a puzzle mat for a workout?
Yes, you can use a puzzle mat for a workout. Also, puzzle mats are sturdy, easy to assemble, and easy to store as well.
Are puzzle mats good for jiu jitsu?
Yes, shock-absorbing puzzle mats are good for jiu-jitsu, judo, and martial arts.
How do I keep my puzzle mats from sliding?
Use double-sided cello tape to stick each piece of the mat with one another.
How often should I clean a puzzle exercise mat?
Clean puzzle exercise mats weekly if you perform heavy workouts or in two weeks if you perform yoga or lighter workouts.
Recommended Articles