Top 10 Best Treadmill Mats For Hardwood Floors And Carpets In 2023
Run your way to a toned, fit body without disrupting the peace of your surroundings.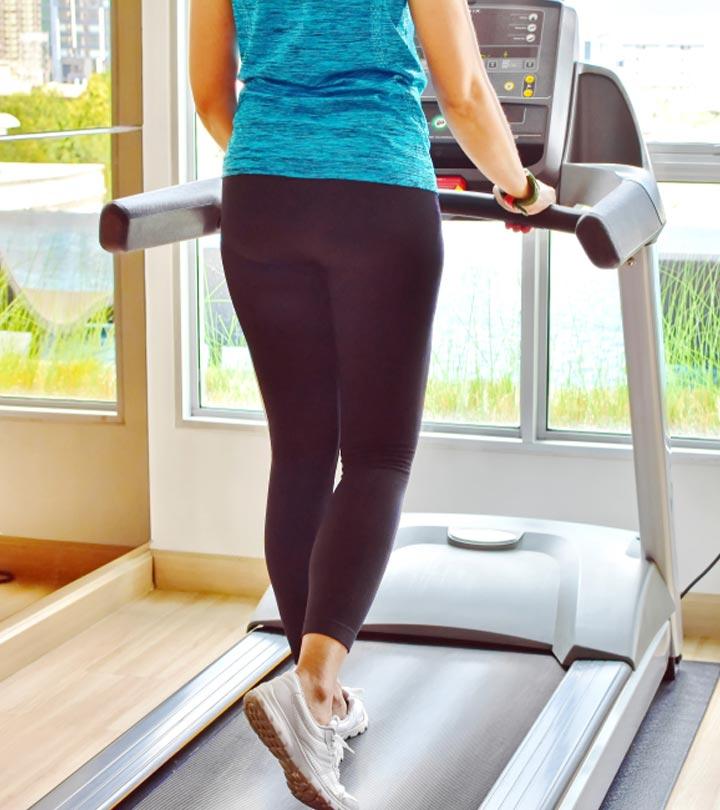 A treadmill mat is a workout essential if you want to avoid unwanted noise insulation or if you don't want to wake up your kids early in the morning. The best treadmill mats are an ideal solution to rule out the issue of vibrations caused while working on the treadmill. In fact, a treadmill might also damage the floor or destroy carpets. So, it's best to select a mat that is water-resistant, made of thick material, and prevents lubricant leakage on the floor. Keep scrolling to know all about the 10 best treadmill mats available in the market.
What Is A Treadmill Mat?
A treadmill mat is an essential fitness accessory, which is placed on the floor below the treadmill. It absorbs the vibration and the noise produced by treadmills and protects the floor from damage. A good treadmill mat will protect carpets from tearing and prevent scratches on a hardwood floor. Here are the top 10 best treadmill mats for hardwood floors, carpet protection, and reducing noise.
Top 10 Best Treadmill Mats For Hardwood Floors, Carpets Protection & Reducing Noise
Treadmill mats can have a lot of uses besides placing it below treadmills. A good mat can also be used in gyms and exercise rooms for activities such as weight training and Zumba classes. ProsourceFit Puzzle Mat is an excellent example of such an exercise mat. Its interlocking tile design makes it an excellent protector of floors, and they cushion the heavy impact of weights used in the gym. It is the best treadmill mat with durability and versatility of having water-resistant and noise-reducing properties. The high-density EVA foam used provides unparalleled cushioning to keep your floors scratch-free. Watch this video to get a complete idea of this exercise mat.
Pros
Impact-absorbing
Lightweight
Water-resistant
No toxic phthalates
Cons
Not as straightforward to put together as folding rubber mats.
Price at the time of publication: $25.99
Simplicity and ergonomics are crucial things to look for in a treadmill mat. Space can be a premium at times, and an easily foldable mat makes for convenient storage. This mat is made of high-density EVA foam, ensuring durability and water-resistant capabilities, thus saving your floors and exercise equipment from damage. It is also the best treadmill mat to reduce noise due to its high-density foam. The treadmill mat is compact, which makes it an ideal choice for workouts at home.
Pros
Easy to store
Durable
Non-slip
Lightweight
Cons
Some may find the mat slightly thin.
Price at the time of publication: $45.21
Easy to use and easy to store; that's how a fold-to-fit mat makes your fitness regime less complicated. The Stamina Fold-To-Fit Equipment Mat is a ¼ inch thick mat made of closed-cell foam. It weighs 7 pounds and is divided into seven 12-inch folds. It is among the best treadmill mats for carpets that money can buy. Although the workout mat is lightweight, it features heavy-impact absorption qualities. It is versatile and can be used across different floor types such as concrete, hardwood, and carpets.
Pros
Durable
Lightweight
Textured surface
Non-slip
Cons
It may wrinkle quickly with certain types of equipment, such as a rower.
Price at the time of publication: $37.49
This Treadmill Mat by AmazonBasics is made of high-density PVC material, making it sturdy, durable, and waterproof. The mat protects your floors from heavy equipment. It is 6 feet long and 2.5 feet wide and weighs 7.2 pounds, making it ideal for individual use and gym use. The mat makes for a great shock absorbing treadmill mat for hardwood and concrete floors. Click here to watch an honest review of this mat by an youtuber.
Pros
PVC construction
Stable grip
Value for money
Ideal for home use
Non-slippery
Cons
Some customers felt the lack of thickness in the mat
Price at the time of publication: $43.93
SuperMats Treadmill Mat is an American made heavy-duty mat that can handle the heaviest of treadmills with ease. It is free of harmful chemicals and adheres to the highest safety standards. The treadmill mat is ¼ inch thick and has a smooth, odor-free surface. This heavy duty mat is ideal for large spaces and boasts of fantastic insulating properties. It is highly durable, and protects your floors from damage.
Pros
Non-toxic
Heavy-duty construction
Long-lasting
Ideal for large spaces
Safe for pets
Cons
Some may find it difficult to move around
Price at the time of publication: $80.75
Are you looking for a high-quality personal mat for your socially-distanced workouts in the gym? ProSource has the solution for you with its Fit Exercise Mat. Its compact size and sturdy construction make it a great option for all your workouts. The Fit Exercise Mat also comes in 2 sizes measuring at 6.5 and 7 inches each, with densities of 4 mm and 6.35 mm, respectively. It is made of PVC material, making it durable and easy to clean while providing a smooth surface for all your weights and equipment. The mat is dense and helps in noise reduction by absorbing vibrations while using cardio equipment.
Pros
Slip-resistant PVC
Non-skid texture
Durable
Suitable for various surfaces
Cons
Some customers found the mat a bit too soft for their liking.
Price at the time of publication: $34.99
Tranr Active Noise Reduction Mat is a locally-made, eco-friendly mat. It is made in the US and from rescued tires. It does not compress like foam mats and is durable for a large treadmill. The mat is made from high-impact professional grade recycled rubber, which aids in active noise reduction and shock-absorption. It protects your floors and increases the lifespan of your equipment.
Pros
Eco-friendly
Impact-resistant
Durable
Excellent protection for all surfaces
Cons
Some customers found that the product needs a couple of days to get rid of the strong odor.
Price at the time of publication: $72.1
The combination of affordable, sturdy, and tough can be difficult to find in a single treadmill mat. The Gympak Treadmill Equipment Mat delivers on all 3 fronts and more. It is made from high-grade, non-toxic PVC rubber and is lightweight and compact. It weighs 1 pound and measures 6.5 feet long and 3 feet wide, making it ideal for personal use. The rubber treadmill mat protects the floor effectively and provides great insulation from noise.
Pros
Odor-free
Non-slip
Compact size
Ideal for personal use
Cons
It does not curl and remains flat, which may make it tough to store.
Price at the time of publication: $25.77
This large mat weighs 13.5 pounds and is 3 mm thick. It is made of premium-grade Styrene-Butadiene Rubber (SBR) and EPDM rubber, making it tough and absorbs shocks easily.  The RevTime Treadmill Mat is a great rubber treadmill mat with a unique design and funky blue specks, making it stand out from the rest. Rest assured that this mat is odor-free so you won't even have to air it out.
Pros
Non-toxic
Shock-absorbing
Odorless
Made from heavy-duty SBR rubber
Cons
Some customers found the mat size a bit too thin for their use.
Price at the time of publication: $69.85
Good things often come to those who wait, and the final product on this list is a fantastic floor treadmill mat by BodySolid. The mat measures 6.5 feet in length and 3 feet wide, weighs 2 pounds and is made of tough PVC rubber. The rubber treadmill mat is ideal for working out at home, and its durable nature ensures that you will have this mat with you all through the lockdown and beyond. Get the best treadmill mat to reduce noise and protect your floors with BodySolid Rubber Mat.
Pros
Durable
Lifetime warranty
Muffles noise and vibrations
Tough and can protect floors safely
Cons
Some customers found the quality of the mat inadequate
Price at the time of publication: $47.35
Now that we have seen the 10 best treadmill mats for hardwood and carpets, here are a few things to know before buying a treadmill mat.
How To Choose Treadmill Mats
Size
Treadmill mats come in sizes varying from small to large. The small ones are compact, easy to fold, and ideal for small equipment or your home gym. Larger sizes are often thick and ideally made for use in large rooms and gyms. Ideal requirements for space around the treadmill include 6 feet of space behind the machine and 2 feet space on the sides and the front. So calculate the size of the mat with the space requirements for the treadmills in mind.
Thickness
The thickness of a mat can change the way it performs. Heavy-duty thick mats have a lot of high-density material, which helps in noise insulation and floor protection. Thinner mats are easy to move and easy to store but at the cost of lesser noise insulation. Choose the thickness of the mat depending on the purpose and the weight of the equipment placed on the mat.
Material
Treadmill mats are made of different kinds of rubber. Some of the common materials used in treadmill mats include PVC, recycled rubber, rubberized vinyl, and foam material. Treadmill mats made from PVC are sturdy and waterproof with less flexibility. Foam material mats are soft and flexible but susceptible to water damage. Rubberized vinyl mats are flexible, durable, and water-resistant, making them the most popular material choice for treadmill mats.
Benefits Of A Treadmill Mat
Noise reduction
It prevents the noise from the treadmill disturbing your neighbors and waking up your kids during your morning workout. The noise insulation also makes for a better and quieter environment while working out.
Protection of floors
Workout equipment is generally heavy, and moving them around can lead to scratches on the floor, tears in the carpet, and lubricant leakage that may cause discoloration of carpets. A good treadmill mat protects the floor from surface damages and elements such as humidity.
Why Trust StyleCraze?
Our health and fitness enthusiast, Shreya Vishwanathan, has compiled this list of the best treadmill mats suitable for hardwood floors and carpets. She selected these products based on your requirements, the material, quality, and user reviews. Shreya also guides you through the products' features, pros, cons, and benefits and some factors to consider to choose the most suitable treadmill mat.
Frequently Asked Questions
Do treadmill mats reduce the noise?
Yes, they do. The thick mats absorb the vibrations from the equipment.
Do I need a floor mat for my treadmill?
Yes. A treadmill mat is an important addition to protect the floors and reduce the noises made because of the treadmills.
Should the treadmill be on a mat?
Yes. For best results, place your treadmill safely over the mat to enjoy its benefits.
Do treadmill mats reduce noise?
Yes, they reduce the noise considerably.
Will the treadmill damage the laminate floor?
Yes, treadmills are heavy and can cause damage, such as dents and scratches on the floor.
Will treadmills damage hardwood floors?
They can damage hardwood floors. A heavy treadmill can cause scratches on the hardwood floors.
Do you need rug pads for hardwood floors?
The protection of hardwood floors can be managed with different mats and rug pads. They protect and prevent the floors from getting damaged.
Are PVC rug pads safe for hardwood floors?
Yes, they are. They prevent scratches and damage due to fluids and moisture in the environment.
Best Treadmill Mats For Carpets
Top Large Exercise Mats For Your Workout From Home
Best Large Exercise Mats
Best Manual Treadmills
Best Jump Rope Mats