10 Best Korean Cleansers For Acne-Prone Skin
These mild cleansers treat acne & other skin issues, offering you a soft, glowing look.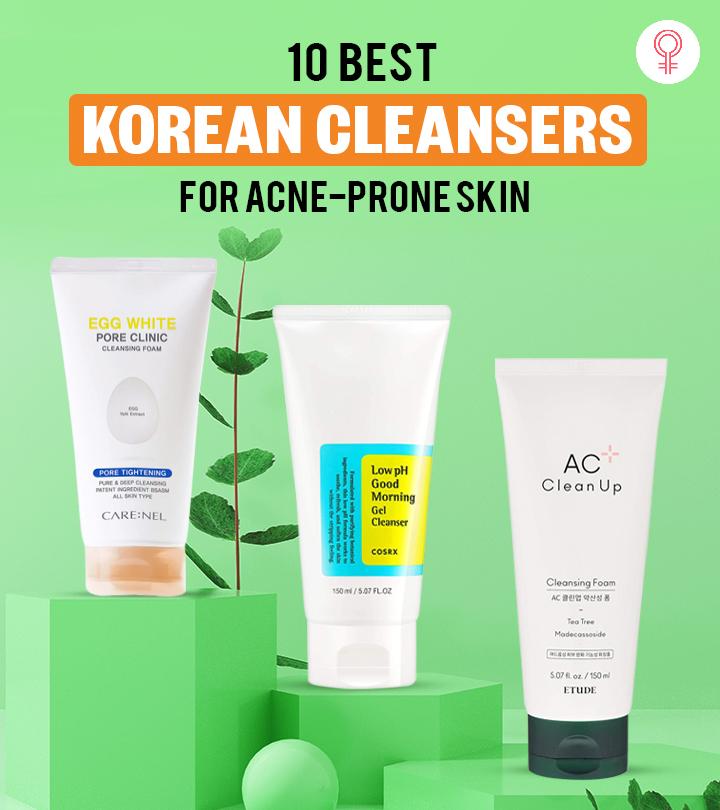 Cleansing may be crucial, especially for acne-prone skin, and finding the best Korean cleanser for acne can be tricky in a market replete with K-beauty products. An effective cleanser works wonders to remove the grime, dirt, and sweat that clog the pores. It gives your skin space to breathe freely while bringing down acne. A basic cleansing-toning-moisturizing skincare regimen improves your skin texture and leaves you with a soft, glowing look. K-beauty cleansers are widely used for acne-prone skin. They are enriched with ingredients that cleanse the face gently without drying out the skin.
Check out our list of effective Korean cleansers for acne-prone skin, and take your pick! It's time to bid farewell to your skin woes.
10 Best Korean Cleansers For Acne-Prone Skin
Care: Nel Egg White Pore Cleaning Cleansing Foam is a deep cleansing face wash. The micro-bubbles gently remove the excess sebum without drying out the skin. It is fortified with egg yolk extract that tightens your skin, making it look firm and radiant. Egg whites contain amino acids that cleanse the skin without stripping away its oils. It also has the goodness of the skin-smoothening BSASM formula, a blend of specialized botanical ingredients that calm your irritated skin. "Pumpkin extract in the formula serves as an antioxidant, anti-inflammatory, and helps improve fatigue. It can help with the redness and the flaking of dry skin," says Dr. Patricia Gaile Espinosa, MD, Philippine Dermatological Society.
Key Ingredients: Egg white and Vitamin C
Pros
Exfoliates the skin
Reduces blackheads
Brightens the complexion
Mild fragrance
Cons
Price at the time of publication: $12.9
This gel cleanser from Cosrx with a mildly acidic pH balance protects your skin from harsh environmental damage. It is fortified with the extracts of Styrax japonicus, tea tree oil, and plant-derived BHA that cleanse your pores and keep them hydrated. Its gentle formula is highly effective in getting rid of excess sebum without causing irritation or redness.
Key Ingredients: Tea tree leaf oil and Evening primrose flower extract
Pros
Deep cleansing formula
Cruelty-free
Vegan
Paraben-free
Affordable
Cons
Runny consistency
Medicinal fragrance
Price at the time of publication: $7.0
The Whip Cleanser from ETUDE House is a gentle, non-comedogenic cleanser suitable for all skin types, including sensitive skin. It effectively cleanses and removes makeup, dirt, and impurities without leaving your skin feeling dry or stripped. It is infused with panthenol to help soothe and hydrate your skin while boosting its natural protective barrier. It is free from synthetic fragrances and additives and hypoallergenic, making it ideal for sensitive skin. Its light and airy foam texture provide a gentle and delicate cleansing experience for your skin.
Pros
pH balance
Hypoallergenic
Hydrating
Fragrance-free
Cruelty-free
Non-comedogenic
Paraben-free
Cons
Not suitable for dry skin
Price at the time of publication: $21
Ca Va Bien's cleansing powder is a complete solution for removing makeup, dirt, and grime from the skin. This cleansing powder, when mixed with water, turns into a foaming cleanser. It is fortified with the goodness of vitamin C, minerals, glucose, and fructose to keep your skin moisturized. These ingredients hydrate the skin and help maintain the pH balance.
Key Ingredients: Vitamin C, Glucose, and Fructose
Pros
Refreshes the skin
Gentle formula
Does not dry out the skin
Easy to use
Cons
Price at the time of publication: $35
This mild face wash is a popular cleanser from Lookatme. It is infused with aloe extract that soothes irritation, hydrates the skin, helps fight acne, washes away impurities, and unblocks the pores. Extracts of lavender, peppermint, and tea tree protect your skin barrier without stripping away its natural oils. It is fortified with plant-based ingredients and does not contain any synthetic additives.
Key Ingredients: Lavender, Peppermint, and Tea tree
Pros
Gentle cleanser
Formaldehyde-free
No harmful chemicals
Sulfate-free
Triclosan-free
Phthalate-free
Sulfate-free
Cons
Price at the time of publication: $16.99
Introducing SOME BY MI Miracle Acne Clear Foam, a gentle yet effective cleanser specially formulated for acne-prone skin. The cleanser is enriched with a natural-derived surfactant and the optimum combination of AHA, BHA, and PHA to effectively cleanse your skin and prevent acne. AHA refines skin texture and increases skin firmness, while BHA kills acne-causing bacteria. PHA is a mild exfoliant that helps to remove dead skin cells without irritation. In addition, it also contains cica to soothe the skin and improve the skin barrier. For best results, use morning and night to help keep your skin clear, healthy, and free from acne.
Pros
pH balanced
Mildly exfoliating
Cruelty-free
Vegan
Paraben-free
Fragrance-free
Cons
Not for sensitive skin
Can be slightly drying
Price at the time of publication: $13.8
This Accoje cleansing foam is a complete solution for acne-prone skin. It is formulated with plant-based ingredients like red beet and cactus fruit collected from Jeju Island. These ingredients are rich in vitamins and antioxidants that manage acne and rejuvenate your skin. Green tea and aloe protect your skin from the harmful UV rays and keep it hydrated.
Key Ingredients: Red beet and Cactus fruit
Pros
No harmful chemicals
Dermatologist-tested
Cruelty-free
CDSCO-certified
Paraben-free
Benzophenone-free
Imidazolidinyl urea-free
No tar pigments
Cons
Price at the time of publication: $17.99
VT Cica is a deep cleaning foam that balances your skin tone and prevents premature aging. This natural foam contains cicaliao and cicahyalon that help in moisturizing your skin. The patented Greenol Herbal Mix contains six ingredients – lavender, freesia, chamomile, bergamot, peppermint, and rosemary – that moisturize and soothe your skin. The natural formula helps in removing impurities and improves skin texture. This moisturizing cleanser can be used daily and suits all types of skin.
Key Ingredients: Cicaliao, Cicahyalon, Lavender, Freesia, Chamomile, Bergamot, Peppermint, and Rosemary
Pros
Rich lather
Absorbs sebum
Natural ingredients
Cons
Price at the time of publication: $18
This Saranghae foaming cleanser helps remove makeup and impurities from the skin surface for a clean and refreshed feeling. The unique 2-in-1 formula helps in removing oil-based and waterproof products. It is fortified with white truffle and green tea extracts that help repair damaged skin to provide an even skin tone. The goodness of olive oil combined with coconut and sunflower oils clears dirt and keeps your skin hydrated for a supple look.
Key Ingredients: Green tea extract, Olive fruit oil, Coconut oil, Sunflower oil, and White truffle extract
Pros
Paraben-free
Cruelty-free
Sulfate-free
Phthalate-free
Vegan
Removes toxins
Cons
Price at the time of publication: $24
Oseque Silky Bright Enzyme Powder Facial Wash is an extra-gentle deep-cleansing facial wash powder that gives you a smooth and nourished look. The amino acid complex in this powder reduces skin damage and improves its elasticity. The goodness of papaya and pineapple brings down redness and minimizes the appearance of fine lines. Red clay helps in exfoliating your skin and helps in removing impurities.
Key Ingredients: Papaya, Pineapple, Amino acids complex, Ginseng, and Green tea
Pros
Hypoallergenic
Strengthens the skin barrier
Reduces inflammation
Protects the skin
Cons
Price at the time of publication: $16.63
Most beauty enthusiasts are obsessed with Korean skincare products, and for a good reason! If you have acne-prone skin and want to give Korean cleansers a try, these are the things you should keep in mind before making a purchase.
Things You Need To Know Before Purchasing A Korean Cleanser
Ingredients
Go for cleansers that are free of harmful chemicals like parabens, sulfates, mineral oils, and phthalate. Since you have acne-prone skin, your first priority should be to avoid ingredients that can further damage your skin. Opt for ingredients including benzoyl peroxide, salicylic acid, alpha hydroxy acids, vitamin C, and tea tree oil that offer great benefits to acne-prone skin.
Skin Type
Acne is commonly found in oily skin, however, this is not always true. You can have dry or sensitive skin and have breakouts. That is why it is important to choose a cleanser that would suit your skin type, otherwise it can make your acne issue worse.
Usage
Most people with acne avoid using exfoliators because they can irritate the skin. But it shouldn't be a concern if you opt for the right product. Go for a cleanser that gently exfoliates while removing blackheads and dead skin. It is important to keep the pores clean as accumulation of dirt can cause fresh breakouts.
Fragrance
It is a good idea to go for fragrance-free products even if you have no skin issues – but if you have acne-prone skin, you don't need the added chemicals in your life! Focus on products that have a naturally pleasant smell or no fragrance at all.
Price
Korean products are mostly priced reasonably, but a few of them could be a bit expensive. Don't focus on the price though as expensive does not always mean that the quality is better. Check the ingredients list, choose a product you think will suit your skin, and get it.
Why Trust StyleCraze?
The author of this article, Shiboli Chakraborti, is a certified skin care coach and makeup enthusiast. She has conducted thorough research of online reviews and also gone through the ingredients in detail to pick the best Korean cleansers for acne-prone skin. These K-beauty cleansers can cleanse your face gently without drying out your skin. They improve skin texture and impart a glowing look.
Frequently Asked Questions
Does Korean cleanser get rid of acne?
Yes. Korean cleansers are gentle and get rid of excess oil and dirt without drying the skin. They contain soothing ingredients with anti-bacterial and anti-inflammatory properties.
How do Korean cleansers treat hormonal acne?
Korean cleansers remove dirt, sebum, and debris that clog the pores. Salicylic acid, green tea, and tea tree in Korean cleansers help treat hormonal acne.
Should I wash my face with hot or cold water for acne?
Always wash your face with cold water for acne.
Recommended Articles