11 Bestselling Face Cleansers To Remove Makeup – 2023
Get rid of even the minutest traces of makeup without drying and damaging your skin.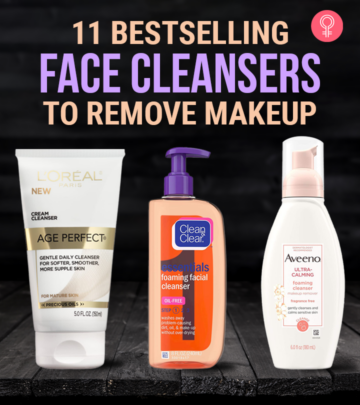 Face washes are the unsung heroes of our everyday skincare regimen. However, they can become superheroes too if they work as makeup removers as well. Yes, you must treat yourself with the best face washes to remove makeup. You can now skip the extra makeup removal step with another additional product. You can have a face wash that does it all for you.
Incorporating a face wash that does facial cleansing along with makeup removal will make your skincare routine so much easier. Hence, we have listed the 11 best face washes to remove makeup and take care of your skin. Have a look!
11 Best Face Washes To Remove Stubborn Makeup
The CeraVe Hydrating Cream-to-Foam Cleanser is ideal for regular cleansing and offers long-lasting hydration. The rich, creamy formula transforms into foam and gently removes impurities, excess oil, makeup, and sunscreen residue. This non-drying cleanser refreshes your skin without stripping it's natural moisture. It contains hyaluronic acid and an Amino Acid Complex that support the skin's Natural Moisturizing Factors (NMF). This product is enriched with three essential ceramides– 1, 3, and 6-II that restore the skin's natural barrier. Go ahead and check out a tester's experience in this review on YouTube for further details about the product.
Skin Type: All
Pros
Recommended by dermatologists
pH-balanced formula
Non-comedogenic
Paraben-free
Soap-free
Fragrance-free
Ophthalmologist-tested
Cons
None

The Clean & Clear Essentials Foaming Facial Cleanser removes makeup from acne-prone and oily skin. The gentle formula and rich lather eliminate heavy makeup and impurities without drying the skin out. Regular use of this foaming cleanser ensures refreshed and healthy skin, free of dirt and buildup. The oil-free formula contains nourishing coconut oil-based ingredients that wash away impurities while preventing acne and breakouts, making this foaming face wash suitable for oily and acne prone skin. The moisturizing agents and astringents in the foaming formula ensure clean and hydrated skin.
Skin Type: Acne-prone
Pros
Non-drying
Even-toned skin
Oil-free
No residue
Gentle
Suitable for acne-prone and oily skin type
Cons
The L'Oreal Paris Age Perfect Cream Cleanser is equipped with anti-aging benefits and replenishing oils to remove makeup from all skin types. The gentle formula contains essential nutrients, oils, and moisturizers that make your skin supple, soft, and smooth. This gentle cleanser is suitable for daily use and can be used during day and night with other anti-aging skin products. The clinically-approved formula prevents dryness and stripping of natural skin oils during makeup removal.
Skin Type: All
Pros
Dermatologist-recommended
Dermatologist-tested
Sensitive skin tested
Creamy texture
Non-drying
Anti-aging
Cons
The DRUNK ELEPHANT Beste No. 9 Jelly Cleanser is an innovative formula that eliminates makeup and grime from sensitive skin. It is gentle, non-irritating, non-sensitizing, and maintains a pH level of 6.1 to balance the skin's natural barrier and leave it healthy and problem-free. It is an effective cleanser with mild surfactants and makeup-dissolving emollients that don't leave any residue and promote soft and clean skin. It also contains additives like fruit enzymes, thermal mud, marula oil traces, glycerin, and vitamins to refresh your skin with a rejuvenating scent. If you want to know more about the benefits of the DRUNK ELEPHANT Beste No. 9 Jelly Cleanser, you can check out the reviewer's experience in this video.
Skin Type: Sensitive
Pros
Gentle
Vegan
Gluten-free
Cruelty-free
Essential oil-free
Dye-free
Fragrance-free
Silicone-free
Alcohol-free
Sulfate-free
Cons
The e.ra organics Cleansing Oil Face Wash & Makeup Remover uses nourishing and rejuvenating ingredients to offer soft, supple, and smooth skin while boosting hydration levels. It removes foundation, eye makeup, and waterproof mascara while repairing the skin. The anti-aging properties and skin-loving ingredients provide long-lasting hydration for glowing skin.
This face wash contains vitamin E and antioxidant-rich argan oil that promote skin elasticity and protect the skin from free radical damage. Rosemary, an antiseptic, prevents dermatitis and eczema while combating free radicals, dry skin, oily skin, and acne. Sunflower oil controls moisture loss, restores the skin barrier, and soothes dermatitis-prone damaged skin. Jojoba oil, rich in vitamins B and E, heals acne, wounds, and psoriasis while activating collagen production to make your skin smooth and wrinkle-free. The product has not been tested on animals.
Skin Type: Dry and Sensitive 
Pros
Anti-aging
Paraben-free
GMO-free
Sulfate-free
Alcohol-free
Mineral oil-free
Cruelty-free
Cons
The VERA BOTANICS Oil Cleanser And Makeup Remover provides a gentle way to wipe off makeup and impurities from any skin type, including acne-prone and sensitive skin. Its deep action formula works by thoroughly dissolving product buildup and makeup.
This gentle skin cleanser penetrates the deepest skin layers and pores to remove blackheads, liner, mascara, lipstick, foundation, and sunscreen without enlarging the pores. This olive oil-based cleanser cleanses, softens, and hydrates the skin and is suitable for daily use. It protects the skin from environmental damage without stripping its natural oils and preventing excess sebum production. The product has not undergone testing on animals.
Skin Type: All 
Pros
For all age groups
Non-comedogenic
Gentle
Vegan
Non-irritating
Cruelty-free
Cons
The bliss Makeup Melt Jelly Cleanser has a super-gentle formula that works incredibly well for sensitive skin to remove makeup, dirt, and oil. The unique jelly-like formula offers an effective double cleansing effect and skin balancing. It contains vitamin B5 that supplies a boost of hydration to rejuvenate dull skin and improve its natural barrier. It also revives the skin cells to give you soft, clean, and silky skin. The product has not undergone any testing on animals.
Skin Type: Sensitive
Pros
Gentle
Paraben-free
Cruelty-free
Sulfate-free
Mineral oil-free
Phthalate-free
Cons
The JULEP Hydrating Cleansing Oil offers instant hydration while effectively removing makeup. The mild formula softens and hydrates your skin without leaving any oily residue. The nourishing and age-defying formula contains rosehip seed oil to protect, repair, and soothe skin concerns. Grapeseed oil, rich in potent antioxidants, heals the skin, and olive oil softens, relieves, and calms dry and sensitive skin without clogging the pores. Pink grapefruit peel oil improves cleansing abilities while leaving behind a refreshing scent. If you need further convincing, check out this tester's experience in her YouTuber review.
Skin Type: All
Pros
Lightweight
Anti-aging
No residue
Cruelty-free
SLS-free
Paraben-free
Cons
The Ebanel Alpha To Omega+ Sherbet Cleanser nourishes the skin and removes makeup, daily grime, excess oil, and impurities. The gentle formula eliminates all traces of stubborn makeup products like lipstick, foundation, and waterproof mascara.
This deep-action cleansing balm regulates sebum production. It contains natural stem cell extracts, peptides, vitamin C, and antioxidants that moisturize, firm, and lift the skin. This beauty product is enriched with natural exfoliants from papaya, tomato, raspberry, chamomile, willow herb, and acerola. Dr. Patricia Gaile Espinosa, MD, Philippine Dermatological Society, adds, "Tomato extract also promotes brightness of the skin. It contains vitamin C, flavonoids, lycopene, and beta-carotene which are powerful antioxidants. This facial wash protects the skin against free radical damage, thereby preventing photoaging." Regular use of this gentle brightening cleansing product helps you get even-toned, glowing, hydrated, and blemish-free skin. The product has not been tested on animals.
Pros
No residue
Affordable
Gentle
Hypoallergenic
Vegan
Cruelty-free
Paraben-free
Sulfate-free
Non-irritating
Cons
Doesn't remove eye makeup completely
The INDIE LEE Brightening Cleanser gently removes makeup and other impurities. It also works as an exfoliating mask when left for 5 minutes before washing. It washes away waterproof makeup and product buildup from the skin to leave it silky and smooth. The safe and natural formula contains strawberry seed oil, tomato extracts, and hydrolyzed wheat protein to hydrate, strengthen, firm, and protect the skin. This cleanser also brightens and even tones the skin. The clinically-backed skincare product has not been tested on animals.
Pros
Talc-free
Synthetic fragrance-free
Mineral oil-free
Paraben-free
Phthalate-free
GMO-free
Petroleum-free
Cons
May cause irritation and breakouts.
This tropical glow cleanser from KOPARI is a daily hydrating drugstore face wash that contains active enzymes that gently exfoliates the skin. The oil-free effective formula is packed with natural ingredients like coconut, pineapple, and papaya. Coconut adds hydration, while pineapple and papaya have proven efficacy in gently dissolving dead skin cells and imparting a radiant glow to the skin. This face wash is also infused with aloe vera that calms irritated skin and makes it soft and smooth. The product has not undergone any testing on animals.
Pros
Gentle
Vegan
Non-irritating
Non-allergenic
Cruelty-free
Paraben-free
Silicone-free
Phthalate-free
Cons
None
*The prices provided in this article are based on the latest available information. However, they may vary due to changes in pricing by the seller and/or promotional offers.
Why Trust Stylecraze
Shiboli Chakraborti is a certified skin care coach who is passionate about reviewing products that can help her readers. Her review process involves careful research into the features and benefits of each product and the aggregation of consumer feedback across several trusted platforms. Here, she talks about the best face cleansers that will help you remove your makeup with ease without using an additional product.
Frequently Asked Questions
What is the best way to take off makeup?
Use your daily cleanser to take off the foundation and blush. Pour some skin-friendly cleanser on a cotton pad to wipe the area in and around your eyes. After removing all makeup from the corners of your eyes, use a moisturizer to keep your skin soft and supple.
Is an exfoliating face wash a necessary step when removing makeup?
No, using an exfoliating face wash is not a necessary step while removing makeup but you can do so to remove dead skin cells and unclog pores that might have been affected due to stubborn makeup products.
Which one do you use first – a makeup remover or a face wash?
Use a makeup remover before washing your face to make sure that you have no makeup leftovers on your skin.
Which is the best makeup remover – wipes or face wash?
Face washes are safer than makeup remover wipes. Face washes gently remove makeup from your skin while makeup remover wipes can be harsh on your skin, especially when coupled with an exfoliant. However, makeup remover wipes come in handy when you are on the road or if you have stubborn makeup that is getting too hard to remove.
How can I clean my makeup naturally?
You can remove your makeup naturally with the help of almond oil, olive oil, avocado oil, coconut oil, jojoba oil, cucumber juice, milk, or a combination of baking soda and honey.
What should I put on my face after removing makeup?
After removing makeup, follow your normal skin care routine comprising of a toner, serum, and moisturizer. The toner will help restore your skin's pH balance while the serum and moisturizer will nourish your skin and offer it a youthful glow.
Recommended Articles