11 Bestselling Face Cleansers To Remove Makeup – 2023
Get rid of even the minutest traces of makeup without drying and damaging your skin.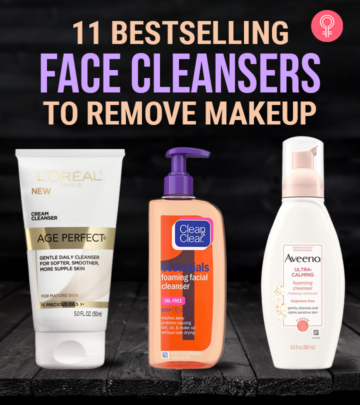 Face washes are the unsung heroes of our everyday skincare regimen. However, they can become superheroes too if they work as makeup removers as well. Yes, you must treat yourself with the best face washes to remove makeup. You can now skip the extra makeup removal step with another additional product. You can have a face wash that does it all for you.
Incorporating a face wash that does facial cleansing along with makeup removal will make your skincare routine so much easier. Hence, we have listed the 11 best face washes to remove makeup and take care of your skin. Have a look!
11 Best Face Washes To Remove Stubborn Makeup
Pros
Recommended by dermatologists
pH-balanced formula
Non-comedogenic
Paraben-free
Soap-free
Fragrance-free
Ophthalmologist-tested
Cons
None

Price at the time of publication: $17.3
Pros
Non-drying
Oil-free
No residue
Gentle
Cons
Price at the time of publication: $4.88
Pros
Dermatologist-recommended
Creamy texture
Non-drying
Anti-aging
Cons
Price at the time of publication: $11.98
Pros
Gentle
Vegan
Gluten-free
Cruelty-free
Essential oil-free
Dye-free
Fragrance-free
Silicone-free
Alcohol-free
Sulfate-free
Cons
Price at the time of publication: $32.0
Pros
Anti-aging
Paraben-free
GMO-free
Sulfate-free
Alcohol-free
Mineral oil-free
Cruelty-free
Cons
Price at the time of publication: $17.19
The VERA BOTANICS Oil Cleanser And Makeup Remover provides a gentle way to wipe off makeup and impurities from any skin type, including acne-prone and sensitive skin. Its deep action formula works by thoroughly dissolving product buildup and makeup.
It penetrates the deepest skin layers and pores to remove blackheads, liner, mascara, lipstick, foundation, and sunscreen without enlarging the pores. This olive oil-based facial cleanser cleanses, softens, and hydrates the skin and is suitable for daily use. It protects the skin from environmental damage without stripping its natural oils and preventing excess sebum production.
Skin Type: All 
Pros
For all age groups
Non-comedogenic
Gentle
Vegan
Non-irritating
Cruelty-free
Cons
Price at the time of publication: $14.98
Pros
Gentle
Paraben-free
Cruelty-free
Sulfate-free
Mineral oil-free
Phthalate-free
Cons
Price at the time of publication: $11.99
Pros
Lightweight
Anti-aging
No residue
Cruelty-free
SLS-free
Paraben-free
Cons
Price at the time of publication: $22.0
Pros
No residue
Gentle
Hypoallergenic
Vegan
Cruelty-free
Paraben-free
Sulfate-free
Non-irritating
Cons
Doesn't remove eye make completely.
Price at the time of publication: $14.95
Pros
Talc-free
Synthetic fragrance-free
Mineral oil-free
Paraben-free
Phthalate-free
GMO-free
Petroleum-free
Cons
May cause irritation and breakouts.
Price at the time of publication: $36.0
Pros
Gentle
Vegan
Non-irritating
Non-allergenic
Cruelty-free
Paraben-free
Silicone-free
Phthalate-free
Cons
None
Price at the time of publication: $15.89
Why Trust Stylecraze
Shiboli Chakraborti is a certified skin care coach who is passionate about reviewing products that can help her readers. Her review process involves careful research into the features and benefits of each product and the aggregation of consumer feedback across several trusted platforms. Here, she talks about the best face cleansers that will help you remove your makeup with ease without using an additional product.
Frequently Asked Questions
What is the best way to take off makeup?
Use your daily cleanser to take off the foundation and blush. Pour some skin-friendly cleanser on a cotton pad to wipe the area in and around your eyes. After removing all makeup from the corners of your eyes, use a moisturizer to keep your skin soft and supple.
Is an exfoliating face wash a necessary step when removing makeup?
No, using an exfoliating face wash is not a necessary step while removing makeup but you can do so to remove dead skin cells and unclog pores that might have been affected due to stubborn makeup products.
Which one do you use first – a makeup remover or a face wash?
Use a makeup remover before washing your face to make sure that you have no makeup leftovers on your skin.
Which is the best makeup remover – wipes or face wash?
Face washes are safer than makeup remover wipes. Face washes gently remove makeup from your skin while makeup remover wipes can be harsh on your skin, especially when coupled with an exfoliant. However, makeup remover wipes come in handy when you are on the road or if you have stubborn makeup that is getting too hard to remove.
How can I clean my makeup naturally?
You can remove your makeup naturally with the help of almond oil, olive oil, avocado oil, coconut oil, jojoba oil, cucumber juice, milk, or a combination of baking soda and honey.
What should I put on my face after removing makeup?
After removing makeup, follow your normal skin care routine comprising of a toner, serum, and moisturizer. The toner will help restore your skin's pH balance while the serum and moisturizer will nourish your skin and offer it a youthful glow.