11 Best Sulfate-Free Facial Washes (Cleansers) Of 2023
Pamper yourself with gently formulated products that nourish your skin thoroughly.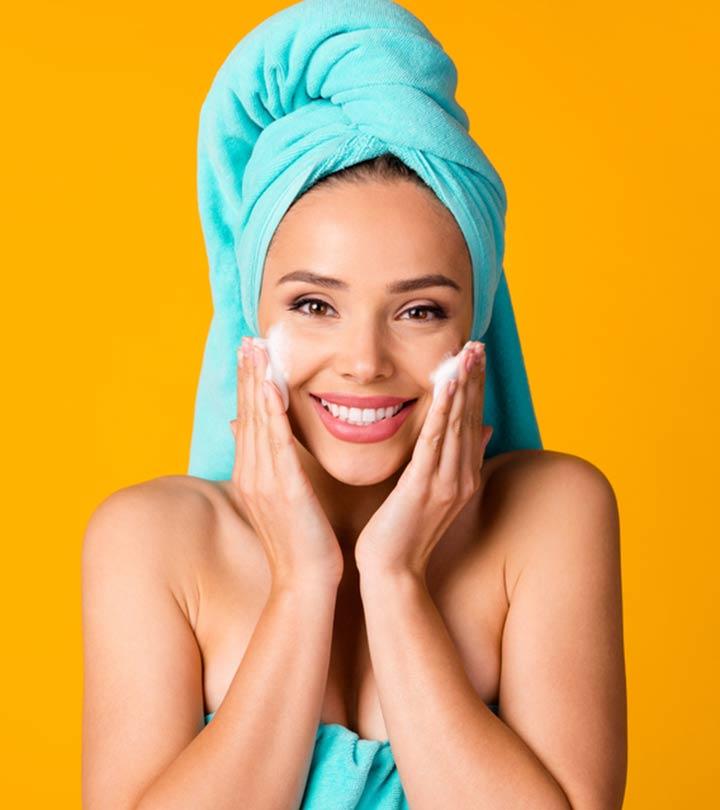 Choosing the best sulfate-free facial wash is never easy, and on the way to getting the one made for your skin, you will meet many products that will give you rashes and allergies! If you had been meaning to get the one perfect for your skin type, we have a list of 11 face washes recommended by specialists to keep your skin clean and supple.
Dr. Enrizza Factor, a Diplomate of the Philippine Dermatological Society and Fellow of the Philippine Academy of Dermatologic Surgery Foundation Inc., says, "When shopping for beauty products and face wash cleansers, you're generally not looking for a chemistry lesson or history lecture. But in this case, it's worth knowing exactly what's up with sulfates and why you might (or, since you're here, definitely) want to invest in a sulfate-free face wash cleanser."
While the work of a cleanser is to get rid of the dirt and grease without harming the skin, it seldom happens! If the ingredients in your face wash are not skin-friendly for the long term, they might harm the natural texture and cause irreversible damage to your face. While using products with sulfate can make the satisfying foam on your face, it washes your natural face oils along with the dirt making it drier than usual. Ingredients like ammonium lauryl sulfate, sodium lauryl sulfate and sodium laureth sulfate choke your skin and cause other skin issues. Using sulfate-free products wash off the dirt while keeping away from the natural barrier of natural oils in the skin. It uses botanical ingredients and leaves a smooth and glossy effect on the skin. So who is ready to flaunt healthy skin with every wash?
11 Best Sulfate-Free Facial Cleansers For Smooth Skin In 2023
Formulated specifically for sensitive and acne-prone skin, the Vanicream Gentle Facial Cleanser is free from dyes and fragrances and treats your skin with the gentle care that it needs. This sulfate-free face wash does not contain lanolin, parabens, formaldehyde releasers, and other preservatives, making it the ideal choice to help remove dirt, oil, and makeup without drying your skin. Not only does the dermatologist-tested, soap-free formula safeguard you from clogged pores or blackheads, it also lets you avoid common chemical irritants and harsh cleansing agents while keeping your skin smooth. You can watch this video to realise the need of the Vanicream Gentle Facial Cleanser for improving your skin.
Pros
For acne-prone and sensitive skin
Does not contain betaine, gluten, amines, and amides
Oil-free
Non-comedogenic
Dermatologist-tested
Cons
It may have a slightly overpowering scent.
Price at the time of publication: $8.86
Ideal for normal to dry skin, the La Roche-Posay Toleriane Hydrating Gentle Cleanser is a daily sulfate-free face wash that helps your skin retain essential moisture while cleansing. Infused with prebiotic thermal water, ceramide-3, niacinamide, and glycerin, this face cream and cleanser gently remove makeup, dirt, and other impurities from the surface of your skin, while maintaining your skin's natural protective barrier. The dermatologist-tested formula is allergy-free and safe for sensitive skin types and leaves your skin's pH levels balanced, as you feel fresh and hydrated. Click on the video to watch a detailed review of the cleanser and why should you buy it.
Pros
Dermatologist-tested
Cleanses gently and retains moisture
Soap-free formula
No added fragrance
Oil-free
Non-comedogenic
Paraben-free
Cons
It may have a watery consistency and may not foam or lather up on your skin.
Price at the time of publication: $11.99
No matter what your skin type, the Era Organics Cleanse + Restore Sensitive Skin Face +  Body Cleanser will not disappoint you. This moisturizing plant-based face wash balances out your skin's pH levels, while it hydrates and restores moisture to your skin. The gentle, non-drying ingredients like organic aloe vera leaf juice, cehami, and organic orange oil help cleanse sensitive skin that may be prone to psoriasis, eczema, dermatitis, acne, and more without causing any irritation. With food-grade ingredients like manuka honey and aloe vera, and hyaluronic acid this cleanser restores skin cells, tones skin, restores dull and dry skin and reduces the appearance of premature aging. Check this video to find out the positive aspects of the Era Organics Cleanse + Restore Sensitive Skin Face + Body Cleanser.
Pros
No harmful chemicals
No alcohol, allergens, or drying ingredients
Does not contain mineral oil or parabens
Cruelty-free
Suitable for men, women, and children.
Cons
This product may have a watery consistency and a slightly pungent scent.
Price at the time of publication: $27.87
The highly-concentrated Ktchn Apothecary Hydrating Facial Cleanser gently cleanses away impurities, leaving your skin hydrated, supple, and fresh. The rich and creamy texture and the lightly-foaming formula washes excess oil, dirt, and impurities. The natural, sulfate-free face wash lathers lightly without stripping your skin of its natural beneficial oils or drying it out. The cleanser also contains targeted natural anti-aging botanicals and potent antioxidants to visibly renew skin and protect you from daily environmental damage. Rich with natural essential oils like sweet almond oil, apricot oil, avocado oil, jojoba leaf extracts and jojoba seed oil, rosehip fruit oil, and more, this cleanser is a treat for your skin.
Pros
Suitable for all skin types
Ideal for both men and women
Contains anti-aging botanical extracts
Can be used daily
Non-drying formula
Cons
It might have a slightly overbearing fragrance.
Price at the time of publication: $20.99
For sensitive skin types, the Garnier SkinActive The Gentle Sulfate-Free Cleanser gently foams to remove oil, impurities, and makeup to reveal soft and healthy-looking skin. The oil-free and alcohol-free cleanser rich in glycerin has a non-irritating formula and the soap-free product will keep your skin soft, free from any dirt or grime. The sulfate-free formulation is vitamin-rich and leaves your skin feeling fresh, clean, and hydrated, which is more than you need from an ideal face cleanser for mature skin or sensitive skin.
Pros
No added fragrance
Paraben-free
Extra gentle, non-irritating formula
Dermatologist-tested
Cons
It may not be entirely suitable for those with extremely dry skin.
Price at the time of publication: $23.14
The Neutrogena Naturals Purifying Facial Cleanser gently removes impurities and cleanses skin to give you an improved complexion. With natural salicylic acid from willow bark and bio-nutrients to remove dirt, oil, and makeup, this sulfate-free cleanser penetrates deep to help detoxify and cleanse your skin without leaving behind pore-clogging residue. The hypoallergenic and non-comedogenic pore face wash is formulated with 90% naturally-derived ingredients and is suitable for acne-prone skin, as it does not clog your pores.
Pros
No parabens
No petrolatum
Free from dyes
Phthalate-free
Non-comedogenic
Hypoallergenic
Cons
It may not be best suited for those with extremely sensitive skin.
Price at the time of publication: $18.99
The Burt's Bees Orange Essence Face Cleanser is an excellent option if you're looking for a naturally healthy and fresh glow. Use this sulfate-free, refreshing orange cleanser to wash away dirt, excess oil, and makeup to unveil a brighter and more luminous complexion. Infused with a blend of orange oil and soap bark extracts, along with a refreshing citrus aroma, this face wash gives your skin a deep-cleaning experience. The 99.9% natural plant-based cleanser also contains olive oil, aloe vera, and vegetable-based glycerin that will give you a naturally-hydrated feeling when used daily.
Pros
Contains natural, plant-based ingredients
For normal to dry skin
No parabens or phthalates
Does not contain petrolatum or SLS
Cons
It may leave a slightly waxy residue on your skin.
Price at the time of publication: $6.69
The Ursa Major Fantastic Face Wash is a natural facial cleanser that delivers a deep invigorating cleanse with added AHA exfoliation, all without stripping your skin of moisture or messing with its pH balance. Ideal for normal, combination, oily, and acne-prone skin, this brightening face wash is formulated with naturally-derived ingredients including aloe vera, sugarcane, rice seed, and coconut-derived surfactants for the ultimate soothing, brightening, and moisturizing benefits. The foaming cleanser is non-drying and helps prevent breakouts and acne, while its woodsy aroma infused with cedar, spearmint, lime, lemon, rosemary, black spruce, owyhee, vetiver, and lavender leave you enthralled.
Pros
Ideal for men and women
Works best for normal, oily, combination, and temperamental skin types
Cruelty-free
Contains no petrochemicals, glycols, silicones, or PEGs
No added synthetic colors or fragrances
Paraben-free product
Cons
It may not lather up as you expect it to.
Price at the time of publication: $32.0
The Touch 10% Glycolic Acid Face Wash is a foaming and sulfate-free exfoliating facial cleanser made with 10% glycolic acid to exfoliate, brighten, and revitalize your skin. The mild and effective gel-based formula removes makeup with ease and is effective for skin with fine wrinkles, acne, pores, uneven skin tone and texture, blackheads, and hyperpigmentation. The glycolic, sulfate-free face wash has a low pH of 3.5 that helps fight the effects of aging, reduce blemishes, and promote healthy, glowing skin with no skin irritation. Infused with aloe vera, green tea extracts, and chamomile, this product has soothing anti-inflammatory and anti-irritation properties that protect your skin.
Pros
Blend of gentle surfactants and humectants
Suitable for all skin types including acne-prone, oily, dry, or combination skin
Can be used daily
Cruelty-free
No added parabens, phthalates, or drying alcohols
Cons
It may dry out extremely sensitive skin.
Price at the time of publication: $18.95
This Honest Beauty gel cleanser is an ideal addition to your day and night skincare regime as it gently removes makeup and impurities from your skin surface. Suitable for all skin types, this sulfate-free gel-formula contains yucca root and does not over-dry your skin. Infused with a botanical blend of chamomile and calendula extracts that instead calms and soothes your skin, this hypoallergenic, dermatologist-tested product is ideal for sensitive skin types.
Pros
Cruelty-free
Dermatologist-tested and hypoallergenic
Does not contain parabens or phthalates
Free from SLS and PEGs
No added dyes or synthetic fragrances
Cons
It may not foam as expected.
Price at the time of publication: $9.1
For normal, dry, oily, and combination skin types, the Boscia Purifying Cleansing Gel is an ideal sulfate-free face cleanser. To gently purify your skin of dirt and impurities while helping maintain and balance your skin's natural moisture barrier, trust that this product will not cause any irritation. Formulated with nourishing botanical amino acids, this cleansing gel refines and minimizes pores, and will not irritate your skin, and instead eliminates dirt, and oil, leaving skin conditioned and debris-free.
Pros
Cruelty-free
100% vegan
Preservative-free
No artificial colors or fragrances
Gluten-free
Cons
It may have a slightly watery consistency that makes it difficult to lather.
Price at the time of publication: $32.0
Before you make a suitable choice from our list of cult-favorite sulfate-free cleansers to help you get rid of dirt and impurities, you might have a few queries about choosing the face wash that is right for you. Without really aggravating skin irritations, these products are scientifically proven to be effective in cleaning your skin surface.
How To Choose A Sulfate-Free Facial Wash: A Buying Guide
As sulfate is an irritant and also a common allergen, it is important to be aware of the best sulfate-free facial washes and cleansers available in the market.
What To Keep In Mind When Buying A Sulfate-free Facial Cleanser
Identify whether your skin type is oily, dry, combination, or sensitive to determine which cleanser or wash may best suit you. If you have sensitive skin and are prone to acne, you may want to choose a cleanser that's suitable for oily skin that is also non-comedogenic so that your skin doesn't break out from using the cleanser.
It is also important to know about the ingredients in the product you are considering. If you are looking for protection from free radicals, choosing a product enriched with antioxidants in its ingredient list will definitely help you.
When choosing the best facial cleanser, think about what skin issues you face and what you would like to improve. If you are beginning to develop fine lines, wrinkles, and signs of photoaging, then perhaps you need a cleanser that also has skin brightening and tightening properties.
In case you suffer from a skin concern or a dermatological condition, or have second thoughts about particular products or ingredients, it is always best to consult with a dermatologist for their opinion before including the product in your daily skincare regime. Those with extremely sensitive skin and allergic skin types, have all the more need to consult a specialist so that they can steer clear from any aggravations.
Why Trust StyleCraze?
The author of this article, Vaishnavi Kothuri, is a skin care enthusiast. She has conducted in-depth research before compiling the list of the best sulfate-free facial washes for her readers. These products are designed with botanical ingredients and offer smooth and glossy skin. They easily wash off the dirt while protecting the natural barrier and oils of the skin.
Frequently Asked Questions
Why is choosing a sulfate-free product important?
Although there is little to no evidence that sulfates deeply affect the skin or hair, some surfactants (commonly used in cleansers and shampoos) have been linked to increased skin and hair dryness, fragility, and roughness. Sulfate-free cleansing formulations have also grown in popularity as a gentler way to cleanse the skin and scalp, particularly among those with extremely sensitive skin or sulfate allergies and sensitivities.
Who can benefit from a sulfate-free wash or cleanser?
Those with sensitive skin or who are sensitive or reactive to sulfates can benefit the most from a sulfate-free wash or cleanser.
What is the difference between sulfate-free and paraben-free?
Sulfate is basically a cleaning agent that strips away oil and dirt from your skin. On the other hand, paraben extends the product's shell life and keeps it away from any bacteria. Paraben-free and sulfate-free products are manufactured without that particular ingredient.
How can I know if my sulfate-free face wash is really sulfate-free?
Usually, a sulfate-free body wash doesn't lather too much. You can at most see some bubbles and light foam.
Is it okay to use a sulfate-free face wash daily?
Yes, a sulfate-free face wash will not cause any harm to your skin. Wash your face with it twice every day to get healthy and clear skin.
Are all-natural face washes sulfate-free?
Yes, natural face washes are made with botanical ingredients and are completely sulfate-free.
What ingredients should we avoid in a face wash?
Ingredients such as sulfate, paraben, mineral oil, etc. make your face wash harsh. Use formulas made devoid of these ingredients.

Recommended Articles:
Best Face Washes For Sensitive Skin
Best Paraben-Free Face Washes For Every Skin Type
Best Hydrating Face Washes To Use For Dry Skin
Best Recommended Daily Facial Cleansers