10 Best Charcoal Toothpastes For Pearly White Teeth – 2023
Give activated carbon a chance to fight stains and leave your teeth sparkling white.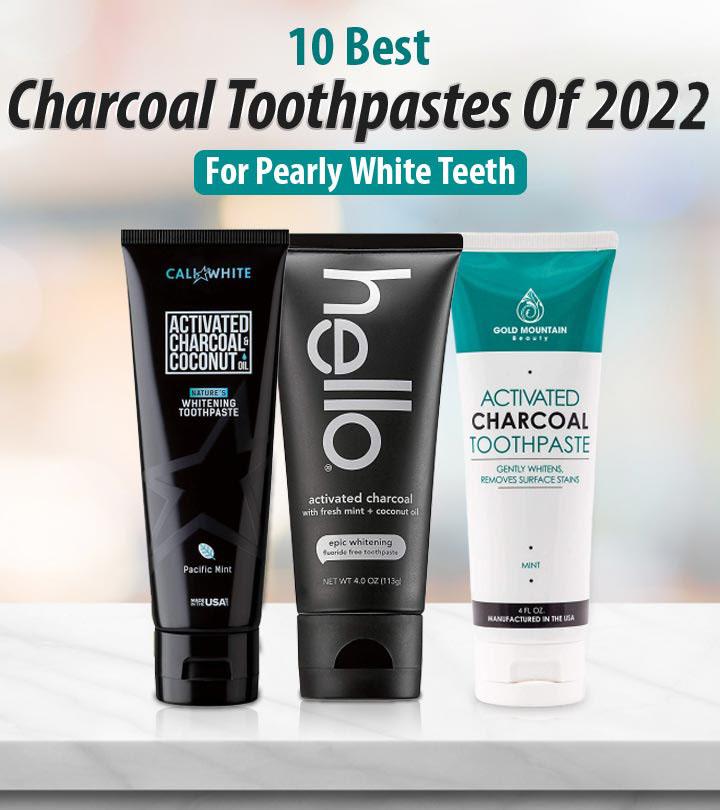 Charcoal as an ingredient is making waves in the beauty industry and dental care and hygiene. Using the best charcoal toothpaste is guaranteed to leave you with pearly white teeth that you only see glorified in advertisements. These are great for getting rid of stains in general and work equally on your teeth to give the bright set of teeth you always wished for. We have put down a list of the 10 effective charcoal toothpastes at your disposal for your convenience.
What Is Activated Charcoal?
Activated carbon, also called activated charcoal, is a form of carbon that is processed to contain several tiny pores, which increase the surface area and make it excellent at adsorption.
Activated charcoal is obtained by heating carbon-rich materials, such as wood, peat, coconut shells, or sawdust, to extremely high temperatures. One teaspoon of activated charcoal has more surface area than a football field (1000 m2 per gram).
What Does An Activated Charcoal Toothpaste Do?
Activated charcoal was used by the ancient Romans for maintaining a healthy dental regimen. It is known to possess whitening, antibacterial, antifungal, and breath freshening properties. Researchers state that more evidence is needed to prove the safety and effectiveness of charcoal toothpastes. However, many users claimed that charcoal toothpastes helped improve their overall dental hygiene.
Let us now look at the top 10 charcoal toothpastes that can help you get healthy and white teeth.
Top 10 Charcoal Toothpastes For Healthy And Pearly White Teeth
The Cali White Activated Charcoal Toothpaste is infused with antiseptic, antibacterial, antifungal, and remineralizing properties of diatomaceous earth, tea tree oil, coconut oil, xylitol, and peppermint oil. These ingredients are effective whitening and detoxifying agents that provide pearly white teeth. Brush for 2-4 minutes, without spilling, to allow for maximum surface contact with your teeth. This helps remove stubborn surface stains quickly. Here's a video review of the product that tell all about it.
Pros
Safe for regular use
SLS-free
Fluoride-free
Peroxide-free
Safe for kids
Gluten-free
Cons
None
Price at the time of publication: $12.49
This charcoal toothpaste is a complete set of dental hygiene. It is the perfect solution for fighting bad breath, removing yellow stains, reducing discoloration, and preventing oral ulcers and other common dental health problems. This toothpaste also gives you fresh minty breath all day. The best part about this product is that you get a set of new and high-quality activated charcoal toothbrush, toothpaste, and tongue cleaner that will give you a radiant smile and fresh breath. Learn all about the scope of this toothpaste in this video.
Pros
Delivers quick results
Eliminates bad breath
Improves your overall dental health
Prevents oral cavities
Cons
None
Price at the time of publication: $9.97
Keep your teeth white, strong, and healthy with the Essential Natural Bamboo Charcoal Toothpaste. The pack of three is fortified with five powerful organic ingredients – thyme oil, coconut oil, bamboo activated charcoal, wheat germ oil, and cardamom. The blend leaves your teeth sparkling white, removes bad breath, removes toxins, kills harmful bacteria, along with offering a deep clean action. In addition, it comes with a mint flavor for a refreshing feel.
Pros
Fluoride-free
Improves overall dental health
Eliminates bad breath
Safe for daily use
Cons
None
Price at the time of publication: $18
The Twin Lotus Herbaliste Toothpaste contains potent ingredients, like active coconut charcoal, a patented herbal blend, and clove oil, which have strong detoxicant, anti-inflammatory, and healing effects. It also contains other tried and tested ingredients, like guava, sorbitol, and glycerine. This helps reduce gum sensitivity and eliminate plaque.
Pros
Removes stubborn stains
Prevents enamel damage
Prevents plaque build-up
Improves gum health
Cons
None
Price at the time of publication: $9.99
The Hello Activated Charcoal Whitening Toothpaste is formulated with fresh mint and coconut oil. It whitens naturally and is safe for daily use. Besides whitening teeth, it prevents plaque formation and cavities and refreshes your breath with coconut oil and soothing mint, spearmint, and peppermint. Check out an honest video review of this product here.
Pros
Vegan
Free of artificial flavors and sweeteners
Nice refreshing fragrance
No harmful chemicals
Cons
Price at the time of publication: $5.97
The Native Detoxifying Charcoal Toothpaste comes in a value pack of three. This toothpaste is formulated with charcoal powder, peppermint oil, and naturally-derived cleansers for safe and effective brushing. The charcoal removes coffee stains and prevents cavities while the hydrated silica whitens your teeth. In addition, the foamy texture feels smooth in your mouth and the mint flavor refreshes your breath.
Pros
Fluoride-free
SLS-free
Triclosan-free
No artificial preservatives
Cruelty-free
Prevents cavities
Cons
None
Price at the time of publication: $19.97
The My Magic Mud Activated Charcoal Toothpaste is formulated with the highest quality ingredients that are backed by scientific analysis and clinical trials. It is a clinically proven formula that safely whitens and polishes your teeth. The enamel-safe formula is tested according to ADA standards. The toothpaste removes surface stains within one wash.
Pros
Vegan and cruelty-free
Lab verified
Effective and quick results
Glycerin-free
Fluoride-free
Cons
Price at the time of publication: $13.05
The Active Wow Activated Charcoal Whitening Toothpaste is an advanced whitening formula that provides pearly white healthy teeth in just a single use. It prevents cavities and removes impurities. It contains natural ingredients, such as tea tree oil and coconut oil, along with charcoal. This unique formula helps fight bad breath, refreshes your mouth, and whitens your teeth. It is an all-in-one solution to whiten your teeth naturally.
Pros
Removes stubborn stains
Refreshes your mouth
Improves overall dental health
Made with natural ingredients
Cons
Price at the time of publication: $12.99
Strengthen your weakened enamel with the Crest 3D White Whitening Therapy. It has fluoride that helps in strengthening your enamel and eliminates cavity-causing germs for healthy teeth and gums . The charcoal in the formula helps whiten your teeth by removing surface stains. It has a mint flavor that offers a fresh and clean sensation and is safe to be used by children aged above two.
Pros
Strengthens enamel
Prevents cavities and plaque
Long-lasting
Cooling sensation
Cons
Price at the time of publication: $23.6
This Activated Charcoal Toothpaste from Tom's of Maine is free of fluoride and any synthetic colors, flavors, and preservatives. It is entirely safe for daily use as the natural formula is gentle on the enamel. It naturally whitens the teeth and gently removes surface stains from the teeth.
Pros
Fluoride-free
SLS-free
Affordable
Cons
Price at the time of publication: $17.99
These are the 10 best charcoal toothpastes available on the market today. Check out the benefits of using charcoal toothpastes below. We have also discussed the safety aspect and how to use charcoal toothpaste.
Benefits Of Activated Charcoal For Brushing Teeth
Removes Stubborn Surface Stains: Activated charcoal adsorbs the stains caused by coffee, tea, wine, smoking, and more and aids the whitening of teeth.
Removes Plaque: Charcoal helps increase the pH level of the oral cavity because it can bind easily with acidic compounds. This results in accelerated removal of acidic compounds from the mouth. Thus, activated charcoal helps remove plaque and relieves bad breath, also referred to as halitosis.
Brightens Teeth: Charcoal is abrasive and absorptive, which helps whiten your teeth.
Is Charcoal Toothpaste Safe?
Although charcoal is safe for daily use, if you have extremely sensitive and tender gums, it can worsen the condition as it is abrasive.
It can wear down the enamel and stain your teeth further.
Most charcoal toothpaste brands don't contain fluoride. Fluoride helps keep your tooth enamel strong and fights against cavities and decay.
Charcoal particles could accumulate in the nook and corner of teeth.
Charcoal can also leave a black or gray outline.
How To Use Charcoal Toothpaste
Using charcoal toothpaste is simple, just like you would any other toothpaste. The only difference is that when you brush, you should do it very gently.
Also, you can use regular toothpaste 2-3 times per day. But in the case of charcoal toothpaste, you should not use it too much, or it could damage your teeth.
Frequently Asked Questions
Does charcoal teeth whitening work?
Yes, it may help remove stains on your teeth and prevent plaque formation. However, more scientific evidence is needed to prove these effects.
How often should you use activated charcoal toothpaste?
You can use it daily, depending on the sensitivity, product brand, and the ingredients present in it.
Is activated charcoal safe to use on sensitive gums/teeth?
Activated charcoal is mildly abrasive. Therefore, if you have sensitive gums, avoid using an activated charcoal toothpaste every day.
Can activated charcoal teeth whitening be used by people wearing braces?
Yes, you can. But ensure to use a toothbrush with soft bristles.
Does charcoal toothpaste make your teeth yellow?
No, charcoal toothpaste does not turn your teeth yellow. However, using excessively daily might weaken your enamel and make your teeth sensitive.
Can I use charcoal toothpaste if I have a porcelain crown?
Yes, but in limited quantities. Using too much charcoal toothpaste might discolor your porcelain crown.
Recommended Articles
Best Whitening Toothpaste To Keep Your Breath Fresh