10 Best Toothpastes For Healthy Enamel
Give your teeth some smart protection from dental problems with the right dental care.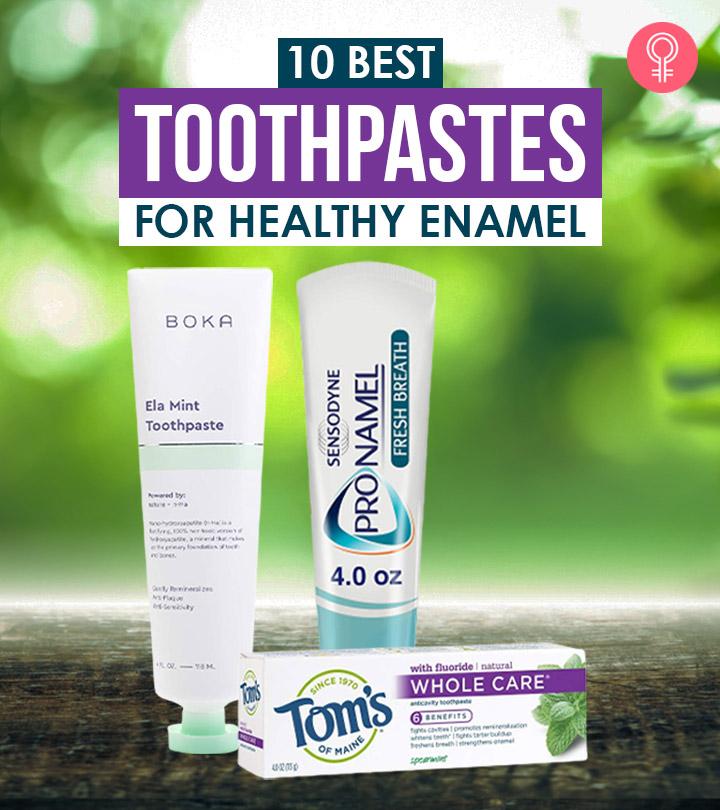 Tooth enamel is the outermost covering of the teeth that protects your teeth from sensitivity. Because of contact with various foods, drinks, etc. the enamel suffers erosion, discoloration, and tooth sensitivity. To remedy this, you can use the best enamel toothpaste to preserve and restore your enamel. A generic toothpaste can only clean your teeth. But an enamel toothpaste will restore any damage caused to the protective outer layer of the teeth, keeping your dentin and root safe. They can also be used if you have a very narrow crack or a little chipping in a tooth.
Selecting the right pick may seem puzzling, especially when you have wide choices and dazzling colored boxes. To make it easy for you, we mentioned the 10 best enamel toothpastes that will keep your teeth safe. Check them out below!
Is Enamel Toothpaste Safe?
Yes, enamel toothpastes are safe and effective for everyday use. They remineralize your teeth and protect against erosion. In addition, most of these best toothpastes for enamel contain fluoride, which naturally repairs and strengthens the dental enamel.
Let's now take a look at the 10 best enamel toothpastes available on the market.
10 Best Toothpastes For Healthy Enamel
The Fresh Breath Sensodyne Pro Namel is designed and clinically proven to help reharden and remineralize the tooth enamel. It also protects your teeth from the effects of erosion by acidic foods and drinks, which leads to deterioration of enamel. The refreshing formula gives you a fresh breath and also helps fight cavities.
This best enamel restoring toothpaste is enriched with a unique optimized formula that boosts the delivery of calcium and releases more fluoride to remineralize your teeth. It prevents sensitivity of the teeth that is usually caused due to consumption of anything acidic, too cold, or too hot. This best enamel toothpaste also strengthens the teeth and has low abrasivity that limits the erosion of the tooth enamel. This toothpaste is user-friendly and affordable and has 17,541 global reviews on Amazon for working well on sensitive teeth. Watch this YouTuber's honest review to get a better understanding of the product.
Pros
 Refreshing taste
 Safe for regular use
 Good for sensitivity
 Affordable
 Recommended by dentists
Cons
 May sting or cause inflamed gums
Price at the time of publication: $9.8
The Tom's Of Maine Whole Care Anti Cavity Toothpaste with fluoride comes in a spearmint flavor and offers six benefits in one. It fights cavities, whitens the teeth with naturally derived silicas by removing surface stains, freshens the breath, strengthens the enamel, promotes remineralization, and helps prevent plaque and tartar buildup with regular brushing. It is the best enamel strengthening toothpaste that is enriched with fluoride to promote remineralization that helps in strengthening the enamel. The 9,000+ reviews on Amazon rave about its naturally-enriched formula and flavor. If you are still unsure, check out this honest unboxing review.
Pros
 All-natural
 Fragrance-free
 Sweetener-free
 Cruelty-free
 Preservative-free
 Adulterants-free
Cons
Price at the time of publication: $19.49
The Boka Ela Mint Toothpaste has a natural formula powered by modern science. It features nano-hydroxyapatite (nHa), a mineral that helps in rebuilding enamel, remineralizing the teeth, and strengthening them from the primary foundation. nHa has restorative properties to reverse micro-cavities. The non-toxic formula is enriched with fresh mint, green tea, and cardamom for a refreshing after-taste and a fresh breath. It is free of fluoride and is 100% biocompatible with antioxidants and prebiotics. This product also has 11,396 great reviews on Amazon for being toxin-free and incredible on sensitive teeth.
Pros
 Vegan
 Refreshing flavor
 Cruelty-free
 Toxic-free
 Fluoride-free
 Paraben-free
 SLS-free
 Fragrance-free
 Preservative-free
 Adulterant-free
Cons
None
Price at the time of publication: $11.99
The Crest Pro-Health Pro Active Defense Deep Clean Toothpaste shields your teeth from any potential concerns like plaque, bacteria, gingivitis, or germs that may cause cavities. It also defends against bad breath, tartar, and sensitivity. This best enamel strengthening toothpaste helps in reducing enamel erosion that usually happens due to acidic foods. It strengthens your gums to minimize and prevent sensitivity and leaves your mouth feeling refreshed. This product has more than 5,000 rave reviews on Amazon for being the perfect toothpaste for deep cleansing.
Pros
 Tastes good
 Refreshing flavor
 Value for money
 Whitens teeth
 Value for money
Cons
Price at the time of publication: $24.99
The Hello Sensitivity Relief Fluoride Toothpaste has a naturally refreshing taste that is sure to leave your mood uplifted. It is made from high-quality ingredients like coconut oil, aloe vera, xylitol, erythritol, tea tree oil, and farm grown mint to protect the enamel coating of your teeth. This toothpaste protects your teeth from cavities, promotes whitening and detoxifying, freshens your breath, and strengthens the enamel.
This enamel toothpaste is approved and accepted by ADA and FDA. It contains potassium nitrate, an anti-sensitivity active ingredient. The aloe vera and coconut oil in this toothpaste soothe and moisturize your gums and leave a calming effect. It also contains fluoride that prevents cavities and protects the teeth from enamel erosion. It has gained no less than 5,210 reviews on Amazon for being soothing to sensitive teeth.
Pros
 Vegan
 Paraben-free
 SLS-free
 No microbeads
 Triclosan-free
 Gluten-free
 Peroxide-free
 Artificial dye-free
 Added color-free
 Artificial flavor-free
 Artificial sweetener-free
 Cruelty-free
Cons
Price at the time of publication: $14.25
The Pearlie White Active Remineralization Toothpaste is recommended by dentists for enamel restoration. It is formulated with hydroxyapatite microparticles, CPC, xylitol, vitamin E, chamomile, calcium carbonate, and aloe vera.
The hydroxyapatite microparticles help bond and repair demineralized tooth enamel, while CPC helps prevent plaque and bad breath. Xylitol boosts the pH level of your saliva and encourages its natural minerals to be deposited onto the demineralized tooth enamel. Vitamin E and chamomile are rich in antioxidant properties, calcium carbonate eradicates tooth stains, and aloe vera soothes the sensitivity of the teeth and gums.
Pros
 Fluoride-free
 Harsh chemical-free
 SLS-free
 Paraben-free
 Triclosan-free
 Titanium dioxide-free
 Polyethylene glycol (PEG)-free
 Propylene glycol (PPG)-free
 Alcohol diethylene Glycol (DEG)-free
 Mineral oil-free
 Retinol-free
 Saccharin-free
Cons
 Unpleasant chemical after-taste
Price at the time of publication: $44.99
The Linhart Fluoride Toothpaste has whitening properties that are sure to gently remove stains and plaque to brighten your teeth. It is enriched with Linamel, which is formulated with three essential ingredients – theobromine, fluoride, and xylitol.
Theobromine is a cocoa bean extract that helps strengthen and remineralize the enamel. Fluoride protects the teeth from enamel erosion caused by acidic foods, which leads to decay or cavities. Xylitol is a natural sugar that prevents tooth decay by ensuring that the pH level of your mouth remains neutral. This best toothpaste for enamel and whitening also contains aloe vera that helps soothe and heal your gums. It has a refreshing mint flavor that keeps your breath fresh for a long time.
Pros
 Refreshing flavor
 Ideal for everyday use
 Long-lasting cooling sensation
 Cruelty-free
Cons
Price at the time of publication: $54
The Squigle Enamel Saver Toothpaste has an all-rounder formula that works on canker sores, bad breath, simple halitosis, mouth ulcers, bleeding gums, periodontal disease, plaque, tartar, cavities, and chapped lips. It is formulated with 36% xylitol, which is sourced from birch and beech trees. Xylitol prevents plaque buildup in your mouth, which can trigger canker sores. This enamel toothpaste has a very mild peppermint flavor that keeps your mouth fresh for a long time.
Pros
 Clinically proven
 Ideal for everyday use
 Calcium peroxide-free
 Carbamide peroxide-free
 Hydrogen peroxide-free
 Cocamidopropyl betaine-free
 Sodium lauroyl glutamate-free
 SLS-free
 Sodium methylcocoyl taurate-free
 Metaphosphate-free
 Polyphosphate-free
 Pyrophosphate-free
Cons
Price at the time of publication: $12.99
The Premier Enamelon Fluoride Toothpaste contains clinically proven active ingredients that are powered by calcium and phosphate ions. It is a gingivitis preventive treatment gel with low abrasivity and is suitable for everyday use. It aids in preventing cavities and shields the teeth from the effects of plaque associated diseases. This sensitive enamel toothpaste protects your teeth against painful sensitivity that is triggered by consuming anything too hot, cold, acidic beverages, or sweets.
It also contains fluoride to remineralize and strengthen the teeth and inhibit demineralization. For those struggling with dry mouth tissues, this toothpaste soothes and moisturizes your mouth to prevent discomfort. It has a mint breeze flavor and is enhanced with spilanthes, a natural herb that boosts saliva flow and keeps your mouth fresh for a long time.
Pros
 Tastes good
 Clinically proven formula
 SLS-free
 Triclosan-free
 Gluten-free
 Dye-free
Cons
 Expensive
 Leaves a tingling feeling on the tongue
Price at the time of publication: $22.99
The Kiss My Face Breath Blasting Freshness Enamel Xtra Toothpaste comes in a cool mint flavor and has a refreshing formula. It helps in whitening teeth, removing plaque, and preventing tartar buildup. This toothpaste is formulated with nature's potent ingredients like aloe vera, tea tree oil, olive leaf extract, and peppermint. Aloe vera soothes your mouth and promotes fresh breath.
Pros
 Vegan
 Cruelty-free
 Artificial color-free
 Artificial flavor-free
 Sweetener-free
 Paraben-free
 SLS-free
 Triclosan-free
 Fluoride-free
 Gluten-free
 Phthalate-free
Cons
 Not suitable for sensitivity
Price at the time of publication: $6.99
If you are looking for the best enamel restoring toothpaste, here are a few things to consider before buying one.
How To Choose The Best Toothpaste For Healthy Enamel
No matter what teeth concern you have, it is best to consult your dentist first and then opt for any toothpaste. Pick a remineralizing toothpaste advised and approved by your dentist that caters to your needs.
Look for ingredients like CPC, xylitol, vitamin E, fluoride, mint, or aloe vera, which help in restoring, remineralizing, and strengthening enamel. If you have sensitive teeth, it is best to avoid whitening toothpastes, as they contain abrasive ingredients designed to eliminate stains and polish the teeth. These abrasive ingredients can also irritate or worsen tooth sensitivity.
It's important to make sure any dental product you pick features the American Dental Association (ADA) seal of approval. This seal confirms that the product is safe for use and does not contain any harmful ingredients that may cause severe damage to your teeth. In case you pick a product without ADA seal, it is best to ask your dentist's opinion on that product.
Why Trust StyleCraze?
Aditi Naskar, the author of this article, is a certified health and wellness expert. Her diploma and extensive knowledge in this domain make her the right person for reviewing products for her readers. With that in mind, she has gone through several product reviews online to compile this list of toothpaste that keeps the enamel clean and protects the teeth from further damage.
Frequently Asked Questions
Does enamel toothpaste whiten teeth?
Yes, some enamel toothpastes have teeth whitening properties. The Linhart Fluoride Toothpaste is one such enamel toothpaste that you can try out.
Can tooth enamel grow back?
No, tooth enamel cannot naturally grow back. It is the hardest tissue in the body which can be partially restored by improving its mineral content.
How do I know if my enamel is gone?
If your enamel is gone, you can know it through cracks, sensitivity, discoloration, and bouts of pain. Your teeth may also change shape once your enamel is eroded.
Do enamel toothpastes really work?
Enamel toothpastes work to improve your enamel's mineral content. But, no toothpaste can rebuild the lost enamel. Hence, as a precaution, it is recommended to use enamel-strengthening toothpastes even if your enamel isn't damaged.
Does using too much toothpaste cause tooth enamel to erode?
Using too much abrasive toothpastes can erode your enamel. To keep your enamel safe, do not use toothpastes that contain fluoride, which is known to prevent cavities.
Does teeth whitening toothpaste damage tooth enamel?
A teeth whitening toothpaste with an abrasive formula can damage tooth enamel. However, if you pair your toothpaste with the right brushing techniques, it will not damage your teeth.
Recommended Articles