9 Best Laser Caps For Hair Loss (2023), According To Reviews
Boost your hair growth with safe and effective laser caps in the comfort of your home.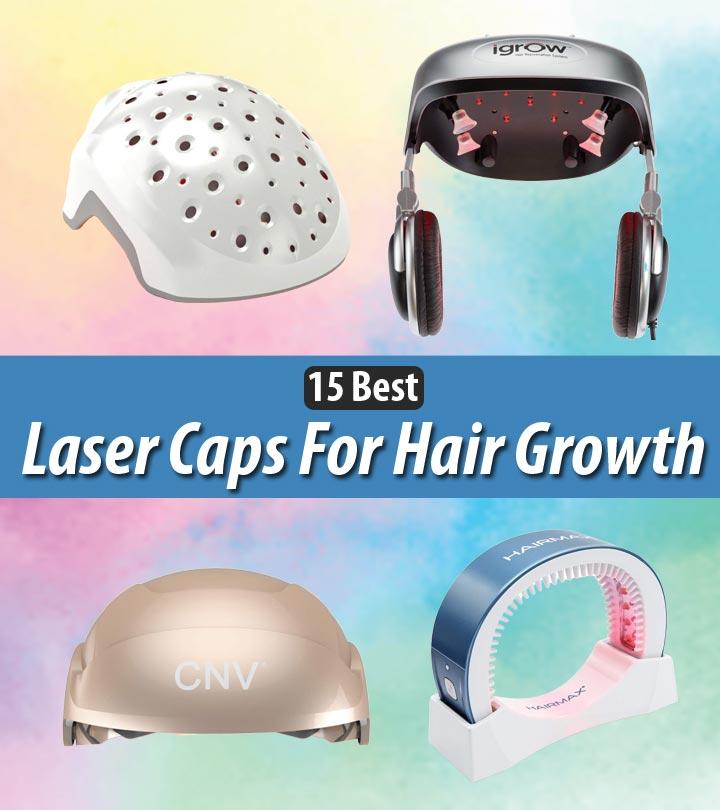 The market is saturated with quick fixes and short-term remedies for hair loss. However, if you're looking for a highly effective treatment for healthy hair growth, the best laser caps for hair loss are worth considering. Ghanima A, a cosmetologist and hair expert, says, "Laser cap therapy is a form of hair restoration treatment, which is performed through the use of laser technology. It is a non-surgical treatment that helps regrow your hair on the scalp. The therapy uses scalp cooling to reduce inflammation, which is a huge factor in hair loss." Keep on scrolling down to understand more about how these devices work, how to use them, and which of the 9 options listed here you should invest in.
What Is A Laser Cap And How Does It Work?
A laser cap is a device fixed with laser emitting diodes. It works on the concept of Low-Level Laser Therapy (LLLT).
Low-Level Light Therapy (a.k.a LLLT) stimulates the hair follicles with low-level laser energy. The non-destructive and cool (low energy) lasers permeate the skin to stimulate the stem cells that regenerate the hair follicles while encouraging regrowth. In addition, it works to increase the production of ATP and the metabolic process of the cells to promote hair growth.
Laser caps are FDA-approved and considered the safest way to prevent hair loss and support hair growth. LLLT is also an effective treatment for androgenetic alopecia (1), (2). Read on for the list of the best laser caps for hair growth and hair loss prevention that has received numerous positive reviews in the next section.
The 9 Best Laser Caps For Hair Loss In 2023
This laser device claims to treat and prevent a receding hairline, alopecia, thinning hair, pattern hair loss, hereditary hair loss, and balding. It is clinically studied, and the manufacturer claims that it has been proven to promote hair growth. The clinically-proven technology of this laser hair growth device can be used by both men and women and combined with other topical treatments for hair loss or hair regrowth. To find out more about this product, check out this video review detailing a tester's experience of using the laser cap.
Pros
Lightweight
Ergonomic design
FDA-approved
Developed in GMP-certified facilities
Clinically tested
Cons
None
The Theradome PRO LH80 uses medical-grade lasers to stimulate hair follicles, prevent hair loss, and balding, and promote hair growth. The manufacturer claims that this device is clinically proven to help reverse hair thinning and shedding to maintain or increase your hair volume and hair density. Multiple reviewers are impressed that this cordless device has 80 medical-grade laser diodes and a built-in speaker for voice-guided treatment tracking.
Pros
FDA-approved
Voice-guided device
One-touch activation
Rechargeable batteries
Cordless
Lightweight
Cost-effective
Cons
Laser diodes do not cover the sides.
The RegrowMD Laser Cap is an FDA-approved quality product with a clinically proven hair growth technology that is suitable for both men and women. The battery contains smart technology that enables battery level monitoring and prevents overcharging. The cap is developed with a bio-light comfort design to provide focused infrared light delivery through calibrated openings and maintain an unobstructed light flow during the treatment. The lasers reach your hair follicles and stimulate them from a cellular level. The laser hair growth treatment cap fits most head sizes, is not larger than 22.5 inches in circumference, and may show hair loss prevention results within 3-4 months.
Pros
FDA-approved
Rechargeable
Easy to use
Cons
The Illumiflow laser cap comes with 272 laser diodes for full scalp coverage, and the treatment time is recommended at 30 minutes for hair growth stimulation. It is an FDA-cleared device that is clinically proven to regrow thicker hair in both men and women, and complies with all safety and performance regulations. The lasers are calibrated to ensure optimal scalp penetration and claim to show results in 4-6 months. It has a one-switch operation and automatically turns off once the treatment is complete.
Pros
Affordable
30 minutes auto shut-off
FDA-cleared
Cons
Might be too small for some
This hair regeneration laser cap has 82 5mW laser diodes and claims to solve your hair loss issues with 6 minutes of daily use. This laser therapy cap is developed by physicians and is medically prescribed for stronger hair regrowth. It has a clinically proven technology to help restore hair loss due to genetics. It can be used with prescription medications or hair loss treatments you are undergoing. Several reviewers love this easy-to-use cap that provides great coverage and comes with a rechargeable lithium-ion battery.
Pros
FDA-cleared
ISO-certified product
Offers flexible fit
Cons
None

This LLLT stimulating light therapy device claims to rejuvenate the hair follicles to prevent hair loss, no matter at which stage of hair loss you are. This clinically tested device promotes hair count by 35% in men and 37% in women in 16 weeks. It has four adjustable columns, customizable headphones, and aux hooks and covers the entire scalp comfortably. So test it out today and attain beautiful hair in no time!
Pros
FDA-approved
1-year manufacturer guarantee
Lightweight
Dual voltage for worldwide use
Cons
None
This device contains 40 laser diodes and claims to reduce hair thinning and hair shedding. It is cordless and rechargeable and provides 16 treatment sessions on a single charge. The lightweight device is FDA-cleared, manufactured in an ISO-certified facility, and recommended for home use as a daily activity. The wireless and hands-free design has garnered positive reviews for making it easier to use the cap while doing your daily chores or moving around. The device is clinically proven and claims to show visible results in 180 days.
Pros
FDA-cleared
Rechargeable batteries
Proximity sensors
One-touch automated device
Cordless
Cons
None
The manufacturers of this laser cap claim that it increases the average hair count by 129 new hair strands per square inch. This laser cap has a dual operating mode, and you can choose between constant or pulsating light waves. The exclusive PowerFlex design of the product makes it a comfortable wear for almost all head sizes. The manufacturer claims that the device works well to resolve hair loss issues related to postpartum loss, menopause, damaged hair, age-related issues, or genetic hair loss. It also claims to deliver clinically proven results if used for 7 minutes, thrice a week.
Pros
FDA-cleared
14 international medical device licenses
100% medical-grade lasers
Cons
None
This laser cap has four modes to suit your needs. The first mode is for severe hair loss, the second mode is for severe hair loss in the middle of your head, mode 3 is for mild hair loss, and mode 4 is to prevent postpartum hair loss and tighten hair roots. The helmet uses 650 nm lasers to treat hair issues and features a built-in intelligent infrared sensor light that stops the device when not in use. It has a durable intelligent integrated design that sits on the head comfortably. Check out this review for a detailed understanding of the tester's experience of using the product.
Pros
CE/FCC approved
Smart mode memory
25-minute auto-timing
Durable
Easy to use
Cons
No information on FDA clearance
Laser hair caps can be useful in helping you deal with hair loss and hair thinning. Here are some reasons you should be using one for an effective hair loss treatment.
Benefits Of Laser Cap For Hair Growth
Painless: The lasers are painless and will not hurt your skin.
Effective: Low-level laser therapy is a proven way to improve hair growth. The laser caps use LLLT to treat hair loss.
FDA-Approved: LLLT is FDA-approved, and most of the laser devices are cleared for safety and efficacy.
Can Be Used At Home: You do not need a doctor's prescription to use the laser caps.
Non-Invasive Treatment: It is simple, unlike other hair treatments, such as transplants, etc. You only need to wear a cap for 20 minutes every day.
Suits All Hair Types And Conditions: Laser caps will have the same effect irrespective of the hair condition and type.
Moreover, a laser cap is a one-time investment. In the next section, find out how to use a laser cap properly. Though you will get a user manual with the device, there are certain things you need to know.
How To Use Laser Caps To Get The Best Results
Clean Your Hair: Use a good shampoo and conditioner to clean your hair before using the laser cap.
Dry Your Hair: Make sure your scalp and hair are completely dry before using the laser cap. Many caps can be used in both wet and dry hair. Check the user manual before using it.
Once you have placed the cap, follow the user guide to operate it. However, before you go ahead and pick a laser cap, there are certain things you need to check to ensure you do not pick the wrong product.
Things To Consider Before Choosing A Laser Cap
Laser devices are available in cap and band forms. If you have baldness and hair thinning all over your scalp, a cap is best for you. However, if you have hair thinning in targeted areas, a band-type laser device is best for you.
Devices need to go through FDA clearance to ensure their safety and efficacy. Hence, make sure the device you choose has FDA clearance.
Pick a device that uses lasers between 630 and 670 nm. These are the common laser frequencies used for LLLT devices.
More number of diodes means better coverage. Conversely, fewer diodes give you low coverage.
Low-level laser therapy is a proven hair restoration treatment for hair loss issues and the laser caps work on the same principle. They are easy to use and their advanced technology provides targeted and effective results at home. If you want a wireless device, pick the Theradome PRO LH80, while the CapillusUltra Mobile Laser Therapy Cap is the best medical-grade option that you can go for. The illumiflow 272 Laser Cap will be the best budget pick.
Why Trust StyleCraze?
The author, Aditi Naskar, holds a diploma in health and wellness and has expertise in reviewing medical devices. She has conducted thorough research on the working principle of low-level light therapy and consulted experts. She has carefully checked the reviews of laser caps to evaluate their efficacy before picking the best ones for the list.
Frequently Asked Questions
How long does it take to regrow hair with lasers?
Lasers may take 6 months to a year to regrow hair.
Can laser caps be used after hair transplants?
Yes, you can use them after a hair transplant.
Can laser helmets be used with other hair loss products?
Yes, you can use them with any other treatment you are undergoing for hair loss.
What are the possible side effects of using laser hair growth caps?
You may experience hair fall after you stop using it, or the hair may fall faster than before.
Do I need a prescription to use a laser hair growth cap?
No, you do not need a prescription to use a laser hair growth cap.
Does LLLT hurt?
No, LLLT does not hurt. It is a painless and non-invasive procedure for hair growth.
Sources
Recommended Articles