12 Best Bronzers For Asian Skin
These bronzers add a unique glow and warmth to all Asian skin tones.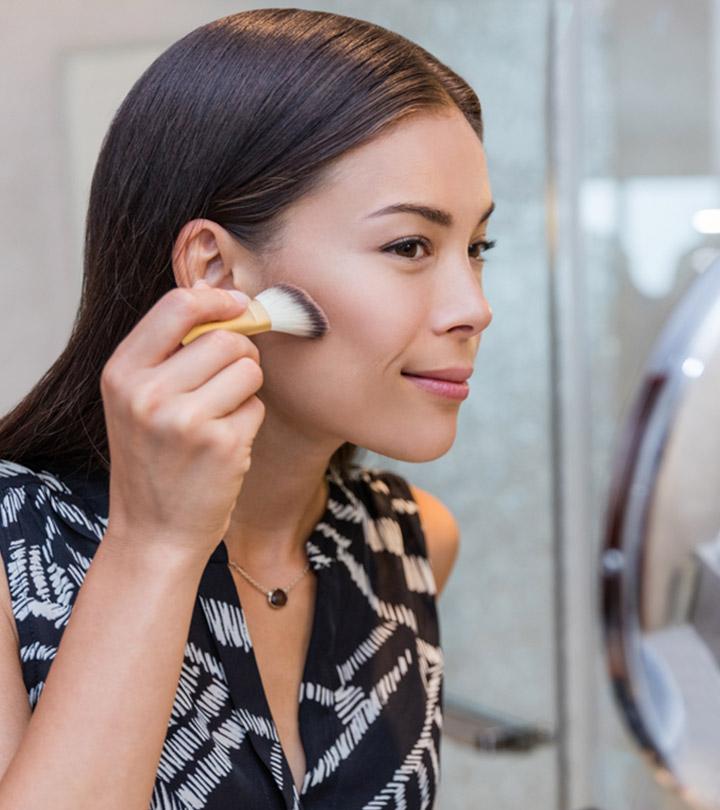 Finding the best bronzer for Asian skin is quite tricky. Since your lovely Asian beauties have golden-colored skin, finding the one that still adds a glow and warmth to your complexion may not be easy. A few bronzers out there look great on fair skin and can look orange on darker skin tones. The first step to looking for the right bronzer is understanding your undertone. Once you identify your undertone, you can go for the bronzer that suits your skin tone. The ideal bronzer for Asian skin is for a muted or rosy tint that imitates a natural tan. Another thing to remember is that the correct texture is essential to giving you that sheer finish. Without further ado, let us take a look at some of the top bronzers for Asian skin to give you that lovely tanned look!
12 Best Bronzers That'll Add A Glowing Tan To Asian Skin (With Buying Guide)
Happiness is…this bronzer that glides like butter! Considering how chalky makeup powders can disturb your skin's texture, this one will go on effortlessly on the skin. And surprisingly, it is infused with 3 different types of butter (cupuacu, tucuma, and murumuru), which deeply moisturize the skin with every use. Also, in addition to that, this bronzer has soft-focus pigments and refined pearls to enhance your skin with a bright and radiant glow. Sounds like an ideal combo, doesn't it? Try it and tan up confidently with Physicians Formula Butter Bronzer. This video gives you more information about the product.
Pros
Delivers a flawless bronze look
Ultra-soft and smooth creamy-to-powder formula
Hypoallergenic, oil-free, and non-comedogenic
Safe for sensitive eyes and skin
Paraben-free, gluten-free, and cruelty-free product
Cons
The powder is fragile.
The scent may be bothersome if you are sensitive to smell.
If you are looking for an affordable and high-performance bronzer, then Nyx Professional Makeup Matte Bronzer can be your ultimate go-to. Adding warmth and a natural beach tan to your skin color, you can flaunt your sun-kissed glow all around the year with this powder. Also, if you are a contour enthusiast, then you are going to love it even more. Use it to define or enhance your features when not using it as a bronzer, for this one guarantees a flawless radiance with every use! Try it. Have a look at this video to learn more about the product.
Pros
Delivers a honey glow on skin
Radiant and skin-enhancing formula
Improves complexion and adds a healthy glow
Suitable for all skin tones
Vegan and cruelty-free product
Cons
It may look slightly orangish on skin.
Your ticket to the tropical islands and back! Hoola Matte Bronzer by Benefit not only looks exotic but delivers a non-orangish and healthy tan on the skin. Sweep it on your cheekbones, cheeks, and forehead and get ready to be swarmed with compliments and jealous stares all day long. Want more? This bronzer for pale skin is highly versatile and can be used for contour makeup look, highlighting, and face slimming too. A great option, if you can't handle all that paleness anymore — try this bamboo-designed bronzer pressed powder for a natural sun tan on your skin. It is the best bronzer for pale skin. Here is an informative video that tells you more about the product.
Pros
Cute and compact
Soft pressed powder that blends easily
Includes a large-sized fluffy brush
Portable and travel-friendly
Ideal for contouring tanned asian face
Cons
Get a tan, contour, or go for a natural makeup look, all with one pressed powder! Maybelline New York City's Bronzer Powder has more benefits than you think in-store. Other than giving you a radiant tan without looking too obvious, it subtly contours and sculpts the face with a soft bronzing effect as well. And that's not all — it stays on easily for up to 16 hours! Yep, an ideal option for workaholics who cannot do without makeup and have no time for touchups. Sweep on this bronzer for the tan-tastic glow all day!
Pros
Micro-milled powder
Infused with whipped cocoa butter
Glides on the skin effortlessly
Accentuates and defines features
Guarantees a velvety and smooth matte finish.
Cons
May take longer to blend
Not recommended for medium to deeper skin tones
Don't let those stubborn lines and pores keep you from getting a gorgeous tan this season. Let NARS Bronzer Powder take care of all the aging signs with its seamless and sun-kissed finish. Concealing all the blemishes with sheer coverage, it's a must-try for dull and mature skin makeup users. Also, if you are worried about the orangish tint? Don't be! For this bronzing powder ensures a natural and healthy tan only. Miss it at your own risk!
Pros
Brown shade with a subtle golden shimmer
Adds warmth and intensity
Enhances complexion and features
Delivers a flawless finish effortlessly
Suitable for all skin tones
Cons
Expensive
Not recommended for fair complexion.
If you are going to fake that tan, you might as well do it with Bobbi Brown. Pigmented enough to meet your tanning needs, get ready to cook up a great story behind your new beach look. Gliding effortlessly on the skin, so you enjoy your makeup session as well, it's a must-try if you don't mind loosening the purse strings on a premium product. Still, thinking? Go, get a luxurious tan with this classy bronzer today!
Pros
Silky-smooth and refined texture
Blends easily and long-lasting formula
Delivers a soft, seamless, and natural finish
Suitable to wear all around the year
Available in shades for all skin tones
Cons
Now anyone can get that red-carpet glow, on the go! Backed by Hollywood celebrity makeup artist — LORAC Tantalizer Duo delivers a stunning tan as well as doubles up as a highlighter to get that perfect contoured look. So, if you don't mind a subtle shimmer with your tan, you can mix, match, and create multiple looks with this highlighter and bronzer split-pressed powder. Now, who's ready to turn every road into a red carpet with this gorgeous tantalizer? Try it!
Pros
Velvety-smooth and soft matte bronzer
Highlighter shade infused with illuminating particles
Travel-friendly with a large mirror inside
Free from GMOs, parabens, sulfates, synthetic fragrance, and more.
Cons
The bronzer may not blend easily.
The highlighter has a light pigment.
What makes Hourglass Bronzer worth the splurge? The list is endless! Unlike other bronzers that may somewhat look enhanced, this one ensures a masked look, just like a second layer on the skin. Also, it is the infused photoluminescent technology that promises seamless color transitions (in case you are tan already) and blends easily too. And to add a more classic touch, the powder is handcrafted with a progressive miscelare technique (which means mixing in Italian). So, if you are looking for a natural tan minus the "harmful rays" experience — Hourglass is the luxury you need.
Pros
Lightweight and compact
Adds intensity and warmth
Vegan and cruelty-free product
Suitable for medium to deep complexion
Ensures a smooth and seamless finish
Doubles up as contour for cheeks and jawlines
Infused with transparent particles that prevent flashbacks.
Cons
Don't just add a tan, add a showstopping tan with Charlotte Tilbury's Filmstar Bronze & Glow! Built with a large mirror inside, get red-carpet-ready anywhere anytime with this travel-friendly palette. Whether you want to add a healthy tan, sculpt, highlight or define your features, this pressed powder duo will glam you up instantly. The bronzer is infused with pigment and pearl to deliver a sun-kissed radiance, whereas the highlighter will enhance your skin with its light flex technology. An ideal combo that'll tan and glam, prep up for a celebrity-like glow up with this high-end bronzer. It is the best bronzers for medium skin tone.
Pros
Paraben-free product
Builds and blends easily
Suitable for fair to medium skin tones
Ensures an even and subtle coverage
Mimics beach tan and ideal for contouring
Highly-pigmented formula with elastomer pearls
The golden base reflects light to give you a flawless glow.
Cons
Expensive
Not recommended if you are looking for a matte effect
Enjoy the power of sun-drenched beaches now in this bronzer powder. Though getting a suntan while sipping on a cocktail may sound lit, the rays could end up causing more damage than good. Hence, if you are looking for a subtle tan to fight paleness, Becca Sunlit Bronzer is a great choice for you. And if you are a fan of shimmer, then get ready to glow up even more, for this tan comes with a beguiling shine. Indulge, tan lovers!
Pros
Blends and builds easily
Lightweight and creamy consistency
Non-orangish with a natural and full coverage
Suitable for light to fair skin tones
Cons
Not everyone is a fan of pressed powders, and for them, we have this creamy bronzer. Ultra-intense, rich, and smooth enough to thrill up the bronze goddess in you, get ready to flaunt your Asian features with a natural tan confidently. Lightweight and easy-to-blend, this compact bronzer is infused with shimmer too — because what's a tan without a flawless glow, right? But what really makes it more interesting is the formula that contains jojoba seed oil, cocoa seed butter, buriti fruit oil, coconut oil, rosemary extract, and more. Just what you need to feel pampered and sun-kissed this season, bronze up to experience the difference!
Pros
Formulated with natural ingredients
Creamy and smooth consistency
Delivers an even and natural coverage
Suitable for all skin tones
Cons
Small
It may not last long.
Lastly, this bronzer that lets you adjust the shade as per your needs! Whether you want an intense or subtle tan or want to use this multi-colored palette for contouring, the choice is yours to create endless looks. With darker hues ideal for contouring and overall bronze makeup to the lighter shades ensuring a soft sun-kissed glow, get ready to feel spoilt for choices with Magic Mosaic. Also, you don't have to worry about allergies or blocked pores — this product is dermatologist tested and approved. Sensitive skin users, go, get that tan now!
Pros
Helps customize tan intensity
Includes matte and shimmer shades
Travel-friendly with a mirror and fluffy brush inside
Multiple dark to light shades in one palette
Fragrance-free and gluten-free product
Hypoallergenic, oil-free, and non-comedogenic
Cons
Light pigment
Not ideal if you are looking for a matte finish
Tan lovers, we bet you can't wait to get started already! Those were the 12 best bronzers for Asian skin. However, if you are still confused about how to choose the best bronzer for Asian skin tones, read our buying guide below.
Buying Guide – Bronzer For Asian Skin
How Do You Choose A Bronzer For Asian Skin?
It's simple! All you have to do is look out for the features below to find the right one instantly: 
Skin tone: To get the natural tan effect, a bronzer should be 2 or 3 shades darker than your complexion. So, figure out your skin tone first, whether you have warm or cool tones, and then accordingly pick a bronzer shade for your skin. 
Skin type: Let's not ignore the skin type while choosing a bronzer, or else you'll end up with a messed up tan look. Check if the bronzer is ideal for your skin type to get that perfect effect. For example, pressed powders are great for normal, oily to combination skin, whereas dry skin users can opt for liquid or creamy bronzers. 
Blending power: A shade should blend easily, quickly, and effortlessly on the skin, or else you'll end up with patchy areas rather than a sun-kissed glow. Inspect the blending powder before purchasing the bronzer. 
Versatility: Who doesn't like multi-purpose palettes? And given that most bronzers can be used for contouring and highlighting as well, pick a palette that offers more than one makeup benefit so you can use it all around the year, and even when you don't need a tanned look.
Tips On How To Pull Off Bronzing?
You don't have to be an expert to pull off bronzing with ease! Here are some simple steps for beginners:
Firstly, sweep a clean brush of your choice on the bronzer and dust off the excess powder to avoid wastage.
Now gently glide it on your hairline followed by your cheekbones and jawline.
The purpose is to create a "3" effect on both sides of your face.
After doing that, move on to the most important step— blending!
Keep blending gently in big and small circles until you get a seamless finish
Once done, run your brush over the nose bridge and neck area if you like a shadowy effect.
Why Trust StyleCraze?
Chaitra Krishnan, the author of this article, has a keen interest in experimenting with emerging trends in makeup. She understands the right products needed for every skin tone and type. With that knowledge, she selected the finest bronzers for Asian skin. She also checked the brand websites and user reviews to shortlist the products.These bronzers are ultra-smooth and creamy, gentle on the skin, and leave a flawless, sun-kissed finish on your skin.
Frequently Asked Questions
Do Asians Use A Bronzer?
Anyone can use a bronzer as they are available in different shades and for different skin tones. So, whether you are an American or Asian, you can use a bronzer if you are looking for an intense and natural tan effect.
What Is The Difference Between Bronzer And Contour?
A bronzer adds warmth to the complexion, especially around the hairline, cheekbones, and jawline areas. A contour, on the other hand, is used to enhance and define features to make them stand out. However, a bronzer can be used for contouring as well.
Can You Put Bronzer On Bare Skin?
Though it is advisable to apply a primer or moisturizer first, you can use a bronzer on bare skin as well for a natural, fresh, and sun-kissed look.
Should Fair Skinned People Use Bronzer?
Bronzers are ideally used with a blush on fair skin to prevent a patchy look. So, if you have a fair complexion, you must learn the trick of blending before applying bronzer on your skin to get that seamless and natural tan coverage.
Do I Need A Bronzer If I'm Tan?
If your skin is tanned unevenly, a bronzer can help even out the skin tone and tan lines. Besides this, if you are looking for an intense tan effect, then also, a bronzer can help to get the desired look.
Recommended Articles