9 Best Synthetic Braiding Hair Brands Of 2023 That You Must Try!
Flaunt any intricate hairstyle with strong, durable, and long-lasting synthetic braids.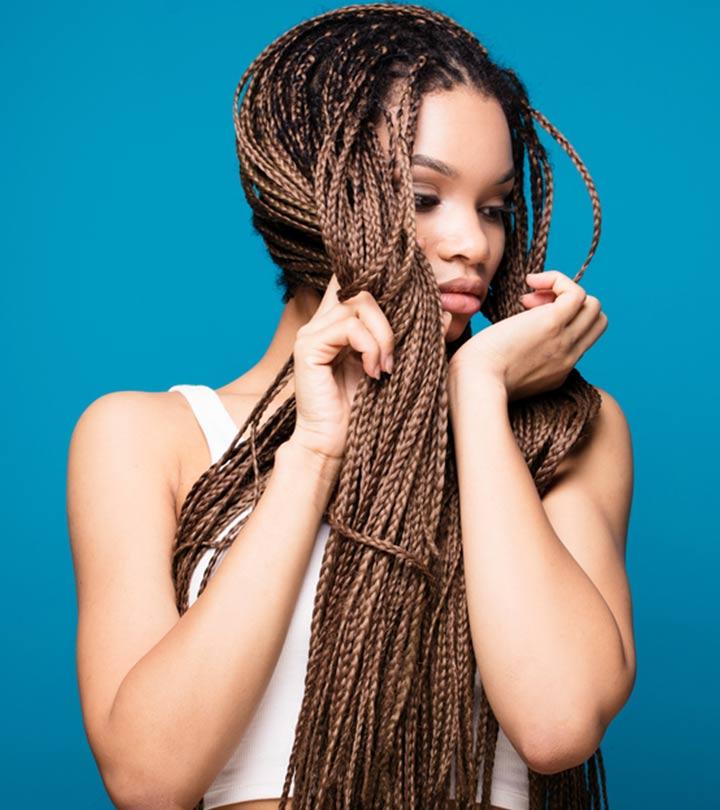 Life is too short to even consider having basic plaits, which is the reason you want the best synthetic braiding hair brands to make them stick out and look dazzling! Presently, regardless of whether you are a fledgling or expert at twisting hair, finding the right brand for your braids can be quite challenging. In addition, you need to ensure they are made of 100% Kanekalon hair except if you want to wind up with a phony and plastic-like sparkle that may also harm your regular hair. As there are way too many different synthetic plaiting hair brands out there, we've sifted and collated a portion of the best ones, for example, X-pression and Black N Gold for you.
Also, with Black N Gold being one of the best brands when it comes to quality, comfort, installation process, and material, there's no reason why you would want to miss it this season!
Now ladies, are you ready to flaunt your braids like a VIP? Check out our list of the 9 best synthetic braiding hair brands of 2023 below. All these products have received numerous positive reviews on various forums, proving why they made to our list!
Read on to know more!
Stay Braided And Beautiful With 9 Best Synthetic Braiding Hair Brands Of 2023!
100% Kanekalon braiding hair, but chicer! Flaunt your protective styles with these high-quality ombre extensions by Besteffie. Weighing 100g and 24 inches long, these 5-in-pack braiding extensions are ideal for making crochet and twists too. Ensuring to hold the texture effortlessly, they are comfortable, soft, and smooth as well. As for the hairstyle, these soft dread braids blend seamlessly with your tresses to look natural, neat, and insanely gorgeous! Gift it to a braids lover or wear it to a party or Halloween; Besteffie Ombre Braiding Hair will make you stand out with the ombre glow. Watch this video detailing a tester's experience with this braided hair for a thorough understanding of the product.
Pros
High-temperature jumbo braided hair
Ensures no shedding or fading
Durable and colorful
Heat resistant and odorless
Easy-to-wear and ideal for daily use
Cons
Color may bleed
Hair may tangle during braiding
Price at the time of publication: $16.99
Never tried synthetic hair protective styles before? Let Yami Jumbo Braided Hair be your first that is easy to use for beginners and super comfy to wear. These synthetic braid hairstyles are made from a high-quality fiber that is soft, smooth, and dyed at a high temperature to prevent color fading. Moreover, this braiding hair weighs 100g and 24 inches long. Available in many colors, pick any to flaunt your gorgeous hair. What are you waiting for?
Pros
 Versatile braiding hair
 Soft, smooth, and durable
 Odorless and shed-free
 Suitable to use for crochet and other protective styles
Cons
Price at the time of publication: $11.8
Don't mind spending on premium braiding hair? Then X-pression Outre Synthetic Hair Braids made of Kanekalon will make you want to flaunt them even more! Top-quality, easy-to-manage, pre-stretched 3-times and pre-layered as well, get ready to braid your way into a stunning hairdo this season with this one. However, the best part is, the Outre braiding hair is super light and blends with your natural texture effortlessly too. Yep, time to look your gorgeous best— you ready, girl? Just what you need for that special date or party: go glam with X-pression this season! Click here to check out a tester's experience with this product.
Pros
52 inches long
Holds up effortlessly
Easy-to-wear and comfortable
Non-itchy, fade-proof, and odorless
Safe to seal with hot water setting
Cons
Expensive
It may not be tangle-free.
Price at the time of publication: $24.41
Curly hair beauties, here's one for your gorgeous locks! With a natural yaki braiding hair texture that blends with your hair seamlessly, these 50 inches long classic braiding hair guarantee stunning braids only. Designed to be sealed with multiple settings, including hot water setting and electric iron sealing, they are also easy-to-install and feather-light to deliver a soft and beautiful hairdo. Want more? The brand ensures no friction or breakage while sleeping too! Still, want to miss it?
Pros
Made of 100% Kanekalon fiber
Prevents natural hair from turning harsh
Ensures ultra-comfort and long-lasting wear
Flame retardant, non-flammable, and tangle-free
Ideal to use for crochet, box braids, twists, curls, and more
Cons
There may be slight shedding.
Price at the time of publication: $25.99
Gorgeous and how! You can say goodbye to bad hair days with this braiding hair in your collection. Screaming glam Afro-style, these kinky twist braids are 18 inches long, soft, and super easy to handle. Designed with the latest production technology to match natural hair texture, this Afro-textured synthetic hair extension ensures to add length and volume as well. Just what you need to make jaws drop with your stunning locks, give it a try if you haven't already!
Pros
Made of high-quality synthetic fiber
Shed-free, tangle-free, and lightweight
Healthy-looking, elastic, and with natural ends
Ensures easy braiding with the weaving technique
Cons
Not recommended if you are sensitive to smell
Price at the time of publication: $15.99
Adding some stunning waves to your usual braids can generate envy, wows, and stares wherever you go. These braiding hair extensions are made of Kanekalon fiber and are 18-inches long. They are natural looking, fashionably curly, easy to install, smooth, and soft with no knots or tangles. Are you ready for this awesome makeover?
Pros
Lightweight
Long-lasting
Natural-looking
Odor-free
Shed-free
Pre-looped
Tangle-free
Cons
Not ideal if you prefer a matte effect
Price at the time of publication: $12.91
The ToyoTress Markey Hair Crochet Braid is made of super-soft, skin-friendly synthetic fibers. It is 20 inches long and easy to install. The braid is lightweight and bouncy. The afro kinky strands are easy to separate without getting tangled. This fluffy crochet braid is long-lasting and versatile. This afro kinky braiding hair is easy to wash and manage, ideal for twists or tight locks hairstyles, and works as a great gift.
Pros
Soft finish
Lightweight
Easy to install and manage
Tangle-free
Shed-proof
Long-lasting
Cons
Price at the time of publication: $28.99
Say hello to this gorgeous Afro and jumbo braiding hair by CXYP. 24 inches long and available in multiple colors, get ready to go glam with these twist braids that are made of high-temperature Kanekalon synthetic fiber. Weighing 100g, healthy-looking and tight, they are also easy to grab to make twists or braids. Ensuring to add a healthy volume and length to your gorgeous locks always, don't blame us if the compliments are too many. Try it!
Pros
Ensures a good hold
Guarantees to not harm your natural hair
Comfortable and long-lasting
Durable, easy-to-install, and remove
Ideal to use with dreadlock, Marley braid, Senegalese twists box braids, and more
Cons
Price at the time of publication: $12.99
Lastly, this braiding hair that'll stay true to its name, no matter how you wear it! Ensuring unlimited curls, waves, and endless protective styles for your hair— go explore your braiding expertise with these premium synthetic hair braids this season. The Sensationnel braiding hair is suitable to braid with a hot water setting, they are also lightweight, comfortable, and soft enough to give your hair a natural feel. Many reviewers feel that this braided hair is easy to brush through and the strands can be separated easily.
Pros
82 inches long and weigh 165g
Made of Kanekalon synthetic fiber
Heat-resistant and tangle-free
Cons
Price at the time of publication: $29.99
The Bottom Line
Can braiding get more stunning than this! There you go, those were the 9 best synthetic braiding hair brands of 2023 that you must check out this season. With Kanekalon synthetic fiber giving you the most natural feeling and your hair a flaunt-worthy makeover, we bet you'll want to show them off at every chance (or selfie!) you get. While the X-pression Outre Synthetic Hair Braids are super-light and fade-proof and make a versatile option for various braiding styles, the Sensationnel Synthetic Kanekalon Braids are made of high-quality synthetic fibers that are heat-resistant and tangle-free. If you are still unsure, choose among professional-grade braiding hair brands to get a high-quality product that will last you a long time.
Why Trust Stylecraze
Medha Deb, the author of this article, is a hair care enthusiast who loves to review products and recommend them to others. Her suggestions are mostly based on studying the products in detail and reviewing the user feedback. The best synthetic hair braiding brands listed in this article are perfect for getting that dazzling look. They are also durable, easy to wear, and ideal for daily use.
Frequently Asked Questions
What is the difference between Kanekalon and synthetic hair?
Synthetic hair is shiny, stiff, and difficult to grab or work with for a long time, whereas Kanekalon hair has a natural hair-like feeling and even looks like natural hair. Also, they are softer, smoother, and more comfortable than synthetic hair.
Is synthetic hair toxic?
Yes, at times. Synthetic hair is made of plastic and may harm your natural hair or scalp if used frequently. Also, they emit toxic fumes after coming in contact with heat, thus making it all the more harmful.
Is Toyokalon better than Kanekalon?
No, Kanekalon hair is better than Toyokalon braiding hair because they are more natural-looking and feel natural too. Toyokalon, on the other hand, is soft and made of premium quality material but might not look natural.
Should you wash braided hair?
Yes, you must wash and condition your braided hair twice a week if you want to avoid itchiness or build-up on your scalp.
Recommended Articles