15 Best Hairstyling Products For All Hair Types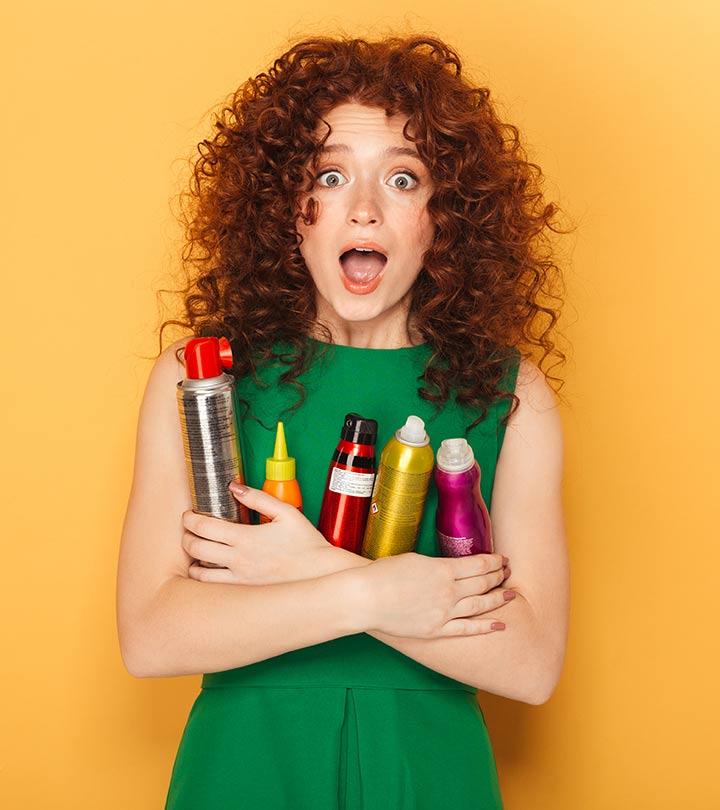 Mousse, foam, curl enhancing cream, hairspray… the list goes on and on!
We women love looking good. We don't mind spending those extra minutes in front of the mirror every morning to make sure our hair is perfect. But, it's an absolute nightmare buying products that don't deliver on their claims. With so many hair products to choose from, how can you tell which ones are the best? Let me help you! Here's a list of the top 15 hairstyling products that actually work. Check them out!
This is a styling crème that hydrates your hair, reduces frizz, and keeps your hair silky-straight for up to 24 hours! It is formulated with milk protein and sweet almond oil. This smoothing styling crème protects your hair from heat styling damage with its unique ThermaGard complex and conditions your hair without weighing it down. The result is sleek, shiny, frizz-free hair.
Pros
Reduces frizz
Keeps hair straight for a long time
Works as a heat protectant
Moisturizes hair
Cons
A bit sticky
TIGI Catwalk Curls Rock Amplifier sculpts your curls into proper ringlets and coils. It also nourishes your curls while keeping frizz at bay. This hairspray is formulated with essentials oils and environmental protectants that protect your hair from humidity and give it a radiant finish.
Pros
Long-lasting hold
Enhances natural texture
Smoothens hairs cuticles
Cons
Contains silicone
Can tangle and dry out hair if overused
Biolage Gelée Styler All-Purpose Gel is great for adding body, shine, and control to your hair. It is suitable for all hair types. The best thing about this styling gel is that it offers firm hold that ensures your hairstyle looks flawless throughout the day.
Pros
No parabens
No mineral oil
No artificial colorants
Cons
Fragile lid that can break off
Makes hair sticky when overused
AG Hair Care Thikkening Lotion is designed specifically for fine to very fine hair that cannot tolerate the weight of creams and other hair products. Its Regenerative Complex helps create the optimal environment for hair growth.
Pros
Contains powerful strand volumizers that plump up individual hair shafts
Adds shine to your hair
Cons
Can make hair look flat initially
Hair Play Set 2 Styling Mousse Great is great for moisturizing and styling natural, curly, frizzy, dense, and kinky hair. It is the perfect blend of hair styling and hair care ingredients with the light scent of ocean breeze. Your hair, your choice, and you'll love it.
Pros
Works as a heat protectant
Moisturizes hair and scalp
Makes hair more manageable
Available in travel sizes
Cons
Can make hair greasy
Moroccan Oil Hydrating Styling Cream oil nourishes hair right at the follicles. It is great for styling your hair without damaging it or making it sticky. It also adds gloss and volume to your locks.
Pros
Provides soft hold
Ideal for blow drying
Reduces frizz and flyaways
Adds definition and shine
Hydrates hair
Cons
Cannot be applied on wet hair
Garnier Fructis Style Curl Shape Defining Spray Gel boosts the definition of your wavy, permed, or naturally curly hair and adds shine. It also eliminates frizz to give you flawless-looking hair. In short, it gives you the power to create any hairstyle you want.
Pros
Reduces frizz
Adds definition
Cons
Can be too heavy for fine hair
Kinky-Curly Original Curling Custard offers moisture, curl definition, hold, and brilliant shine – all in one product. It defines and elongates your curls to help them hang better. It also brings out the natural curl or wave pattern you never knew you had.
Pros
Define curls
Reduces frizz
Provides long-lasting hold
Does not make your hair greasy or crunchy
Cons
Contains chemicals
Winsome & Wisdom Hair Therapy Pillow Talk Hair Texturizer is a pomade that smoothens your hair while adding texture to it. This fibrous hair pomade also controls frizz and flyaways to help you with flawless styling.
Pros
Smoothes and seperates hair
Controls frizz and flyaways
Non-greasy
Provides ample hold and shine
Cruelty-free
Cons
Thick consistency
Aveda Phomollient Styling Foam is formulated with certified organic peppermint, ylang ylang, bergamot, and other pure flower and plant essences. Its formula provides weightless body and volume to fine to medium hair. It is made using air-infused technology that transforms its liquid into a foam without using hydrocarbon propellants.
Pros
Adds shine
Does not leave behind any residue
Light to medium hold
Weightless volume
Cons
None
TIGI Catwalk Session Series Styling Cream helps style your hair exactly the way you want it regardless of your hair type. It offers long-lasting hold that lets you flaunt your hairdo throughout the day. It is also lightweight and gives your hair the shine it needs.
Pros
Lightweight
Long-lasting
Adds shine
Cons
Can make your hair sticky if overused
Big Sexy Hair Volumizing & Texturizing Powder provides incredible volume and hold that you can reactivate any time throughout the day by scrunching your hair. It also gets rid of excess oil to add volume to your hair. The best thing about this powder is that it does not have a strong, overpowering fragrance, unlike other hairsprays.
Pros
Adds volume to your locks
Long-lasting
Cons
Mild fragrance
[ Also Read – Livon Hair Serum Review ]
Calista Intensify Volumizing Styling Foam is a volumizing liquid-to-foam product that is used to create extreme volume, bend, and body in your hair. It is so lightweight that once your hair is dry, you won't even feel like there is product in your hair.
Pros
Lightweight
Adds volume
Provides ample hold
Cons
Fragile cap that can break off easily.
TRESemme Extra Hold Hair Gel protects your hair from humidity while providing strong hold. It does not make your hair look sticky or wet. It provides strong control, keeping your locks in place all day long. It is an affordable, salon-quality product that can make any hairstyle you sport look perfect.
Pros
Stronghold
Does not weight your hair down
Easy to apply
Long-lasting
Cons
Can make your hair sticky if overused
Brocato Holdon Sculpting Styling Gel provides serious hold and shines to all types of hair. Besides offering long-lasting hold that helps you sculpt and style your hair, it also adds volume to your hair and makes it more manageable.
Pros
Offers color protection
Adds volume and shine
Long-lasting
Stronghold
Cons
Makes hair greasy
Those are the top 15 hair styling products that you can get your hands on right now. What's your favorite hair styling product? Comment below and let me know!