17 Best Hairstyling Products As Per Women Hair Stylists – 2023
Hair styling becomes effortless and exciting with these high-efficiency, long-lasting products!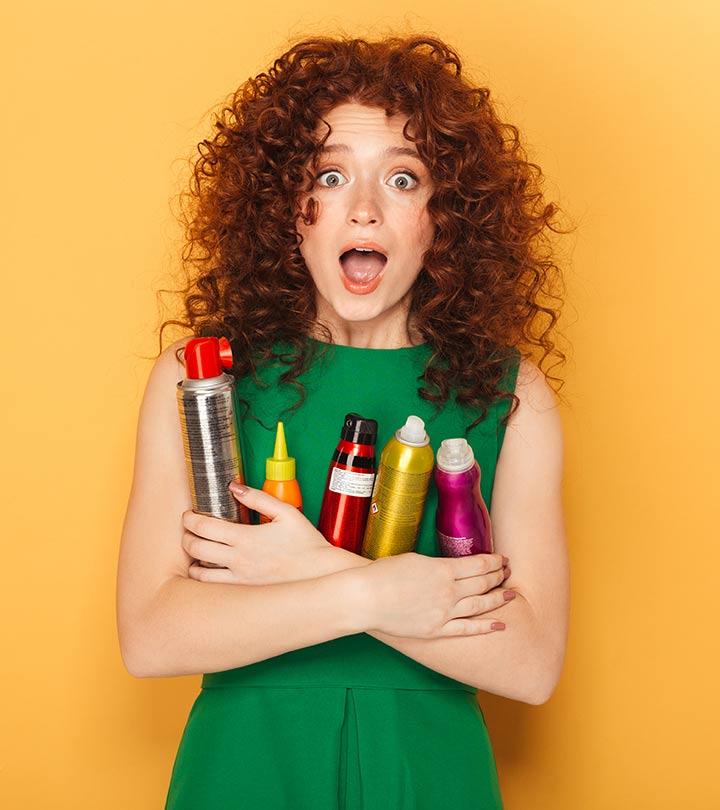 Using the best hair styling products can give the edge to the hairstyle you have always wanted to flaunt. Be it a hair cream, hair spray, foam, or mousse, using the product that suits your hair is essential to making you look flawless always. When it comes to hairstyling, we leave no stone unturned to find out what works best for our hair type. To ensure the products you use are made with authentic and natural ingredients, here are the 19 highest-rated styling products to pick from.
The Top 17 Hairstyling Products Available Right Now
Damaged your hair by using excessive hair-styling tools? Looking for a heat protectant spray that naturally protects your hair? The HSI Professional Argan Oil Thermal Protector protects your hair from heat exposure of up to 450°F. This weightless mist is enriched with argan oil that gives you hydrated, smooth, and frizz-free hair. The argan oil-infused formula ensures that your hair remains shiny and does not look dull after styling. It provides nourishment to your hair and instantly speeds up the drying time.
This heat protectant is vegan and suitable for all hair types. Its gentle formula is paraben-free, sulfate-free, phosphate-free, and safe for colored hair. Go ahead and check out this YouTuber's video for more details about the product.
Pros
Reduces frizz
Imparts shine
Provides hydration
Suitable for all hair types
Vegan
Sulfate-free
Paraben-free
Speeds up the hair-drying time
Safe for color-treated hair
Cons
Might leave your hair greasy
Price at the time of publication: $14.95
This hairspray is the secret to getting smooth, shiny, and sleek hair without damage. Using heat styling tools on a regular basis damages your hair strands to a great extent. If you don't want your hair to look damaged and frizzy, use this heat protectant spray. Apply it on clean, towel-dried hair. Spray it evenly all over your hair, then blowdry it. The effect of this heat-activated spray lasts up to 3 days. For best results, apply it after every 3-4 hair washes. To get a better understanding of the product, you can check out this video on YouTube.
Pros
Protects your hair from colored chemicals
Long-lasting
Prevents hair damage
Reduces frizz
Suitable for all hair types
Cons
Not suitable for use around pets
Price at the time of publication: $28.0
As the name suggests, Kenra Volume Spray 25 is an award-winning hair spray that provides maximum volume to your hair. It holds your hair in place for up to 120 hours, provides naturally shiny hair strands, and provides high humidity resistance for 20 hours.
Shake the bottle well before use, keep it 8-10 inches away from your hair, and spray evenly. Check out the review of this product for more information.
Pros
Adds volume
Long-lasting hold
Heat-resistance
Adds natural shine
Cons
Price at the time of publication: $7.99
Styling curly hair can be a mess all over the place. But, we know what your curly hair just needs – The Cake Beauty The Curl Friend Defining Curl Cream. This moisturizing styler is formulated with shea butter, natural oils that nourish the hair and tame it, giving you frizz-free, glossy-looking curls.
It defines the curls and smoothes them. Use a dime-sized amount on your second-day hair and see the flawless results yourself.
Pros
 Suitable for curly hair
 Moisturizes the hair
 Sulfate-free
 Paraben-free
 Talc-free
 Gives you frizz-free hair
 Makes hair glossy
 Defines curls
 Lightweight
 Cruelty-free
Cons
None
Price at the time of publication: $8.99
Add volume to your curly hair and make it more manageable and shinier with the OGX Moroccan Curling Perfection Cream. This styling cream is infused with argan oil that makes your hair shiny. Its gel-like consistency makes it easy to apply.
This curling cream is silicone-free, and it safeguards your hair from the harmful UV rays. Get rid of frizz and flyaways and restore the original bounce and shine of your curls with this cream.
Pros
Adds volume
Conditions the hair
Easy to apply
Restores moisture
Gets rid of frizz and fly a ways
Protects hair from UV rays
Silicone-free
Cons
Might feel heavy on the hair
Price at the time of publication: $5.72
Moroccanoil Hydrating Styling Cream nourishes your hair right at the follicles. It is great for styling your hair without damaging it or making it sticky. It also adds gloss and volume to your locks. Its soft-hold formula is infused with antioxidants and argan oil that tame frizz and flyaways.
Pros
Provides soft hold
Ideal for blowdrying hair
Reduces frizz and flyaways
Adds definition and shine
Hydrates the hair
Suitable for all hair types
Fights humidity
Suitable for regular use
Cons
Cannot be applied on wet hair
Price at the time of publication: $36.0
Biolage Styling Gelee is an all-purpose hair-styling gel that contains botanical ingredients like blue agave for nourishing and hydrating your hair. It adds shine and control to your hair and offers thermal styling protection. Its medium flexible hold leaves your hair feeling soft, smooth, and moisturized. Apply it on damp hair, then style it as you desire.
Pros
Offers medium hold
Paraben-free
No mineral oils
No artificial colors
Adds volume
Cons
Not suitable for short hair
Price at the time of publication: $19.0
Humidity often makes your hair frizzy, and that's when you need a good hairspray to manage it. The L'Oreal Paris Elnett Hair Spray is a legendary choice for celebrities who hit the runway or the red carpet. It is a micro-diffuser spray that holds your hair all day without ruining its style. It does not leave your hair feeling hard or flaky and works on all hair types and textures. Your hair feels lightweight, soft, and shiny with this ultra-fine mist.
Pros
Prevents frizz
Imparts shine
Provides strong hold
Leaves hair feeling soft
Suitable for all hair types
Cons
Price at the time of publication: $28.09
The well-chosen ingredients of CHI Straight Guard Styling Cream make it one of the best hair-styling products. It rejuvenates your frizzy and curly hair and turns it into smooth and nourished strands. It is formulated with the Ionic and Catatonic Hydration Interlink technology.
Just take a minimum amount of this styling cream and run it evenly through your hair. Style your hair as you desire.
Pros
High-quality ingredients
Prevents frizz and flyaways
Prevents hair damage
Long-lasting
Cons
Might leave your hair flaky
Price at the time of publication: $8.5
Rusk Wired Flexible Styling Creme creates excellent hair texture as it provides a flexible body and excellent support to your hairstyle. It works well on dry as well as wet hair. It brings out the shine of your hair and lifts it to give you a more natural look.
Apply this styling cream on dry hair for added support. You can also mix it with any RUSK product to create various looks.
Pros
Provides flexible hold
Works on wet and dry hair
Lightweight
Easy to use
Controls frizz
Non-greasy
Pleasant fragrance
Cons
Not suitable for thick hair
Price at the time of publication: $11.9
Having bouncy and shiny curls that stay intact for hours is something all women with curly hair dream about. Marc Anthony Strictly Curls Styling Lotion is here to lock in your curls' bounce while controlling frizz. Its non-sticky, lightweight formula is infused with vitamin E and vitamin B that make your hair feel soft every time you touch it.
The ingredients in this formula are meant to hydrate, nourish, and replenish your hair without compromising its health.
Pros
Keeps your curls shiny
Controls frizz
Non-sticky
Lightweight
Hydrates the hair
Cons
May make your hair feel crunchy
Price at the time of publication: $6.97
Crack Hair Fix Original Styling Creme is a 100% vegan and cruelty-free product. It effectively fends off frizz and makes your hair sleek and smooth. It is a multitasking leave-in treatment enriched with micro-proteins and peptides that penetrate your hair cuticles and set the hairstyle in place for a long time.
Pros
Tames frizz
Multipurpose
Nourishes the hair
Vegan
Cruelty-free
Sulfate-free
Paraben-free
Long-lasting
Suitable for all hair types
Cons
Price at the time of publication: $6.99
ColorProof SuperPlump Thickening Blow Dry Spray was awarded by Good Housekeeping magazine as the Best Volumizing Hair Spray. It is meant to be used when you are blow drying your hair. It instantly adds volume to your hair. It plumps up each strand and makes your hair feel soft, smooth, and noticeably thicker.
Spray it all over your clean, damp hair and blow dry using a round brush to make your hair look full and voluminous.
Pros
Adds volume
Prevents hair breakage
Provides color and heat protection
Lightweight
Cons
Price at the time of publication: $28.0
This foaming hair mousse by Vidal Sassoon holds your hairstyle in place for up to 24 hours. Your hair feels weightless and looks glossy and shiny with this mousse. It also adds long-lasting volume to your hair. You can use it on your hair in any state, but it is recommended that you use it on your damp hair and let it dry for a more voluminous look. You can also apply it while styling your hair.
Pros
Flexible hold
Lightweight
Long-lasting
Adds volume
Controls unruly hair
Recommended by experts
Cons
Not suitable for all hair types
Price at the time of publication: $14.5
Oribe Supershine Light Moisturizing Cream is an incredible hair-styling product that you will keep repurchasing again and again. It is a leave-in conditioner that moisturizes your hair, tames frizz, and prevents split ends. This conditioner is formulated without parabens or sodium chloride, so it is safe for color-treated hair. It provides UV protection to your tresses to prevent sun damage. It is also useful for taming fly a ways throughout the day.
Take a minimal amount of this cream and apply it on damp hair, avoiding the roots, and style your hair as you desire.
Pros
Moisturizes the hair
Tames frizz and fly a ways
Prevents split ends
Protects hair from sun damage
Lasts throughout the day
Cons
Price at the time of publication: $52.0
Say goodbye to your dry and dull hair with the R+Co Television Perfect Hair Masque. This masque reduces dullness and makes your hair look camera-ready in no time. It provides added nourishment and moisturization and works well on all hair types. Its deep conditioning formula fights frizz and tames fly a ways. Its formula contains the goodness of coconut oil and olive oil.
Apply it on the ends of your hair after shampoo and leave it on for 2-5 minutes before rinsing.
Pros
Reduces dullness
Suitable for on all hair types
Sulfate-free
Paraben-free
Gluten-free
Cruelty-free
Vegan
Cons
None
Price at the time of publication: $42.0
This hair curling cream has moisturizing effects. Right from the first use, your hair feels soft and smooth. It contains coconut oil and shea butter that work like magic to tame frizz and calm fly a ways in curly hair. There are no parabens or silicones in this curling cream.
Use this cream to get frizz-free curls and to provide a conditioning effect to your hair.
Pros
Suitable for curly hair
Smoothens the hair
Moisturizes the hair
Controls frizz and flyaways
Cons
None
Price at the time of publication: $6.48
Rebekkah O'Neill, a Master Stylist and Hair & Beauty Trainer states, "Hair products are so underated. I understand that it can be very overwhelming trying to dermine what products to opt for, I would always reccomend playing it safe and going for more lighter products to prevent a greasy reisude on the hair."
Different hair styling products are built for different hair types. If you use gels with a high concentration of alcohol on your dry strands, you will end up stripping them. So, the first and foremost thing is to know your hair type. Go through the following section to know which product types are best suited to your hair type,
Things To Keep In Mind When Buying Hair Styling Products
Invest in the right hair styling products according to your hair and scalp types. It helps to accentuate the natural beauty of your tresses and fight the issues specific to each hair type.
Fine Hair: Buy volumizing, strengthening, and hydrating hair styling products to add natural bounce and volume to your fine hair. Skip products with ingredients such as sulfates and dry oils (coconut and argan) that weigh down your fine hair and make it look it limp and lifeless.
Curly Hair: For naturally curly hair grab the best hair styling products with nourishing oils and proteins. Since this hair type is prone to hair breakage due to dryness oil-rich products are a must-have for this hair type.
Oily Scalp And Hair: If you have oily scalp and hair, we know that you have faced excessive scalp buildups and dandruff. Opt for products with exfoliating ingredients like salicylic acid and throw away your regular hair products that are rich in oils, parabens, or sulfates. .
Dry Scalp And Hair: For dry tresses, invest only and only in deep nourishment. Look for products with moisturizing ingredients, like silicone, hydrolyzed keratin oil, and shea butter. Avoid sulfates and alcohol that usually dry out the strands.
Styling one's hair is no joke. While some wait for occasions to flaunt ethir styling skills, others experiment each day. Check out the next section for some tips and tricks on styling yur hair.
How Do You Style Your Hair?
Know your hair thickness and face structure to pick a hairstyle. Consult your hairstylist for a better idea. For example, bell-shaped faces don't look good with bangs and short hair. Whereas they look amazing if you have a larger forehead. Choppy haircuts like shags are a classic option for people with round faces. And, if you have a square face, stick to a haircut that accentuates your cheekbones.
You must use the right hair care products meant for your hair type to get the best results. Use curl control or de-frizzing serums if you have coily tresses. For thin and fine hair, volumizers are great styling products. Always keep a dry shampoo to quickly cover up your oily roots.
If your hair is naturally curly, enhance the already existing curls. But, if you want beachy curls, use a sea salt spray. Or, you can flip over your hair and apply a mousse. Later blow dry your hair to achieve the dramatic curly look.
If you have straight hair and want the curly look, use a good-quality curler. Let your hair dry before using a hot tool. Apply a heat protectant before using the flat iron or curler. Part your hair and curl it section by section. And, voila! Enjoy your coily, bouncy tresses.
Bad hair day? Don't worry. Try hair accessories! Hairbands look cute on all length hair.. If you are opting for a ponytail look or bun, tie it with a ribbon, bandara or a stylish head scarf. A simple hairstyle with sleek clips also look amazing.
Why Trust StyleCraze?
The author, Oyendrila Kanjilal, is a certified skin care coach and hair care enthusiast. Her love for new and creative hairstyles drives her to experiment with various products that help the process. For this list, Oyendrila went through hundreds of online reviews and compiled the best hair styling products for the readers. From curling creams to blow-dry sprays – all the products curated by the author offer long-lasting results.
Frequently Asked Questions
What are the different hair-styling products?
There are different hair styling products used to change your hair's texture or hold your hair in place for an extended period of time when you style it. The different hair-styling products include hair gel, hair wax, hair mousse, hair spray, and hair volumizer.
What products do celebrities use for their hair?
Celebrities are exposed to lots of styling products and heat-styling tools on their hair. They usually use vegan and cruelty-free products without any additives to nourish their hair and prevent damage. Some of the products reviewed in this article are used and recommended by them.
What hair styling product can I use every day?
Skip applying hair styling products daily. They can dry your strands and make them look lifeless if used daily.
What is the best product to keep hair in place?
The L'Oreal Paris Elnett Satin Extra Strong Hold Hairspray is the best product to keep your hair in place. This lightweight spray makes your hair feel soft and shiny throughout the day.
Do hair styling products damage hair?
Yes. Many hair styling products feature chemicals that damage your strands and make them prone to breakage. Therefore, always opt for chemical-free products that add strength to the hair and remove all product residue thoroughly while washing your hair.
How long do hair styling products last?
Many potent hair styling products can last you many hours, provided you are using them properly as mentioned by the manufacturer. Certain hair sprays and mousse can last throughout the day.
Can I use hair styling products after coloring my hair?
Yes, use chemical-free hair styling products after dyeing your hair. In addition, take good care of the dyed tresses with nourishing masks and color-safe shampoo to avoid fading the color.
What is the difference between styling and finishing products?
Finishing products are used on dry hair to protect the tresses from outside aggressors. Styling products hold the style of your tresses and are used on slightly wet hair.
Can we use hair styling products directly on oily hair?
No. Prevent using styling products on greasy hair to avoid trapping the oil and sweat in your follicles. This can lead to hair breakage.
Recommended Articles