12 Best Nail Whitening Products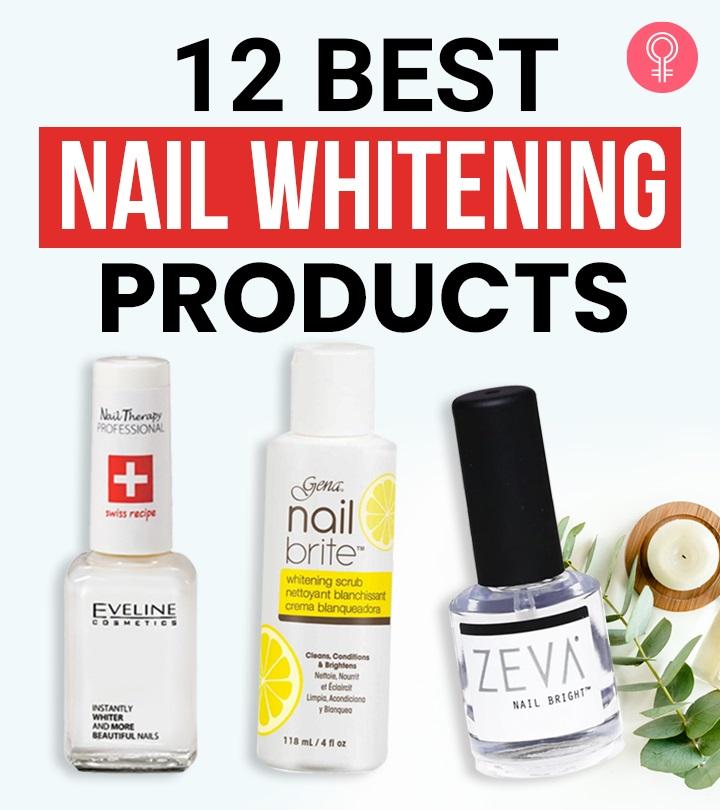 Regular use of nail polish may dull your nail shine and leave a yellow stain. Yellow nails are annoying to look at and make you appear unhealthy. Yellow nails could have various other causes – a fungal infection, deficiency of certain nutrients, or some underlying medical condition. It is important to consult a doctor to understand the condition further.
Besides, you may also use nail whitening products. These help you get rid of the yellow stains from your nails. We have listed here the top 12 nail whitening products available on the market. Take a look!
12 Best Nail Whitening Products
The Eveline Instantly Whiter Nail Whitener is formulated with lemon extract and UV filters. The whitener helps lighten the nails. It also helps eliminate any discoloration caused due to the extended application of nail polishes. The whitener can also be used as a base that helps create a protective coat. This also keeps the nails from yellowing repeatedly. The whitener also enhances polish wear ability, prevents chipping, and makes removing the nail polish easy. You need just ten days to allow your nails to achieve that rejuvenated and shiny appearance.
Pros
Rejuvenates nails
Creates a protective coat
Prevents chipping
Enhances polish wear ability
Cons
May cause allergies in some
The Gena Nail Brite Whitening Scrub has a creamy formula that contains special whiteners. The product whitens and cleanses yellow and dull nails. It is formulated to restore nails to their former glory. The product also works as a barrier for the nails, protecting it against harsh environmental factors. The product is easy to use and vegan.
Pros
Easy to use
Vegan
Protects against environmental stressors
Cons
None
The Zeva Nail Bright is a dermatologist-approved nail whitener. The product is free of any harmful chemicals like toluene or camphor. It applies smoothly to the nails and offers beautiful results. It is easy to apply. It is vegan too. The product makes your nails look healthy and can be used as a base coat as well. It also is free from formaldehyde and dibutyl phthalate. It also offers long-term protection to your nails. It is formulated with a polyester resin that makes your nails durable and strong. The polish also contains a plasticizer that keeps the nail polish from chipping. Nail Bright feels dry to the touch in less than 10 minutes.
Pros
Vegan
Easy to use
Dermatologist-tested
No toluene
No camphor
No formaldehyde
Keeps nails from chipping
Strengthens nails
Can be used as a base coat too
Fast-drying
Cons
None
The Orly Nail Whitener will help you achieve refined, bright, and whitened nails. The whitener is formulated with double doses of tea tree oil and citrus. These ingredients help detoxify the nails. They also dissolve the impurities and stains on the nails. According to the brand, this product soaks away any unsightly stains on fingernails and toenails.
Pros
Soaks away stains on nails
Detoxifies nails
Dissolves impurities on nails
Cons
The Blulu Nail Whitening Pencils help one achieve healthy, elegant, and natural-looking nails. They come as a pack of six pencils. Each pencil comes with a pointed cap that works as a cuticle pusher. It helps push the cuticles as per your convenience and allows you to clean the rim of the nails. The whitening pencil is easy to apply. It can be used on dry and wet nails. The pencils can be sharpened with a regular pencil sharpener.
Pros
Easy to use
Comes with a cuticle pusher
Can be used on wet and dry nails
Cons
The Christian Dior Nail Glow Whitening Nail Care has an innovative formula. The brand claims the product will instantly revive the natural color of the nails. The product also boosts the pink on the nail beds and brightens the white tips. Just one or two coats of this product will give you instant results.
Pros
Boosts the pink on the nail beds
Brightens white tips
Instant results
Cons
The Super Nail White Powder is an innovative product. It keeps the nails healthy and natural-looking. The product is formulated with pigments, peroxides, and hi-tech polymers. These ingredients are beneficial for nails. The powder has adhesive properties. It makes nails hard and strong too.
Pros
Nail-healthy ingredients
Strengthens nails
Cons
The Omiera Podiazole Nail Whitener helps restore nail health and appearance. The whitener has anti-fungal properties. It also keeps the nails healthy and attractive. It goes deep and penetrates the nail's protective barrier. It reaches the source of the fungus and eliminates them.
Pros
Kills nail fungus
Anti-fungal properties
Cons
The Adesse New York Nail Treatment will help add brightness and shine to your nails. It is an optical brightener that helps restore discolored nails. The product contains antioxidants that protect the nails from damage due to free radicals and environmental stress. The product is formulated with white tea extract, keratin protein, bamboo extract, and vitamin E. It is also packed with omega 3, 6, and 9 fatty acids. These ingredients help add shine to the nails. The whitener is vegan. It is formulated without harsh chemicals like parabens or toluene.
Pros
Vegan
Paraben-free
Sulfate-free
Phosphate-free
No formaldehyde
No camphor
No triclosan
No toluene
Non-GMO
Protects from free radical damage
Cons
None
The Cuccio Sicilian Nail Whitening Paste is a quick and easy way to brighten your yellowing and dull nails. The whitener successfully removes stains of dark nail polish, harsh chemicals, and dirt. The product is useful for extreme cleansing and brightening of nails.
Pros
Cleanses nails
Removes dirt
Cons
The Sally Hansen Insta-Brite Nail Whitener will help brighten and smoothen your nails. The whitener is formulated with special pigments that help create an optical brightening effect on nails. It also provides UV protection to the nails and keeps them from yellowing. The product helps correct any visible effects of staining. Its ridge-filling action helps create a smooth, flawless finish on the nails.
Pros
Optical brightening effect to nails
Protects from UV damage
Corrects visible effects of staining
Creates a smooth finish
Cons
None
The Mavala Switzerland Nail Whitener will help you hide the stains on your dull nails and gives them a natural look. The whitener works as an optical color perfector for the nails. It contains a specific optical azurant that reacts to the UV light. The whitener can also be used as a base under the nail polish. This helps restore the true shade of the nail polish while protecting the nails from dullness. The product is formulated for both men and women.
Pros
Suitable for men and women
Can be used as a protective base coat
Cons
None
These are the top nail whitening products available on the market. These not only promote the appearance of your nails but also could boost their health. Choose your favorite from this list today!
Recommended Articles