The 9 Best Chanel Lipsticks That Are Really Worth The Hype – 2023
Remain fashionable and true to your style with gorgeously attractive lip colors.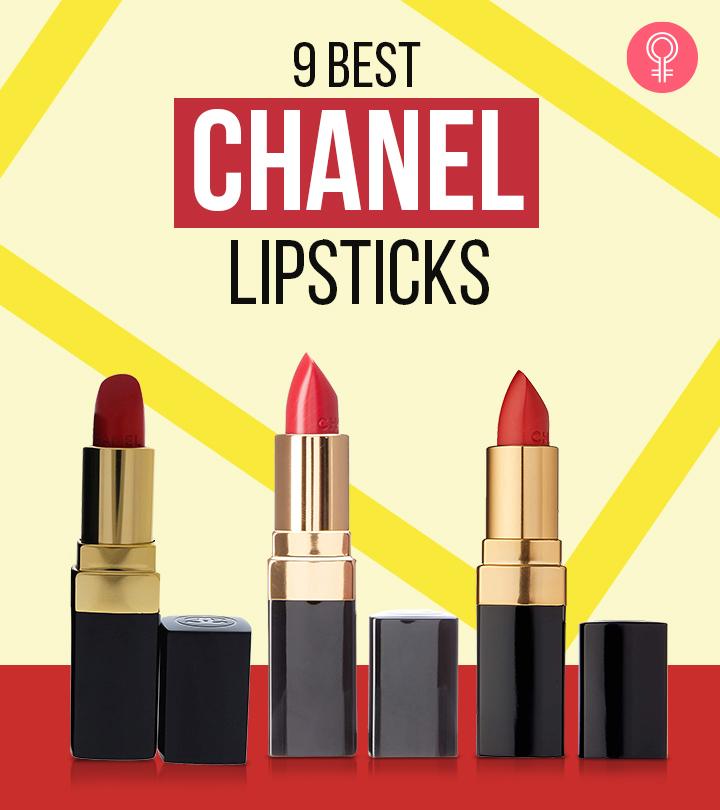 There is something about wearing the best Chanel lipsticks that can make heads turn! While this French brand has always focused on women's fashion accessories and speaks class and luxury in itself, their lipsticks are by far the most popular products to indulge in. The iconic brand offers alluring colors to experiment with and make a style statement. If you have been looking for a pigment-rich lipstick to add to your collection, here are 9 lipstick shades made to make you stand out.
Why Is Chanel Lipstick Good?
The quality of Chanel lipstick sets it apart from its other competitor rivals. Here is a list of reasons you should opt for this timeless beauty.
Moisturizing: Our lips need to remain hydrated, just like our skin. When we use lipstick for a longer period, it may make our lips dry and chapped. However, Chanel lipstick provides enough hydration to your lips to keep them smooth and moisturized.
Variety Of Shades: Chanel lipstick comes in a variety of shades that flatter all skin tones. This makes it easier for people to choose one amongst a range of versatile shades that suits any occasion, or mood.
Creamy Texture: The formula used to make these lipsticks has a creamy texture and glides smoothly on the lips.
Long-Lasting: Chanel lipsticks stay vibrant on your lips throughout the day without the need for touch-ups.
Now, let's dive in and look at our well–researched list of the best Chanel lipsticks curated just for you.
9 Best Chanel Lipsticks To Add To Your Vanity
The Rouge Allure Velvet Luminous Matte Lip Colour gives your lips a soft and velvety texture. It has a satin, soft finish and gives a weightless feel to your lips. The lipstick is enriched with ultra-fine, highly concentrated pigments to deliver a matte and luminous finish. It is also infused with jojoba oil that delivers smoothness to your lips. This video will give you a better insight into the product.
Pros
Long-lasting
Goes on smooth
Lightweight
Highly pigmented
Cons
None
Price at the time of publication: $45.55
This lipstick is formulated with next-generation technology to deliver full coverage. It is enriched with jojoba oil, sunflower wax, mimosa butter, and silicone that nourish your lips and provide long-lasting hydration. The lightweight formula has a creamy texture that glides smoothly on your lips.
Pros
Long-lasting
Smudge-free
Highly pigmented
Lightweight
Glides smoothly
Cons
None
Price at the time of publication: $78.37
This bright lip color comes in a retractable and elegant-looking black case. It comes with opaque pigments to deliver full coverage on your lips. The bright red shade of this lipstick with subtly cool pink tones offers a showstopper look. It is infused with the most potent ingredients like mimosa butter, jojoba, sunflower wax, and silicone that deliver a glamorous shine to your lips.
Pros
Smooth finish
Highly pigmented
Lightweight
Long-lasting
Cons
Price at the time of publication: $39.94
The Chanel Rouge Coco Shine Hydrating Sheer Lipshine is formulated to deliver full coverage in just one swipe. It provides long-lasting shine and incredible wearability. The creamy formula feels lightweight and glides smoothly on your lips. Coco is a rich rust shade with a reddish tint. This lipstick makes your lips soft and supple, and its ultra-thin pigments provide high-end coverage.
Pros
Full coverage
Highly pigmented
Non-cakey
Long-lasting
Cons
None
Price at the time of publication: $60.93
The smooth gliding formula of this lipstick delivers an even finish on your lips. This luxurious lipstick is made with silicone wax to give you kiss-proof lips. It is rich in pigments and delivers full coverage with maximum color payoff. This Chanel lipstick is infused with mimosa, jojoba oil, and sunflower wax to nourish and hydrate your lips. It also features polymer film technology that encourages long-lasting hold and boosts shine.
Pros
Non-smudging
Goes on smooth
Long-lasting
Non-cakey
Highly pigmented
Cons
None
This Chanel lipstick offers a high-gloss finish with an intense color payoff. The subtle shade of this retractable lipstick looks good on medium skin tones. Its weightless texture glides effortlessly on the lips for a smooth finish. The hydrating formula is infused with essential oils for moisturizing benefits. It makes your lips look plump and healthy with a hint of shimmer. Watch this video for a thorough understanding of the product.
Pros
Lightweight
Full coverage
Long-lasting
Cons
None
Price at the time of publication: $59.55
The shade 406 Antoinette is a luxurious deep maroon that makes your lips look gorgeous. The lipstick has a water-light texture that glides smoothly on your lips and gives them a healthy, fuller appearance. It has hydrating properties to keep your lips nourished and moisturized. The high-quality pigments of this classic shade make your lips look luscious with a natural finish.
Pros
Highly pigmented
Goes on smooth
Smudge-free
Weightless
Cons
None
Price at the time of publication: $54.45
This Chanel lipstick has a liquid formula that delivers luminous shine in a matte finish. The rich pigments in this lipstick are highly concentrated and offer long-lasting results. Choquant is a subtle shade that will get you compliments wherever you go. The silky formula contains unique wax to provide softness, suppleness, and a velvety finish to your lips. The lipstick is also infused with sweet almond oil, green tea, and sappan wood to moisturize and protect your lips. You can apply it with the inbuilt high precision applicator. Click here to check out a detailed personal review of this product.
Pros
Full coverage
High precision applicator
Fine pigments
Long-lasting
Lightweight
Cons
None
This liquid lipstick in Libere shade offers a gorgeous matte finish. It has a smooth texture that can be precisely applied with an applicator for an even finish. This long-lasting lipstick delivers a luminous velvety feeling to your lips. It contains plant oils like jojoba and a unique antioxidant complex that nourish and hydrate your lips. The lipstick also contains polymers and fine pigments that deliver full coverage.
Pros
Lightweight
Highly pigmented
Smudge-free
Smooth application
Cons
None
Chanel lip colors not only enhance lips but also add character. The iconic glossy black elegant packaging, embossed with the brand's Cs, adds to the attraction of these lippies. However, choosing the right one is the key to a vibrant look. Therefore, we have put together a list of tips for you to consider while selecting the best Chanel lipstick for your lips.
How To Choose The Best Chanel Lipstick
The array of shades may confuse you. But always remember identifying your skin undertone is the first step in choosing lipstick. There are three undertones, i.e., warm, cool, and neutral. You can use copper, pale pink, peach, or nude lip shades for warm undertones. Cool undertones pair better with pink, mocha, ruby, or wine shades. You will be able to find the perfect shade for your tone in a wide range of Chanel colors.
Just like your facial skin needs hydration, your lips also crave moisture. Unfortunately, some lipsticks may dry out your lips when used over long periods. But fortunately, some Chanel lipsticks are packed with moisturizing ingredients that keep your lips soft and supple. Look for those infused with jojoba oil, mimosa butter, essential oils, and sunflower wax to nourish your lips and provide intense hydration.
Look for bright and vibrant shades on your pout throughout the day. If you are working through the day, you should choose a long-lasting lipstick that is fade-resistant and does not need to be retouched constantly. Lip colors that are highly pigmented will last longer than those that are not.
The texture of the lipstick will also contribute to the final finish on your lips. Lipsticks come in sheer, satin, creamy, matte, and glossy textures. Choose a creamy lipstick to provide hydration along with the perfect finish of matte lipstick and offer full coverage. If you need something that glides on easily, satin finish lipsticks are perfect. On the other hand, matte lipsticks stay the longest. Whatever texture you choose, ensure the lipstick is comfortable to wear.
There are various applicator styles available in lipsticks. Liquid lipsticks come in small slim bottles with a sponge tip high precision applicator brush which provides an even finish. The bullet-shaped sticks with twisty cartridges are the more traditional lipsticks. Both give good coverage, and you can choose the style you find easier to work with.
Why Trust StyleCraze?
Baishali Bharracharya, the author of this article, is certified in makeup artistry and loves experimenting with makeup items. Since Chanel is a well-known brand when it comes to lipsticks, Baishali read through many product reviews and curated a list of must-have ones for her readers. The listed products are highly pigmented and make you look outstanding.
Frequently Asked Questions
What makes Chanel lipstick popular?
Chanel lipstick is popular among makeup artists and influencers due to its innovative and trusted formula, multiple shades to suit different skin tones and occasions, and longevity.
How much does a Chanel lipstick cost?
Any of the Chanel lipsticks will fall in the range of $30 to $60 per 0.12-ounce stick.
Where to buy Chanel lipstick?
Chanel lipstick can be brought from their main stores or any other high-end beauty store. They can also be bought online from Amazon or Nordstrom. The brand also has its online site called chanel.com.
How long does Chanel lipstick stay good?
Chanel lipstick is long-lasting, and it can stay up to 8-10 hours without smudging.
How to spot a fake Chanel lipstick?
There is a tool called 'check fresh' where you can enter the batch code of the lipstick to check its authenticity.
Recommended Articles
Best High-End Lipsticks
Best Moisturizing Lipsticks That'll Keep Your Lips From Drying Out!
Best Lipsticks For Sensitive Lips That You'll Love
Best Purple Lipsticks For That Enviable Pout!
Best Lipsticks For Asian Skin