10 Best Korean Products To Minimize Pores In 2023
High-quality Korean skincare products that help cleanse and unclog pores effectively.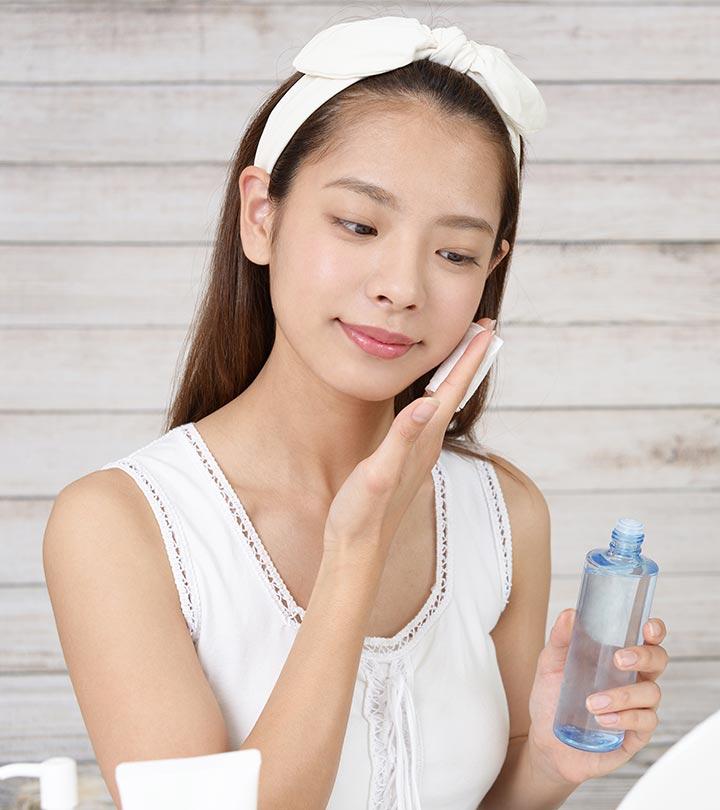 Most of us wish to get smooth skin instead of crater-like pores. Bumpy and uneven skin with pores and zits that never vanish is always a cause for concern. Dr. Enrizza Factor, dermatologist, Philippine Dermatological Society, says, "Pores are typically associated with a different duct of an oil gland or it comprises a follicle and its connected hair shaft. Pores produce an oily matter called the sebum. It spreads across our skin and lubricates it but can also dilate pores. As your pore size is mostly a result of your genetics, you cannot permanently shrink them. However, you can minimize their appearances by keeping them clear of oil and debris and boosting your skin's collagen and elastin. Pore cleansing products are adapted to the natural pH of the skin's protective acid."
These Korean pore minimizers can make the pores look smaller and give you that much-loved even skin. So, you no longer have to be worried about those bumpy craters. Read this article to find the perfect Korean pore-minimizing products for your face.
Top 10 Korean Products To Minimize Your Pores
Product Type: Chemical exfoliating serum
This daily serum contains glycolic acid – an AHA – and a natural exfoliator that helps get rid of the dead skin cells. You can use it every day as it also contains skin-soothing ingredients, such as aloe vera, sagebrush extracts, and arnica. One of the best pore-reducing serums, it keeps your skin clear, manages pores, controls oil production, and evens out your skin tone. It is the best Korean moisturizer for sensitive skin. Check out this video for a detailed and honest review of the Mizon AHA 8% Peeling Serum.
Note: Avoid using this product along with a retinol-based product. If you have sensitive skin, use it in small quantities until your skin gets used to it.
Also Recommended By: Experts at Bustle also think highly of Mizon AHA 8% Peeling Serum.[1]The Best Korean Beauty Products To Minimize Pores. Bustle. https://www.bustle.com/p/the-best-korean-skin-care-products-to-minimize-pores-45220/
Pros
Dermatologically tested
Contains botanical extracts
Cons
Price at the time of publication: $15.1
Product Type: Foaming face wash
Cleansing is the first step to cleaning your skin and skin pores. For that, you need the right cleanser. This foaming cleanser from the Wonder Pore range by Etude House has tiny blue microbeads that have a gentle exfoliating effect. These pore-reducing cleanser beads clear your skin pores thoroughly. This pore-exfoliating cleanser also contains mint extracts that create a pleasant cooling sensation on your skin after every wash.
Pros
Paraben-free
SLS- and SLES-free
Mineral oil-free
Cons
None
Price at the time of publication: $10
Product Type: Exfoliating gauze
Neogen Dermalogy Bio-Peel Gauze Peeling is a gentle chemical exfoliator. Each pack contains 30 single-use gauze pads infused with a concentrate containing glycolic and lactic acids, resveratrol (extracted from red wine), and natural AHAs that initiate the exfoliation process once you apply it on your face. Youtuber Becca M, says, "These pads contain both glycolic and lactic acid which are fantastic AHAs. They help to remove dead skin and reveal brighter-looking skin. I found that if I use a light hand in using them, they provide the right amount of exfoliation to lift off dead skin cells and reveal really bright and soft skin." Resveratrol also prevents damage caused by harmful free radicals and helps manage wrinkles and pigmentation. To know more about the benefits of the Neogen Dermalogy Bio-Peel Gauze Peeling, check out this YouTube video.
Pros
Paraben-free
Sulfate-free
Phthalate-free
Contains fruit extracts
Dermatologist-tested
Cons
None
Price at the time of publication: $27.0
Product Type: Face mask
Revive Science Clay Mask contains activated charcoal and kaolin clay that purifies the skin, cleanses the pores, and minimizes their appearance. This detox mask is enriched with pink and blue clay to reduce wrinkles and age spots and improve skin elasticity for a youthful appearance. This pore-reducing clay mask hydrates the skin, treats acne spots, leaving the skin feeling moisturized and radiant. It also rejuvenates the skin and promotes skin cell renewal.
Pros
Suitable for all skin types
Paraben-free
Sulphate-free
Cruelty-free
Ideal for both men and women
Cons
None
Price at the time of publication: $19.99
Product Type: Face Primer
This primer is infused with a multiple fruit complex that hydrates and nourishes the skin to restore a youthful glow. The creamy formula minimizes the appearance of blemishes and refines pores, creating an invisible barrier between the skin and makeup. Youtuber Rebecca, says, "It applies smoothly and the finish is like a moisturizer. Unlike most matte primers, it does not have a silicone feel to it. All you need is a little product for that dewy, natural finish." It also contains rose extracts and pearl powder that balance the skin's pH levels, replenish moisture, and add a healthy, luminous effect. Additionally, the primer also protects your skin from the harmful rays of the sun. In this YouTube video, you will find a detailed review of the Ipkn Radiant Cream Primer that leaves your skin glowing.
Pros
Suitable for all skin types
Lightweight
Long-lasting
SPF 15
Instant glow
Value for money
Cons
None

Price at the time of publication: $24
Product Type: Foaming face wash
If you have combination or oily skin, this foaming face wash is perfect for you. It contains egg whites that have a pore purifying effect. They help regulate excessive sebum, cleanse pore-clogging impurities, and tighten your skin. Moreover, egg whites are rich in amino acids and vitamins that keep your face nourished without stripping away its natural oils. This pore-cleansing product also contains licorice, Centella asiatica, and soybean seed extracts. It is the best Korean primer for oily skin.
Pros
Paraben-free
SLS- and SLES-free
Mineral oil-free
Cons
None
Price at the time of publication: $9.99
Product Type: Toner
Secret Key Witch-Hazel Pore Clear Toner controls overactive sebaceous glands and makes the skin refreshed with clear pores. This pore-reducing toner effectively soothes tanned skin or insect bites and removes makeup residue. The emollient skin toner is packed with 15 botanical extracts, which offer clear and bright skin. You can keep the skin hydrated, soothing, and cleansed.
Pros
Paraben-free
Benzophenone-free
Mineral-oil free
No chemical preservatives
Cons
Some users found package issues.
Price at the time of publication: $8.36
Product Type: Oil cleanser
If you double-cleanse your skin religiously every day, you are going to love this product! The All Clean Balm by Heimish is an oil-based cleanser that has a solid cream-like consistency. This pore-reducing oil cleanser is soft and lightweight, and it dissolves stubborn makeup when you massage it on your skin. Jenny Dao, a beauty creator on Instagram, mentions in her review, "It removes waterproof makeup well without drying and irritating skin. My skin feels clean, softer, and hydrated. I really enjoy this cleansing balm a lot." It contains shea butter, coconut extracts, citrus herb oil, and white flower complexes that condition and soften your skin and help improve your skin tone. Youtuber Melissa Van Dijk, says, "Personally, I like to use this cleanser on its own. It does not leave a weird residue therefore I don't find the need of doing a double cleanse."
Pros
Paraben-free
No artificial fragrances
No artificial colors
Suitable for all skin types
Cons
None
Price at the time of publication: $17.75
Product Type: Primer
An enriching primer is all your skin needs for a smooth canvas to unravel the magic of makeup. This primer is formulated with egg whites that buffs away dead skin cells and removes excess sebum, giving your skin a soft and fresh appearance. Youtuber Rose Marie, says, "This applies very smoothly and makes my skin feel soft. It does the job of covering up your pores very well and I don't see my enlarged pores anymore after using it." It also has a powerful herbal complex that moisturizes, protects, and controls sebum production for cleaner pores to create a smooth matte surface. While the egg-shaped container is sure to catch your eye, the lemon-filled fragrance offers a refreshing sensory experience.
Pros
Blends smoothly
Sulfate-free
Paraben-free
Phthalate-free
A little bit goes a long way
Cons
None
Price at the time of publication: $20.0
Product Type: Cleansing foam
This is an excellent foaming cleanser for oily, acne-prone, and combination skin types. This pore-reducing foam cleanser contains fermented green tea extracts that hydrate, brighten, and calm your skin. Its gentle formula wipes out sweat, sebum, and other impurities from your skin and cleanses the skin pores thoroughly without harming the natural skin barrier. This water-based cleanser has a pH of 8. It is the best Korean products for pores and has shown clinically proven results. Youtuber Sasha Lickle says, "I always wanted a gentle and natural cleanser that wasn't overly drying or stripping off my skin, and this is why I purchased this. One thing I like about it is that little goes a long way. I recommend this product to everyone!"
Pros
Paraben-free
Sulfate-free
99% natural ingredients
Clinically tested
Cons
None
Price at the time of publication: $15.2
How To Select The Best Korean Products To Minimize Your Pores
The buildup of dead skin cells and excess oil can make your pores appear more prominent. Several products can help minimize the appearance of pores with visible results. However, with a plethora of choices available, it is important to consider a few factors before making your purchase. Given below are a few pointers you should consider to find the best Korean products to minimize pores.
For dry to normal skin types, choose alpha hydroxy acids (AHA) to exfoliate the skin. However, beta hydroxy acids (BHA) work better for combination to oily skin types. A charcoal or kaolin clay works wonders for oily, acne-prone skin types for exfoliation and sebum regulation to ensure the pores stay clear.
Look for formulas with alpha hydroxy acids (AHA) or beta hydroxy acids(BHA) that have proven efficacy in exfoliating dead skin cells. Choose ingredients that minimize build-up and control excess sebum. You can also look for products with retinoids that stimulate cell turnover and unclog pores. Additionally, ensure some light hydration with ingredients like glycerin and hyaluronic acid.
When dirt, grime, and excess sebum start clogging your pores, they seem to be enlarged. Certain comedogenic ingredients only accentuate the pore clogging. These include coconut oil, shea butter, beeswax, sodium lauryl sulfate, talc, and lauric acid. Look for cleansing balms, moisturizers, and toners labeled "non-comedogenic" or "oil-free", which are clinically-proven to prevent pore congestion.
Korean toners, masks, and cleansers are available in a range of formulas. If you have oily skin, we recommend choosing clay masks for oil control and cleansing balms for double cleansing, while dry skin can do well with cleansing oils. Similarly, you can go for a toner with spray consistency for oily to combination skin types and choose something heavier or creamy for dry to normal skin types.
Korean skin care brands cater to everyone, whether you are on a budget or looking to splurge on skin care. It is important to see if the product you buy provides value for money. From cleansing balms and face cleansers to snail mucin serums and toners, you can find a variety of tried and tested options for different price points when it comes to K-beauty.
Why Trust StyleCraze?
Shiboli Chakraborti is a certified skin care coach. She researched and reviewed several customer feedback before curating this list of the best Korean skin care products. These products are specially formulated to smoothen your skin and reduce the appearance of enlarged pores.
Frequently Asked Questions
How do you close your pores fast?
Closing the open pores is a process. Here are the steps to follow:
1. Cleanse your face twice a day to prevent the accumulation of dust and sebum that clogs the pores
2. Always use water-based skin care products.
3. Avoid heavy oils and products that contain alcohol.
4. Exfoliate your skin twice a week to remove dirt from the skin's surface.
5. Use clay face masks to seal the open pores.
6. Do not forget to keep the skin thoroughly moisturized.
How effective are Korean skincare products with retinol for pore size?
Korean skin care products containing retinol promote cell turnover and unclog the pores. They help in reducing pore size and keep skin smooth.
Recommended Articles