11 Best Water-Based Cleansers For Squeaky Clean Skin
Gently cleanse away dirt and impurities to uncover your natural radiant skin.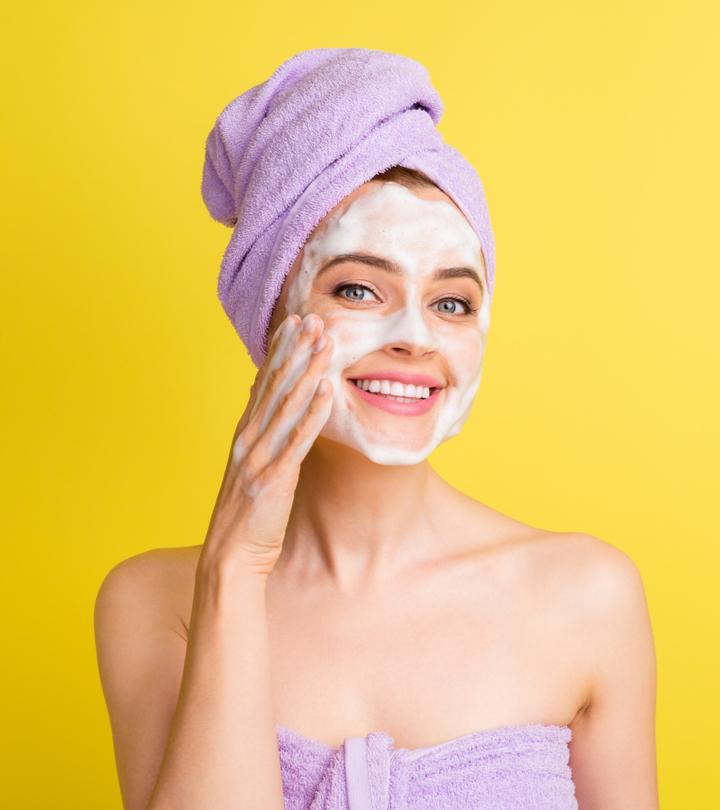 Picking the correct cleanser for your face is essential since cleansing is the most crucial step in one's skincare routine. There are plenty of cleansers out there that are oil, water-based, and gel-based, and picking the right one can be a pretty daunting task. Water-based cleansers are best for oily skin and can be easily added to one's routines. Korean skincare routines encourage double cleansing with an oil-based cleanser to remove the impurities and follow it up with a water-based cleanser to remove the remaining residue. Water-based cleansers are loaded with a large concentration of water that can help healthily cleanse one's skin. Check out our article to know about the best water-based cleansers on the market and find out which suits your skin.
Top Picks
What Does A Water-Based Cleanser Do?
 Water-based cleansers clean the skin by removing impurities from the surface. Water-soluble particles like dirt, dust, grime, makeup, and oils dissolve along with the lather and detach themselves from the surface of the skin. They're best-suited for oily and acne-prone skin types as they won't strip away natural oils, which can cause the skin to become too dry. Micellar water is a type of water-based cleanser that uses micelle technology to cleanse the skin without foaming and you can easily wipe impurities off with a cotton pad without rinsing.
Read on to find out the 11 best water-based cleansers that will effectively clean your skin depending on your skin type.
11 Best Water-Based Cleansers That Are Gentle On Your Skin
Pros
Non-comedogenic
Fragrance-free
Retains skin moisture
Protects skin barrier
Non-irritating formula
Ideal for dry and very dry skin types
Creamy texture
Cons
The cleanser may not be strong enough to remove heavy makeup.
Price at the time of publication: $14.57
This cleansing water is the only thing you need for those nights you're completely exhausted and the last thing you want to do is take your makeup off. You're absolutely going to love this drugstore water-based cleanser by Garnier as it effectively cleanses the skin and you can also use it as a makeup remover! With micellar technology, the micelles attach themselves to the dirt and oils on your skin and easily remove them without you having to tug or rub harshly. Just pour some SkinActive Micellar Cleansing Water on a cotton pad and gently swipe it over your eyes, lips, and face to cleanse your skin without the need for rinsing. A good water-based cleanser, it is great to travel with as it cleanses and hydrates skin on-the-go.
Pros
Doubles as a makeup remover
Doesn't leave filmy residue
Cruelty-free
Gentle on the skin
Convenient when traveling
Fragrance free
Doesn't contain parabens, sulfates or silicones
Cons
You may need to use a lot of product.
Price at the time of publication: $7.97
Cleansing sensitive skin can be tricky and sometimes even downright painful as you never know which ingredient may trigger an adverse reaction. But fret not, Bioderma's simple water-based cleanser is formulated specifically for sensitive and allergy-prone skin types. Apart from water, the Sensibio H2O Make-Up Removing Micelle Solution contains cucumber extract, which offers a cooling effect on the skin, reduces irritation and inflammation, and shields your skin from damage. The fatty acid ester micelles present in this water-based cleanser for sensitive skin actively detach impurities and oils from the skin's surface, leaving it looking plump and soft. You can take a look at this YouTuber's review to understand this cleanser's merits and demerits.
Pros
Calming and cooling effect on sensitive skin
Non-drying
Paraben-free
Non-irritating formula
Oil-free
Alcohol-free
Cons
Some may find the smell slightly pungent
Price at the time of publication: $10.99
Neutrogena's water-based facial cleanser is exactly the boost of hydration your skin needs after carrying all the makeup and impurities from a long day. The affordable water-based cleanser is enriched with hyaluronic acid, which intensely hydrates your skin and prevents moisture loss, making your skin soft and plump. Super lightweight, this gel-based cleanser forms a silky lather that efficiently removes makeup, dirt and oils without making your skin feel tight. Use both day and night for a refreshing feel. If you want an elaborate review of this cleanser, make sure to take a look at this skincare enthusiast's video.
Pros
Hypoallergenic
Non-comedogenic
Paraben-free
Doesn't contain oil or soap
Gel consistency is gentle on skin
Cons
Price at the time of publication: $29.89
This Korean water-based cleanser contains rice water that is loaded with vitamins A, B, and E, which slow down the signs of aging and protect skin from inflammation. There's also an abundance of minerals and ceramides, which nourish dry skin and rejuvenate aging skin by giving it  a new lease of life. Rice extract has been a staple ingredient in a ton of Asian beauty routines and this Rice Water Bright Foaming Cleanser uses the same to mildly cleanse and moisturize the skin, leaving it bright and nourished. Additionally, you'll also find antioxidant-rich oils like moringa, which purify skin cells by removing dirt and soapwort, which gently cleanses sensitive skin. Super gentle on the skin, we think this is the best Korean water-based cleanser on the market for those who want cleansed skin that is not stripped of natural oils. You can also check this review to understand more about the final results after using this water-based cleanser from The Face Shop.
Pros
Paraben-free
Doesn't contain talc, animal fat or paraffin
Mineral oil-free
Moisturizes and brightens skin
Gently cleanses skin
Cons
Price at the time of publication: $12
Japanese brand Natural Aqua Gel Cure's natural water-based cleanser contains a cocktail of skin-nourishing extracts like aloe to cool and soothes skin, rosemary to reduces puffiness and inflammation, and gingko for antibacterial properties.The main ingredient of this deep water-based cleanser is 91% activated hydrogen water formula that gently exfoliates skin to remove impurities like dirt, dust, and oils to unclog pores. It has antioxidant benefits that protect skin from effects of aging and sun damage, too. Without scrubbing too hard, you'll notice clean skin that's well-moisturized and smooth.
Pros
Suitable for all skin types
Gentle formula
Contains no added fragrances
Contains nourishing oils
Suitable for sensitive skin
Evens out skin tone
Cons
Price at the time of publication: $93.63
Neogen's organic water-based cleanser combines 6-core biotechnology with skin-conscious ingredients to bring forth natural glow from gently-cleansed skin. The main character in this vegan water-based cleanser is green tea, which combats acne, reduces inflammation, signs of aging, redness, and also effectively moisturizes skin. Passing 7 clinical tests, the Real Fresh Foam Cleanser Green Tea effectively cleans your pores of dirt, oils and dust without making your skin feel tight or itchy.
Pros
Contains green tea for skin-nourishing benefits
Contains organic ingredients
Free from talc, sulfates, BHA, mineral oils and petrolatum
Doesn't contain tar, salicylic acid, ethanol or animal ingredients
Hydrates skin
Cons
Some may find the smell slightly odd
Price at the time of publication: $19.0
Obagi's Nu-Derm line is formulated with oat amino acids to tackle mature and aging skin concerns. This water-based skincare product is mild and vows to remove dirt, dust, and oils that may have been trapped in your skin along with layers of makeup. Now, you can look forward to waking up to a fresh, glowing face ready to take on the day. Formulated for dehydrated, dry, and sensitive skin types, this water-based cleanser does to your face what drinking a glass of water first thing in the morning does to your body. Obagi's water cleanser for face transforms your skin by brightening it and giving you a youthful glow. Aloe vera, sage, and apricot extracts combine in this water-soluble face cleanser to give off a subtle, sweet scent.
Pros
Mild formula
Suitable for normal and dry skin types
Reduces anti-aging skin concerns
Has hydrating benefits
Has a subtle smell
Non-drying
Cons
Might not remove waterproof makeup effectively
Price at the time of publication: $43
A gentle water-based cleanser for oily skin and acne-prone skin, the Clean & Clear Essentials Foaming Facial Cleanser can be used daily for a refreshed look. With ingredients derived from coconut oil, this water-based cleanser for acne-prone skin feeds the skin with antioxidants and amply moisturizes it. Also containing myristic acid, this cheap water-based cleanser draws out oil from your skin, controlling sebum production. To minimize and prevent breakouts, lather up some of this water facial cleanser and use it twice daily for smooth and healthy skin.
Pros
Minimizes oil production
Controls acne
Moisturizes skin
Gently removes impurities
Suited for oily, acne-prone skin
Cons
Price at the time of publication: $4.88
Naturium's Niacinamide Cleansing Gelée 3% is a water-based gel that feels like a soothing essence gliding on the skin. Its star ingredient is niacinamide, which brightens skin complexion by evening out skin tone and fading dark spots and hyperpigmentation. There's also powerhouse ingredients like hyaluronic acid that amply hydrates the skin while retaining moisture and vitamin C that lighten and reduce scars. This cruelty-free water-based cleanser by Naturium effectively removes dead skin, pollutants, and makeup from the skin while being ever-so-gentle. And that's not all, it preps your skin so that it can absorb skincare products like  essences, serums, and moisturizers better.
Pros
Contains skin-brightening ingredients
Paraben-free
Gentle formula
Gluten-free
Allows better absorption of skincare products
Fragrance-free
Balances skin's pH level
Cons
People with dry skin may find this cleanser to be stripping
Price at the time of publication: $17.99
With a creamy consistency, this water-soluble face cleanser rids the skin of oils, pollutants, makeup, and skincare. Charcoal present in the Mediheal Intense Pore Clean Cleansing Foam dives deep into your pores to purify them by removing impurities and oils, controls oil production, and gently exfoliates skin to remove dead skin cells and allow for new skin to shine through. This water-based exfoliator also contains mushroom extract, which is anti-inflammatory, an antioxidant, and contains numerous anti-aging benefits and there's also zinc that'll soothe your skin. Transform dull, oily, and distressed skin to rejuvenated, radiant and healthy skin in a single wash with this non-comedogenic water-based cleanser. You surely can't fail with an ingredient list like that, so this is a winner in our books!
Pros
Controls oil products
Detoxifies pores
Exfoliates skin
Contains anti-aging properties
Soothes skin
Minimizes blackheads
Cons
Specially formulated for oily skin only
Price at the time of publication: $8.99
Now that we've looked at some of the best wate- based cleansers in the market, allow us to simplify the complicated process of choosing the right one for yourself.
How To Choose A Water-Based Cleanser
 It's important to choose a water-based cleanser that'll help improve your skin and tackle specific skin concerns. If you have dry, normal, or combination skin, water-based cleansers that use micellar water as the base are a good choice as they tend to work well on all types of skin. For oily-skinned folks, looking for ingredients that control oil and sebum production, unclog pores and prevent acne can be of huge help. Charcoal, salicylic acid, and green tea are good examples.
As with any product that goes directly onto skin, it's wise to avoid some harmful ingredients in water-based cleansers. Look out for parabens, sulfates, mineral oils, petrolatum and phthalates as these can cause damage to your skin barrier.
Now that you've got your favorite water-based cleanser sitting on your bathroom shelf, let's take a look at how you can use it for best results.
How To Use A Water-Based Cleanser
Step 1: Wet your face and using a small amount of the cleanser, gently work up a lather, carefully rubbing your face in circular motions. Non-foaming cleansers have a cream-like consistency and don't foam.
Step 2: Rub for at least 1 minute to remove all the dirt, impurities, and oils and rinse with warm water.
Step 3: If you have heavy makeup on, you can double cleanse and use an oil-based cleanser to fully dissolve all the makeup.
Step 4: Follow with serum or moisturizer as part of your remaining skincare routine.
If you're simply using micellar water, all you need to do is wet a cotton pad with the product and gently swipe on your face to cleanse. Some products require rinsing afterwards and some don't, so make sure to check the instructions on the packaging.
If you're majorly struggling with oily or acne-prone skin, water-based cleansers will be a great match for you. They're super gentle and won't completely dehydrate your skin like some harsh scrubs and washes can. Cleansing the face the right way is so important to maintaining healthy skin and using the right cleanser can fast-forward you on that path. Our list of the 11 best water-based cleansers is meant to lay out all the options you have when shopping for a water-based cleanser. And even if you don't have oily skin, there are so many of these that can be used for all skin types, like micellar water. Since we're so developed in skincare technology these days, there's always something for everyone.
Why Trust Stylecraze
Vaishnavi Kothuri is a skin and hair care enthusiast who holds vast experience in writing by working as a lifestyle writer and editor. She writes about beauty and wellness products after carefully understanding the features, pros and cons, and in-depth analysis of feedback from existing users. In this post on the best water-based cleansers, she explained each product in detail and shared a complimentary buying guide to help you pick the best.
Frequently Asked Questions
Are water-based cleansers good for oily skin?
Yes, water-based cleansers have a gentle formula that effectively dissolves all the dirt, grime and makeup in oily skin without stripping it of natural oils.
Are gel cleansers water-based?
Gel cleansers can be water-based, but not all gel cleansers are so. They are good for all skin types and help remove dust, oils, and makeup when cleansing.
Can water-based cleansers remove sunscreen?
Yes, water-based cleansers can remove sunscreen effectively as they are well-equipped with surfactants that dissolve skincare products and dirt.
What is the difference between micellar water and cleanser?
Micellar water is super gentle on the skin, removes dirt, oil and impurities without stripping the skin, or leaving a 'tight' feeling. You can even pour some on a cotton pad and swipe to cleanse, without even having to rinse. Cleansers, on the other hand, aren't as gentle and usually need to be rinsed off as they can lather up.
Do water-based cleansers work on all skin types?
Water-based cleansers are best-suited for oily and acne-prone skin, as they gently dissolve surface makeup, oils, and dirt without stripping the skin of natural oils. However, if you're wearing heavy makeup, oil-based cleansers will do a better job of effectively cleansing the skin. You can use an oil-based cleanser and follow it with a water-based one for other skin types.