5 Best Recommended Korean Cotton Pads Of 2021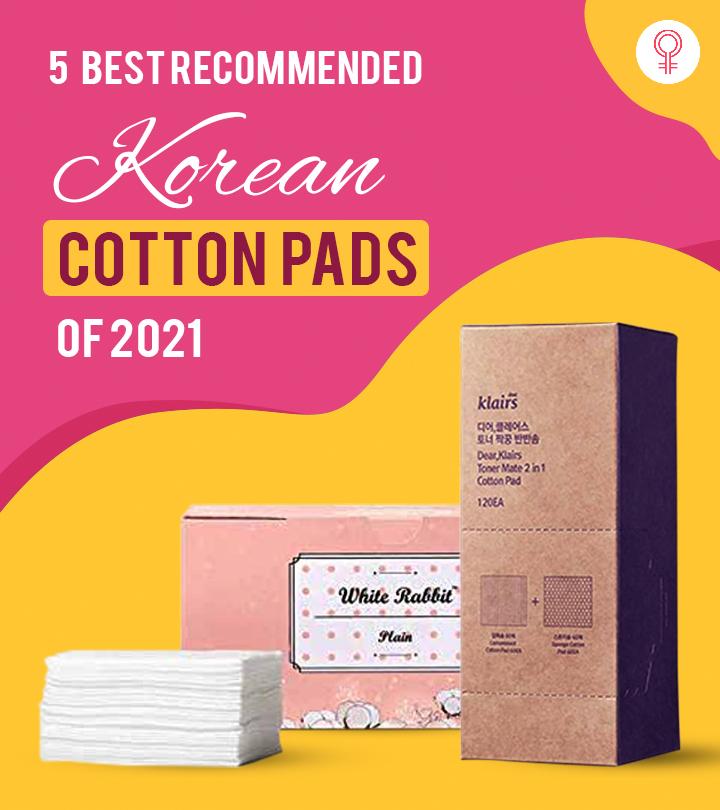 When it comes to achieving flawless glass-like skin, what you use to apply your products matters too! While some use their fingers to rub a toner into their skin or remove makeup, others prefer cotton pads for most of their skincare regime.
Cotton pads for the face have now become a rage in the Korean beauty world. Most beauty gurus insist these pads are the game-changers. The Korean cotton pads are gentle and non-irritating on your skin. They help exfoliate your skin and remove even the most stubborn makeup residue. Moreover, using these cotton pads to apply toners or essence can reduce product wastage. Here, we have rounded up the 5 best Korean cotton pads that can up your skincare game. Check them out!
5 Best Recommended Korean Cotton Pads Of 2021
The NOONI Toner Mask Sheets have a unique curved design that keeps the msnug on your face without forming creases. These come as a box of 60 cotton sheets. You can use them to create your own DIY sheet masks that seamlessly sit on your skin.
They are designed to use only half the amount of toner. These high-tech sheets are crafted with layers of plush plant fibers that deliver the maximum amount of skincare product to your skin. These cotton pads target your skin concerns and can be used for spot treatment. They are gentle on the skin, and their soft texture makes them suitable for irritated or sensitive skin.
Dimensions:6 x 7 inches
Pros
Suitable for all skin types
Gentle on skin
Absorbs less skincare product
Multi-functional
Ideal for spot treatments
Paraben-free
Sulfate-free
Phthalate-free
Cons
The Premium Clear Skin Pure Cotton Pads are made with 100% pure organic cotton. The pack consists of 200 cotton pads that are extremely gentle on the skin. These square cotton pads are ideal for removing makeup and cleansing your skin easily. These eco-friendly pads are also suitable for sensitive skin.
These pads contain no fluorescent whitening agents or other added chemicals. They soak the toner easily and help remove your makeup with just an easy, single stroke. This cotton pad is non-abrasive and porous. It gently exfoliates your skin.
Dimensions: 2.3 x 1.6 inches
Pros
Suitable for sensitive skin
Organic
Unbleached
FDA-approved
Fluorescent whitening agent-free
Viscose-free
Rayon-free
Lint-free
Cons
The Klairs Toner Mate 2-in-1 Cotton Pads come in two varieties. The box contains 120 pads, of which 60 are compressed cotton pads, and the other 60 are sponge cotton pads. The compressed cotton pads help wipe away irritants and makeup residue. They also gently exfoliate your skin and enhance its texture. The sponge cotton pads soak up the right amount of toner and transfer it to your face for thorough hydration.
These cotton pads are hypoallergenic, lint-free, and are dual-sided for better effectiveness.
Dimensions: 2.3 x 2.3 inches
Pros
Gentle on skin
Suitable for all skin types
Hypoallergenic
Dual-sided
Lint-free
Travel-friendly packaging
Cons
The White Rabbit Plain Cotton Pads are popular for their extra-large size. They are made with 100% untreated pure cotton. They are organic, unbleached, and come with no added chemicals.
Their extra-large size allows these cotton pads to be multi-functional. They can be used to remove makeup, cleanse and tone skin, and even create your own DIY sheet masks (by soaking them in your favorite serum or essence). These pads are gentle on your skin and do not leave behind any lint residue or messy fibers. You can use them for mild exfoliation. These soft cotton pads come in a set of 200 and are perfect for everyday use.
Dimensions: 4 x 6 inches
Pros
Gentle on skin
Durable
Tear-resistant
Lint-free
Fiber-free
Rayon-free
Viscose-free
Unbleached
No harsh chemicals
No pesticides
Extra-large size
Cons
The Pyunkang Yul 1/3 Cotton Pads effectively transfer your skincare product onto your skin without soaking up the extra quantity. Each cotton pad only needs 1/3rdof the amount of product you would otherwise normally need. These Korean cotton pads soak up the product and release it back only when patted on the skin. This ensures the product is not wasted. The cotton pads have a refining texture and are non-abrasive. They do not irritate your skin. These cotton pads come as a pack of two, with each box containing 160 pads.
Dimensions:1.9 x 2.7 inches
Pros
Saves skincare product
Gentle on the skin
Non-abrasive
Soft texture
Lint-free
Durable
Affordable
Vegan
Adulterant-free
Cons
None
Conclusion
Up your skincare regime and reduce your product wastage by picking your favorite Korean cotton pad. No matter how great your skincare product is, the right cotton pad is what makes the difference. This is where the Korean cotton pads set themselves apart – they are gentle on the skin and leave no residue. They do not scratch on your skin and are less likely to cause allergic reactions.'
Recommended Articles