10 Best Recommended Korean Ampoules For Every Skin Type – 2023
Cruelty-free, non-irritating, dermatologically tested ampoules to get healthy skin.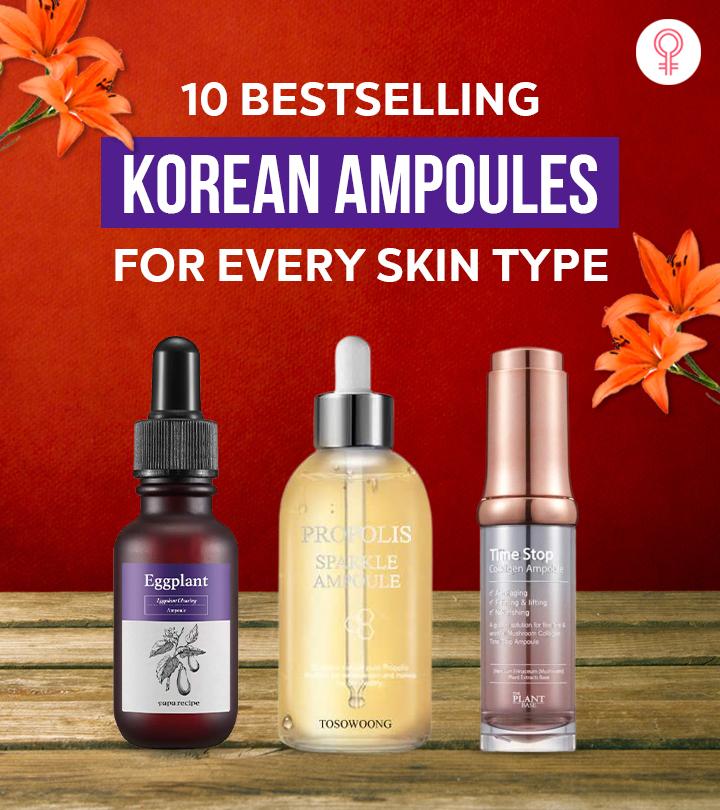 K-beauty has made a long-lasting impact on the beauty industry, and you will find tons of beauty products and routines that give you a flawless natural glow. The best Korean ampoules are popular among beauty bloggers and skin care enthusiasts. They are mostly made from noni, eggplant, and rice ingredients and are gentle on your skin. The active ingredients target skin issues and keep the skin supple and flawless.
The latest addition to skin care is ampoule incorporated with active ingredients, such as enzymes and vitamins. These ampoules work best when used for a particular period. Go through these 10 bestselling K-beauty ampoules suitable for every skin type.
10 Best Korean Ampoules
The Mizon Snail Repair Intensive Ampoule is a fast-absorbing, thick formula for skin regeneration. It rejuvenates and brightens the skin and helps with acne scars. The formula contains 80% snail secretion extract that helps restore damaged skin. It also contains hyaluronic acid and cocoa extract that keeps the skin moisturized and nourished for a long time.
The peptides and vitamins enhance skin elasticity. This product is dermatologically tested and approved for use on dry and sensitive skin. It can also be layered with other skincare products. The total repair care helps with skin rejuvenation and gets rid of all skin troubles.
Key Ingredients: Snail secretion filtrate, Sodium hyaluronate, Cocoa extract, Palmitoyl Tripeptide-5, Copper Tripeptide-1, and Panthenol
Pros
80% natural ingredients
Suitable for sensitive skin
Absorbed quickly
Lightweight
Non-greasy
Artificial fragrance-free
Paraben-free
Cruelty-free
Cons
May cause itching and breakouts.
Price at the time of publication: $17.4
The Madagascar Centella Ampoule is a facial serum made from 100% high-quality Centellaasiatica extract. It is specially formulated for sensitive and acne-prone skin. This lightweight ampoule softens and rejuvenates the skin. It also balances the sebaceous glands, controlling excess oil production and clogging of pores. Consistent use of this serum reduces dark spots and provides deep moisturization. The exfoliants in the serum penetrate deep into the skin, making it look supple and glowing all day long.
Key Ingredients: Centellaasiatica extract
Pros
100% natural ingredients
Lightweight
Smells good
Calms breakouts
PEG-free
Cons
Not suitable for sensitive and oily skin types.
Price at the time of publication: $21.99
The Be Plain Cicaful Ampoule is contains 84.28% Centellaasiatica extract. This serum helps calm the skin without causing any irritation or drying it out. The hyaluronic acid and chamomile extracts hydrate and soothe the skin and add a dewy glow. This serum improves the skin's natural barrier and leaves your skin feeling supple and healthy. The lightweight formula blends well and retains natural moisture in the skin. It is made from sustainable ingredients and can be incorporated in both AM and PM skincare regimens.
Key Ingredients: Hyaluronic acid and Chamomile flower extracts
Pros
Made of natural ingredients
Suitable for sensitive skin
Absorbed quickly
Non-irritating
Non-sticky
Lightweight
Cruelty-free
Paraben-free
Fragrance-free
Cons
Price at the time of publication: $19.99
The COSRXPropolis Light Ampoule is a hydrating serum that can help combat various skin conditions. It contains 83.25% black propolis, a natural anti-inflammatory ingredient. This super-moisturizing serum is a boon for people with textured, acne-prone, and pigmented skin. It is enriched with potent ingredients that soothe redness and serves as a perfect base for makeup. The serum is non-sticky and does not peel off from the skin. It is recommended by dermatologists as it penetrates the skin to make it supple and healthy.
Key Ingredients: Propolis extracts
Pros
Made of natural ingredients
Non-sticky
Paraben-free
Sulfate-free
Artificial fragrance-free
Mineral oil-free
Alcohol-free
Cons
Price at the time of publication: $26
The N Ample: N Peptide Shot Ampoule is an anti-aging and anti-wrinkle facial serum that makes the skin firm and supple. It contains highly concentrated peptides that leave your skin feeling rejuvenated. The dermatologically tested formula prevents sagging of the skin and adds an instant glow to the skin. It improves skin texture and elasticity by reducing pores.
Key Ingredients: Palmitoyloligopeptide, Palmitoylpentapeptide-4, and Acetyl hexapeptide-8
Pros
Lightweight
Works well under makeup
Non-greasy
Cons
Strong fragrance
Contains alcohol
Price at the time of publication: $27.99
The Time Stop Collagen Ampoule is an award-winning anti-aging booster serum. It reduces fine lines and wrinkles and adds radiance to the skin. The ampoule contains 76.53% mushroom extract, which increases collagen production and lifts and tightens the skin. It enhances blood circulation and keeps the skin naturally hydrated by increasing water retention. Prolonged use of the serum replenishes the skin and improves the overall skin tone.
Key Ingredients: Mushroom extracts
Pros
Made of natural ingredients
Absorbed quickly
Vegan
Dermatologically tested
A little goes a long way
Paraben-free
Artificial fragrance-free
Mineral oil-free
Cons
Price at the time of publication: $15.0
This lightweight sparkle ampoule from TOSOWOONG is made from 80% propolis, which hydrates, moisturizes, and brightens the skin. The product contains natural ingredients like bergamot, lemon, eucalyptus oil, and lime and is suitable for all skin types.
The combination of vitamins and nutrients leaves the skin squeaky clean. This serum thoroughly penetrates the skin layers to make it look healthy. The active ingredients in the serum soothe textured skin, remove dead skin cells, and provide deep moisturization. It can be used in both the morning and night skincare routines.
Key Ingredients: Honey and Propolis
Pros
Suitable for sensitive skin
Lightweight
Absorbed quickly
Non-greasy
Paraben-free
Artificial fragrance-free
Cons
No translated instructions or product info on the packaging.
Price at the time of publication: $19.99
This Korean collagen face ampoule from IsNtree is made of peptides and natural ingredients that have anti-aging effects and rejuvenate dry skin. It reduces fine lines and dull spots, leaving the skin glowing and radiant. This serum improves the appearance of fine lines and hyperpigmentation and reduces acne scars. It is formulated with natural marine bifida extracts and collagen that replenish and deeply hydrate the skin, improving its overall health.
Key Ingredients: Bifida extracts, Peptide, and Zucchini
Pros
Made with natural ingredients
Lightweight
Non-greasy
Cruelty-free
Cons
Not suitable for sensitive skin.
Price at the time of publication: $30.0
The Papa Recipe Eggplant Clearing Ampoule is made of natural ingredients, including 73% eggplant extract, calendula officinalis flower extract, and betulaalbajuice. This highly moisturizing product is suitable for acne-prone skin. The ampoule provides a calming effect to sensitive skin and does not cause any irritation. It plumps the skin and protects it against the summer heat. The lightweight formula penetrates the deep layers of the skin and reduces dark spots. The exfoliating properties of the serum offer extreme relief to troubled and irritated skin.
Key Ingredients: Eggplant and Glycerin
Pros
Made of natural ingredients
Quickly absorbed
Cruelty-free
Paraben-free
Cons
Price at the time of publication: $15.99
The Noni Ampoule by celimax is crafted with 71.77% noni fruit extract, which is highly moisturizing and provides deep nourishment to the skin. The potent antioxidants in the noni fruit help restore your complexion and brighten the skin tone. This anti-aging, lightweight, deeply penetrating serum offers calming effects to stressed skin. It is enriched with several vitamins and nutrients and is beneficial in treating allergic skin reactions and skin burns.
Key Ingredients: Noni extracts
Pros
Dermatologically tested
Suitable for all skin types
Absorbed quickly
Cruelty-free
Artificial fragrance-free
Artificial color-free
Cons
Price at the time of publication: $26.0
Korean ampoules keep your skin thoroughly hydrated and leave it feeling soft and rejuvenated. Keep the following points in mind while buying an ampoule.
How To Choose The Best Korean Ampoule For Your Skin Type
Ingredients: Check the ingredients list to make sure you are not allergic to any of them. Most ampoules come with added fragrances and preservatives that can trigger skin issues. Hence, opt for an ampoule that is made with natural and pure ingredients that are safe and gentle on your skin.
Formula: Ampoules come with different formulas to target specific skin issues. If you have dry skin, choose an ampoule that contains hyaluronic acid or propolis. If you have dull or blemish-prone skin, go for an ampoule containing vitamin C or B12. For acne-prone skin, go for ampoules containing Centellaasiatica extracts.
Benefits Of Using Ampoules
Ampoules boost collagen production in the skin, making it look supple, youthful, and radiant.
Most ampoules have anti-aging properties that penetrate the deep layers of the skin and reduce fine lines and wrinkles.
They help reduce acne scars and dark spots and improve skin tone.
They calm and soothe stressed skin.
Why Trust StyleCraze?
The author Shiboli Chakraborti is a certified skin care coach who believes K-beauty is gaining traction in the beauty industry. She shares tips for choosing the best Korean ampoules in her buying guide and explains how to consider ingredients and product formulation parameters for better results. After extensive research and going through numerous online reviews, she compiled the list of these ampoules that can help you achieve soft, supple, blemish-free, and youthful skin.
Frequently Asked Questions
Is it okay to use ampoule every day?
Ampoule is a highly concentrated serum with many active ingredients targeting specific skin conditions. Unlike regular serums and toners, it is not meant to be used every day. One can plan to use an ampoule 2-3 times a week and apply it before the daily serums and toners so that the active ingredients from the ampoule are absorbed first.
Which is better –serum or ampoule?
A serum is meant to be used daily, and it is not as concentrated as an ampoule. Ampoules are supercharged serums that target specific skin issues. Serums are more generalized. Ampoules come in smaller quantities as compared to serums.
Can I use a moisturizer after the ampoule?
If you have normal skin, you don't have to apply a moisturizer. However, if you have dry and dehydrated skin, using a moisturizer after the ampoule will ensure your skin stays well hydrated throughout the day.
How do you use Korean ampoules?
You can use Korean ampoules after cleansing your face. Apply the ampoule directly to your skin and massage it gently all over your face.
What is an ampoule used for?
Ampoules are supercharged face serums with a high concentration of active ingredients. People use ampoules for specific skin issues, such as acne, anti-aging, and dullness.
Recommended Articles