11 Best Korean Sheet Masks For Healthy And Glowing Skin – Stylecraze
Rejuvenating sheet face masks from top-grade Korean skin care and beauty brands.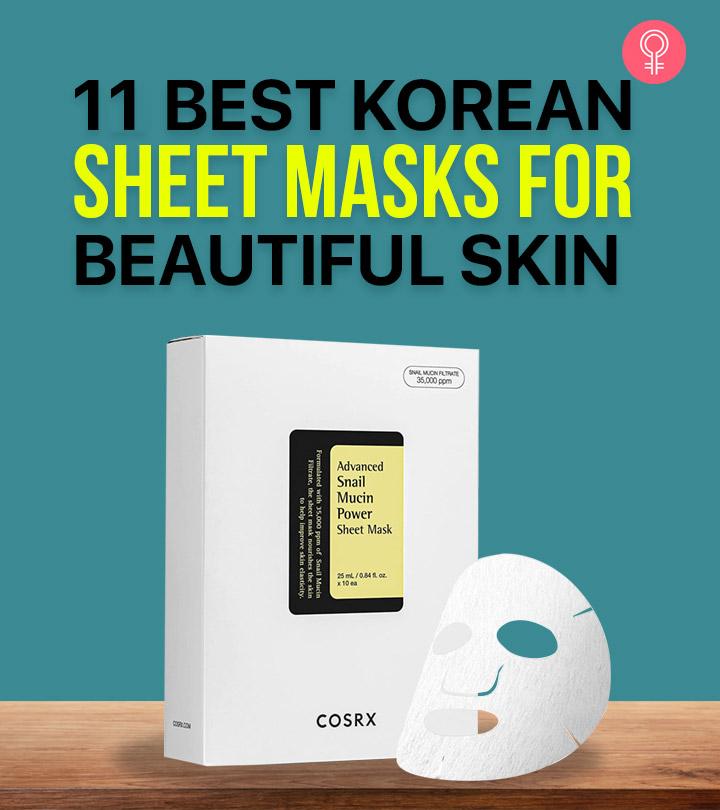 Korean beauty products can take your skin care game to the next level. Add the best Korean sheet masks into your skin care routine if you want to give the care your skin deserves. Korean sheet masks are available in different formulations and are designed with skin-loving ingredients that help address several skin concerns.
These contain serums that hydrate your facial skin and offer a fresh look. They can also minimize the appearance of fine lines, wrinkles, pigmentation, and spots. This article explores the 11 best Korean sheet masks for beautiful skin. Scroll down for more information.
11 Best Korean Sheet Masks For Beautiful Skin
This sheet mask from CQMONG adds a radiant glow to your face, thanks to the diamond powder in the formula. The concentrated essence is infused with over 65 ingredients, including extracts of plants and grains, hyaluronic acid, collagen, adenosine, peptide, and niacinamide, that provide intense hydration and nourishment to your skin.
The plant and grain extracts soothe the skin and enhance the skin tone. Hyaluronic acid moisturizes the skin, while adenosine has anti-aging properties. Collagen promotes cell metabolism and enhances skin elasticity, and peptide strengthens the skin barrier. This sheet mask reduces the appearance of wrinkles, enhances your complexion, and gets rid of uneven skin tone. The soft natural cotton sheet does not irritate your delicate facial skin.
Key Ingredients: Diamond powder, Peptides, Collagen, Hyaluronic acid, Adenosine, and Niacinamide
Pros
Non-irritating
Lightweight
Non-sticky
Paraben-free
Sulfate-free
Benzophenone-free
Triethanolamine-free
Cons
The Barulab Facial Sheet Mask Pack is an assorted set of 10 masks that address different skin concerns. Each mask is enriched with nourishing extracts that keep your skin glowing, healthy, and fresh. While the aloe mask instantly cools down any irritations or redness, the cica mask enriched with centella asiatica extracts strengthens, heals, and repairs skin damage. The green tea mask controls excess sebum and purifies your skin.
Go for the AHA/BHA mask to exfoliate your skin and make it radiant. The tea tree oil mask helps heal blemishes and acne spots. The peptide mask rejuvenates the skin and reduces the appearance of wrinkles, while the vitamin C mask tones, brightens, and recharges the skin. The olive mask offers nourishing moisture to keep the skin firm and dewy. The shea butter mask deeply nourishes and rejuvenates the skin to make it smooth. The hyaluron mask deeply hydrates the skin and provides ultimate moisturization. In this YouTube video, you will find a detailed review of this product.
Key Ingredients: Vitamins, Hyaluronic acid, Green tea, AHA/BHA, Peptide, Cica, Tea tree, Olive, Shea butter, Aloe vera, and Hyaluronic acid
Pros
Plant-based
Vegan
Dermatologically tested
Cruelty-free
Extra-large sheets
Cons
With a high concentration of snail extract, this wonder sheet mask is the holy grail for dry skin. The snail mucus extract in this formula forms a protective layer over your skin to prevent moisture loss and promote skin regeneration. It reduces early signs of aging, heals blemishes and acne marks, and boosts the collagen production in your skin.
The active ingredients like hyaluronic acid, vitamin C, vitamin E, and collagen seep deep into your skin and provide intense nourishment. While vitamin E deeply moisturizes the skin and protects it from damage, vitamin C evens out the skin tone, and marine collagen tightens sagging skin. The sheet is made with 100% eucalyptus and bamboo fibers and is super soft and skin-friendly.
Key Ingredients: Snail mucin, Marine collagen, and Vitamin E
Pros
Non-sticky
Unscented
Lightweight
Cruelty free
Dye-free
Vegan
Oil-free
PEG-free
Alcohol-free
Paraben free
Phenoxyethanol-free
Cons
The assorted set of 16 sheet masks from Dermal leaves your skin hydrated and nourished. These masks are enriched with collagen essence and ingredients like aloe, Q10, green tea, vitamins, charcoal, cucumber, royal jelly, etc. that offer a targeted solution for multiple skin woes.
The moisturizing essence in the mask does not leave a sticky feeling post-application. It is fortified with hyaluronic acid that boosts hydration and prevents moisture loss. The hydrolyzed collagen and panthenol strengthen your skin and soothe redness or irritations. The sheets are 100% premium quality cotton and safe for sensitive skin.
Key Ingredients: Sodium hyaluronate, Panthenol, and Hydrolyzed collagen
Pros
Thick sheets
No sticky residue
Lightweight essence
Smells amazing
Cons
This premium cellulose sheet mask from Cosrx is super lightweight and refreshing. The mask is drenched in a nourishing serum that seamlessly seeps into your skin without leaving behind any residue.
The hydrating essence is fortified with snail secretion filtrate. It is a potent ingredient known for its super hydrating properties. The snail mucus replenishes lost moisture, reverses skin damages, and strengthens the natural barrier of your skin. The allantoin in the formula helps calm down irritation, redness, and itching. This sheet mask leaves your skin plump and rejuvenated. Check out this video on YouTube for a detailed understanding of the product.
Key Ingredients: Snail mucin
Pros
Quick-absorbing
Lightweight
Dermatologist-tested
Hypoallergenic
Paraben-free
Sulfate-free
Phthalate-free
Silicone-free
Cruelty-free
Cons
The soothing and nourishing sheet mask set from U-Need gives your skin a boost of health. You get 10 variants of masks that address different skin concerns – aloe, avocado, blueberry, charcoal, collagen, cucumber, green tea, pomegranate, tea tree, and vitamin.
The aloe vera and tea tree variants soothe and hydrate the skin. The green tea and pomegranate variants plump your face and improve the skin tone. The collagen and blueberry masks restore skin vitality, while the charcoal mask absorbs impurities and minimizes pores to make the skin soft and smooth. The avocado mask revitalizes dry and rough skin by providing nourishment, and the vitamin mask brightens the skin tone. The cucumber mask imparts a cooling effect and hydrates dull, dry skin. These tencel sheet masks are soft and do not cause any harsh friction on the skin, making them suitable for sensitive skin.
Key Ingredients: Collagen, Charcoal, Cucumber, Tea tree, Avocado, Aloe vera, Pomegranate, Green tea, Vitamins, and Blueberry
Pros
Plant-based formula
Fits the face well
Soft
Paraben-free
Cruelty-free
Cons
These honey masks are among the most popular masks from Papa Recipe and a must-have for radiant and glowing skin. The two variants – Bombee Whitening Honey Mask Pack and Bombee Green Honey Mask Pack – address different skin concerns.
The Bombee White Honey Mask bestows a natural glow to the face. It tones your skin with the power of glutathione and diamond powder. This formula contains honey and propolis extracts that replenish dull and dry skin. The Bombee Green Honey Mask Pack is enriched with avocado and parsley that help enhance your skin's elasticity and vitality. This mask set is ideal for people with acne-prone and dry skin. If you want to know more about this product, check out this video on YouTube.
Key Ingredients: Honey and Propolis extracts
Pros
Easy to use
Lightweight
Soft
Suitable for acne-prone skin
Cons
This sought-after skin regeneration mask by LA Pure has a high concentration of snail mucus filtrate that recharges your skin and gives it a youthful glow. The snail filtrate is rich in antioxidants that enhance skin texture, reduce marks and blemishes, and strengthen the natural barrier of your skin. This mask contains a healthy blend of vitamins, minerals, and enzymes that fortifies your skin. Each pack contains 10 sheets made with 100% cotton.
Key Ingredients: Snail mucus, Vitamins, and Enzymes
Pros
Smells good
Natural ingredients
Hypoallergenic
Cruelty-free
Cons
Not suitable for oily and acne-prone skin.
Perfect your dull complexion with the detoxing sheet mask from Mediheal. The charcoal-rich sheet mask absorbs all impurities from your pores, pulls out excess sebum, and clarifies your skin. It contains niacinamide and aquaxyl that give your skin intense hydration and bounce. The antioxidant-rich acai berries smoothen uneven skin tone and texture with ease.
Key Ingredients: Niacinamide, Aquaxyl, and Acai fruit extract
Pros
Smells good
Gentle
Non-irritating
Lightens dark spots
Brightens the skin
Cons
This sheet mask from SNP is created with premium quality ingredients sourced from the heart of the Jeju Island. It is made with air pocket fabric, which soaks more essence or serum than any regular sheet mask. The green tea extract in the formula is rich in essential minerals and amino acids that provide optimal skin care. It protects your skin from environmental aggressors and free radical damage while reversing your skin concerns. The hydrating essence fortifies your skin with prolonged moisturization.
Key Ingredients: Green tea extract
Pros
Smells amazing
Gentle
No sticky residue
Lightweight
Helps fade spots
Reduces acne
Cons
The SNP Gold Collagen Ampoule Mask is infused with 24K gold, which enhances skin elasticity and rejuvenates it. The sheet is made of skin-friendly cellulose with a strong adhesion that keeps the mask in place until it is peeled off. The combination of pig hide collagen and adenosine nourishes your skin and restores its resilience to make it firm, soft, and smooth. The power-packed formula increases skin vitality and reduces fine lines and wrinkles. The pack consists of 10 sheets and is suitable for all skin types.
Key Ingredients: 24K gold, Collagen, and Adenosine
Pros
Easy to use
Suitable for all skin types
Cost-effective
Cons
You might wonder where sheet masks fit into your skin care routine. Here's a step-by-step routine you can follow.
How To Use A Korean Sheet Mask
Step 1: Cleanse your face.
Step 2: Exfoliate your face to clean the pores and remove dead skin cells. This step helps in optimal serum absorption.
Step 3: Unfold the sheet mask and align it perfectly on your face. Relax for 15-20 minutes.
Step 4: Dab the remaining essence in the pack over your neck, hands, and legs.
Step 5: Discard the mask once removed and pat in the essence on your face for added benefits.
Remember, sheet masks usually contain a lot more serum than they can soak. So, make sure you squeeze out the remaining serum and dab it onto your face, neck, and hands. The above list has a sheet mask for every skin type and concern. Take your pick and let your face drink up all the goodness.
Why Trust StyleCraze?
Shiboli Chakraborti is a certified skin care coach who believes K-beauty is gaining traction in the beauty industry. After digging through all the available reviews online, she has assembled the list of the top Korean sheet masks along with tips on how to get the most out of these masks. These sheet masks soaked in serum hydrate your face, reduce signs of aging, and give you a youthful glow.
Recommended Articles