11 Best Korean Sheet Masks For Healthy And Glowing Skin – Stylecraze
Rejuvenating sheet face masks from top-grade Korean skin care and beauty brands.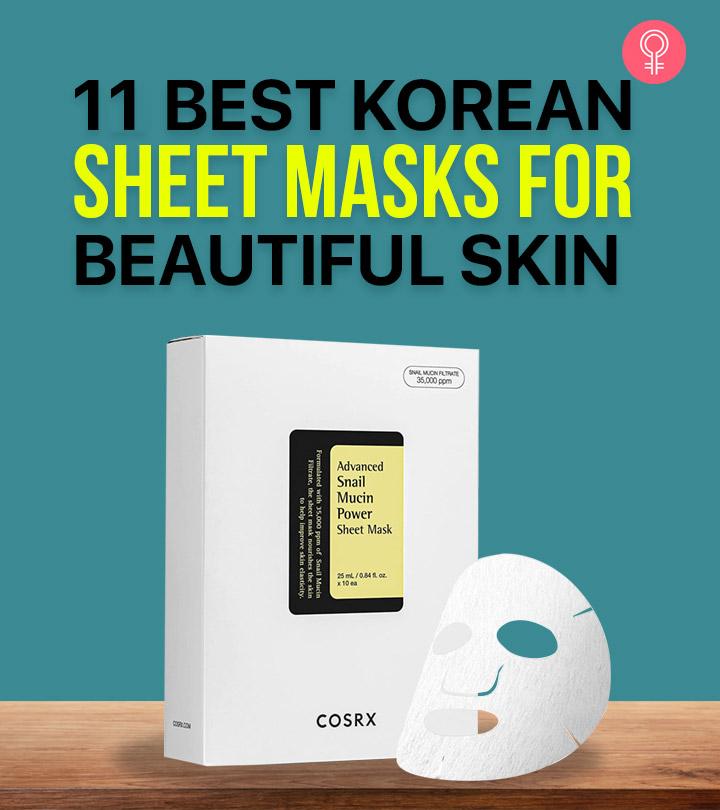 Korean beauty products can take your skin care game to the next level. Add the best Korean sheet masks into your skin care routine if you want to give the care your skin deserves. Korean sheet masks are available in different formulations and are designed with skin-loving ingredients that help address several skin concerns.
These contain serums that hydrate your facial skin and offer a fresh look. They can also minimize the appearance of fine lines, wrinkles, pigmentation, and spots. This article explores the 11 best Korean sheet masks for beautiful skin. Scroll down for more information.
Medical Esthetician, Hillary Clark, recommends, "Sheet masks are ideal to up your skincare game and fast track hydration and brightening results."
11 Best Korean Sheet Masks For Beautiful Skin
Pros
Non-irritating
Lightweight
Non-sticky
Paraben-free
Sulfate-free
Benzophenone-free
Triethanolamine-free
Cons
Price at the time of publication: $24.8
The Barulab Facial Sheet Mask Pack is an assorted set of 10 masks that address different skin concerns. Each mask is enriched with nourishing extracts that keep your skin glowing, healthy, and fresh. While the aloe mask instantly cools down any irritations or redness, the cica mask enriched with centella asiatica extracts strengthens, heals, and repairs skin damage. The green tea mask controls excess sebum and purifies your skin.
Go for the AHA/BHA mask to exfoliate your skin and make it radiant. The tea tree oil mask helps heal blemishes and acne spots. The peptide mask rejuvenates the skin and reduces the appearance of wrinkles, while the vitamin C mask tones, brightens, and recharges the skin. The olive mask offers nourishing moisture to keep the skin firm and dewy. The shea butter mask deeply nourishes and rejuvenates the skin to make it smooth. The hyaluron mask deeply hydrates the skin and provides ultimate moisturization. In this YouTube video, you will find a detailed review of this product.
Key Ingredients: Vitamins, Hyaluronic acid, Green tea, AHA/BHA, Peptide, Cica, Tea tree, Olive, Shea butter, Aloe vera, and Hyaluronic acid
Pros
Plant-based
Vegan
Dermatologically tested
Cruelty-free
Extra-large sheets
Cons
Price at the time of publication: $16
Pros
Non-sticky
Unscented
Lightweight
Cruelty free
Dye-free
Vegan
Oil-free
PEG-free
Alcohol-free
Paraben free
Phenoxyethanol-free
Cons
Price at the time of publication: $29
Pros
Thick sheets
No sticky residue
Lightweight essence
Smells amazing
Cons
Price at the time of publication: $11.99
Pros
Quick-absorbing
Lightweight
Dermatologist-tested
Hypoallergenic
Paraben-free
Sulfate-free
Phthalate-free
Silicone-free
Cruelty-free
Cons
Price at the time of publication: $10.99
The soothing and nourishing sheet mask set from U-Need gives your skin a boost of health. You get 10 variants of masks that address different skin concerns – aloe, avocado, blueberry, charcoal, collagen, cucumber, green tea, pomegranate, tea tree, and vitamin.
The aloe vera and tea tree variants soothe and hydrate the skin. The green tea and pomegranate variants plump your face and improve the skin tone. The collagen and blueberry masks restore skin vitality, while the charcoal mask absorbs impurities and minimizes pores to make the skin soft and smooth. The avocado mask revitalizes dry and rough skin by providing nourishment, and the vitamin mask brightens the skin tone. The cucumber mask imparts a cooling effect and hydrates dull, dry skin. These tencel sheet masks are soft and do not cause any harsh friction on the skin, making them suitable for sensitive skin.
Key Ingredients: Collagen, Charcoal, Cucumber, Tea tree, Avocado, Aloe vera, Pomegranate, Green tea, Vitamins, and Blueberry
Pros
Plant-based formula
Fits the face well
Soft
Paraben-free
Cruelty-free
Cons
Price at the time of publication: $58.99
These honey masks are among the most popular masks from Papa Recipe and a must-have for radiant and glowing skin. The two variants – Bombee Whitening Honey Mask Pack and Bombee Green Honey Mask Pack – address different skin concerns.
The Bombee White Honey Mask bestows a natural glow to the face. It tones your skin with the power of glutathione and diamond powder. This formula contains honey and propolis extracts that replenish dull and dry skin. The Bombee Green Honey Mask Pack is enriched with avocado and parsley that help enhance your skin's elasticity and vitality. This mask set is ideal for people with acne-prone and dry skin. If you want to know more about this product, check out this video on YouTube.
Key Ingredients: Honey and Propolis extracts
Pros
Easy to use
Lightweight
Soft
Suitable for acne-prone skin
Cons
Price at the time of publication: $32.99
This sought-after skin regeneration mask by LA Pure has a high concentration of snail mucus filtrate that recharges your skin and gives it a youthful glow. The snail filtrate is rich in antioxidants that enhance skin texture, reduce marks and blemishes, and strengthen the natural barrier of your skin. This mask contains a healthy blend of vitamins, minerals, and enzymes that fortifies your skin. Each pack contains 10 sheets made with 100% cotton.
Key Ingredients: Snail mucus, Vitamins, and Enzymes
Pros
Smells good
Natural ingredients
Hypoallergenic
Cruelty-free
Cons
Not suitable for oily and acne-prone skin.
Price at the time of publication: $22.95
Pros
Smells good
Gentle
Non-irritating
Lightens dark spots
Brightens the skin
Cons
Price at the time of publication: $19.9
This sheet mask from SNP is created with premium quality ingredients sourced from the heart of the Jeju Island. It is made with air pocket fabric, which soaks more essence or serum than any regular sheet mask. The green tea extract in the formula is rich in essential minerals and amino acids that provide optimal skin care. It protects your skin from environmental aggressors and free radical damage while reversing your skin concerns. The hydrating essence fortifies your skin with prolonged moisturization.
Key Ingredients: Green tea extract
Pros
Smells amazing
Gentle
No sticky residue
Lightweight
Helps fade spots
Reduces acne
Cons
Price at the time of publication: $11.37
Pros
Easy to use
Suitable for all skin types
Cost-effective
Cons
Price at the time of publication: $17.98
Korean sheet masks are becoming increasingly popular for their wide range of benefits to the skin. Made with natural ingredients, these masks can help improve skin texture and reduce the appearance of fine lines and wrinkles. Many Korean sheet masks are available on the market, so it can be tricky to know which is right for you. This guide will help you find Korean sheet masks for your skincare needs.
Things To Look For In Korean Sheet Masks
Type of Mask: There are three main types of Korean sheet masks: hydrogel, cloth, and paper. Hydrogel masks are the most popular type because they are lightweight, comfortable to wear, offer protection against skin irritation, and combat aging. Cloth masks are made from natural fabrics such as cotton, bamboo, or silk and offer good environmental protection because they help remove impurities from the skin. Paper masks use recycled newspapers as their base material, which makes them environmentally friendly. Use one according to your preference.
Skin Type: When choosing a Korean sheet mask, it is essential to consider your skin type and needs. If you have dull skin, opt for a brightening mask, choose anti-aging masks to eliminate aging signs, consider a detoxifying mask for cleansing away the impurities, and pick a repair and revitalizing mask to reverse damaged skin.
Ingredients To Look For: Choose masks containing gentle ingredients like hyaluronic acid, chamomile, mint, green tea extract, honey, and oats that leave your skin feeling refreshed. They calm your stressed-out skin while adding a luminous glow to it.
Fit and Comfort: Pick a mask that fits comfortably on your face without being too tight or restrictive. If the mask is too tight or uncomfortable to wear, it may not treat your skin problems. Check the reviews on the same before purchasing it. Pick a lightweight mask that adheres lightly to your facial skin contours without feeling too heavy.
Non-Sticky: You do not want your face to feel sticky and tacky after using a sheet mask. So, pick a sheet mask that transfers the serum quickly to your skin without leaving any greasy residue.
Dermatologist-Tested: Always check the label and look for the dermatologist-tested tag. These masks are safe and free from common allergens. In addition, they do not usually damage your skin or cause redness.
You might wonder where sheet masks fit into your skin care routine. Here's a step-by-step routine you can follow.
Step 1: Cleanse your face.
Step 2: Exfoliate your face to clean the pores and remove dead skin cells. This step helps in optimal serum absorption.
Step 3: Unfold the sheet mask and align it perfectly on your face. Relax for 15-20 minutes.
Step 4: Dab the remaining essence in the pack over your neck, hands, and legs.
Step 5: Discard the mask once removed and pat in the essence on your face for added benefits.
Remember, sheet masks usually contain a lot more serum than they can soak. So, make sure you squeeze out the remaining serum and dab it onto your face, neck, and hands. The above list has a sheet mask for every skin type and concern. Take your pick and let your face drink up all the goodness.
Why Trust StyleCraze?
Shiboli Chakraborti is a certified skin care coach who believes K-beauty is gaining traction in the beauty industry. After digging through all the available reviews online, she has assembled the list of the top Korean sheet masks along with tips on how to get the most out of these masks. These sheet masks soaked in serum hydrate your face, reduce signs of aging, and give you a youthful glow.
Frequently Asked Questions
Can I use a Korean sheet mask every day?
Yes, it's okay to use a Korean sheet mask every day as long as it does not contain abrasive ingredients like glycolic acid. However, sheet masks are recommended to be used once a week only and may not give enhanced results even if they are used daily.
Should I rinse my face after using a Korean sheet mask?
No, the leftover serum from the sheet mask will continue to benefit you even after you remove the mask. So, don't wash your face after removing it. Let the residue soak into your skin to achieve the best results.
What should I apply after the Korean sheet mask?
Apply a moisturizer after your sheet mask. It helps to seal the hydration and moisture into the skin.
Are Korean sheet masks better than serum?
Yes. Sheet masks are used for providing relief to dry, dull, and sun-exposed skin and are great at delivering concentrated natural ingredients to the skin. They are ideally used once a week. Serums give an intense boost of hydration to the skin and are a part of your everyday skincare routine.
How long does the effect of a Korean sheet mask last?
The effect of a Korean sheet mask lasts for about 7 days.
What is the best time to use a Korean sheet mask?
The best time to use Korean sheet masks is at night before bed or in the morning before putting on makeup. The sheet masks that are creamier and richer in essence are best used at night so that all the nutrients are absorbed while you are sleeping.
Can I cool a Korean sheet mask in the fridge?
Yes, if you want to get a refreshing coolness when you apply your Korean sheet mask, you can keep it in the fridge for a while before using it. However, these masks are for one-time use only and do not store them in the fridge with the intention of using it again.