9 Best Mini-Sized Deodorants Of 2023
Keep yourself fresh all day long with these travel-sized fragrance options.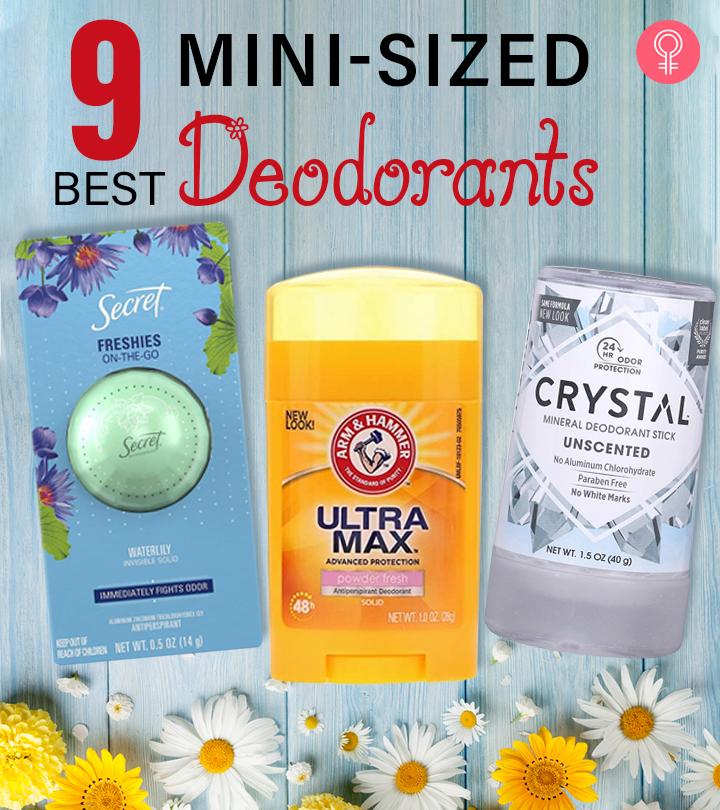 Traveling with light luggage is convenient for frequent travelers. But there are some skin care and hygiene essentials that you cannot leave behind. And the best travel-size deodorants fall under that category. Antiperspirants are absolute necessities during vacations and business trips. That's why most of us prefer the travel-size versions of these products as they are easy to carry and can be applied on the go. They are also TSA-approved and hassle-free.
Deodorants are available in sticks, roll-ons, mists, and stone forms. They have fragranced and unscented options enriched with antiperspirant ingredients. If you need to add these deodorants to your collection, we have got your back. Browse through our list to find your favorite. Swipe up!
9 Best Mini-Sized Deodorants Of 2023
The Native Natural Deodorant is available in a stick body that makes it convenient for anytime use. It is infused with hydrating ingredients like coconut oil, shea butter, tapioca, and probiotics that successfully tackle odor and leave your armpit feeling refreshed. The product is tested to feel light and fresh under your arms. The deodorant is free from any talc and leaves no residue. It is formulated with gentle and all organic components, suitable for sensitive skin. This travel-friendly natural deodorant has natural fragrances that do not cause dark underarms or irritate the skin. Reviews of the product on Amazon testify to its effective functioning.
Pros
Suitable for sensitive skin
Soothing coconut and vanilla scent
Compact size
Hypoallergenic
Phthalate-free
Aluminum-free
Paraben-free
Talc-free
Cruelty-free
Unisex
Cons
Price at the time of publication: $12.97
The innovative formula of the Dove Advanced Care Antiperspirant Deodorant stick has one-fourth moisturizer with natural oils to keep the sensitive underarm skin soft and protected. This 0.5-oz stick is enriched with an invigorating cucumber and green tea scent to revitalize the senses and soothe the skin. The non-irritating formula can be used on freshly shaved skin to help it recover and heal. It is long-lasting and combats underarm wetness for up to 48 hours. It keeps the skin comfortably dry and smooth so that you have one less thing to worry about while you travel.
Pros
Long-lasting
Non-irritating
Moisturizing
Leak-proof packaging
Even application
Alcohol-free
Cruelty-free
Cons
Price at the time of publication: $10.49
The Arm & Hammer Ultramax Antiperspirant Deodorant is an anhydrous formulation that provides long-lasting protection from perspiration. It absorbs and combats body odor to leave the skin dry and powder fresh. This lightweight 1-oz stick can fit into any travel toiletry bag with ease. It does not get cakey and gives 48-hour skin protection to keep you feeling refreshed and energetic.
Pros
Long-lasting
Pack of 10
Refreshing scent
Cake-proof
Smells good
Cons
None
Price at the time of publication: $17.6
This antiperspirant stick from Secret is designed to combat sweat and body odor. It eliminates sweat-causing bacteria and keeps the skin dry while releasing a fresh combination of floral and fruity fragrances. The clinically-proven formula contains skin conditioning ingredients and provitamin B5 that retain hydration and prevent skin irritation. The clinical strength formula provides optimal protection at night to reduce excess perspiration and does not require reapplication in the morning. This 1.6-oz stick glides on smoothly and does not leave any residue.
Pros
Hydrating formula
Sweat control
Non-irritating
Long-lasting
Aluminum-free
Airplane-friendly
Cruelty-free
Cons
This all-natural aluminum-free deodorant can be used by men and women of all ages. The formula contains mineral salts from Thailand that help neutralize odor-causing bacteria without clogging the pores. This long-lasting stick offers 24-hour protection from wetness and keeps the underarms dry and comfortable. This pack comes with two crystal sticks of 4.25-oz and 2.5-oz. for use at home and on the go as well. Click here to check out this YouTuber's unbiased review.
Pros
Contains natural ingredients
Stain-free
Long-lasting
Aluminum-free
Gluten-free
Alcohol-free
Paraben-free
Cruelty-free
Vegan
Dye-free
Artificial fragrance-free
Alcohol-free
Pack of 2
Cons
Needs to be applied on moist skin.
Quick-drying
Price at the time of publication: $18.95
The unscented Crystal Deodorant Mist from D-O is crafted from natural potassium alum mineral salt that works on the skin surface to prevent the growth of odor-causing bacteria. This gentle mist does not contain any emulsifiers that can block the pores and allows the skin to breathe. The pack includes two travel-sized, non-aerosol spray bottles that can be easily carried in any handbag. They are non-staining and do not contain any ingredients that may cause skin irritation.
Pros
Non-staining
Gentle on skin
Unscented
Hypoallergenic
Oil-free
Aluminum-free
Paraben-free
Chlorohydrate-free
Propyl-free
Cruelty-free
Pack of 2
Cons
Price at the time of publication: $6.41
The Freshscent Stick Deodorant has a solid gel formula with a light fragrance. This mini sized 0.5-oz stick is non-staining and glides on smoothly without leaving any white residue. It has an easy twist-up style applicator and can be used discreetly while on the go. This eco-friendly product makes an ideal addition to an overnight travel bag, blessings bags, and student hygiene kits.
Pros
Easy application
Residue-free
Provides all-day freshness
Provides effective odor defense
Alcohol-free
Aluminum-free
Cruelty-free
Vegan
Cons
Price at the time of publication: $59.95
The all-natural mineral deodorant stick from Crystal fights odor-causing bacteria and prevents perspiration. This aluminum-free formula is non-staining and does not leave any residue on the skin. It is crafted from potassium alum with no additives and no harsh chemicals, which makes it suitable for sensitive skin. This dermatologically tested mini 1.5-oz deodorant is unscented and can be used both by men and women for 24-hour protection. Check at least one tester's experience with the product on social media or e-commerce websites to know whether it offers visible results.
Pros
Non-sticky
Non-greasy
Residue-free
Vegan
Non-toxic
Dermatologist-tested
Cruelty-free
Aluminum chloride-free
Chlorohydrate-free
Paraben-free
Phthalate-free
Silicone-free
Petrolatum-free
Sensitive skin-friendly
Artificial dyes-free
Artificial fragrance-free
Cons
Price at the time of publication: $4.69
The Vanilla Coconut Deodorant from Beauty By Earth is an organic product crafted especially for sensitive skin. It contains shea butter and coconut oils and has a lightweight texture that glides on smoothly to prevent sweat and body odor. It keeps the delicate underarm skin soft and hydrated all day long without leaving any residues or stains. This results-driven aluminum-free 2.65-oz. stick can be used both by men and women for long-lasting protection during hectic travel days.
Pros
Organic
Carry-on size
Long-lasting
Aluminum-free
Glides on smoothly
Paraben-free
Vegan
Cons
None
Price at the time of publication: $10.99
Sweat stink is a major mood irritant during summer days. It can make you conscious and under-confident while traveling, during office hours, or at parties. A good quality antiperspirant fights body odor and makes skin feel relaxed. Here are the important things to consider before buying the best mini-sized deodorants that are long-lasting, travel-friendly, and pleasing in smell.
Things To Consider Before Buying A Mini-Sized Deodorant
Chemical Content: Go for mini-sized deodorants that are free from harmful chemical additives. The best formulas do not contain paraben, aluminum, phthalate, silicone, alcohol, and chloralhydrate. These chemicals are too harsh on the skin and cause irritations and skin sensitivity when used regularly. The deodorants should also be free from overpowering synthetic fragrances and artificial dyes.
Lasting Power: The best mini-sized deodorants must hold well for a long duration after they are applied. It should hold off the stink long enough for all-night parties and evening dates. They should fight the body odor effectively even on humid and sweaty summer days.
Friendly Ingredients: Choose mini-sized deodorants that don't just fight the malodor but also soothe the skin. These fragrances must be gentle and pleasing to boost your mood. The ingredients should moisturize your body to keep it cool during hot, humid, and sweaty days. Look for formulas with potent ingredients such as shea butter, magnesium, and essential oils that are good for your skin.
Travel Compatibility: The mini-sized antiperspirant should keep our body fresh and good smelling even during outdoor activities. They should have compact packaging and must be easy to carry along wherever you go. Spray dispensers are the easiest to use when you are outdoors.
Other Features: Choose deodorants with anti-fungal and anti-bacterial properties that keep the skin fresh by fighting germs that cause a foul smell. Check the reviews to know if they stain the clothes or cast a white layer on your skin. In addition, make sure your antiperspirant is non-comedogenic, dermatologically tested, and hypoallergenic if you have sensitive skin.
Why Trust StyleCraze?
Shiboli Chakraborti is a skincare aficionado who understands the importance of travel-size products for frequent travelers. After sifting through numerous product reviews and user feedback online, she has compiled a well-sorted list of the best travel-size deodorants that are non-irritating and last long. These easy-to-carry mini deodorants are available in different forms and can be easily used on the go. Shiboli recommends going through the pros and cons of each product provided in this post to help you make the right choice.
Frequently Asked Questions
What size deodorant can I carry on a plane?
TSA guidelines direct that you can carry a liquid deodorant no more than 3.4 oz, and it must be placed in a clear bag. This is applicable to all gel, spray, and roll-on deodorants. But if you are planning on carrying a stick deodorant, any size can pass through, and the same goes for deodorant stones, crystals, and powders.
What size is travel-size deodorant?
As per the TSA guidelines, travel-size deodorants should be 3.4 ounces.
Can I take a 50ml deodorant on the plane?
Yes. As long as the deodorant fits inside a 1 liter ziplock bag you can carry it on the plane.
Is a solid deodorant considered a liquid for travel?
No, solid deodorants are not considered liquid items during travel.
Where do you put deodorants when flying?
Keep deodorants in ziplock bags while flying.
Can a solid deodorant go in a carry-on bag?
Yes, solid deodorants can go in carry-on bags.
Recommended Articles