13 Best Travel-Size Perfumes For A Pocketful Of Fragrance In 2023
An important business trip or to the beach, these perfumes will leave an impression.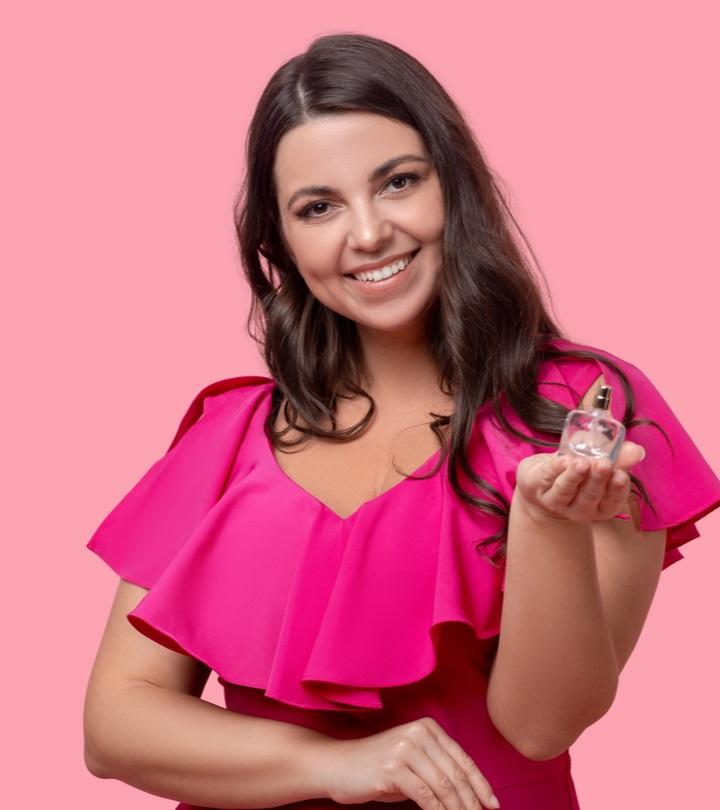 We have often left our favorite perfume behind due to its large size and travel-size limits. But we understand that a holiday is not perfect without you wearing your favorite fragrance, and hence, we have brought you the best travel-size perfumes. It is sad when you pack all your bags and have imagined multiple looks and styles for yourself, and all of it crashes down when you realize you can't carry your favorite perfume. To eliminate this worry of yours, we have made a list of the 13 best travel-size perfumes. They might seem tiny to your eyes, but trust us, they smell as great as their big counterparts and are much cuter in looks.
Travel-size perfumes ensure you are packing not just light but also prevent the chances of leakage and broken bottles. Whether you want a citrusy scent enveloping your body or a vanilla scent to entice your partner, travel-size perfumes are available in all kinds of fragrances families to have your back. They make you feel and smell fresh all day. Whatever your destination is and your preference of smell, a travel-size perfume is there for all. Scroll down to explore.
13 Best Travel-Size (Mini) Perfumes To Smell Amazing On-The-Go In 2023
Pros
Mild and refreshing fragrance
Ideal for gifting
Great sillage
Ideal for office and professional events
Sleek packaging
Cons
Price at the time of publication: $30
Pros
Combination of floral, fruity, and musk
Ideal for spring
Refreshing and crisp
Long-lasting
Cons
Some people may find it to be a little strong
Price at the time of publication: $9.89
Pros
Fruity-floral scent
Woodsy accords for balance
Suitable for spring and summers
Can be layered with other perfumes
Not overwhelming on the senses
Cons
Price at the time of publication: $24
Pros
Combines blossoms with spice
Woodsy accords give a warm scent
Easy to apply
Long-lasting
Perfect for casual wear
Ideal for nighttime and winters
Cons
Some people may find the scent to be heavy
Price at the time of publication: $75.1
Pros
Citrusy-woodsy combination
Fresh and crisp scent
Ideal for winter nights
Romantic and sexy
Extremely long-lasting
Cons
Some people may find the fruitiness to be strong
Price at the time of publication: $18.28
Your olfactory sense is in for an absolute treat with Burberry's travel-size fragrance! A tantalizing mix of pear, lime, and almond welcomes peony, sugar, and some more almond to reveal a fresh and lightweight scent. As the opening notes settle down, you are greeted with the sweet warmth of mahogany, vanilla, amber, and tonka bean. Not only is this travel fragrance ideal for smelling great on-the-go, but it also makes for the perfect gift for all the women in your life. Spritz some of the mini spray perfume to feel confident and level-headed before that next big presentation at work.
Pros
Mix of fruity and floral accords
Almond adds a balance
Ideal for gifting
Fresh and light
Perfect scent for summer mornings
Suitable for casual wear
Cons
Price at the time of publication: $80
Pros
Fruity fragrance
Can be layered with other scents
Light and crisp
Ideal for summers
Gender-neutral perfume
Cons
Might have a short staying-power
Price at the time of publication: $14.96
Vince Camuto's mini fragrance set combines 3 of his bestsellers to give you a well-rounded and wonderful experience. Amore is a fruity-floral scent with top notes of cassis, clementine, passionfruit, and bergamot, which fade to make the presence of heart notes of orchid, freesia, lotus and lily-of-the-valley felt vividly. Base notes have woodsy accents like cashmere wood, sandalwood, musk and crystal amber. These mini bottles of perfume contain a delightful floral scent with a seductive twist, which comes in the form of Bella opening up with bergamot, and giving way to jasmine and nectarine blossom, while ending with white amber. One of the fragrance miniatures, Ciao, combines wild strawberry, blackberry, pink grapefruit, and Italian mandarian with peony, passionflower, honeysuckle, rose, and lily. To wrap this bouquet in a spicy warmth, you can catch a whiff of amaretto, amber, sandalwood, cashmeran and patchouli.
Pros
A mini perfume collection of 3 floral and fruity scents
Ideal for gifting
Clean and crisp scents
Not overpowering
Ideal for summer and spring months
Cons
May not be very long-wearing
Price at the time of publication: $20
Elegance and luxury brought to you by the well-known fashion house YSL, is here to make you smell divine. These perfume miniatures consist of Opium, which is perfect for a nighttime scent, as it mainly has amber accords with slight whispers of jasmine and bergamot. Paris, on the other hand, is a sweet floral and powdery mix that wears well from day to night, smelling like roses and violet flowers.One of YSL's raging bestsellers, Black Opium is not only packaged in the prettiest of bottles, but its harmony between sweet vanilla and bitter coffee does smell like a drug you won't be able to get enough of. A great choice for winter date nights! And finally, one of the perfume minis is Mon Paris, which ups the fruity sweetness with chypre, bergamot, berries and patchouli. Carrying these YSL mini perfume bottles will have you prepared for any occasion in any season, be it night or day!
Pros
4 best-selling mini fragrance set
Contains floral, fruity, and spicy fragrances
Wear from day to night
Contains summer, spring, and winter perfumes
Ideal for gifting
Cons
Price at the time of publication: $62.38
Pros
Ideal for fall and winters
Wears from day to night
Floral accords mix with amber
Fresh and crisp
Good staying-power
Cons
Some people may find it overwhelmingly sweet
Price at the time of publication: $31.53
The Estee Lauder travel-size perfume Pleasures smells like a field of flowers freshened after a rainstorm. Top notes open with freesia, pink pepper, violet, tuberose, violet leaf, and red berries for a fruity-sweet aroma. At the heart of this fragrance comfortably sits a blend of peony, lilac, lily, rose, jasmine, geranium, lily-of-the-valley and karo-karounde blossoms, just when you thought this Estee Lauder mini perfume couldn't get any sweeter. Don't fret, though, because musk, cedar, patchouli and sandalwood bring about a warm balance. Spritz some of this on cool spring days for picnics by the riverside and become one with the flowers!
Pros
Intense floral fragrance
Woodsy undertones
Starts out fresh and turns a little spicy
Smells fresh and clean
Long staying-power
Cons
Might be a little too heady for some
Price at the time of publication: $25.96
If you're a luxury brand junkie, you would've learnt to say 'Armani' before you could say 'mommy', and to your delight, Si is like a little gift for your loyalty! The Si mini perfume smells incredibly luxurious, and will get you ready for the red carpet, or a high-society dinner with just a spritz. Cassis on the top meets with base notes of may rose and freesia, finally intermingling with vanilla, patchouli, ambroxan, and some woody accords. A primarily woody scent with hints of spice and vanilla, this delectable fragrance is going to make you irresistible to anyone who catches a whiff of your sillage!
Pros
Ideal for fall and winters
Perfect nighttime scent
Woodsy accords with vanilla, and understated florals
Long staying-power and sillage
Suitable for casual and occasional wear
Cons
Price at the time of publication: $105.39
D&G's sparkling fresh Light Blue fragrance is mainly citrusy, making it the perfect match for hot summer days. Sicilian lemon, apple, cedar, and bellflower, with bamboo, jasmine, and white rose sitting at the heart, the scent profile ends with cedar, musk and amber. When you're frolicking at the beach, or just having tea in your garden, use this timeless perfume to evoke memories of family vacations and reunions.
Pros
Citrusy-woodsy accords
Light and refreshing scent
Ideal for summers
Suitable for daily use
Cons
May not be best suited for winter
Price at the time of publication: $34.95
Buying a travel-size perfume is an excellent idea because you can carry it anywhere and use it anytime. They come in a perfect size for better fitting. They will be there by your side to make you smell fresh. If you're confused about which travel-size perfume to get, here's a buying guide listing factors to consider when you're out to get the best one.
What To Consider When Buying Travel Size Perfumes
Notes are different scent layers that make the fragrance of a perfume. There are different types of notes in every fragrance. Go for perfumes with fresh notes to have refreshing, zesty, and vibrant smells. The sweet and flowery scent is linked with the common one, the floral note. Warm, sweet, yet luxurious scents have oriental notes. Opt for woody notes if you want a mysterious and captivating aroma.
Look for perfumes that have long-lasting sillage. Sillage is the "trail" left behind by a fragrance. The sillage will enable you to smell good throughout the day every time you move. Some perfumes have stronger silage which is usually linked with high quality. A good fragrance will retain its scent for at least a day. When purchasing a long-lasting sillage perfume, ensure it's not overpowering.
This is another vital factor you should pay heed to. The perfume you pick should align well with your skin. This is because your skin composition influences the perfume's formula. Perfumes perform differently from person to person. Look for a perfume that agrees well with your skin type. A good quality perfume will have a lasting effect on your skin.
Now that we've looked at the best travel-size perfumes on the market, let's get into how you can choose the best one for your preferences and convenience.
How To Travel With Your Favorite Perfume
Keep the destination in mind
Wherever it is you're traveling to, find out what the weather's like at that place, and pack your perfume accordingly. If you're going to a beachy area in the summer, the fruity, floral and citrusy scents like Burberry's Brit For Her and Clinique's Happy will keep you fresh and light, and needless to say, great-smelling! Traveling in the winter months calls for spicy and warm fragrances like for stashing Giorgio Armani's Si, and Viktor&Rolf's Flowerbomb in your purse. Yves Saint Laurent's Paris and Versace's Bright Crystal are clean and crisp scents perfect for spring months. And versatile perfumes like Pleasures by Estee Lauder will serve you at any time of the year.
When you're traveling, and want to carry a custom-blend of your favorite scents, consider investing in a perfume atomizer bottle. Transfer your favorite perfume from regular-size perfume bottles to an atomizer for easy portability, as it is basically weightless. Rollerballs are also a great way to bring your favorite fragrance with you no matter where you go, as they won't break like glass perfume bottles can. If you don't like sprays, these travel bottles will suit you best. Look out for your signature scent in a rollerball form, and you'll be all set to travel. Solid perfumes that come in the form of a fragrant balm are also an ideal way to carry scents when holidaying. When you rub this balm on your pressure points, it mixes with your body's chemistry, and will offer lasting staying power.
As the biggest issue with perfumes is the fear of them leaking onto all your clothes, ensure that you seal the bottles to prevent a (fragrant) disaster. Glass bottles can be wrapped in bubble wrap, or place it in a sock or roll it between some clothes for cushioning. Or, you can also place it in a ziploc bag, and seal the opening further with a rubber band to prevent spillage.
Why Trust Stylecraze?
The author, Chaitra Krishnan, is passionate about perfumes and enjoys reviewing and recommending different products to users. To make life easier for those who want to carry perfumes with them, she has compiled this list of best travel-size products after thorough research. These perfumes, endorsed by users through their valuable reviews, are available in all kinds of fragrances that make you feel fresh and uplifted throughout the day.
Frequently Asked Questions
How long does a travel-size perfume last?
Since perfumes interact with your body chemistry, perfume staying power is different for everyone. A strong, concentrated fragrance can last anywhere between 12 to 24 hours.
Can you bring travel-size perfumes on a plane?
Yes, and according to TSA guidelines, one bottle of perfume cannot contain more than 3.4 ounces of liquid.
How do you carry a small amount of perfume?
You can pack travel-size perfumes in zip-lock bags or socks or tuck them in soft sweaters and place them at the bottom of the suitcase.
How do you transfer perfume from one bottle to another?
You can use an empty syringe or a funnel to transfer perfume from one bottle to another. However, if the perfume bottle is made of glass, handle it carefully to prevent spillage.
Can you refill perfume bottles?
Yes. It is easy to refill the perfume bottles as long the bottles have screw-lids and pump inlets. Most travel-perfume bottles have pump inlets so you can refill them like atomizers.