Top 10 Hair Brushes To Prevent Breakage – 2022
Detangle your knots and style your hair effortlessly without any signs of breakage.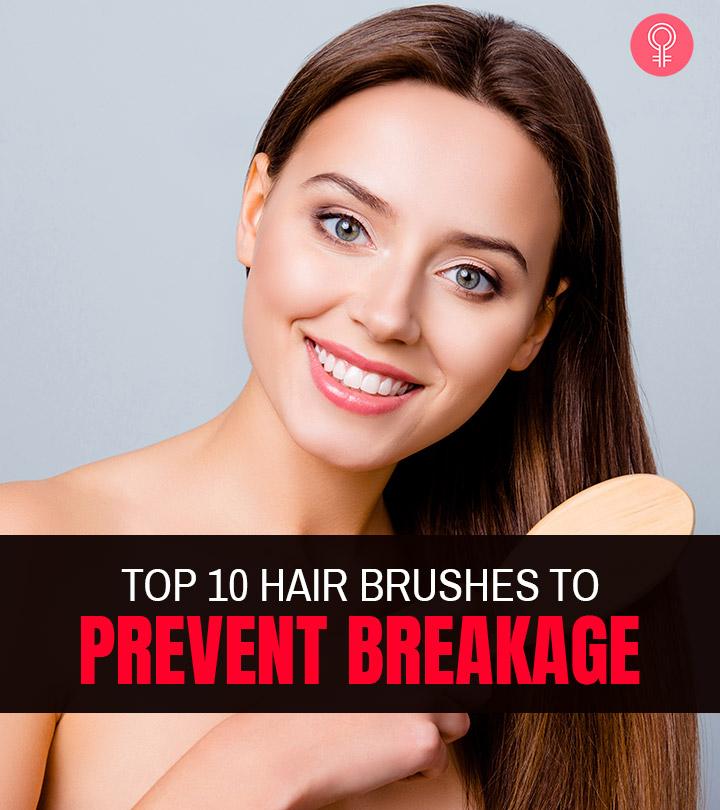 If you are facing a lot of hair loss, using a good shampoo and conditioner might not be enough to tackle your condition. Depending on your hair type and texture, you need to use the best hairbrush to prevent breakage. The right hair brush will not only prevent hair loss but also help to stimulate new hair growth. It will help detangle your hair effortlessly and revive the volume and thickness of your hair. So if you are dealing with delicate strands and breakage, this article is for you. We have reviewed the best hairbrushes to prevent breakage. Check them out!
10 Best Hair Brushes To Prevent Breakage
Manta Hair Hairbrush molds to the shape of your hand and scalp. It has a flexible design to protect, control, and style your hair. This brush gives your hair maximum shine and minimum breakage. It creates less tension on each hair strand and hair follicle while massaging the scalp. It promotes a healthy scalp and hair growth. This anti-static brush is a great alternative to your normal stiff-handled hairbrush. It is suitable for the people who struggle with breakage, hair loss, and split ends. Stay away from hair breakage with this hair brush. Click here to check out a detailed personal review of this product.
Pros
Imparts shine
Reduces hair breakage
Promotes hair growth
Reduces split ends
Prevents hair loss
Prevents static
Cons
None
Price at the time of publication: $30.0
The Belula 100% Boar Bristle hair brush features high-quality, natural boar bristles. These bristles improve blood circulation in your scalp, boost sebum production, and prevent hair breakages. The soft, well-fixed bristles distribute the sebum throughout your scalp, adding shine and smooth texture to your tresses. This brush also tames the frizz of your hair and sets them in place. The comb has an ergonomic handle made of non-slip bamboo that helps you grip it properly while detangling your knots. Regularly comb your hair with this boar bristle hair brush and achieve strong and shiny tresses. Check this Youtube unboxing and review video of this brush to get a clear idea about it.
Pros
Organic
Ergonomic handle
Well-fixed bristles
Tames frizz
Cruelty-free
Travel-friendly
Cons
Spornette DeVille Cushion Oval Boar Bristle Hair Brush is the perfect-sized do-it-all hair brush for all hair types. This boar bristle brush is ideal for men, women, and kids with natural, treated, kinky, or coarse hair. It is suitable for styling and blowouts and perfect for smoothening, setting, and finishing your hair. You can also achieve the perfect waves with the help of this hair brush and a blowdryer. The protective rubber cushion of this brush prevents hair breakage and tangles. The air hole in the brush allows air to circulate under the rubber and dry out completely between uses. Thus, it eliminates bacterial growth and keeps the brush clean. This hair brush has 100% boar bristles that redistribute the natural oils in your hair and leave it healthier, shinier, and more manageable.
Pros
Lightweight wooden hairbrush
Ergonomic design
Perfect for blowouts and detangling
Suitable for men, women, and children
Suitable for thick and coarse hair
Cons
Not suitable for thin hair
Price at the time of publication: $13.0
Tangle Teezer The Original is the perfect wet or dry hair brush for all hair types. It has an ergonomic palm-shaped design that provides a comfortable grip when you brush through knots and tangles. It is designed with a two-tiered system that features both long and short teeth for detangling your hair and smoothening the hair cuticles. This hair brush allows you to detangle your hair with minimum breakage, damage, and fuss and give it a glossy look. Have a look at this video to learn more about how to detangle your hair with this brush.
Pros
Promotes a stronger, fuller, and flowing mane
Keeps your hair manageable
Minimum hair breakage
Ergonomic design
Easy to clean
Easy to hold
Cons
Not suitable for thick hair
Price at the time of publication: $12.7
Osensia Positively43 Blownout Thermic Round Brush is an instant hair booster and the best round brush. The ceramic and ion-infused design speeds up the hair drying time. The anti-static polished bristles are naturally anti-bacterial and tough enough to withstand high heat (up to 428°F/220°C). These bristles also massage the scalp and prevent hair damage and breakage. The ergonomic cushioned handle does not slip and fits comfortably in your hands, making it perfect for blowdrying your hair. The built-in section pin tip lets you easily grab the smallest sections of hair. Check out this demo video to use of the brush correctly.
Pros
Reduces the drying time
Prevents hair damage
Imparts shine
Easy to hold
Compact
Cons
Price at the time of publication: $19.99
The MISEL Professional Boar Bristle Hair Brush is a hair stylist-approved product. It features sturdy boar bristles that boost sebum production on your scalp. The sebum naturally conditions your tresses, making them soft and shiny. The brush is also designed with nylon tips that glide through your hair without pulling the strands or tugging them. The flexible nylon tips boost hair growth and gently detangle the knots. Additionally, with regular use of this brush, you will notice visibly voluminous hair.
Pros
Boosts hair growth
Detangles hair painlessly
Adds volume to the hair
Value for money
Lightweight
Travel-friendly
Cons
Price at the time of publication: $37.77
Wet Brush Original Detangler Hair Brush is the best detangling hair brush for all hair types. It features the ultra-soft IntelliFlex bristles that glide smoothly through your tangled hair and knots without causing any pain. These bristles also massage the scalp to stimulate the blood flow and strengthen your hair. Wet Brush Original is specially designed to minimize the scalp pain caused while brushing and prevent hair breakage and split ends. It lets you apply less force so you can detangle your hair with less damage.
Pros
Reduces hair breakage
Prevents forced brushing
Ultra-soft bristles
Minimizes pain
Prevents split ends
Stimulates blood circulation
Glide through tangles with ease
Cons
Price at the time of publication: $13.0
Keranique Anti-Breakage Hair Styling Brush is the best hair styling and detangling hairbrush. This anti-breakage hair brush does not rip or pull out your knotted hair. Its soft bristles glide through your hair smoothly to untangle even the toughest knots with ease. It is designed to cut down on scalp pain and protect your hair against split ends and breakage. This brush also helps in stimulating blood circulation and strengthening your hair. With this brush, you need not apply more force than required to detangle your hair. Keranique Hair Styling Brush works well on both wet and dry hair.
Pros
Minimizes pain
Prevents split ends and hair breakage
Prevents hair damage
Ideal brush for both wet and dry hair
Suitable for styling your hair
Cons
None
Price at the time of publication: $15.99
Bsisme Boar Bristle Hair Brush removes the dust, oil, dandruff, and dirt built up on your hair and scalp. The nylon-tipped boar bristles glide easily through the hair and promote blood circulation to improves your hair growth. Boar bristles spread the oil that is secreted naturally by your scalp evenly through the length of your hair. It also prevents hair breakage, split ends, and frizz. This brush comes with a custom-made cleaner to remove the excess dust, hair, fluff, and dandruff from the brush. Follow this video to learn more about the product and detangle your hair smoothly.
Pros
Beechwood handle
Great for detangling and smoothening your hair
Prevents split ends and breakage
Comes with a custom-made brush cleaner
Easy to use
Suitable for all hair types
Cons
Price at the time of publication: $12.99
FIXBODY Round Barrel Hair Brush is designed with nano thermal ceramic & ionic technology that has high-temperature resistance. Ceramic barrel design allows even heat distribution and quick heating. The airflow vents deliver a free flow of the air and decrease the blow-dry time. A round barrel helps in styling the hair differently. The boar bristles help to spread the naturally produced sebum and lubricate hair strands. This hairbrush ideally reduces frizz, adds shine to the hair, and styles your hair conveniently.
Pros
Anti-slip handle
Ideal for all hair types
Round barrel for convenient hair styling
Quick hair drying
Cons
May not be suitable thick curly hair
Price at the time of publication: $9.99
When it comes to taking care of your hair, the first step is to avoid products that may lead to breakage or scalp irritation. Which is why, using the best hair brushes to prevent breakage is the first step to healthy hair. If you are planning to buy a hair brush that can gently untangle hair without tugging or causing breakage, then here are a few things to consider.
Factors To Consider While Buying The Best Hair Brushes To Prevent Breakage
Detangler Brush:It is ideal for most hair types and makes detangling an easy process. It minimizes breakage and protects hair from tearing and breaking.
Cushion Brush:Ideal for thin, fine, and damaged hair. It has a soft base and stiff bristles which is effective in removing the product buildup or dandruff from the hair.
Tangle Teezer:Best suited to use on dry or wet hair. It smoothes out the tangled hair without hurting your scalp.
Boar Bristle Brush:Works well on all hair types, but is best suited for damaged hair. It is gentle on the scalp and evenly distributes the natural scalp oil.
Round Hair Brush:helps in adding volume to dull and flat hair. Ideally used during blow-drying.
Different types of brushes cater to various hair types in order to prevent hair breakage and damage. If you have fine hair, use a round or boar-bristle brush to add more volume and body to your limp tresses. These do not pull or tug at your hair strands, thus reducing breakage. For those with thick hair, avoid using plastic combs and brushes at all costs as they cause a lot of static which leads to breakage. Instead, opt for something with nylon or synthetic bristles. Tangles, frizz, and breakage are some of the most common concerns for curly hair. It is best to go for detangle or paddle brush in order to avoid forceful tugging, frizz and breakage that can come with combing dry curly hair.
Apart from preventing hair breakage, hair brushes should also help in stimulating your scalp. It should detangle the knots and tangles without tugging or pulling your hair and make your hair smooth and frizz-free.
That was our round-up of the best hair brushes to prevent breakage. We hope this article helps you find the right brush that protects and pampers your hair. Pick a hair brush from this list, try it out, and let us know about your experience in the comments section below!
Why Trust StyleCraze?
The author, Oyendrila Kanjilal, is a certified skin care coach and has a keen interest in hair care. She researched thoroughly and read many customer reviews on trusted online forums to compile this list of the best hairbrushes to prevent breakage. These hairbrushes detangle the hair, prevent breakage, and stimulate hair growth. In addition, their design is ergonomic, and they are travel-friendly.
Frequently Asked Questions
What is the right way to brush hair to prevent breakage?
Brush your hair from the middle or a few inches off the bottom to prevent breakage. Then work your way up the tresses in smaller sections and brush them with shorter strokes to remove tangles effectively.
Are boar-bristle brushes good for hair loss?
Yes, boar-bristle brushes are gentle on the scalp, and make sure they do not cause any damage to the hair follicles. The soft bristles detangle your tresses without tugging or pulling.
Should I stop brushing my hair if I have hair loss?
No, you should not stop brushing your hair if you experience hair loss. While brushing the wrong way can lead to hair fall, it is recommended to keep your hair smooth and tangle-free by brushing them regularly. However, reduce the intensity or brushing frequencies to ensure less hair loss.
Does brushing your hair when it is wet prevent breakage?
No. You should not brush your hair when wet because your strands remain weaker when they are soggy. They become vulnerable to breakage, which further leads to split ends and hair damage.
Is my round brush causing breakage on my hairline?
Round brushes generally do not cause breakage, but using them in the wrong direction can lead to hair loss. Your strands can break if you put too much stress on your hair. Avoid pulling and tugging while you are brushing your tresses.
Do brushes cause hair breakage?
Yes, if you use hair brushes the wrong way, they can lead to severe hair breakage. Brush your hair slowly when it is dry, and avoid brushing the tangled parts vigorously. If you try to go down the entire length of your hair in a single swipe, your brush might encounter multiple tangles and break several strands.
Recommended Articles