10 Best Travel Hair Brushes – 2022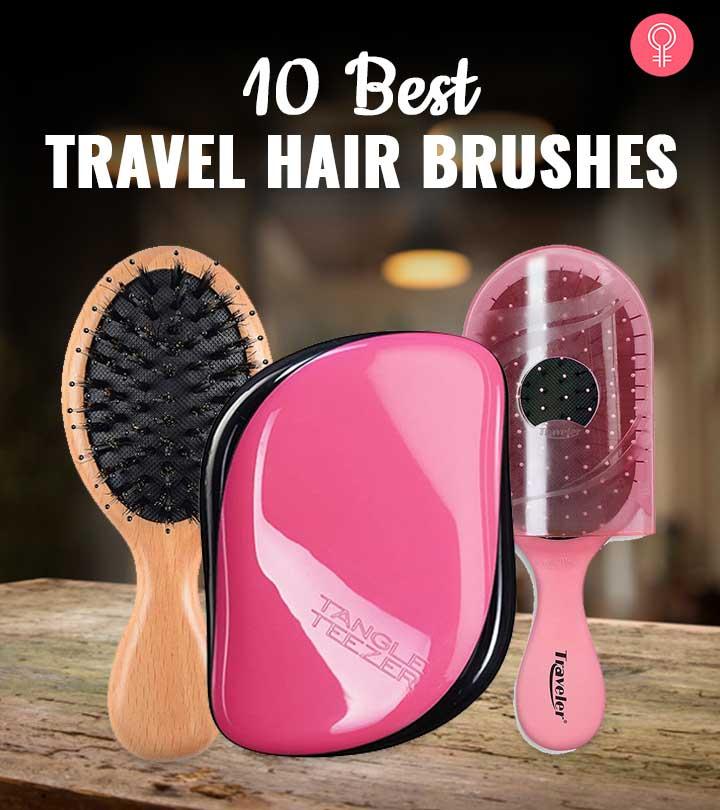 If you are looking for the best travel hairbrush, we got you covered. Travel hair brushes can save you from a bad hair day when you are out and about for long hours. Compact, ergonomic, lightweight, foldable and easily portable, you can easily carry along one anywhere. These mini hair brushes are often made of soft nylon bristles or high quality boar hair that helps detangle and manage your hair gently. Not only do they give your scalp a good massage, but also add shine and volume to your hair. To get one for yourself, you can pick from a few top options enlisted below.
10 Best Travel Hair Brushes
Tangle Teezer detangles hair instantly with minimum breakage or damage. Its innovative two-tiered design has long teeth to detangle and short teeth to smoothen the hair cuticle. Its stylish yet compact design ensures a good grip for painless detangling. This brush gently massages the scalp and is excellent for detangling both wet and dry hair. It comes with a pop-on cover that protects the brush from dirt and damage. This detangling hair brush removes knots effortlessly and adds shine and volume to your hair. It is easy to use and clean and fits in most handbags. For a thorough review of the product, have a look at this YouTuber's video.
Pros
Innovative design
Suitable for sensitive scalp
Compact
Massages the scalp
Pain-free detangling
Pop-on cover to protect the bristles
Prevents hair breakage or damage
Imparts shine to the hair
Can be used on both wet or dry hair
Smoothens the hair
Good grip
Available in different colors and prints
Portable
Cons
GranNaturals Wooden Bristle Detangler Hair Brush detangles your hair without hurting you. It is perfect for women and children with thick, curly, and long hair. It works great on wet and dry hair as it untangles and conditions your hair and scalp naturally. It is eco-friendly, natural, and compact. The wooden bristles distribute the natural oils evenly through your hair shafts. It is a great travel companion to maintain those perfect curls. Check out this YouTuber's review of the product if you require more details.
Pros
Wooden handle and bristles
Portable
Suitable for thick, curly hair
Cons
None
Louise Maelys Folding Mini Pocket Hair Comb is made with eco-friendly material. This foldable hair comb is compact and fits in your purse, pocket, or clutch bag. This lightweight pop-up brush comes with a mirror, making it easy to style your hair on the go. The brush can be used to gently massage your scalp to increase blood circulation. It is easy to use and clean. This beautifully designed brush comes in bright colors and makes for a great gift.
Pros
Made with eco-friendly material
Compact
Foldable
Comes with a mirror
Can be used to massage your scalp
Available in 4 different colors
Cons
Spornette Carry-On Mini Travel Hair Brush has an ergonomic handle and oval cushion design that fits easily in your purse or bag. This space-saving travel companion keeps your hair tidy and styled. This mini hair travel brush is only 3.5 inches long and is suitable for all hair types – long, medium, short, thick, thin, curly, wavy, or straight. Its ball-tipped nylon bristles are gentle, even on wigs, weaves, and extensions. The curved wooden handle offers a comfortable grip for painless detangling and helps in improving circulation. Its cushion is designed to collapse when it meets resistance, so it prevents hair breakage or damage. The air hole in the cushion helps in drying the brush as it improves air circulation. This makes it easy to clean all the dirt and bacteria accumulated on the brush.
Pros
Reduces hair damage
Innovative design
Compact
Comfortable grip
Improves blood circulation
Detangles hair
Easy to clean
Gentle on the scalp
Suitable for all hair types, wigs, and extensions
Cons
Leyla Milani Small Hair Styling Brush fits perfectly in handbags, travel bags, and glove compartments. It is made with a combination of nylon and cruelty-free boar bristles for effective detangling. These materials help in boosting the shine and volume of your hair. The no-slip finish of this brush makes it comfortable to use, especially for smaller children. It is good for improving the blood circulation of the scalp. This travel-size hair brush helps eliminate frizz, flyaways, and static, so your hair is always perfect. It is great for quick touch-ups and fine hair. It helps in hair maintenance at all times.
Pros
Enhances shine
Improves volume
Gentle on the scalp
Eliminated flyaways
Reduces static
Does not pull or tug on the hair
Duo bristles
No-slip satin
Suitable for all hair types
Cruelty-free
Cons
FESHFEN Boar Bristle Hair Brush detangles your hair gently while reducing static and taming flyaways. It is made with both boar and soft nylon bristles with extended pinballs that prevent hair loss and improve hair quality. This brush also promotes blood circulation by massaging the scalp. It has a polished natural beech handle that offers a secure and comfortable grip. This small boar bristle hair brush is suitable for people with thin hair and children as it is gentle and does not pull on the hair. This mini brush replaces your normal hair brush easily!
Pros
Prevents static
Detangles the hair
Does not pull on the hair
Improves blood circulation
Comfortable grip
Sturdy
Suitable for normal to thin hair
Cons
The bristles are too short
NuWay Traveler Detangling Brush is patented for its specially formulated bristles that help reduce static. They are made with exclusive nylon brainy bristles that help in detangling dry or damp hair without pulling or damaging hair strands. The bristles have argan oil-infused double-dipped tips that improve the quality of your hair without leaving it greasy. This heat-resistant travel brush can withstand temperatures up to 350℉ to give you soft, silky hair. It has a SureGrip non-slip design that makes it comfortable to use. It comes with a protective cover so that it does not get damaged or dirty easily.
Pros
Prevents static
Heat-resistant
Comes with a protective cover
Non-slip handle
Cons
Not suitable for thick hair
Ancable Folding Hair Brush is a space-saving full-size brush that is foldable. Its foldable and retractable feature makes it easy to carry it in purses, pockets, or bags. It is perfect for outdoor places like gyms, pools, or campsites. Its high-quality bristles help in detangling your hair without causing any pain. It is made with resin material, nylon bristles, and a rubber air cushion that do not have a petroleum odor and comply with RoHS and REACH standards for human use.
Pros
Easy to carry
Foldable
High-quality bristles
Lightweight
No petroleum odor
Gentle on the scalp
Cons
Does not stay open
Uncomfortable handle
Wet Brush Mini Pop And Go Detangler is the perfect on-the-go hair brush! It is made with exclusive ultra-soft IntelliFlex bristles that protect your hair from split ends and breakage. The brush has a foldable handle and a push button that protect the bristles when it is closed. This travel-friendly hair brush detangles dry or wet hair painlessly. It glides through the hair effortlessly to remove knots. This bright purple color brush is stylish and suitable for all hair types.
Pros
Minimizes pain
Prevents split ends
No breakage
Suitable for all hair types
Foldable handle
Push button release
Cons
Aozzy Travel Hair Brush is ergonomically designed to fold, so it fits easily into a travel-size bag. This mini hair brush is made with nylon and boar bristles. The boar bristles reduce frizz as they lubricate and spread the sebum uniformly through the hair strands. It promotes hair growth and minimizes hair breakage. It has smooth rounded teeth that glide through all types of hair – thick, thin, long, short, or curly. This folding hair brush helps in reducing static and getting soft, silky hair. It is lightweight and easy to use, clean, and carry.
Pros
Protects hair
Prevents static
Foldable
Natural bristles
Prevents breakage
Suitable for all hair types
Cons
Travel hair brushes are ergonomically designed with lightweight materials, natural bristles, and non-slip handles. They are compact enough to fit in most handbags and pockets. These travel-size hair brushes tame frizz, control static, and help in styling your hair anytime, anywhere!
Why Trust Stylecraze
Shiboli Chakraborti, the writer, is passionate about finding convenient and sensible hair maintenance products to ease your traveling worries. In this article, she discusses the best brushes available online to travel with. She vetted and researched each and every one of these products and their reviews to compile this handpicked list. These brushes are durable, easy to use, portable, and have other additional benefits that make hair maintenance easier.
Recommended Articles