11 Best Rotating Hot Air Brushes
Style and dry your hair with hot air brushes that give salon-like results in no time.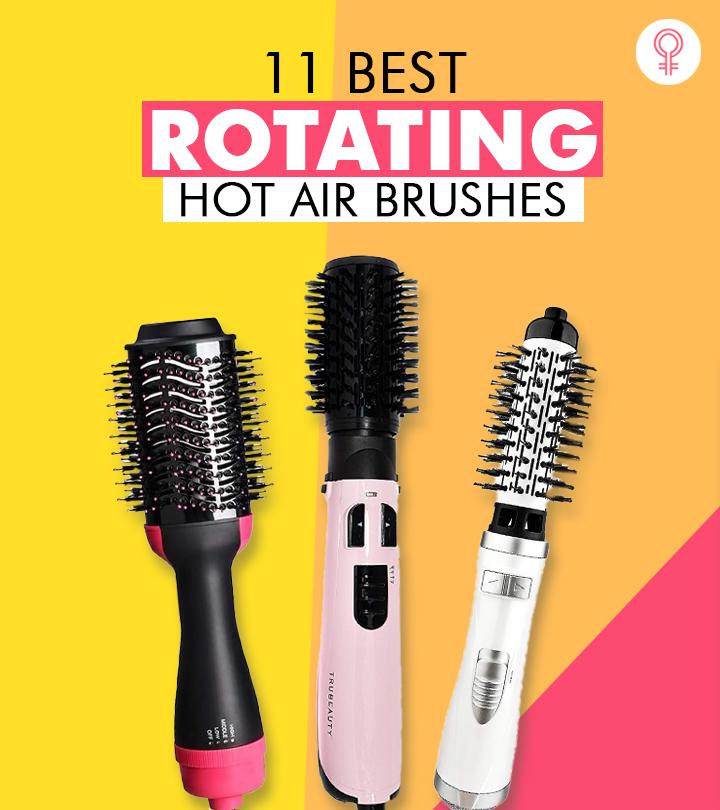 If you are a hairstyling enthusiast and want to try something new, try getting your hands on the best rotating hair dryer brush available online. It not only gives you the advantage of a blow dryer but also adds the convenience of a rotating round brush. It helps you dry your hair and style it simultaneously without getting your hand in uncomfortable positions. If you are ready to upgrade your hair styling game, choose one of the 11 best rotating hair dryer brushes listed below.
11 Best Rotating Hot Air Brushes
The Infinitipro By Conair Hot Air Brush uses ionic technology to reduce frizz and smoothen the hair. It features two attachments of 1½-inch and 2-inch spin air brushes that personalize your curls. For beach waves and small curls, use the 1.5-inch brush, whereas for full body and voluminous curls, use the 2-inch brush.
The dual rotational feature adds gloss and volume to the hair. The tourmaline ceramic technology prevents hair damage and promotes healthy hair. This hot air brush is equipped with tangle-free anti-static boar and nylon bristles. It is travel-friendly, easy to use, and has a high drying power. Go through this video review for a detailed understanding of the product.
Specifications
Power: 500 W
Weight: 1 lb
Color: Black
Key Features
2 heat settings
2 cool settings
Anti-static boar and nylon bristles
Pros
Prevents static
Travel-friendly
Easy to use
High drying power
Comfortable grip
Includes 2 protective covers
Cons
None
The ACOMYCICI Hot Air Brush is a 3-in-1 brush suitable for all hair types as it blows dry hair, straightens, and curls. Its two airspeed and three heat settings meet the different needs of the hair and dry and style your hair in just ten minutes.
The nylon pin and tufted bristles design grip every strand of hair for effective styling. The negative ionic technology with tourmaline technology offers even airflow, preventing hair damage, frizz and enhancing shine. The 360° swivel cord makes the lightweight, ergonomic design flexible to use while styling.
Specifications
Power: 1000 W
Weight: 649 g
Color: Black
Key Features
2 speed settings
3 heat settings
360° swivel cord
Comfortable handle
Pros
3-in-1 design
Suitable for all hair types
Ergonomic design
Lightweight
Cons
None
The BaBylissPRO Rotating Hot Air Brush imparts volume, gloss, and lift to the hair. It features a bi-directional rotating barrel and a thumb grip for easy controls. The nano titanium technology with micro titanium particles is an excellent heat conductor.
The ceramic heat seals in the hair moisture by generating conditioning ions that protect your hair from damage. The removable filter helps prevent lint buildup, thus extending the motor life. This rotating hot air brush features three temperature settings and anti-static bristles that help reduce frizz. Check out this video for a detailed review of the product.
Specifications
Power: 500 W
Weight: 1 lbs
Color: Black
Key Features
3 heat settings
Cool setting
Anti-static bristles
Removable filter
Pros
Easy to use
Ergonomic design
Comfortable grip
Cons
The REVLON Ceramic Hot Air Brush creates gorgeous blowouts, big straight locks, and striking waves. It comes with 1 inch and 1.5 inches attachment barrels. This hot air brush features a curl release button that prevents tangles. The iconic technology provides frizz-free, smooth curls. This hot air brush is equipped with triple ceramic coating, two heat settings, a cool air option, and a tangle-free swivel cord. It is lightweight, travel-friendly, and easy to use. Take a look at this video to learn more about the product.
Specifications
Power: 500 W
Weight: 1 lb
Color: Black
Key Features
Triple ceramic coating
2 heat settings
2 barrel attachments
Cool air option
Tangle-free swivel cord
Pros
Lightweight
Easy to use
Travel-friendly
Cons
None
The JOYYUM Hot Air Brush rotates both backward and forward, adding volume and gloss to the hair. It features two tourmaline coated brush attachments of 2 inches and 1.5 inches. The 2 inches attachment helps create volume at the roots and 1.5 inches for creating soft curls.
This hot air spin brush calms frizz and tames unruly hair. It generates concentrated ions to protect the hair from heat damage. The two heat settings and a cool setting help achieve long-lasting hairstyles. This product features a 6 feet 360° swivel cord and tangle-free nylon bristles that help prevent static.
Specifications
Power: 1000 W
Weight: 1.53 lbs
Color: Pink gold
Key Features
2 heat settings
Cool shot option
Tangle-free swivel cord
Anti-static bristles tangle-free soft nylon bristles
Pros
Comfortable grip
High airflow
Easy to use
Cons
The spin feature might malfunction.
The Tru Beauty Rotating Hot Air Brush is user-friendly and creates salon-like results. This rotating hair wand prevents hair damage caused by heat styling. The bristles help detangle the hair and prevent breakage. The 2 inches ceramic coated barrel calms frizz and adds shine to the hair. This hot air brush heats quickly and forms no dents while curling. It features three temperature settings, a tangle-free 360°swivel cord, and a comfortable handle.
Specifications
Power: 900 W
Weight: 1.55 lbs
Color: Pearlized blush
Key Features
3 heat settings
Tangle-free 360°swivel cord
Comfortable handle
Pros
Firm grip
Easy to use
Value for money
Cons
The ceramic-coated SMY Hot Air Brush Styler & Dryer uses negative ionic technology to nourish and moisten your hair from the inside out, leaving it smooth, shiny, and protected against damage. Suitable for normal hair types, the hot brush comes with 3 temperature settings along with a rotation mechanism that spins in 2 different directions, giving your curls plenty of movement as well as a natural look. There are 2 detachable spin brushes that are suitable for both thin and thick hair respectively. It also has a 360° swivel power cord that is safe and flexible to use at home.
Specifications
Power: 900W
Weight: 2.1 Ounces
Color: Black
Key Features
Dual-use application
3 temperature controls
360° swivel power cord
Ergonomic handle
Detachable brush heads
Pros
Skin-friendly ceramic coating
Interchangeable brushes for precise styling
Easy to curl and rotate
Cons
Might overheat slightly after prolonged use
The Beautimeter 3-In-1 Hair Dryer Brush can give you everything from soft, loose curls to poker-straight hair in almost no time! It comes with a hairdryer, comb, and styling tool attached to a round-shaped barrel that is super-easy to use and broad enough to give you sufficient coverage. There are 2 interchangeable spin brushes that are respectively suitable for long and short hairstyles. It works via a built-in negative ion generator that releases 50% more ions to lock moisture in your hair, leaving it smoother, shinier, and healthier. The ergonomic brush handle and tangle-free bristles are connected to a 360° swivel power cord for more flexible movements.
Specifications
Weight: 1.6 lbs
Color: Black
Key Features
2 heat settings + 1 cool setting
360° swivel power cord
Ceramic coating
Changeable brush attachment
Auto power off option
Pros
Ergonomic brush handle
Multiple styling options
Skin-friendly coating
Cons
None
Get salon-style hair drying with JINRI PARIS Professional Style 2 Go Hot Air Brush. It makes your hair voluminous and shining. It comes with unique airflow vents for faster drying. The Ionic technology helps maintain a neutral charge on the hair's surface, making the hair look smooth, conditioned, and frizz-free. The 1¼ ceramic tourmaline coated barrel keeps the hair protected from over-styling and distributes the heat evenly, preventing over-drying and reducing heat damage. The dryer comes with an ALCI safety plug that prevents short circuits.
Specifications
Power: 1000 w
Weight: 1.57 pounds
Color: black
Key features
2 heat settings
Cool-touch tip
Airflow vents
Pros
360 degrees swivel
Long cord
Lightweight
Cons
Remington Pro Rotating Hot Air Styler is equipped with 4-attachments that help to style your hair as desired. The powerful airflow removes excess moisture while curling or straightening your hair. It has ceramic-coated barrels which are infused with antistatic Tourmaline that help to condition your hair.
Specifications
Weight: 1 pound
Color: Black/ Rose
Power: 800 Watts
Key Features
2 heat settings
Cool shot button
Luxury storage case
Pros
Long-lasting style
Firm paddle brush
Versatile attachments
Cons
None
The HTQ Hamswan Hair Dryer Brush dries and volumizes your hair within minutes. It features a high-performance motor that enables optimal modeling of the temperature. The negatively charged ions penetrate tiny water molecules of the hair, reducing the damage caused by high temperature.
This hot air brush makes the hair silky smooth and removes static. It can be used on all hair types and seasons. The ergonomic handle enables comfortable and easy styling. The oval-designed hair dryer brush features tufted bristles with nylon needles that slide through the hair easily. It is equipped with a massage comb and a 360° swivel cord. This hot air brush operates quietly and features three heat and speed settings. It also includes a 54mm styling hairbrush head, a soft straight hair brush, and a 25mm curling head.
Specifications
Power: 1000 W
Weight: 2.08 lbs
Color: Black
Key Features
3 speed settings
3 heat settings
360° swivel cord
Comfortable handle
3 attachments
Pros
Matte-free material
Noiseless operation
Ergonomic design
Cons
None
Now that you know what the best rotating hot air brushes are, here is how you can use them the right way.
How Do You Use A Rotating Hot Air Brush?
Wash, condition, and towel dry your hair.
Divide your hair into sections.
Take each section and start the roller from the tip of your hair.
Roll it upwards while constantly combing out the hair with the brush.
Once the hair is straightened and dry, hold the roller towards the tip and roll in until the scalp to volumize the hair.
In the next section, we have discussed the points to consider while buying a rotating hot air brush. Keep scrolling for more information.
How To Choose The Best Hot Air Brush That Rotates
Rotator Switch: A rotating hot air brush should have a switch to turn it on and off so that you can use it as a hair brush when not curling your hair.
Heat Settings: Ensure that your rotating hair dryer brush has multiple heat settings. This is because different hair types require different temperature settings for styling. Thin, fine hair requires a low heat setting; otherwise, it may burn your hair and scalp.
Barrel Size: A single barrel size is not suitable for all hair types and lengths. A large barrel might not work for short, fine hair as the barrel and bristles are too big to hold the hair. A rotating barrel helps curl thick, voluminous hair. Choose a barrel size that is suitable for your hair length and type.
Multi-direction Settings: A rotating iron should have multi-direction settings – this means that the barrel can turn inwards or outwards. This is important if you want to style your hair in different ways. The direction setting of the barrel enables you to use the dryer for various hair types and styles.
Price: Just because a hair dryer brush has a rotating feature does not mean it has to be expensive. Compare the market prices and find a good product at an affordable price. Ensure it features adjustable heat settings, a multi-direction option, and necessary attachments so that you do not invest separately in them.
A rotating hot air brush has multiple benefits. Check out the next section to know what they are.
What Are The Benefits Of A Rotating Hot Air Brush?
Gentle: A rotating hot air brush is gentler on the hair than a flat iron. The heat is not so strong and evenly distributed, which ensures fewer chances of burning. You can also use it close to the scalp to volumize the hair without scalding.
Compact: These devices are travel-friendly and compact.
Multipurpose: A hot air brush also works as a blow dryer and curler. The rotating brush comes as an attachment and can be removed for blow drying the hair. This tool enables you to create various hairstyles.
Temperature Settings: The brush usually comes with two heat settings to dry and style your hair and a cool shot setting to locks your hairstyle.
Time-saving: A rotating hot air brush works faster than flat irons or other curling dryers since it rotates automatically. Other curlers require you to roll your hair around the barrel, which consumes more time.
Salon-type Results: A rotating hot air brush helps you create salon-like hairstyles that last longer than regular hair dryers and curlers.
Check out the following section to know the difference between rotating hot air brushes and other styling tools.
Rotating Vs. Non-Rotating Hot Air Brushes
There is only a basic difference between a rotating and non-rotating hot air brush. The barrel of a rotating brush rolls the hair automatically, while in a non-rotating air brush, one has to roll and wrap the hair around the barrel manually.
Hot Air Brushes Vs. Curling Irons
Hot air brushes create soft curls or bouncy waves. They also volumize the hair and should be used on slightly damp hair. Curling irons create tight curls and should be used only on dry hair.
Hot Air Stylers Vs. Straighteners
Straighteners press the hair between two hot plates of high temperature. High temperatures can dry out the hair, causing thermal damage, while hot spots may burn the hair. On the other hand, a hot air brush features a heated plate with a nylon- or silicone-bristled brush. This diminishes the hair contact with the hot plates. The bristles glide through the hair smoothly while detangling and drying the hair. They also volumize the hair while straightening it.
If you are dissatisfied with your hair drying process, the chances are you are making some common mistakes while using it.
Common Mistakes When Using a Hot Air Brush
1. Not Towel Drying Your Hair
Towel dry your hair before using a hair dryer brush. But do not keep your hair wrapped in it for too long. Also, avoid cotton towels as they cause friction and make the hair prone to breakage. It is best to use a microfiber towel – gently squeeze out the excess water and pat dry.
2. Not Applying A Heat Protectant
Apply a heat protectant serum before using a hot roller. Serum forms a protective layer on the hair and minimizes heat damage.
3. Not Using The Concentrator Nozzle
Concentrator nozzle imparts a smooth texture to your hair. Use a concentrator nozzle to tame frizz and make your hair smooth before putting it into the roller.
4. Using The Wrong Brush
Choose your hair brush depending on your hair type for a strong hold. Ensure the barrel size of your roller brush suits your hair length and texture.
5. Wrongly Volumizing The Hair
Roll your hair from the roots to the tips if you want a fuller, voluminous look.
Follow these steps to clean your hot air brush properly.
How Do You Clean A Hot Air Brush?
Note: Do not dip the entire brush in water or any liquid.
Unplug the brush from the electrical socket.
Remove the hair that is tangled in the brush bristles. You can do this with your fingers or with a tweezer.
Wipe the hot air brush with a damp cloth.
Reach the difficult edges and corners with a cotton swab.
Use a cleaning solution if the dirt is stubborn.
Why Trust StyleCraze?
Shiboli Chakraborti, a certified skin care coach who is also passionate about hair care, brings you this list of the best rotating hot air brushes. She scoured different websites to study the features and user reviews of several products before recommending them on this post. She has also provided a buying guide to help you procure the one that fulfills your requirements. These rotating hot air brushes will serve the dual purpose of drying and styling your hair.
Frequently Asked Questions
How often can I use a hot air brush?
Excessive contact with heat can damage your strands. So, use a hot air brush not more than two times a week.
Can you use a rotating hot air brush on wet hair?
Yes, a hot rotating hair brush can dry your hair completely. Plus, styling wet strands is easier.
How do you use a rotating hot air brush on short hair?
• Apply a heat protector all over your hair.
• Brush your hair from the root.
• Make different sections of your hair.
• Set the desired temperature on the rotating hot air brush.
• Unravel one section of your hair.
• Hold the tresses by the brush and start rolling up to the root.
• Hold it there for a few seconds and leave.
• Repeat the same on the rest of your hair.
What is the difference between a hot brush and a hot air brush?
A hot air brush effectively dries your tresses and straightens them. But, a hot brush can not dry your wet strands. It simply straightens the hair.
Recommended Articles