11 Best Hot Rollers For Fine Hair To Add Volume
Volume, texture, and curls on fine hair have never before been easier to achieve!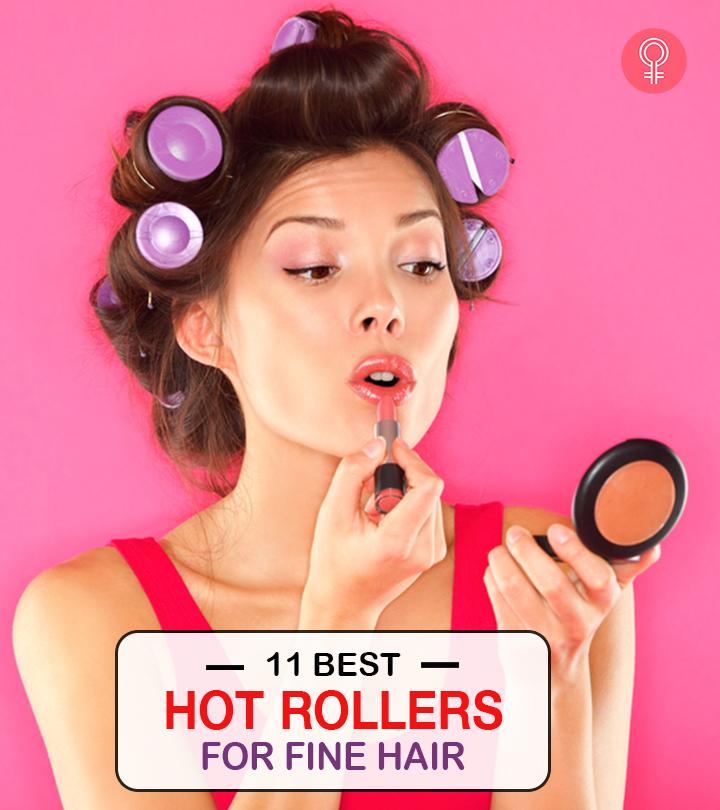 Fine hair may be fun and games until you have to style it. Especially when you create well-defined curls or bouncy waves with heatless tools you risk losing them prematurely. To combat this pesky problem, you need to invest in the best hot curlers for fine hair. Hot rollers are versatile tools that can help you create loose curls or tighter curls, depending on your preference. These ensure that your fine hair receives the volume and texture it needs to hold curls for a long time. They are also easy to use, making them a must-have styling tool. Even if you have curly hair, these will help you define your natural curls better. To help you pick the perfect one, we've listed the 11 best hot rollers for fine hair that have secured the most reviews online. Scroll down to know more!
Types Of Fine Hair Rollers
There are three types of rollers you need to look out for if you have fine hair. 
Wax Core Rollers: These rollers have wax inside to retain the heat for a long time.
Sponge Rollers: These steam rollers emit steam to set fine hair into curls.
Ceramic Infused Rollers: They employ ionic and far-infrared technology to produce heat. These work best with damaged fine hair, as they prevent hair breakage or pulling.
How Can Hot Hair Rollers Help With Fine Hair Problems?
Every hair type has a set of issues. Fine hair is very difficult to set in curls, be it beachy waves, kinky curls, or loose curls. It takes forever to set, and the curls don't last very long. Your fine hair might end up looking flat even after it is styled in curls. Fine hair is also prone to damage, like split ends and breakage. But, with hot rollers, even shorter hair can be curled beautifully.
Using hot curling rollers can help set fine hair quickly and keep the curls secure for a long time. Hot rollers also reduce the amount of heat damage and hair breakage. Still using a heat protectant is a must. One should apply it even before using hair dryers. Most of them have velvet flocked surfaces that prevent the hair from getting stuck to the rollers or pulled. Hot roller sets also come in multiple roller sizes and heat settings. To learn more, you can also ask a hairstylist to show you how to use these hot rollers to achieve the desired type of curls.
Let's now check out our top 11 hot rollers for fine hair.
11 Best Hot Rollers For Fine Hair
The InfinitiproHot Rollers by Con air are made with instant heat ceramic and use real ionic generators. They have 12 temperature settings and three roller sizes –small (3/4-inch), medium (1-inch), and large (1 ¼-inch) – and 20 plastic clips. The real ionic generator helps reduce frizz. The ceramic body heats up within two minutes and offers consistent heat transfer. These hot rollers are anti-static and do not damage the hair. They add extra volume and make the hair healthy and shiny.
Also Recommended By: Infinitipro has also listed Infinitipro Hot Rollers By Conair in their top 10.[1]Best Hot Rollers for Fine Hair: Top 7 Choices for 2023. Infinitipro. https://getarazor.com/best-hot-rollers-for-fine-hair/
Pros
Addshine
2-minute heat-up time
12 temperature settings
Anti-static
Prevent frizz
Retractable cord
Cons
Might be difficult to set with long or thick hair
The Kitsch Ceramic Thermal Hair Rollers come with ceramic-coated barrels, which help to evenly distribute the heat and give you voluminous and long-lasting curls with less heat damage. Its strategically placed teeth are self-gripping helping to provide a strong hold to the hair and preventing tugging, pulling, or breaking of hair. This hot roller set of 8 contains rollers of 3 different sizes, allowing you to experiment with different hairstyles while working on all hair lengths. It comes packed in a compact bag and can fit in just about any space. Some hair care enthusiasts on Amazon have tested the product and found out that the rollers offer bouncy waves and curls within minutes.
Pros
Compact
Even heat distribution
Long-lasting results
Adds lift at the roots
Easy to store
Portable
Cons
Can turn hair slightly frizzy
The Caruso Ion Steam Hair setter conditions the hair and makes it shiny and voluminous without creating static or frizz. It uses negative ions that produce thrice the amount of steam than regular rollers, creating beautiful, long-lasting curls. The set includes 30 molecular foam rollers–6 petite, 6 small, 6 medium, 6 large, and 6 jumbo. The unit makes a clicking sound to signify that the ion feature is engaged. It uses a patented steam hair setting system that operates at 120V,60Hz voltage. It comes with a carrying case and styling manual. If you are still unsure about purchasing, you can check out a review of this product on YouTube.
Pros
Long-lasting curls
Reduces frizz
Softens the hair
Includes a carrying case and styling manual
Cons
The Remington Ionic Conditioning Hair Roller employs ionic conditioning to style the hair with less frizz and more shine. The Exclusive therma wax core rollers create long-lasting curls. Its wax core retains high heat within the roller for a long time. The 20 rollers are velvety, come in different sizes and bright pop colors, and do not pull your hair. The hot roller set also comes with J-clips designed to keep the roller securely in place without creasing. An indicator light shows when the rollers are at the perfect temperature for styling. The cool-touch ends make the rollers comfortable to use. The unit has a two-year limited warranty. You can check out this YouTuber's review of the product if you require more convincing.
Pros
Easy to use
Velvet coating
Travel-friendly
2-year limited warranty
Cons
Might get stuck to the hair
Might get too hot
Make your hair appear curly and add extra volume with the Cludoo Hair Curlers. These self-grip hair curlers come in two different sizes, 12 jumbo and 12 large, in attractive colors. The jumbo curlers make the hair appear voluminous by lifting the hair at the roots and the large curlers give you beautiful loose or tighter curls. The kit also includes 12 duckbill clips in stainless steel to hold your curlers securely. You can use this hair for long, medium, and short hair effectively.
Pros
Soft and comfortable
Easy to use
Travel-friendly
Tangle-free
No hair pulling
Lightweight
Cons
None
The BaBylissPRO Nano Titanium Roller Hair Roller consists of 20 velvety (6 small, 6 medium, and 6 large) flocked rollers. They transform your hair texture and help style the hair into beautiful curls instantly. The professional-grade rollers are made of nano titanium ceramic material that uses far-infrared heat, which distributes heat evenly. They make the hair healthy, bouncy, smooth, and shiny. The nano titanium roller hairsetter comes with 12 butterfly clips and 12 color-coded metal clips.
Pros
Heat up quickly
Easy to use
Long-lasting curls
Add shine
Cons
Make retro rolls with the Con air Compact Multi-Size Hot Rollers which comes in a pack of 20 multi-size, tangle-free rollers of different sizes–8 small (1/2 inch), 6 medium (3/4 inch), and 6 large (1 inch). The set also comes with 20 color-coded stainless steel clips. The starter grip patented hot roller design the rollers to the hair to set in a style quickly. Once the roller is ready to use, an indicator light turns on. They come in attractive bright colors and make the hair smooth, bouncy, and shiny. Reviewers on e-commerce websites have left behind positive feedback about the rollers being compact and portable. If you want to find out more about this product and its usage, make sure to check out this review on YouTube.
Pros
Easy to use
Heat up quickly
No creases
Made of plastic
Compact design
Portable
Smoothen the hair
Add shine
Cons
Make waves of awe with the Con air Instant Heat Travel Hot Rollers is a pack of five jumbo rollers of 1.5 inches. It comes with super clips to help style your hair in smooth and voluminous waves. The rollers have a flocked velvety surface and cool end rings. and heat up within two minutes. A The set comes with a soft, zippered pouch for storing the rollers when heating and setting hair.  The cord is five feet long and works with a dual voltage of 120V and 240V.
Pros
2-minute heat-up time
Easy to use
Dual voltage
Cons
Might take time to set long hair
Transform your fine hair into smoother, shinier curls with the Remington Pro Pearl Ceramic Hair Setter. This hair setter is coated with genuine crushed pearls and is designed with vertical storage to fit on the countertop smoothly. The dual-heated technique allows rollers and curlers to heat from inside out for perfect, long-lasting curls in just 5 minutes. The kit includes 12 large and 8 medium-sized rollers. It also includes ergonomically designed clips to hold the rollers securely without any creases in your style. You can also wrap the cord to the storage box when the hair setter is not in use.
Pros
Cool touch ends
Quick heating
Indicator light
Color-coded clips
Cons
Inconsistent heating function
Whether you want loose waves, big bouncy curls, or coily hair, the T3 Volumizing Hot Rollers cater to all your needs! These hot rollers are a prized find that help make your hair look thicker, fuller, and shinier. With dual temperature settings and T3 heat core technology, the results on your hair texture are long-lasting. It comes in a luxe-looking storage bag, making it travel-friendly.
Pros
Fast heating
Adds body
Adds shine
Adds volume
Long-lasting results
Portable
Cons
[multi_buy_now_btnasin="B01HZGUSMQ"amz_affilate="tsr-haircarepro-20″walmart_affilate=""]
Shape your bangs or add hair hoops with the Remington H9100s Pro Electric Hot Rollers. It is a pack of 20 ceramic rollers that come in two different sizes – 12 large (1.5 inches) and 8 medium (1 inch). They offer a secure hold while preventing creases. The ceramic coating simplifies the curl-setting process and reduces hair damage. These rollers employ dual heating technology, which sets curls in five minutes. The vertical design is space-saving.This set comes with a four-year warranty.
Pros
Heats up fast
Prevents crease
Dual heating technology
4-year warranty
Space-saving design
Sets curls in 5-minutes
Cons
*The prices provided in this article are based on the latest available information. However, they may vary due to changes in pricing by the seller and/or promotional offers.
If you are a beginner and want to know how to use hot rollers, check out this article.
 What To Look For When Choosing A Hot Roller For Fine Hair?
Technology: Tourmaline technology is the best for fine hair. If that is not available, choose ceramic or ionic technology. Some hot rollers use a fusion of both ceramic and ionic technologies to prevent frizz and keep the hair healthy.
Size: Pick a hot roller pack of various large and small sizes to cover your hair and give you the curls you want. Thick hair requires large or jumbo rollers, while fine hair requires small or medium-sized rollers.
Clips: Fine hair is difficult to set in place. Most hot rollers come with butterfly or steel hair clips and strategically placed teeth to help set the hairstyle and keep the hair in place for effective curling results.
Barrel Size: The width of the barrel decides the size of the curl. Pick the barrel size keeping your hair length in mind. If you have long hair, choose a long and thin barrel.
Number Of Rollers: Choose a roller pack that has a minimum of 8 rollers. Fine hair does not require more than 8-12 rollers, but some packs also come with 30 rollers.
Material: Get the rollers made of plastic and nylon material on the outside to ensure that they are lightweight for added comfort.
Why Trust StyleCraze?
Shiboli Chakraborti, the author of this article, is a haircare aficionado and loves to find the best products to maintain and style hair and review them. She has put in hours of research to review user feedback on online forums and brand websites before compiling the list of the best hot rollers for fine hair. The products she has shortlisted with detailed feature discussion and pros and cons are easy to use.
Frequently Asked Questions
How do you use hot rollers?
Step 1: Plug in your hot rollers and allow them to heat up.
Step 2: Make a middle or side part and create small sections on your freshly washed and air-dried hair.
Step 3: Apply heat protection serum, especially to the ends.
Step 4: Start rolling from the ends with the roller at the top of the section and wrap your hair around.
Step 5: Keep it in for 20-30 mins and allow the rollers to cool.
Step 6: Open out the rollers and use your hands to separate the curls gently. Finish off with a good, gentle hair spray.
Pro Tip: Roll horizontally for major volume or vertically for a loose tousled effect.
How do you use hot rollers on short hair?
Step 1: Plug in your hot rollers and allow them to heat up.
Step 2: Create small sections on your freshly washed and air-dried hair.
Step 3: Apply heat protection serum to the strands.
Step 4: Start rolling from the ends. Make smaller sections for more defined curls.
Step 5: Allow the rollers to cool down.
Step 6: Open out the rollers, use your hands to separate the curls gently, and finish off with a good hair spray.
Are hot rollers less damaging?
Yes. Hot rollers damage your hair slightly less as they form curls with less heat and more time. However, you risk the chance of twisting your hair too tight, causing it to break and fall out prematurely.
Hot rollers or curling iron for fine hair?
Although a curling iron might help form curls on short and fine hair faster, your curls get undone quicker too. So, hot rollers are preferred over curling iron to make your curls last longer.
Do heated rollers work on fine hair?
Yes, most heated rollers work on fine hair if you follow the steps correctly.
Do you use hot rollers on wet or dry hair?
Always use hot rollers on air-dried hair as wet hair is prone to more breakage and badly formed, limp curls.
Are hot rollers better than a curling iron?
Both these styling tools have their pros and cons. While a curling iron offers different heat settings and forms curls faster than hot rollers, a hot roller is safer and less damaging to the hair.
Recommended Articles