11 Best Hot Rollers For Fine Hair To Add Volume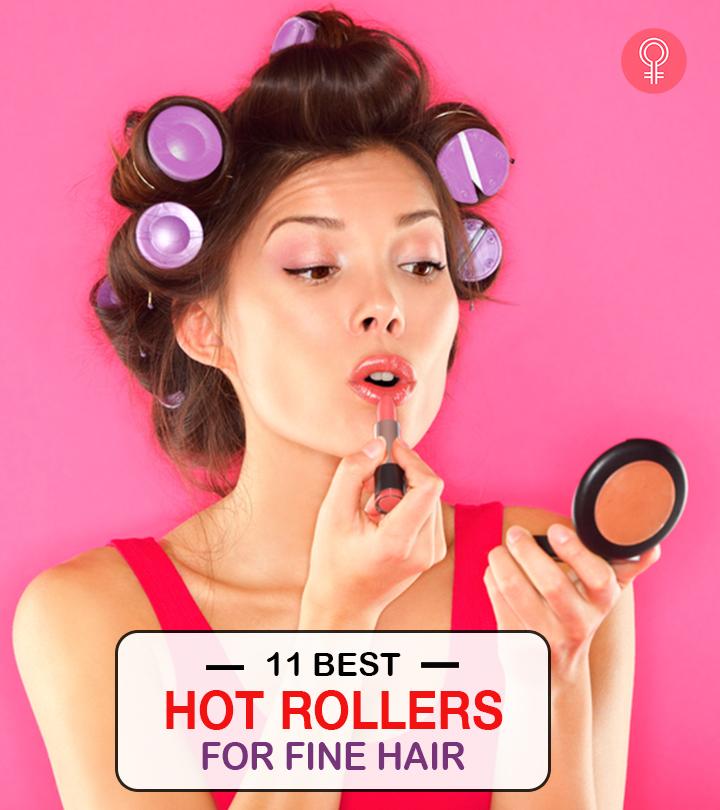 Styling fine hair in curls can be a herculean task. Not only does it take time, but it also might end up making your hair look flat. Fine hair can get damaged with curlers or chemical treatments like perms. The best solution is to use hot rollers! Hot rollers are easy to use and set fine hair into stunning curls. They add an instant volume to your locks, unlike other styling tools. Even though they use heat, they donot damage the hair. Check out the 11 best hot rollers for fine hair. Scroll down!
Types Of Fine Hair Rollers
There are three types of rollers you need to look out for if you have fine hair. 
Wax Core Rollers: These rollers have wax inside to retain the heat for a long time.
Sponge Rollers: These steam rollers emit steam to set fine hair into curls.
Ceramic Infused Rollers: They employ ionic and far-infrared technology to produce heat. These work best with damaged fine hair, as they prevent hair breakage or pulling.
How Can Hot Hair Rollers Help With Fine Hair Problems?
Every hair type has a set of issues. Fine hair is very difficult to set it in curls. It takes forever to set, and the curls don't last very long. Your fine hair might end up looking flat even after it styling in curls. Fine hair is also prone to damage like split ends and breakage.
Using hot rollers can help set fine hair quickly and keep the curls secure for a long time. Hot rollers also reduce the amount of heat damage and hair breakage. Most of them have velvet flocked surfaces that prevent the hair from getting stuck to the rollers or pulled. Hot rollers also come in multiple sizes and heat settings.
Let's now check out our top 11 hot rollers for fine hair.
11 Best Hot Rollers For Fine Hair
The InfinitiproHot Rollers by Con air are made with instant heat ceramic and use real ionic generators. They have 12 temperature settings and three roller sizes –small (3/4-inch), medium (1-inch), and large (1 ¼-inch) – and 20 plastic clips. The real ionic generator helps reduce frizz. The ceramic body heats up within two minutes and offers consistent heat transfer. These hot rollers are anti-static and do not damage the hair. They make the hair healthy and shiny.
Pros
Addshine
2-minute heat-up time
12 temperature settings
Anti-static
Prevent frizz
Retractable cord
Cons
Might be difficult to set with long or thick hair
The Revlon Perfect Heat Volume Builder Hair setter Combo helps create beautiful and voluminous curls. It comes with 12 heated rollers of various sizes–4 small, 4medium, and 4 large. It also has 12 grip hair clips to secure the hair and prevent knots and tangles.The four easy shell root boosters help achieve instant volume with in1-3 minutes. This roller comes in a protective cover for storage.
Pros
Prevents tangles
Affordable 
Cons
The Caruso Ion Steam Hair setter conditions the hair and makesitshiny and voluminous without static or frizz. It uses negative ions that produce thrice the amount of steam than regular rollers, creating beautiful, long-lasting curls. The set includes 30 molecular foam rollers–6 petite,6 small, 6medium, 6large, and 6jumbo. The unit makes a clicking sound to signify that the ion feature is engaged. It uses a patented steam hair setting system that operates on 120V,60Hz voltage. It comes with a carrying case and styling manual. 
Pros
Long-lasting curls
Reduces frizz
Softens the hair
Includes a carrying case and styling manual
Cons
The Remington Ionic Conditioning Hair Roller employs ionic conditioning to style the hair with less frizz and more shine. Theexclusive therma wax core rollers create long-lasting curls. Its wax core retains high heat within the roller for a longtime. The 20 rollers are velvety,color-coded in different sizes,and do not pull your hair.The set also comes with J-clips designed to keep the roller securely in place without creasing. An indicator light shows when the rollers are at the perfect temperature for styling. The cool-touch ends make the rollers comfortable to use. The unit has a two-year limited warranty.
Pros
Easy to use
Travel-friendly
2-year limited warranty
Cons
Might get stuck to the hair
Might get too hot
The Calista Hot Wavers Heated Hair Rollers are made with multi-element mineral powders and ionic moisture infusion. These rollers have an inbuilt heating element that heats up instantly and remains hot for a long time. They have two temperature settings and three different sizes– short, long, and body wavers. This product comes with butterfly clips and a travel case for your convenience.
Pros
Heats up quickly
2 temperature settings
Made with multi-element mineral powders
Includes a travel case
Cons
Might take time to set the hair
The BaBylissPRO Nano Titanium Roller Hair Roller consists of 20 velvety (6 small, 6 medium, and 6 large) flocked rollers. They help style the hair in beautiful curls instantly. The rollers are made of nano titanium ceramic material that uses far-infrared heat, which distributes heat evenly. They make the hair healthy, bouncy, smooth, and shiny. The set comes with 12 butterfly clips and 12 color-coded metal clips.
Pros
Heat up quickly
Easy to use
Long-lasting curls
Add shine
Cons
The Con air Compact Multi-Size Hot Rollers is a pack of 20 multi-size, tangle-free rollers of different sizes–8 small (1/2 inch), 6 medium (3/4 inch), and 6 large (1 inch). The set also comes with 20 color-coded stainless steel clips. The starter grip patented hot roller design grips the hair to set in a style quickly. Once the roller is ready to use, an indicator light turns on. The rollers are compact, portable, and made of plastic. They make the hair smooth, bouncy, and shiny.
Pros
Easy to use
Heat up quickly
No creases
Made of plastic
Compact design
Portable
Smoothen the hair
Add shine 
Cons
The Con air Instant Heat Travel Hot Rollers is a pack of five jumbo rollers of 1.5 inches. It comes with super clips to help style your hair in smooth and voluminous waves. The rollers have a flocked velvety surface,and cool end rings. and heat up within two minutes. A The set comes with a soft, zippered pouch for storing the rollers when heating and setting hair.  The cord is five feet long and works with a dual voltage of 120V and 240V.
Pros
2-minute heat-up time
Easy to use
Dual voltage
Cons
Might take time to set long hair
The Remington H9000 Pearl Ceramic Heated Clip Hair Rollers combine pearl ceramic technology and ionic conditioning, which seal the hair cuticles to reduce static and create long-lasting curls.They heat up within 90 seconds and set the curls within five minutes. The 20 rollers have velvety flocked surfaces and come in different sizes – 8 medium (1 inch), 12 large (1 and a quarter inch). They have cool touch end rings to hold them while styling hair.
Pros
Heat up quickly
Addshine
Affordable
Cons
The Revlon Curls-To-Go Travel Hot Rollers is a pack of 10 easy-to-wrap rollers thatuse tourmaline ionic technology to style the hair with less frizz. The ready dot lights indicate that the rollers are heated and ready for use. These rollers are lightweight,compact, travel-friendly, and come with a storage bag. They are ergonomically designedand have cool end rings to hold them while styling.
Pros
Heatup quickly
Set the hair quickly
Easy to use
Tourmaline ionic technology
Ergonomic design
Travel-friendly
Cons
Not long-lasting curls
Might not stay in place
The Remington H9100s Pro Electric Hot Rollers is a pack of 20 ceramic rollers that come in two different sizes – 12 large (1.5 inches) and 8 medium (1 inch). Theyoffer a secure hold while preventing creases. The ceramic coating simplifies the curl-setting process and reduces hair damage. These rollers employ dual heating technology, which sets curls in five minutes. The vertical design is space-saving.This set comes with a four-year warranty.
Pros
Heats up fast
Prevents crease
Dual heating technology
4-year warranty
Space-saving design
Sets curls in 5-minutes
Cons
If you are a beginner and want to know how to use hot rollers, check out this article.
 What To Look For When Choosing A Hot Roller For Fine Hair?
Technology: Tourmaline technology is the best for fine hair. If that is not available,choose ceramic or ionic technology. Some hot rollers use a fusion of both ceramic and ionic technologies to prevent frizz and keep the hair healthy.
Size: Pick a hot roller pack that has various sizes to cover your hair and give you the curls you want. Thick hair requires large or jumbo rollers, while fine hair requires small or medium-sized rollers.
Clips: Fine hair is difficult to set in place. Most hot rollers come with butterfly or steel clips to help set the hairstyle and keep the hair in place.
Barrel Size: The width of the barrel decides the size of the curl. Pick the barrel size keeping your hair length in mind. If you have long hair, choose a long and thin barrel.
Number Of Rollers: Choose a roller pack that has a minimum of 8 rollers. Fine hair does not require more than 8-12 rollers, but some packs also come with 30 rollers.
Fine hair might look flat and life less even after styling. But with these rollers, you can style your hair in voluminous waves and curls. Try any of the above products and change your look everyday!
Recommended Articles
The following two tabs change content below.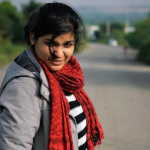 Anjali Sayee is a writer and an introvert. From studying Aeronautical Engineering and wanting to design her own airplane to writing articles on hairstyles, she has been on quite a journey. She believes that hair is one of the key factors that define a woman's personality. To quote her, "What's the first thing they do in the movies to show a personality change? Change the hair – because it has a life of its own." She's here to help you find the hairstyle you need. This bookworm is a self-professed Wholocker, a talented drummer, and an amateur photographer.