13 Best Camping Chairs For Outdoor Adventures (2022) + Buying Guide
Enjoy the picturesque surroundings during camping trips with these relaxing chairs.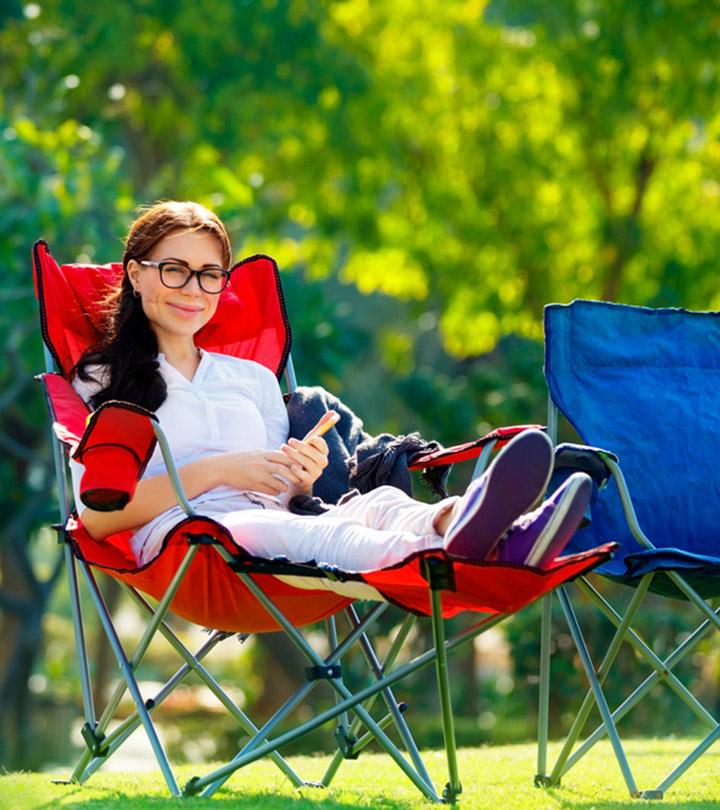 Picture yourself in the heart of the wilderness, with the fresh mountainside air rejuvenating your mind while a bonfire stokes delectable marshmallows to make the perfect winter dessert. Is anything missing? Perhaps the best camping chair that precludes you from having to sit on uneven ground and gives you a better view of your incredible surroundings. Super-comfortable, easy to haul, and built to last, the 13 camping chairs we have shortlisted for you here will enrich your outdoor adventures and make your trip all the more enjoyable. Don't miss out on our comprehensive buying guide towards the end that will help you find the right product for your needs.
13 Best Camping Chairs Of 2022
Coleman Portable Camping Quad Chair is perfect for BBQ parties or campsite picnics. It has an insulated pouch built into the armrest that can accommodate four cans to make your drinks more accessible. It has a fully cushioned seat and a backrest that helps you relax while you are snacking and drinking. The chair also has side pockets in which you can store books, magazines, and snacks. After relaxing, you can simply fold the chair and slide it into a carry bag for easy storage and transport. If you are an absolute beginner, this video review might be useful.
Weight: 75 lbs
Dimensions: 8" x 27" x 27"
Material: Polyester
Carry Bag: Included 
Pros
Wide seat space
Comfortable armrests
Easy to set up
Multiple pockets and holders
Durable steel frame 
Cons
None
Kijaro Dual Lock Portable Camping Chair is an easy-to-use chair for any occasion. Whether you are watching a soccer game, some fireworks, or any other outdoor event – this chair helps you relax and enjoy your time. This portable chair has an extra-padded seat and headrest. It is designed with a firm material that keeps it looking new for longer. The dual-lock technology ensures that the chair is 100% stable in the open position. It also features two mesh cup holders, a mesh airflow on the back, a zip pocket, a cell phone holder, and a carry strap attached to the chair frame. All these features make this chair one of a kind. Check out this review for a detailed understanding about the product.   
Weight: 4 lbs
Dimensions: 26" x 35.4" x 37.4"
Material: Polyester
Carry Bag: Included 
Pros
Comes with multiple accessories
Durable
Provides sturdy and stable support
Light and compact 
Cons
None
This camping chair by GCI is designed with the brand's patented spring-action rocking technology that offers smooth rocking action. It features padded armrests, built-in can holders, and a carry strap. It also features the Eazy-Fold technology that allows you to open and close the chair easily within seconds. This rocking camping chair is constructed with lightweight and sturdy powder-coated steel that supports up to 250 lbs of weight. Therefore, if you are looking for a sturdy camping chair for cozy outdoor events, GCI is the best! 
Weight: 1 lbs
Dimensions: 24" x 25" x 34.8"
Material: Polyester
Carry bag: Includes an integrated carry handle 
Pros
Portable
Easily foldable
Sturdy base
Durable
Comes with a lifetime warranty 
Cons
None
ALPS Mountaineering King Kong Chair is one of the most durable camping chairs on the market. It is built with a sturdy powder-coated steel frame and 600 D polyester. It can hold up to 800 lbs of weight. It comes with an adjustable armrest with a cup holder and a side pocket for maximum storage. Its roomy seat is 24.5" wide. It also comes with a convenient shoulder carry bag to carry it around with ease. This video review will help you understand more about the product.
Weight: 13 lbs
Dimensions: 38″ x 20″ x 38″
Material: Polyester
Carry bag: Included 
Pros
Easy to set up
Multiple holders
Expansive seating
Comfortable seat
Cushioned arms
Durable fabric 
Cons
None
The Sport-Brella Recliner Chair is the most comfortable camping chair for a sunny day. The 3-swivel umbrella protects you from the sun with UPF 50+. The canopy can attach to either side easily, so you can stay in the shade wherever you sit. It comes with additional hinges for reclining and a detached footrest so you can stretch and relax. It has an insulated drink pouch and a built-in bottle opener, so you can have your drink in a jiffy without getting up to grab it from elsewhere. The lightweight stainless frame can support 250 lbs of weight. The best part about this camping chair is that it is easy to fold, and all you need to do is pack it and store it in a carry bag.
Weight: 5 lbs
Dimensions: 8" x 8" x 39"
Material: Polyester
Carry bag: Included 
Pros
Cozy and comfortable
Large seating space
Includes multiple storage compartments
Durable
Easy to set up 
Cons
None
This camping chair is perfect for long camping trips. It has an integrated cup holder, a side table that flips down, a cushioned backrest, and padded arms. The aluminum frame can support up to 225 lbs of weight. Its durable fabric can withstand even the harshest weather. Therefore, this chair helps you relax in comfort anywhere. 
Weight: 7 lbs
Dimensions: 2" x 21.1" x 8.5"
Material: Polyester
Carry bag: Not included 
Pros
Large seating space
Sturdy frame
Provides a comfortable angled sitting position
Durable
1-year limited warranty
Cons
None
Amazon Basics Portable Camping Chair is perfect for camping trips, backyard parties, and sporting events. This chair includes an integrated cooler and a cup holder to keep your drinks close by. The pouch can hold up to four 12-ounce cans. The heavy-duty steel frame provides strength and stability. The padded armrests and cushioned seat provide optimal relaxation. This chair folds up easily into a carry bag. The bag's shoulder strap allows you to carry the chair around. 
Weight:7 lbs
Dimensions: 34" x 20" x 36"
Material: Polyester
Carry bag: Included 
Pros
Built-in beverage cooler
Easy to set up and store
Durable fabric
Sturdy legs 
Cons
None
Sportneer's portable camping chair is a convenient on-the-go chair. It is built with a premium aluminum alloy and nylon material with a weight capacity of 350 lbs. The material conforms to the shape of your body and enhances comfort. It is easy to set up and pack with the help of the aluminum cord frame. The breathable, super-absorbent mesh circulates air and keeps you cool. This chair is perfect for backpackers, hikers, campers, and tailgaters.
Weight: 2 lbs
Dimensions: 14" x 5.5" x 5.5"
Material: 60D Nylon
Carry bag: Included 
Pros
Ultralight and portable
Deep seating
Strong material
Easy to set up 
Cons
None
King Camp Camping Chair is a deluxe folding chair perfect for both indoor and outdoor activities, such as backyard parties, picnics, the beach, fishing, and watching TV. It is a sturdy chair equipped with a cooler bag, can holders, a side stash pocket, and a mesh holder. This chair features a sturdy powder-coated steel frame with 600D polyester fabric that can support weight up to 353 lbs. The high-strength steel tubes structure and metal material contact point design help distribute the weight evenly. This chair can fit into most car trunks and hiking luggage. 
Weight: 3 lbs
Dimensions: 5″ x 23.5″ x 41″
Material: 600 D oxford cloth
Carry bag: Included 
Pros
Durable fabric
Insulated cooler bags for drinks
Can accommodate an extra pillow
Portable design 
Cons
None
This camping chair features steel armrests, a durable steel frame, and a spacious seat that measures 25.5". It provides support, comfort, and durability. The front of this chair is made of soft brushed polyester fabric that provides ultimate comfort. There is a large storage pocket on the side of the chair that lets you store snacks, phones,and books. The padded seat and backrest enable you to relax for hours.
Weight: 10 lbs
Dimensions: 5" x 25.5" x 25"
Material: Polyester
Carry bag: Included 
Pros
Durable steel frame
Easy to store and transport
Padded filling
High weight capacity 
Cons
None
This over sized club chair is the most comfortable camping chair on the market. It replicates the cushioned comfort of your home couch with the convenience of folding and packing into a bag. It has collapsible stash-and-go folding legs that are incredibly stable. The durable steel frame is extra sturdy and can hold up to 500 lbs. The over sized and roomy dimensions provide plenty of space for you to relax and curl up. It also has a mesh storage pocket and a cup holder to store books, snacks, and tiny devices. This camping chair is basically a piece of your living room.
Weight: 2 lbs
Dimensions: 2" x 14.5" x 13"
Material: 600-denier polyester with polyurethane coating
Carry bag: Included 
Pros
Extra padded
Water-proof
Foldable frame
Durable 
Cons
Core Equipment Overs ized Saucer Camping Chair is a cozy and unique chair that features a folding frame with a 300 lbs weight capacity. It is plush, cushiony, and perfect for all-night star gazing. The quilted seat is made from 600 D brushed polyester. Its padded headrest provides extra comfort and support. The built-in cup holders help you keep your drinks close by. This chair is perfect for backyard hangouts, sporting events, and bonfires. 
Weight: 12 lbs
Dimensions: 40" x 29" x 37"
Material: Polyester
Carry bag: Included 
Pros
Large seating area
Sturdy legs
Quilted seat
Easy to set up 
Cons
Trekology YIZI GO Camping Chair is the ultimate portable chair out there. It has a ton of features and adjustments like no other camping chair. It comes with a deep seat for extra room. The breathable side mesh panels allow increased airflow in humid environments.
This chair is designed with a strong aluminum alloy. The sturdy frame provides support with a weight capacity of up to 300 lbs. The 600D polyester seat fabric with double-enforced stitches is durable, flexible, and washable. You can just pop the seat open and attach the removable fabric. The storage bag is attached beneath the seat and can be attached to your backpack and motorcycle after you pack up the chair.
Weight: 4 lbs
Dimensions: 11" x 4.3" x 6"
Material: 600D polyester
Carry bag: Included 
Pros
Easy to set up
Easy to store and travel
Relaxing sitting experience
Prevents chair from sinking into the sand
Cons
These are the best camping chairs available on the market right now. Scroll down to learn about the features to consider when purchasing a camping chair.
Camping Chair – Buying Guide
1. Comfort
The most important feature to look for in a camping chair is comfort. Look for a chair that can be folded and squeezed into the car. The chair that provides a large seating space adds to the comfort. Chairs with taller backs and a stable base are quite important. Some chairs also provide multiple cup holders for storage. These are the basic features one needs to look for in a camping chair.
2. Lightweight
If you want to minimize the space the camping chair takes up in your car, look for a lightweight chair. The fabric and frame dimensions are a lot thinner and smaller. Some of these lightweight camping chairs can also fit inside a hiking bag. However, these chairs are not comfortable enough for regular use as they do not have many features.
3. Size
There are different types of camping chairs in different sizes, from a 3-legged minimalist chair to a portable couch-like chair. To figure out the right size, you need to ask yourself some questions like: Is the seat wide enough? Is the chair strong enough to support your weight? Usually, the ones with larger seat space, a handle, and a backrest are heavier. They cannot fit into your backpack. 
4. Stability
Different camping chairs have different leg designs. Backpacking camping chairs are much lighter than regular camping chairs. However, they have thinner legs due to which they lack a higher weight capacity. Depending on the frequency of use and the duration of your trips, you can consider how much stability and support you want. If you are a regular camper, purchase a traditional camping chair as it provides better stability.
5. Price
Some people go camping only a couple of times a year. In such cases, you might not want to spend much on camping chairs. Fortunately, some models start at $40 or less. They offer comfort and support and can last for up to years. Although their durability and features may be less compared to an expensive camping chair, they do provide some basic features that are worth the price. On the other hand, there are a ton of camping chairs with high-grade features for regular campers. 
Why Trust StyleCraze?
The author, Aditi Naskar, has a diploma in health and wellness and is a fitness enthusiast. She has curated this list of the best camping chairs after carefully reviewing multiple sites and customer testimonials on various travel forums. She has shortlisted the products after evaluating their durability, quality, weight, material, and other factors.
Recommended Articles: