10 Best Leather Reclining Sofas With A Complete Buying Guide
Sit comfortably on these sturdy products that can relieve you off aches and pains.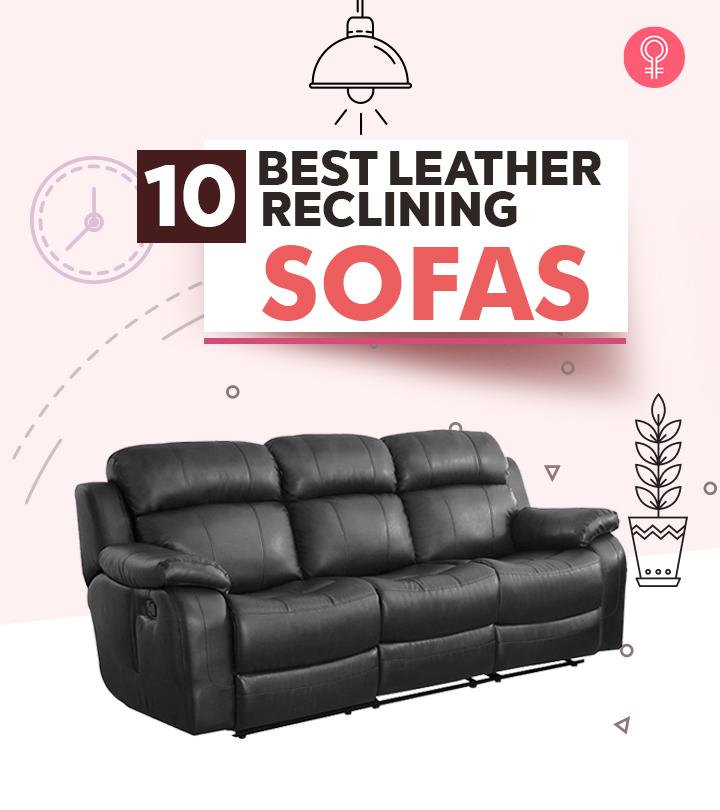 Returning home after a hectic day at work and throwing yourself on the most comfortable reclining sofa is probably the best thing you can do. The best reclining leather sofa will not only offer you comfort but also change the entire appearance of your contemporary living room. They are also spacious, well-cushioned, and available in all shapes and sizes.
Let us look at the reviews of some of the best leather reclining sofas below. Keep scrolling to explore these options!
The 10 Best Leather Reclining Sofas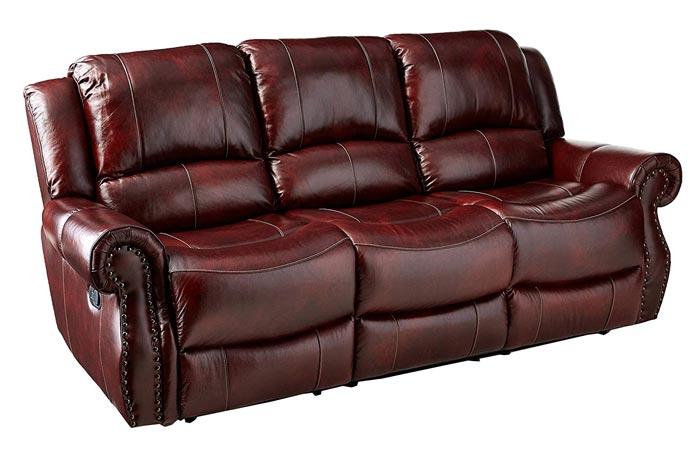 The Cambridge Telluride Leather Double Reclining Sofa is made from the best quality raw material. This gives the sofa tactile quality, strength, character, and sheen. The reclining sofa is covered with soft, naturally-milled leather. This leather effortlessly conforms to the shape of the user's body. The sofa has a charismatic appeal and a distinctive luggage stitching throughout. The sofa provides ample cushion support with its padded chaise design and plush-padded armrests. These padded arms are perfect for keeping your books, TV remote control, or to simply lay your arm. The sofa has a timeless style and is durable.
Specifications
Product Dimensions – 42 x 90 x 40 inches
Weight – 225 pounds
Materials – Leather
Pros
Made from durable leather
Conforms to the shape of the user's body
Distinctive luggage stitching
Has plush-padded armrests
Cons
None

The Acme Furniture Saul Sectional Sofa with Power Recliners comes with an OKIN power motion reclining mechanism, a console with storage, a USB power deck, and cup holders. The recliners have a tufted back with seat cushions for the utmost comfort and versatile seating options. The smooth leather seats offer relaxation with an easy-to-operate recliner mechanism. The sofa set is durable and offers a modern touch to your home, especially the stylish interiors for your entertainment spaces.
Specifications
Product dimensions –107 inches x 124 inches x 41 inches
Material – Leather
Weight –419 pounds
Pros
Efficient reclining mechanism
Padded backrest
Easy-to-use
Wireless charging option
Cons
None
Betsy Furniture Reclining Sofa is specially designed with a pillow top backrest, armrest, and pocket-coil spring seat cushion. The set includes a 3-seat sofa, loveseat, and a recliner with heat radiating backrest, especially to keep you warm and for helping you experience a cozy lounging. The sofa has 2 recliner seats that can be reclined to 160°. Moreover, it offers a complete resting position with the elevated footrest—a feature that has fetched the sofa numerous positive reviews on Amazon. The rich brown color exudes classic elegance and is a great addition to your living room.
Specifications
Product dimensions – Sofa: 87 x 40 x 39 inches
Loveseat: 66 x 40 x 39 inches
Weight – 440 pounds
Material- Brown bonded leather
Pros
Footrest elevation
Split back design
Comfortable
Pillow top backrest
Cons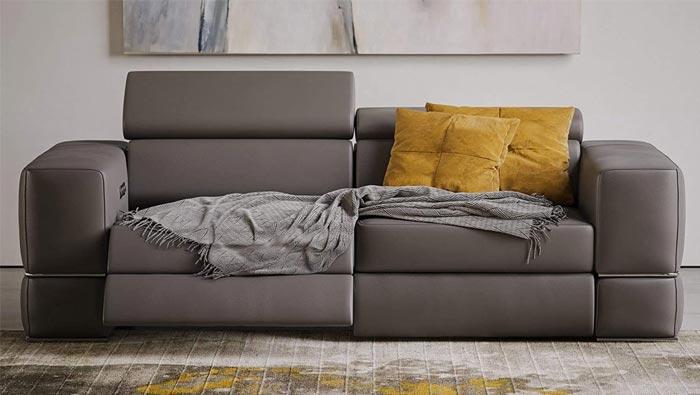 The Zuri Furniture Modern Luxor Reclining Sofa is a pioneer in providing perfect ergonomic support and comfort. The sofa consists of dual power recliners beneath it that offer a fluid-like motion. Many reviewers on Amazon have appreciated its adjustable headrests that provide some added comfort to your head and neck. The sofa also includes a series of fourpolished nickel touch-buttons that are located on the outer armrests. These buttons help control both the footrest and the headrest independently. The sofa comes with a bonus USB port charger. It is made from off-white leather with a genuine split leather match on the back and sides to go with your sophisticated aesthetics. The armrests have polished stainless steel tubular feet and accents attached to them.
Specifications
Product Dimensions – 5 x 91.75 x 30 inches
Weight – 199 pounds
Materials – Leather
Pros
Comfortable
Includes USB port charger
Nickel touch-buttons for controlling footrest and headrest
Stainless steel accents attached to the armrests
Cons
None
The Signature Design Power Reclining Sofa by Ashley comes with adjustable power headrests. The sofa has a modern look with midnight-colored polyester upholstery, cross hash stitching, lattice accents, and LED lighting. The sofa has tworeclining bucket seats thathave adjustable power headrests. These headrests deliver personalized angles for TV-viewing. The sofa has padded armrests, cup holders, and power buttons with a USB port in each control panel. The centerseat of the sofa can be converted into a handy table.
Specifications
Product Dimensions – 37 x 85.5 x 43.5 inches
Weight – 278 pounds
Materials – 82% Polyester, 18% Polyurethane
Pros
Adjustable headrests
Personalized angles for TV-viewing
Padded armrests for comfort
Includes a USB port and cup holders
Comes with LED lighting
Easy to assemble
Cons
None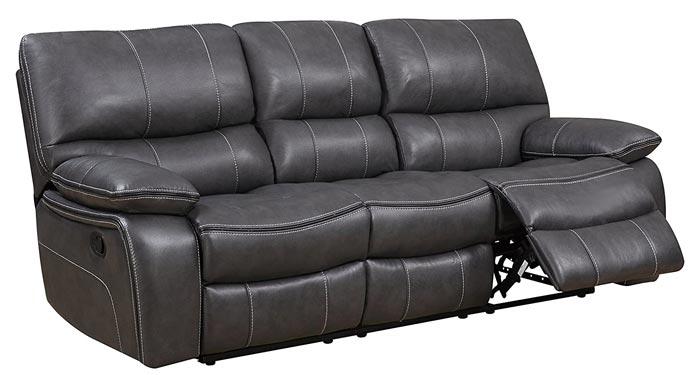 The Global Furniture Reclining Sofa comes in an elegant medium grey color. This will coordinate with any home décor effortlessly. The sofa includes a lushly padded back cushioning in a waterfall pattern. It also has deeply padded seat cushions or armrests that make the recliner attractive and relaxing as per the numerous reviews available on Amazon. The high-quality craftsmanship of the sofa ensures comfort and durability.
Specifications
Product Dimensions – 87 x 40 x 40 inches
Weight – 154 pounds
Materials – Leather
Pros
Lushly padded back cushioning for comfort
Deeply padded armrests
Durable
Color matches with any room décor
Cons
None
The Seatcraft Power Recline Sofa is made of genuine top-grain leather and offers durability. The design comes with a powered recline, adjustable powered headrests, and a memory function. This functional furniture comes with convenient features like a center fold-down table, cup holders, wireless charging options, overhead lights, and hidden in-arm storage. The headrests can adjust in different positions, reducing neck and shoulder pain. The sofa is ideal for home theater rooms and living rooms.
Specifications
Product dimensions – 86 inches x 43 inches x 42 inches
Material – Top grain leather
Weight – 327 pounds
Pros
Adjustable headrests
Wireless charging options
Hidden in-arm storage
Ideal for neck and shoulder relief
Cons
None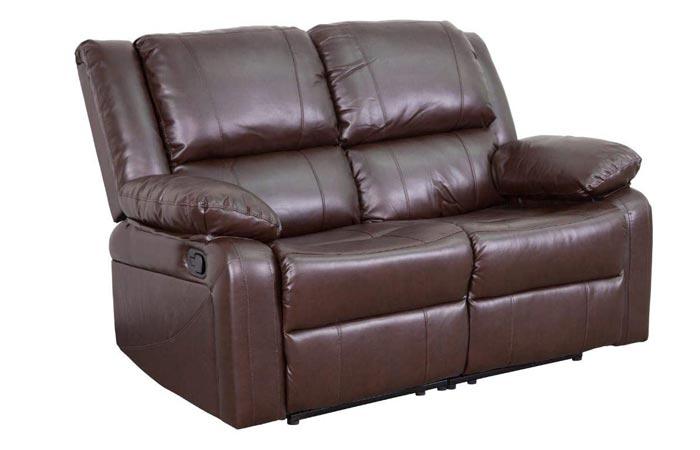 The Flash Furniture Brown Leather Loveseat Sofa is a contemporary leather reclining sofa. It offers a perfect balance of relaxation, comfort, and cushion support. The sofa has generously padded arms and plush pillow back cushions. The sofa will give you the ultimate comfort while relaxing or watching TV. It provides great neck and lumbar support – and is perfect for everyday use. The sofa has a casual design that will be a great addition to your living room. The sofa comes with a lever that can be used to recline the sofa into a comfortable position.
Specifications
Product Dimensions – 64 x 56 x 38 inches
Weight – 100 pounds
Materials – Leather
Pros
Padded back cushions for extra comfort
Lever to position the sofa in a comfortable way
Provides support to the neck and lumbar region
Cons
The Roundhill Furniture Reclining Sofa is made using imported leather with good quality upholstery and top stitched seams. This set includes a 2-seat sofa and a loveseat for spacious seating. The loveseat includes 2 cup holders, a storage area, and a USB port. Both sofa and loveseat have wide armrests and foam cushions. You can relax your legs by lifting the footrest, which works with a side button press. This set requires minimal assembly.
Specifications
Product dimensions – 89.37  x 40.16  x 42.13  inches
Materials – Faux leather
Weight – 484 pounds
Pros
Easy-to-assemble
Elevated footrest
Comfortable armrest
Cup holders and USB port
Value for money
Cons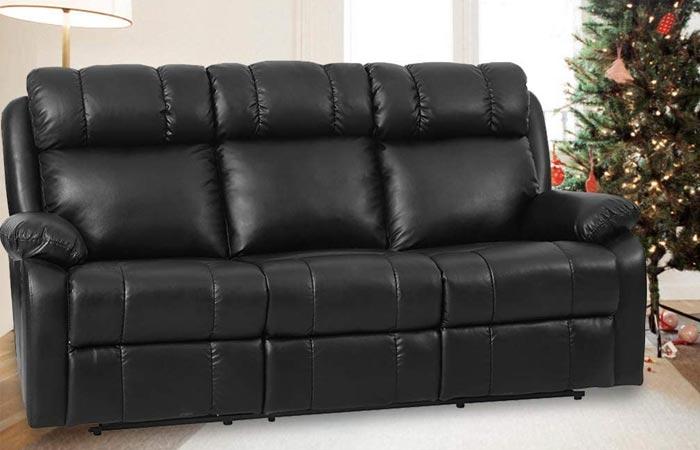 The FDW Recliner PU Leather Sofa is relatively easy to assemble. The reclining sofa is really soft and provides premium comfort. The recliner sofa features adjustable reclining positions that can be set with the help of a switch—a feature that has received many positive reviews on Amazon. The sofa is made from PU material that makes it durable. It is easy to clean. Its material is waterproof.
Specifications
Product Dimensions – 64 x 30.71 x 26.77 inches
Weight – 8 pounds
Materials – PU material
Pros
Made from durable PU material
Waterproof
Easy to clean
Easy to assemble
Cons
None
*The prices provided in this article are based on the latest available information. However, they may vary due to changes in pricing by the seller and/or promotional offers.
These are the top reclining sofas available online. In the following section, we have listed down some expert-recommended factors you need to check for before buying one.
The Buying Guide
Size – While buying a reclining sofa, many home experts suggest to look for the one that is perfect for your living room and will not take up a lot of space in the room.
Material – Many reclining sofas are made from leather while some are made from other fabrics. Both materials are quite comfortable. Choose a material according to your preferences – and something that is easy to clean. Waterproof material can be an added advantage. Consider sofas of tried and tested brands that are renowned for rigorously testing their furniture items for performance and quality.
Durability – Sofas are not cheap. A reclining sofa that can be used for years to come can be a good investment. Check if the sofa is durable before making the purchase. Ensure it is made of materials that are known to withstand the test of time.
Comfort – The purpose of a reclining sofa is to enjoy adequate comfort. Hence, look for a sofa that has padded backrests and armrests, and comfortable headrests. Make sure that the sofa's recliner mechanism is working without any issues.
Why Trust StyleCraze?
The author of this article, Pratyasha Ray, has an eye for home furnishing. She always keeps a continued check on various furnishings and designs to bring the best for readers. The list of best leather reclining sofas is compiled by her after thorough research and reading customer reviews online. She says that these sofas add value to your room, and provide the best support with excellent cushioning.
Frequently Asked Questions
What is a reclining sofa?
A sofa that has the ability to recline its position is a reclining sofa.
What are the types of reclining sofa?
There are two types of reclining sofa available in the market:
• Manual – The sofa reclines when you pull a lever located in the armrests. You can manually decide the perfect angle of recline to give you the optimum comfort.
• Power – The sofa uses a motor for a smooth reclining mechanism. It uses power buttons or panels to help adjust the reclining position.
How to maintain a reclining sofa?
A reclining sofa has to be regularly vacuumed and dusted for proper reclining leather sofa maintenance. If you spill any drink or water, wipe it clean instantly. Any delay may leave a mark on the sofa or even damage the material.
Is a reclining sofa good for the spine?
A reclining sofa that provides lumbar support is good for your spine. It also may elevate your feet above the heart level. However, a reclining sofa without a lumbar support may adverselyaffect your lower backbone.
How long do reclining sofas last?
Most reclining sofas of good quality can last upto 12-15 years, if used properly.
Which is better – a fabric or a leather recliner?
A leather recliner is a better option as leather is a more durable, easy-to-clean, and stain-resistant material compared to fabric.
How much should I spend on a good leather recliner?
You can get good-quality three-seater leather recliners for 1800-3000 US dollars.
Recommended Articles