10 Best Portable Massage Chairs In 2023
Relax your sore muscles anytime, anywhere with affordable and convenient options.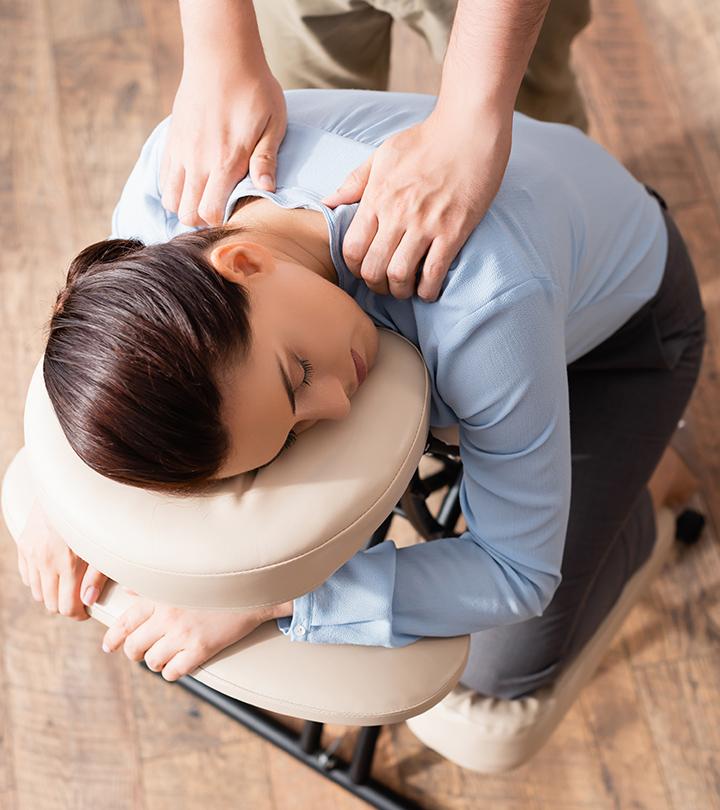 All you need for a good massage on the go is a good masseuse with the best portable massage chair. While essential oils and the perfect ambiance and lighting help set the mood, comfort is the top priority for a good session. So, if you are a massage therapist and run an independent practice or are thinking of starting, portable massage chairs could be just the thing for you.
Massages are extremely relaxing and beneficial. Not only do they remove stress from your muscles and improve blood circulation, but they also help you unwind. The best portable massage chairs can be folded and stacked away after you are done with your session. They are lightweight and do not take up much space. These adjustable chairs can accommodate people of all sizes and shapes. With these chairs, you can give someone a massage on the go! They are very easy to set up and pack away. So, go ahead and check out the best portable massage chairs available on the market right now. Keep scrolling!
10 Best Portable Massage Chairs For Mobile Professional Therapists
You can fold this mobile massage chair and quickly pack it up in a sturdy nylon carrying case. Weighing only 23 pounds, Nova's chair is lightweight yet constructed with high-grade aluminum, which lends it strength. A high-gloss powder coating adds to its longevity and an accompanying chair in a modern design adds to any interior. Multi-layer and high-density foam is used to make your client feel comfortable during a session. The adjustability options with the armrests and headrest can be customized according to different heights and sizes. Covered with PU leather, which is waterproof and oil-proof, this chair is also easy to clean.
Pros
Working weight of up to 660 pounds
Customizable settings
Strong carrying case included
Lightweight and foldable
Oil-proof and waterproof leather covering
Non-slip
Adjustable mattress and armrest
Cons
The face cradle may not be as stable as expected.
Price at the time of publication: $53.99
To change positions and accommodate various body types, Giantex's ergonomic design includes an adjustable chest pad, armrests, and head support. One of the best folding massage chairs, it has a powder-coated aluminum chair frame that adds to its sleek look. With a thick high-density small cell foam padding, utmost ease is guaranteed. Footpads line the chair legs of the professional massage chair to prevent slipping or scratching the floor. The PU leather is resistant to water and oil and when you need to move the station, just pack it up in the durable carrying bag provided.
Pros
Adjustable support
Footpads prevent scratches or slips
Upholstery resistant to oil and water
Thick foam padding
Working weight limit of 350 pounds
Can also be used for tattooing or acupuncture
Cons
The paint might chip off.
Price at the time of publication: $125.99
The EarthLite Portable Massage Chair has a soft, curvy design and features oval tubing for increased strength. It uses lightweight aircraft aluminum and weighs only 15 pounds, so you can easily move it around. You can also avail arm, face, and seat height adjustments for your clients' optimal positioning. The high-quality pro-Lite seat cushion has a 2-layer support and is soft yet durable. With a working weight of 300 pounds, this portable massage therapy chair can be set up, folded, and stored easily.
Pros
Available in 6 colors
Adjustable armrests, seat, and face cradle
Soft cushioning
Working weight of 300 pounds
Easy to fold and set up
Lightweight
Cons
Price at the time of publication: $389.99
STRONGLITE's massage chairs for massage therapy are constructed with T6 aluminum alloy with a high-gloss powder-coated finish. Their patented double tube design keeps the frame strong and allows 600 pounds of working weight. Not only is the chair and face cradle adjustable but the chest pad also tilts and slides for optimal positioning so you can offer a deep tissue massage. With moveable armrests and removable leg pads, injured or disabled clients can also feel comfortable in this seated massage chair. This chair with padded cushions not only folds compactly but also features wheels for easy movement.
Pros
600 pounds of working weight
Adjustable and moveable features
Suitable for injured or disabled clients
Wheels for easy movement
Ballistic nylon case with strap included
Available in 5 colors
Cons
The joints may make a squeaky sound.
Price at the time of publication: $539
JupiterForce's massage chair for massage therapist is constructed with an aluminum frame with a powder coating on the surface. The chair is lightweight yet sturdy enough to handle up to 660 pounds. It is resistant to rusting and designed ergonomically to keep your posture relaxed. Polyurethane leather is used over thick foam stuffing, which is resistant to oil and water, making it easy to clean. Compact and foldable, you can pack the chair up in the nylon case for easy carrying.
Pros
Working weight of up to 660 pounds
Anti-rust
Adjustable armrests and height
Oil-resistant
Waterproof
Easy to clean and carry
Cons
Some might want firmer padding
Price at the time of publication: $52.49
One of the best professional massage chairs, this one by Master Massage has an aluminum frame with fibre-glass reinforced nylon parts for security. The small cell foam cushioning provides unparalleled comfort to your client. You can easily adjust the face cradle, armrests, and chest and seat pads. Removal knee pads on these portable chairs allow people of all heights and sizes to avail a soothing massage experience. A wheeled carrying case allows you to travel with the compact and lightweight massage chair with no hassles.
Pros
Adjustable features
Soft cushioning
Removable knee pads
Wheeled carrying case
Sturdy yet lightweight
Compact storage
Cons
The chest pad might not be very secure.
Price at the time of publication: $499.99
Royal Massage's lightweight portable massage chair boasts a high-quality design that is oil-resistant and waterproof. You can assemble it completely tool-free as it can be set up and folded in seconds. An advanced foam system coupled with synthetic leather is soft to the touch and offers optimum comfort. The noise-free steel frame has a quick release lock system with slip-free footing. Supporting up to 650 pounds of weight, this chair is a must-have for mobile massage therapists.
Pros
650 pounds of working weight
Soft foam and leather
Resistant to oil and water
Noise-free steel frame
Slip-free footing
Available in 2 colors
Cons
Some may find the face rest slightly uncomfortable
Price at the time of publication: $137.58
ZENY's professional portable massage chair offers utmost comfort with adjustable armrests, chest pad, seat, and a head support. It can handle up to 250 pounds of weight and is made sturdy with the use of aluminum. One of the best chairs for massage therapists, this one requires no installation and provides your client with a hassle-free experience. The foam cushion is soft and the PVC leather upholstery is easy to clean after each session as it is resistant to both water and oil.
Pros
Carrying case included
Working weight of up to 250 pounds
Adjustable features
Foam cushion
Oil-resistant
Water-resistant
Cons
Price at the time of publication: $69.99
HomGarden's cheap portable massage chair has a flat foldable design that is easy to transport and store. Its make is of strong powder-coated aluminum that keeps your clients secure and can accommodate up to 660 pounds. The ergonomic features are all adjustable to fit the client's preferences and can help them ward off fatigue. PU leather on the surface is resistant to oil and water to make cleaning convenient.
Pros
Adjustable features
Working weight of up to 660 pounds
Oil-resistant
Water-resistant
Sturdy yet lightweight
Foldable and compact
Cons
Some might want thicker cushioning
Price at the time of publication: $98.99
Oakworks' portable facial massage chair features high-quality firm foam in the knee pads for comfort. Softer foam is used in the chest pad and armrests for the right level of support. The TerraTouch fabric, quick lock face rest platform, and an essential carry case are all included for ease. With these portable massage therapy chairs for leg and knee support, you can change the height to access your client better and relieve strain during the massage session.
Pros
Firm foam in knee pads
Softer foam in armrests and chest pad
Carrying case included
Wheels for easy movement
Lightweight
Cons
The upholstery may fray with prolonged use
Price at the time of publication: $679
Now that we've looked at the best portable massage chairs on the market, let's learn how you can choose the right one for your practice.
What To Look For In A Portable Massage Chair
As portable massage chairs are used by mobile therapists that are frequently on the move, look for something that is 25 pounds or less. The lightest chair is generally around 19 pounds. This allows you to carry the chair around without any hassles. Additionally, the chair must be easy to fold, compact, and easy to store. Wheels also make it convenient for you to move the portable massage chair around.
As clients can have varying body types, ensure that the chair can accommodate 350 pounds and above of working weight. This is the weight of your client added with the pressure you exert during a session.
Massages involve oils that can help with soothing the muscles, which is why the surface of massage chairs must be easy to clean. PU and PVC leather is quite sturdy and resistant to both water and oil. When laid on top of thick foam padding, it is soft and can be of great comfort to your client.
People have different heights and your own height should also be taken into consideration when giving a massage. Look for an adjustable face cradle, armrests, and chest pad for better relaxation. When positioned according to the person's preference, an ergonomic massage chair can reduce strain and set them on their way to increased and effective healing.
Another addition to look out for would be a storage bag or a session pouch. This is especially useful for clients that use spectacles or want to stash away their jewelry before a massage therapy session.
Always ensure that your portable chair set includes a strapped nylon carrying case or a wheeled one for easy movement.
Why Trust StyleCraze?
Shreya Vishwanathan, the author of this article, is a health and wellness enthusiast. She researched and independently reviewed multiple portable massage chairs available on the market, keeping in mind safety, design, efficiency, and comfort as the key parameters. She also checked user reviews to get an in-depth understanding of the user experiences with the products. The shortlisted portable massage chairs on this list are lightweight, have adjustable features, and can be easily set up or folded away.
Frequently Asked Questions
How well do massage chairs actually work?
Massage chairs allow your client to relax on the soft upholstery during a session. They also give you good access to the areas that need to be treated as most chairs have adjustable features.
Can a massage chair improve your health?
Massage chairs give you comfort and can help you relax during a massage session. This can reduce stress and muscle tension, improving overall health.
How long do massage chairs last?
Massage chairs can last up to 10-15 years with proper maintenance and storage.
What is a zero-gravity massage chair?
A zero gravity massage chair enables you to recline in the neutral body position or the zero gravity position. It mimics the position of astronauts during takeoff on space missions with its reclining function. The posture lifts your legs above your heart level and evenly distributes the weight across your body.
Is a massage chair good for weight loss?
Yes. A massage chair relieves fatigue and stress by increasing blood circulation in your body. This improves metabolism and, in turn, aids in weight loss. However, the change in your body weight through massage chairs will be noticeable.
Can you sleep in a massage chair?
No. Massage chairs do allow you to change positions smoothly and restrict your movements, making sleeping difficult. It is not beneficial or safe to sleep in a portable massage chair.
Can you sit in a massage chair for a long time?
No. Excessive use of massage chairs may lead to muscle aches, inflammation, and bruised tissues. Sitting on a massage chair for long hours may even affect your internal organs. So, take it slow and easy with your massage chair, especially if you are using it for the first time.
Recommended Articles