9 Best Shampoos And Conditioners For Kids
Pick the right kids' shampoo and conditioner to target hair issues with gentle care.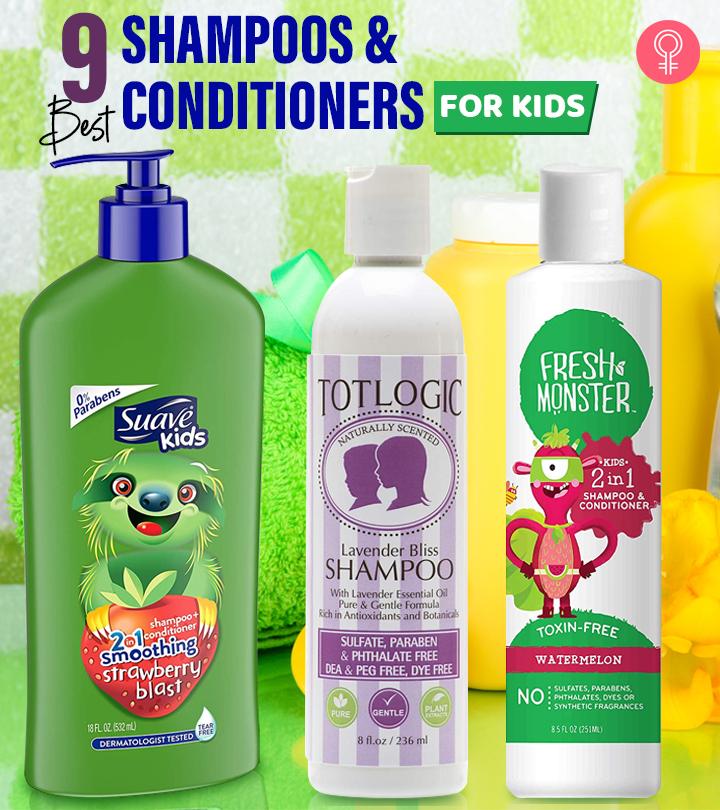 Are you looking for the best shampoo and conditioner for kids? Well, look no further! This article lists the top 9 shampoos and conditioners you can buy for your little ones. Dr Priya Gill, one of Malaysia's leading Dermatologists says, " Kids shampoos and conditioners tend to be 'tear-free', so parents could switch when the child developmentally is able to wash his or her own hair without getting the product in the eyes, usually around age 8 to 10."
Since kids have delicate hair and soft skin, buying products that protect and nourish them is essential. Furthermore, you also need shampoos and conditioners that gently cleanse the scalp while maintaining the hair length and texture. To save you and your precious one from countless experiments, we've listed the best ones in the market. Scroll down for further information.
9 Best Shampoos And Conditioners For Kids
This nourishing shampoo and conditioner pack gives your child manageable, smooth, and soft hair. It is enriched with a blend of carrot oil and mango butter with vitamins B5 and E, which moisturize, strengthen, and repair damaged, brittle hair follicles.
The natural ingredients in this combo pack invigorate the child's scalp and stimulate blood circulation. Shea butter hydrates the scalp and hair and locks in moisture. Coconut oil and olive oil seal the hair cuticles, detangle the hair, and keep it frizz-free. The orange blossom soothes sensitive scalps. The shampoo and conditioner nourish the scalp and promote healthy hair growth. This video will give you more insights into the product.
Key Ingredients: Mango butter extracts, Carrot oil, and Orange blossom
Pros
Amazing scent
Softens the hair
Long-lasting effects
Sulfate-free
Paraben-free
Contain certified organic ingredients
Cons
Price at the time of publication: $21.99
Pros
Hypoallergenic
Vegan
Cruelty-free
Toxin-free
Phthalate-free
Paraben-free
Sulfate-free
BPA-free
Dye-free
Soy-free
Cons
Price at the time of publication: $15.98
The Suave Kids 2-in-1 Shampoo + Conditioner set comes in a delicious strawberry fragrance. It cleanses and smoothens the hair in one go. This gentle product helps in detangling the hair and reducing split ends. The no-tears formula leaves your child with manageable, ultra-soft locks.
Key Ingredients: Strawberry
Pros
Tear-free
Dermatologist-tested
Paraben-free
Smells great
Cons
None
Price at the time of publication: $16.45
Pros
Sulfate-free
Mineral oil-free
Paraben-free
Silicone-free
Phthalate-free
Gluten-free
Paraffin-free
Propylene-free
Cons
Thick conditioner
Shampoo doesn't lather much.
Price at the time of publication: $16.98
Pros
Sulfate-free
Paraben-free
Silicone-free
Petrolatum-free
Mineral oil-free
Cons
Price at the time of publication: $13.34
Pros
Smell good
Lather well
Rinse out easily
Hypoallergenic
Phthalate-free
Paraben-free
Sulfate-free
Plant-based
Non-toxic
Dye-free
DEA-free
PEG -free
Vegan
Cruelty-free
Cons
Price at the time of publication: $22.95
These products are created with natural and botanical ingredients like soapberries, oats, argan oil, mango butter, nettle leaf extracts, marshmallow extracts, and essential oils. The organic soapberries cleanse the scalp of grime, while the yucca root and oats soothe the scalp.
Nettle contains essential minerals that strengthen the hair. The organic argan oil, coconut oil, and marshmallow root moisturize the hair, and the mango butter and oat proteins repair hair damage. These products keep your child's hair clean and healthy without drying it out. The shampoo and conditioner leave the hair fresh, detangled, and soft.
Key Ingredients: Soapberries, Argan oil, Mango butter, Nettle leaf, Marshmallow extracts, and Lavender, Orange peel, and Lemongrass essential oils
Pros
Sulfate-free
Polypropylene glycol-free
Paraben-free
Synthetic dye-free
Fragrance-free
Gluten-free
Cruelty-free
Cons
Price at the time of publication: $19.99
This one is an all-natural 2-in-1 shampoo and conditioner for kids. It is suitable for all hair types and detangles your child's hair, leaving it soft and glossy. This product has a vanilla cupcake fragrance that kids love. The tear-free formula is a unique blend of the purest forms of the ingredients and is safe for children.
Key Ingredients: Organic aloe, Organic marshmallow, Chamomile, Argan, Cilantro, and Rosemary
Pros
Tear-free
Paraben-free
Sulfate-free
Phthalate-free
Toxin-free
Dye-free
BPA-free
Gluten-free
Nut-free
Dairy-free
Soy-free
Cruelty-free
Vegan
Hypoallergenic
Cons
NOAH Kids presents a gentle sugar shampoo and conditioner set for children aged 3 to 12. They are powered with vitamin E, milk protein, and sugar that moisturize the hair and soothe delicate scalps. The shampoo contains coconut and olive oil that gently cleanse the hair while maintaining its pH level. The conditioner controls frizz and flyaways and detangles the hair. It offers gentle hydration and moisturization. This duo is suitable for daily use and makes your child's hair soft and shiny.
Key Ingredients: Milk and Sugar
Pros
Non-toxic
Sulfate-free
Paraben-free
Silicone-free
Paraffin-free
Mineral oil-free
DEA-free
Vegan
Cruelty-free
Cons
Price at the time of publication: $26.9
Your child means the world to you, and you only want the best for them. Hence, follow these basic guidelines when you pick a shampoo and conditioner for your child.
Things To Consider Before Buying Kids' Shampoos And Conditioners
Check The Ingredients: A good kid's shampoo should have the necessary proteins and fruit extracts to nourish the hair. The conditioner must include botanical extracts, essential oils, and vitamins to moisturize and protect the kid's hair from damage.
Look For: Products containing natural ingredients like almond oil, coconut oil, olive oil, aloe vera, avocado, mango, oats, glycerin, or chamomile and lavender essential oils.
Avoid: Products containing parabens, sulfates, mineral oil, talc, triclosan, and synthetic dyes and fragrances.
Also, make sure to opt for a gentle, tear-free formula.
Why Trust StyleCraze?
The author, Shiboli Chakraborti, is a hair care enthusiast and loves helping readers choose the most effective and suitable hair care products by reviewing and researching them thoroughly. Kids' hair is delicate and requires utmost care. So, she consulted numerous product reviews on various trusted online forums to make this comprehensive list of the best shampoos and conditioners for kids. This list consists of the products that are gentle on your kids' hair and can cleanse the hair perfectly.
Frequently Asked Questions
Do children need shampoos and conditioners?
Yes, children need shampoos and conditioners as they are exposed to all sorts of dirt and grime. They also sweat when they are active. A good nourishing cleanser to clear dirt, grime, sweat, and buildup and a conditioner to moisturize, soften, and protect their hair are very important.
How do I choose a kids' shampoo?
Opt for a tear-free formula for the kids. Always select organic shampoos free of harsh ingredients like parabens, fragrances, and sulfates.
Why are shampoo and conditioner important?
Shampoos cleanse dust, dirt, and bacteria from the scalp, and conditioners moisturize and nourish the hair.
What is the main purpose of a conditioner?
The main purpose of a conditioner is to reduce the friction between the strands during combing. Conditioners provide your strands with a silky, smooth texture that can be managed easily post-washing.
What are the side effects of shampoo?
Using shampoo regularly can dry out your scalp and fade your hair texture and shine. Additionally, shampooing frequently can cause split ends and hair breakages.
Can my child use a regular shampoo rather than a kid's shampoo?
No. Regular shampoos are formulated with harsh surfactants that might irritate the soft scalps of the kids and dry the hair. Shampoos not meant for kids may also cause eye irritation.
Does a kid's shampoo sting a child's eyes?
No. The pH level of baby shampoo is 7, the same as water. Therefore, a kid's shampoo does not sting a child's eyes.