The 15 Best Products For Split Ends That Repair Your Hair
Manage your split ends effectively with the best products that reverse damage and frizz.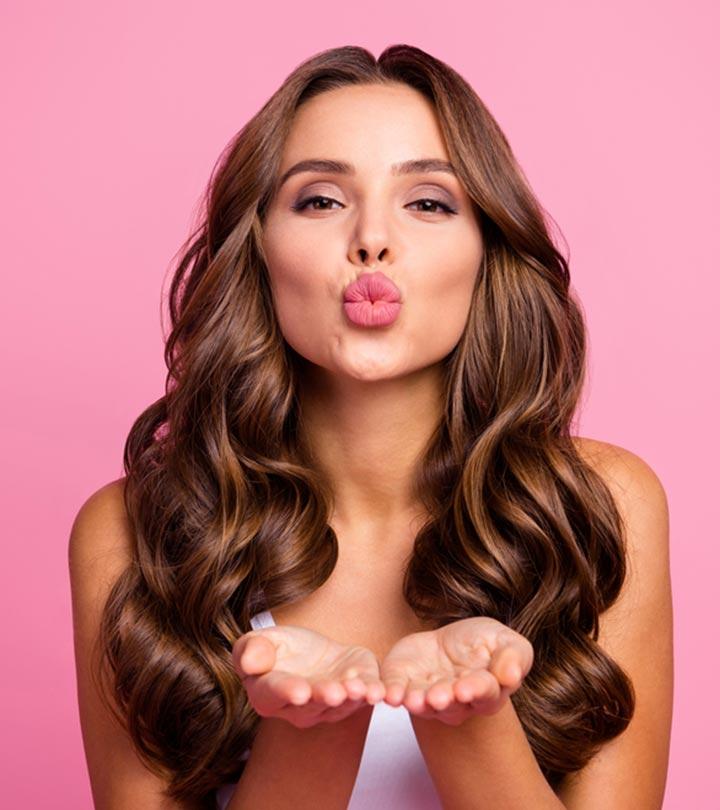 Cue the infamous drum rolls for one of the most common hair problems ever— split ends. If you have been experimenting with different products to solve your split-ends issue and still to no avail, well, you came to the right place. Before we get into the list of our carefully curated list of the 15 best products for split ends, here is some info about these withered-down strands.
We love our long locks, and some desperately try to grow out their hair. But skipping the trimming process is bound to give rise to loose ends that can split and pave the way for even more damage. The cause for split ends could be excessive use of chemicals, excessive hair-styling tools, weather or water conditions. Your hair becomes prone to fast breakage and looks unhealthy if you let it grow without trimming it at least once in 3 months. Always buy products that are mild and lightweight if your split ends are uncontrollable. Anyway, the following product list is the answer to your problem.
15 Best Products For Split Ends That Work Like A Charm
Split ends are a sign of dry, damaged and unhealthy hair. We don't think there's a better way to revive them than with the use of a butter cream packed with vitamins and organic oils. This cream is enriched with coconut butter, castor oil, jojoba oil, and shea butter, which instantly provide moisture to dry and unforgiving hair tips. Split ends will be a thing of the past as the pro-vitamin B5 in this formula strengthens hair and repairs split ends. Best suited for curls and coils, this split end treatment makes your hair smooth and manageable. Here's an honest review of the product.
Pros
Fights dryness and provides moisture
Repairs split ends
Strengthens hair
Makes hair smooth and manageable
Suitable for curls and coils
Cons
Hair may feel weighed down
We cannot talk about the best hair products for split ends and not bring up the Split End Mender from TIGI Bed Head. It is one of the best products to prevent split ends and offers a light hold. It is infused with keratin to ensure that your hair is left feeling soft and luscious. The glycerin and citric acid in this leave-in conditioner locks in moisture, so there are no more complaints about dry and brittle hair. Mend all your split ends, reduce frizz, and keep hair manageable, all with this leave in conditioner for split ends. Here's a video featuring a detailed review of the product.
Pros
Lightweight formula
Infused with keratin
Locks moisture in
Mends split ends
Reduces frizz
Keeps hair manageable
Pleasant scent of fruit and berries
Suitable for all hair types
Cons
May not completely detangle hair
Consistency may not be thick
One of the best ways to deal with split ends is with the use of oils. If hair fall and dryness are a constant problem, you must give this hair oil a chance as it is enriched with tea tree oil and rosemary essential oils. This oil also strengthens hair, promotes hair growth, and reduces dandruff and flaking. The bhringraj extract in the product slows down premature greying of hair and other ingredients like safflower oil, saw palmetto, and jojoba oil nourish the hair from root to tip. It is also infused with vitamin E and Moroccan argan oil, rich in antioxidants and fatty acids, and helps hair fight damage caused by styling tools.
Pros
Reduces hair fall and dryness
Packed with antioxidants and nutritious fatty acids
Lightweight, non-greasy formula
Free of mineral oils
Paraben-free
Sulfate-free
No added colors
No added fragrances
Cons
It may be difficult to wash off on a single shampoo wash.
If your bathroom shelf is full of serums that fail to do their job, get rid of all of them and make space for this serum that targets split ends. With a potent blend of nourishing oils like apricot, ternifolia, olive, and almond oils among others, it helps tackle split ends and prevents hair strands from seeing more damage. It restores keratin to the tresses to make them soft, healthy, and moisturized. It is ideal for long hair and has a non-greasy, lightweight formula.
Pros
Repairs split ends
Prevents hair damage
Restores keratin
Non-greasy
Lightweight formula
Cons
Some may find the consistency slightly glue-like.
Argan oil is liquid gold when it comes to treating split ends. Filled with antioxidants and nutritious fatty acids, it moisturizes hair and prevents breakage and shedding. Not only does it bind frayed ends, but the effective combination of hemp oil and panthenol conditions the hair, leaving your locks soft and shiny. Fortified with wheat protein, this cream strengthens the hair from the roots so hair fall is reduced. With zero parabens added to the formula, it helps you achieve frizz-free hair.
Pros
Treats split ends and binds them
Conditions hair and strengthens it
Reduces hair fall
Anti-frizz
No parabens
Cons
Some may find it slightly greasy.
An up and coming hair care brand, OUAI's hair oil is one of the best hair products for split ends and breakage. The formula is a rich blend of nourishing oils, including African galanga, ama, and Asian borage oils. They work together to reduce frizz, protect hair from UV rays, and prevent hair color from fading. This Cosmopolitan's Beauty Awards winner can be used on wet or dry hair, and even has an overnight hair mask. This product for frizzy split ends is free of sulfates and suitable for all hair types, including parched hair. This video will help you understand the product better.
Pros
Reduce frizz and split ends
Protects hair from UV rays
Prevents hair color from bleeding
Doubles as an overnight hair mask
Suitable for all hair types
Safe for colored and chemically treated hair
Sulfate-free
Cons
Slightly expensive
The fragrance may not linger for long periods.
Here is a prime example of a fantastic hair treatment for split ends. Secure split ends with its rich, creamy formula enriched with flaxseed oil and concentrated elastin protein. Prevent hair damage and protect hair prone to splits with this leave-in treatment that uses Nexxus ProMend technology with polymers to bind separated strands together. For best results, use this treatment cream with the Nexxus ProMend Shampoo And Conditioner.
Pros
Prevents hair damage
Nourishes hair prone to splits
Rich, creamy formula
Pleasant fragrance
Contains coconut oil
Cons
The scent may be overpowering for some.
Pamper your hair with only the best, and there is no better product for split ends than this one. This product binds together split hair with its keratin-infused formula. It contains citric acid and glycerin, which condition and moisture the hair, leaving it silky smooth and frizz-free. Seal every last strand and repair years of damage in just minutes and say goodbye to dull and dry hair forever.
Pros
Mends split ends with every use
Keratin infused formula
Conditions and moisturizes hair
Fights frizz
Repairs damaged hair
Cons
It may bit be best-suited for fine hair.
What you need is this split end mender from Monat to repair frayed split ends. This targeted treatment will focus on the damaged ends and bind them together using the process of microencapsulation. Indeed a magical potion, it contains a nourishing blend of 13 plant-based ingredients and natural oils, including meadowfoam seed, tomato seed, carrot seed, lemon peel oils and more. The formula is rich in omega fatty acids and antioxidants and strengthens, nourishes, and protects hair from further damage. With regular use of this product, you can get frizz-free hair that is shiny and vibrant.
Pros
Targeted treatment for split ends
Uses microencapsulation to bind separated ends
Infused with 13 plant-based ingredients and natural oils
Packed with omega fatty acids and antioxidants
Reduces frizz and locks in shine
Improve vibrancy of hair color
Cons
May not be suitable for an oily scalp
Do you have over processed and damaged hair? Does it leave you with unhealthy locks and split end troubles? Well, no more! This SheaMoisture balm contains a compelling mix of reparative proteins and butter. The antioxidant-rich Manuka honey and protein-packed yogurt extract helps bind split ends, fights dryness, and transforms them into luscious, long locks. Baobab and mafura oils in this product simultaneously repair damaged hair fibers and strengthen and condition them from within. Shea butter is also present to nourish weak strands. It is suitable for wavy to curly hair, and it leaves the hair soft and supple.
Pros
Rich mix of reparative proteins and butters
Packed with antioxidants and binds split ends
Repairs damaged hair fibers
Strengthen and condition them from within
Ideal for wavy to curly hair
Cons
Some may find the consistency thick and sticky.
Would you believe us if we told you that you could extend the vibrancy of your colored hair while simultaneously treating split ends? With this miraculous serum, you will have to. This product is formulated specifically for color-treated hair and contains a unique polymer blend that fortifies hair and seals split ends. The formula is enriched with carob tree extract containing amino acids and nourishes and strengthens the hair shaft and cuticle. It is packed with watermelon, lychee, and edelweiss flower extracts, which reduces the process of oxidation and enhances the color of your hair. If you need more convincing, it also locks in shine, giving you a glossy sheen with the help of mirabelle plum oil, moringa seed oil, and baobab oil that is embedded in this mix.
Pros
Unique polymer blend fortifies hair
Seals split ends
Nourishes and strengthens the hair shaft and cuticle
Enhances the color of your hair
Locks in shine
Paraben-free
Free of sodium chloride
Safe for color-treated hair
Safe for keratin-treated hair
Provides UV protection
Cons
Slight expensive
May leave a sticky residue
Gone are the days of split ends, breakage, and hair fall. If you are looking for a good  hair mask for split ends to restore its strength and softness, you are in luck. Infused with sweet almond oil and marshmallow root, it nourishes the hair and protects it from breakage. The sulfate-free, lightweight formula deep conditions the hair and drowns it in moisture, so lackluster locks are transformed into smooth, detangled tresses. Hydrating ingredients like coconut oil, aloe vera juice, and cocoa butter help smoothen and strengthen dry and brittle hair. With no mineral oils, silicones or dyes, this cruelty-free mask will help repair split ends, so you are left with healthy hair.
Pros
Lightweight formula
Repairs split ends
Nourishes hair and protects it from breakage
Deep conditions and provides moisture
Detangles hair
Smoothen and strengthen dry and brittle hair
No mineral oils, silicones or dyes
Sulfate-free
Cruelty-free
Safe for color-treated and chemically-treated hair
Cons
May not be too moisturizing for some types of curls
Conceal split ends, breakage, and flyaways almost instantly with this unique spray. Made with candlenut seed oil and ginseng root extract, it reduces split ends, frizz, and damage caused over the years. Whether the reason for your frayed hair is heat from constant styling, environmental causes, or naturally sensitive locks, this magical spray works wonders in strengthening hair and locking in smoothness. Over time, you can seal the entire hair shaft, including the ends, and fortify hair from root to tip. So, what are you waiting for? Spritz away split ends forever!
Pros
Conceals split ends, breakage, and flyaways
Repairs hair damage caused over the years
Strengthens hair and locks in smoothness
Fortifies hair from root to tip
Cruelty-free
Cons
It may make some hair types feel greasy.
A descendant from the hair Gods, this hair treatment from Pureology has come to rescue you from the split end troubles. The active ingredients, keravis, and astaxanthin, a super vitamin E, penetrate deep into the hair shaft to provide moisture and elasticity while also being a rich antioxidant source. Safe for color-treated hair, it neutralizes brassy and yellow tones while enhancing the color of your hair. The camelina oil and olive oil in this mix bind split ends and strengthen hair. Free from sulfates, parabens, mineral oil, animal products, or by-products, it has a soothing fragrance of raspberry, peaches, and water flowers.
Pros
Provide moisture and elasticity
Neutralizes brassy and yellow tones
Enhances the color of your hair
Binds split ends and strengthens hair
Sulfate-free
Paraben-free
Free of mineral oils
100% vegan
Cruelty-free
Cons
Expensive for the quantity provided.
Advanced problems require advanced solutions. Here to treat your severe split ends is the ghd Advanced Split End Therapy, which uses heat to strengthen and protect your hair. This treatment's unique technology allows you to restore damaged ends by using the heat from your styler. The proprietary Thermo-Marine Bonding System helps attach broken fibers, and repairs split ends. Other nourishing ingredients like Açaí palm extracts and citric acid condition hair from root to tip. From now on, don't let the heat from your styling tools stop you from creating new looks. Instead, harness the heat to help you fortify your hair.
Pros
Lightweight formula
Uses heat to strengthen and protect your hair.
Thermo-Marine Bonding System repairs split ends
Conditions hair from root to tip
Strengthens and smoothes hair up to 10 washes
Paraben-free
Cons
May not be suitable for coarse and dry hair
Now that we have looked at the 15 best products for split ends, here are a few things you need to keep in mind when buying one that is best suited for your hair.
Things To Keep In Mind To Fight Split Ends
What Causes Split Ends?
Split ends are caused due to the weakening of the hair shaft, thereby splitting the hair fiber. When the hair is exposed to harmful chemicals, damaged by hairstyling tools and vulnerability to unfavorable weather conditions, it can become dry and brittle at the tips, leading to split ends. Following an improper hair care regime may also leave hair dry, damaged, and full of split ends.
How To Get Rid Of Split Ends
There are many ways to prevent and repair split ends. Some of them are as follows:
Frequent hair trims
One of the best and easiest ways to get rid of split ends is to trim the ends. It is advised to trim hair every 6-12 weeks, so you can stop split ends at the beginning and prevent it from splitting up to the hair shaft and causing irreversible damage. People with healthy hair can go even longer. Even if you're trying to grow your hair out, we suggest a quick trim will do more good than harm and even speed up the process.
Use heat protection
One of the leading causes for split ends is heat damage caused by hair styling tools like straightening irons, curlers, crimpers, etc. They can suck out all the moisture from the hair and leave the ends frayed and dry. To avoid this, we recommend you invest in the right heat protection hair product. Whether it is a cream, serum, or leave-in conditioner, this will reduce the heat damage and prevent hair from splitting at the ends.
Gentle shampoos and conditioners
Exposure to harmful chemicals, too, can be a cause of split ends. Hence, we suggest you give up the harsh chemicals and use shampoos and conditioners with mild ingredients. Choose natural formulations over chemicals, and remember to stay away from parabens, sulfates, mineral oil, and other harmful chemicals that may lead to split ends. Conditioners are a must-have in every hair care routine as they will provide ample moisture to hair and prevent the ends from drying out. So, make sure you use a hydrating shampoo.
Split ends are a sign of unhealthy and damaged hair. While great-looking locks are on every girl's dream list, getting rid of split ends is no easy battle. Regular shampooing and conditioning, the use of safe and gentle products on hair, and preventing heat damage are a few things everyone can do at home to reduce the increasing number of split ends. Hair products specifically designed to treat split ends are another way to deal with them and end the fuss forever. Whether you prefer oils, creams, hair butter, or leave-in conditioners, our list has it all. Get the best hair products for split ends and breakage, and bid them farewell forever.
Why Trust StyleCraze?
The author, Kirtana Divakar, is passionate about skin & hair care and loves to try out different products and review them for people. For this article, she has studied several hair care products that claim to prevent split ends and judged how they match the expectations. Following a thorough examination of reviews online, the author has shortlisted the abovementioned products that effectively prevent split ends and keep the hair moisturized and strong.
Frequently Asked Questions
Can split ends be repaired?
While you can't completely repair split ends, you can temporarily bind them and prevent them from splitting up to the hair shaft.
Does a leave-in conditioner help with split ends?
Yes, leave-in conditioners are great for split ends as they provide long-lasting moisture and hydration for brittle and dry split ends.
Can coconut oil repair split ends?
Yes, coconut oil can temporarily smoothen the split ends. Here are some other oils which prevent split ends.
Do split ends stop hair growth?
No, split ends do not stop hair growth. Having said that, it must be trimmed or treated as it may damage the entire hair strand, leaving locks dry and unhealthy.
Is Vaseline good for split ends?
Yes, Vaseline softens tresses and prevents the increase of split ends.
How do you treat severe split ends?
Trimming is the most efficient way to get rid of severe split ends.
Does oiling hair reduce split ends?
Applying lukewarm oil onto your hair, especially to the roots and tips of the hair regularly, will improve blood circulation, hair health, and texture, and also prevent split ends.